Boone: Tough to envision two first basemen
Bird and Voit, who both have Minor League options, will likely compete for a roster spot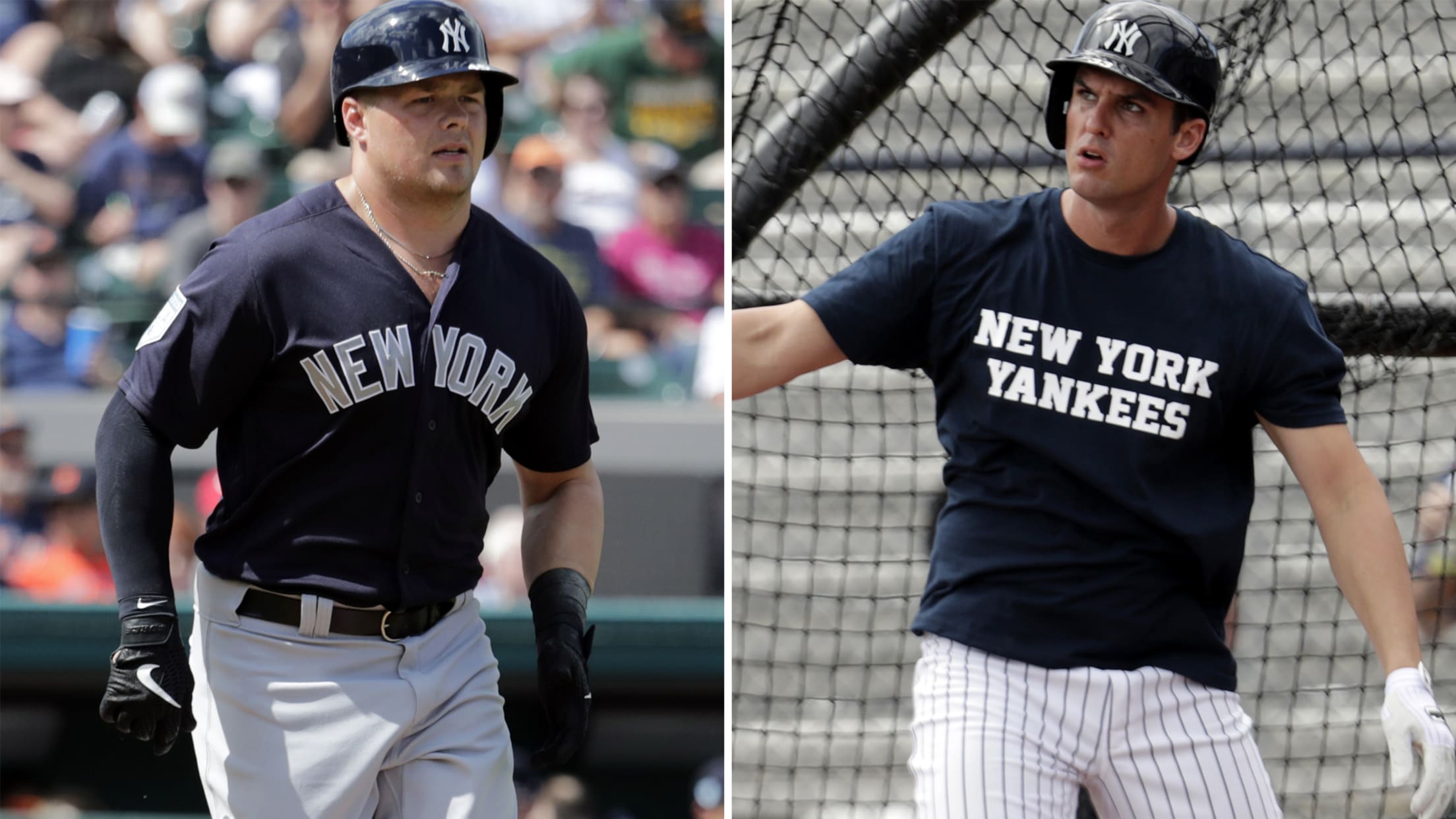 CLEARWATER, Fla. – When the Yankees take the field for Opening Day against the Orioles on March 28, either Greg Bird or Luke Voit figures to be manning first base at Yankee Stadium. The other will likely be ticketed to begin his year with Triple-A Scranton/Wilkes-Barre. With the Yankees projected
CLEARWATER, Fla. – When the Yankees take the field for Opening Day against the Orioles on March 28, either Greg Bird or Luke Voit figures to be manning first base at Yankee Stadium. The other will likely be ticketed to begin his year with Triple-A Scranton/Wilkes-Barre.
With the Yankees projected to begin the season with a 13-man pitching staff, manager Aaron Boone said on Thursday that it is unlikely his roster would feature two first basemen, since utility infielder DJ LeMahieu is expected to serve as the primary backup at the position.
"It's tough for me to envision us having two first basemen, especially when I feel like LeMahieu would be that guy that gets backup reps there," Boone said before the Yankees' 6-0 Grapefruit League victory over the Phillies on Thursday. "I'm excited where they both are. I feel like we have two impact players that are part of our organization right now."
Entering the spring, both Boone and general manager Brian Cashman said that Voit had "a leg up" over Bird due to the production that he provided after being acquired from the Cardinals last July. Cashman told WFAN that while the team has yet to hold meetings about the battle, he does not see both Bird and Voit cracking the roster.
"My gut is, we're not carrying both Bird and Voit on the club," Cashman said. "They both have [Minor League] options. It doesn't mean what I'm saying right now is gospel, because it depends how this roster shakes out. I think going into Spring Training, we were like, 'May the best person win at first base.' I don't think there was a thought process of carrying both, because I'm not sure if the at-bats are there."
With versatility at a premium, LeMahieu will be tabbed to play second base, third base and first base. Tyler Wade could play second base, shortstop, third base and left field, adding speed and a left-handed bat to a heavily right-handed roster.
"That's just how the game is," Voit said. "I'm used to playing in the National League, where they want versatility. It's for guys that can play everywhere. LeMahieu can play everywhere; that's part of it. Obviously, me and Greg are both first baseman/DH kind of guys, so I understand, but you never know what can happen."
Voit bats from the right side and Bird from the left, but Boone said that alone would not tip the scales.
"That's something that Bird brings to the table to give us a little bit more balance, but as a righty, you're going to see right-handed pitching more," Boone said. "[Voit] hits right-handed pitching. For that matter, Bird, when he's right, he does about as good as you can do against lefties, too. So I wouldn't say it's a big factor."
Bird hit .199/.286/.386 in 311 big league plate appearances last season, but he appears healthy and has enjoyed a successful spring to date, stroking seven hits in 18 at-bats (.389) with three doubles, a home run, three RBIs and four walks.
"If there's anything I've learned in the past two years, you've just got to keep going and playing, putting in the work," Bird said. "I've got to get my at-bats, get my work in, do my best and put my best foot forward and roll with it."
Voit is 4-for-14 (.286) with two homers and five RBIs thus far in the spring, and he is thrilled that the decision-makers are still buzzing about the production that he provided at the end of last year, when Voit hit .333/.405/.689 with 14 homers and 33 RBIs in 148 plate appearances after joining the Yankees.
"There's a reason they brought me over here," Voit said. "It's cool to know that they believe in me and that I can go out and have the same success that I had last year. It's a good feeling and a little bit of a confidence boost."