Tanaka works out of huge jam, silences Harper
Yanks righty feels good about escaping bases-loaded, no-out situation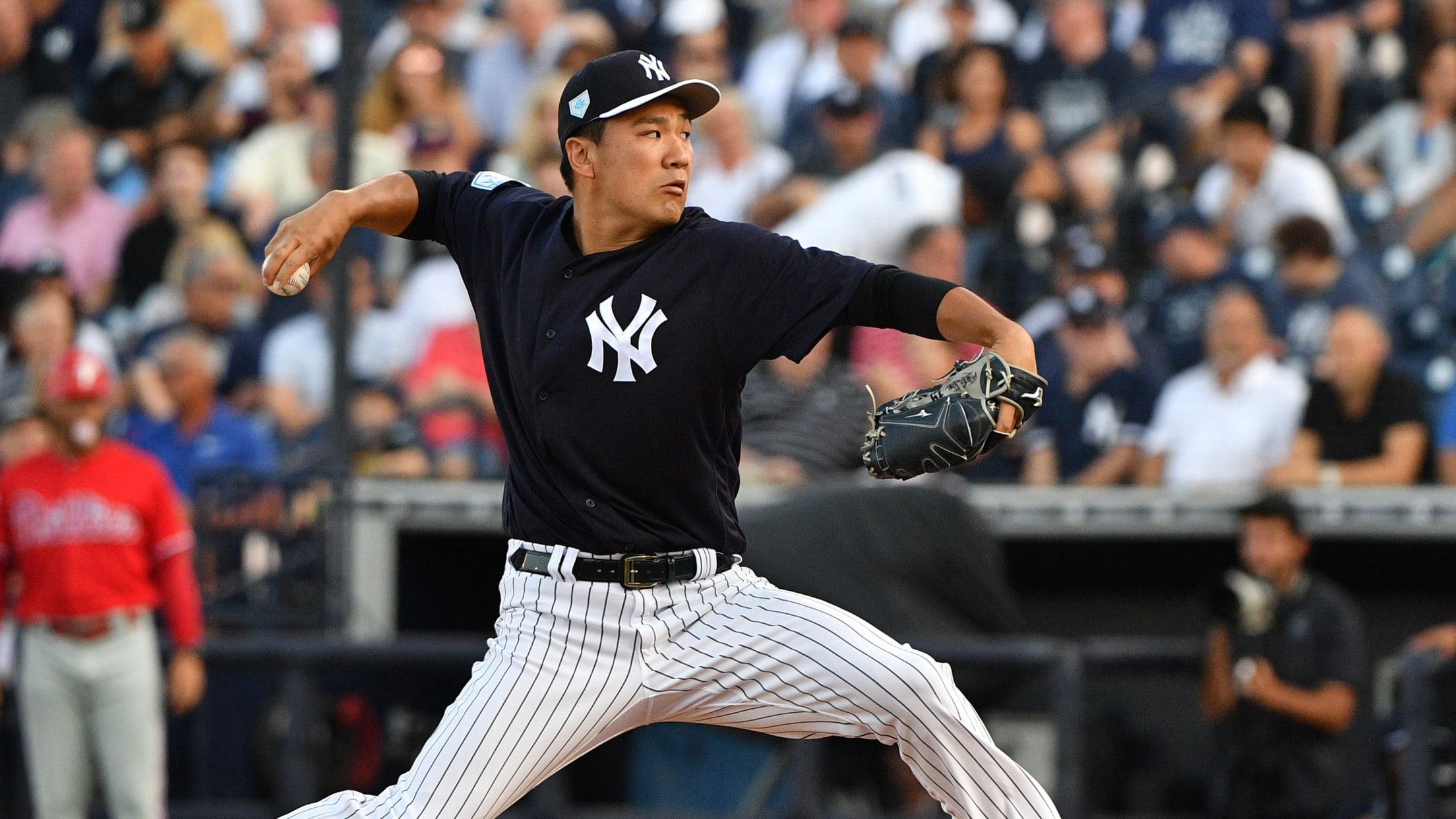 TAMPA, Fla. -- Masahiro Tanaka appreciated the challenge of standing 60 feet, six inches from Bryce Harper's mighty cuts, silencing the superstar slugger in two at-bats, but the Yankees' Opening Day starter believes that he benefited even more from an early escape. Making his third start of the spring, Tanaka
TAMPA, Fla. -- Masahiro Tanaka appreciated the challenge of standing 60 feet, six inches from Bryce Harper's mighty cuts, silencing the superstar slugger in two at-bats, but the Yankees' Opening Day starter believes that he benefited even more from an early escape.
Making his third start of the spring, Tanaka got into a second-inning jam against a lineup that looks much like the one the Phillies plan to field on Opening Day, wriggling free without any damage in New York's 5-5 Grapefruit League tie with the Phils on Wednesday evening at George M. Steinbrenner Field.
"Obviously, you don't want to be in that type of situation, here or in the regular season, but there's always going to be a time where you're in those types of challenging situations," Tanaka said through an interpreter. "Just to be able to heighten the concentration level and get outs and come out clean like I was able to do today, it's a good thing."
Tanaka worked a perfect first inning, striking out a pair before inducing Harper -- who heard some boos from the crowd of 10,182 -- to chop a routine grounder to first baseman Greg Bird.
Rhys Hoskins, J.T. Realmuto and Maikel Franco opened the second inning with singles, but Tanaka did not buckle. The right-hander struck out Aaron Altherr and Sean Rodriguez before Scott Kingery lined out to Aaron Judge in right field.
"You get in the fire there a little bit, where you're in trouble and you're up against a real good lineup," manager Aaron Boone said. "You see him go to pitching and it really forced him to make some pitches. It's very similar to the regular season where you're in that type of a situation. I think in that way, it's good to get into a situation like that against a club like that."
Tanaka again retired Harper in the third inning, striking the left-handed hitter out on an 89 mph splitter. Realmuto slugged a fourth-inning solo homer and Tanaka left a runner aboard later in that inning; the runner scored when Chad Green surrendered a two-run homer to Kingery.
"Not just [Harper], I think the whole lineup was closer to their Opening Day starting lineup," Tanaka said. "It's always good to be able to pitch against the guys that would regularly start a game. Obviously, you always want to do good against those guys."
Over 3 2/3 innings, Tanaka permitted six hits, walking none and striking out six. He threw 47 of 66 pitches for strikes and has a 3.60 ERA (four earned runs in 10 innings) this spring.
"He had some tough innings there," Boone said. "I would have liked to have gotten him deeper, but he made a lot of really good pitches when he needed to. I thought he threw a lot of good sliders in there. The split was working for him. He pitched around some trouble."
Tanaka has been announced as the Yankees' starter for their March 28 opener against the Orioles, to be followed in the rotation by James Paxton and J.A. Happ.
"I'm just trying to get more consistent on all of my pitches," Tanaka said. "You want to have everything work. If you look at today, the slider was good. I'm pretty happy about that. Moving forward, I'm just trying to brush up on all of the pitches and get ready for Opening Day."