Here is 1 surprise player from each team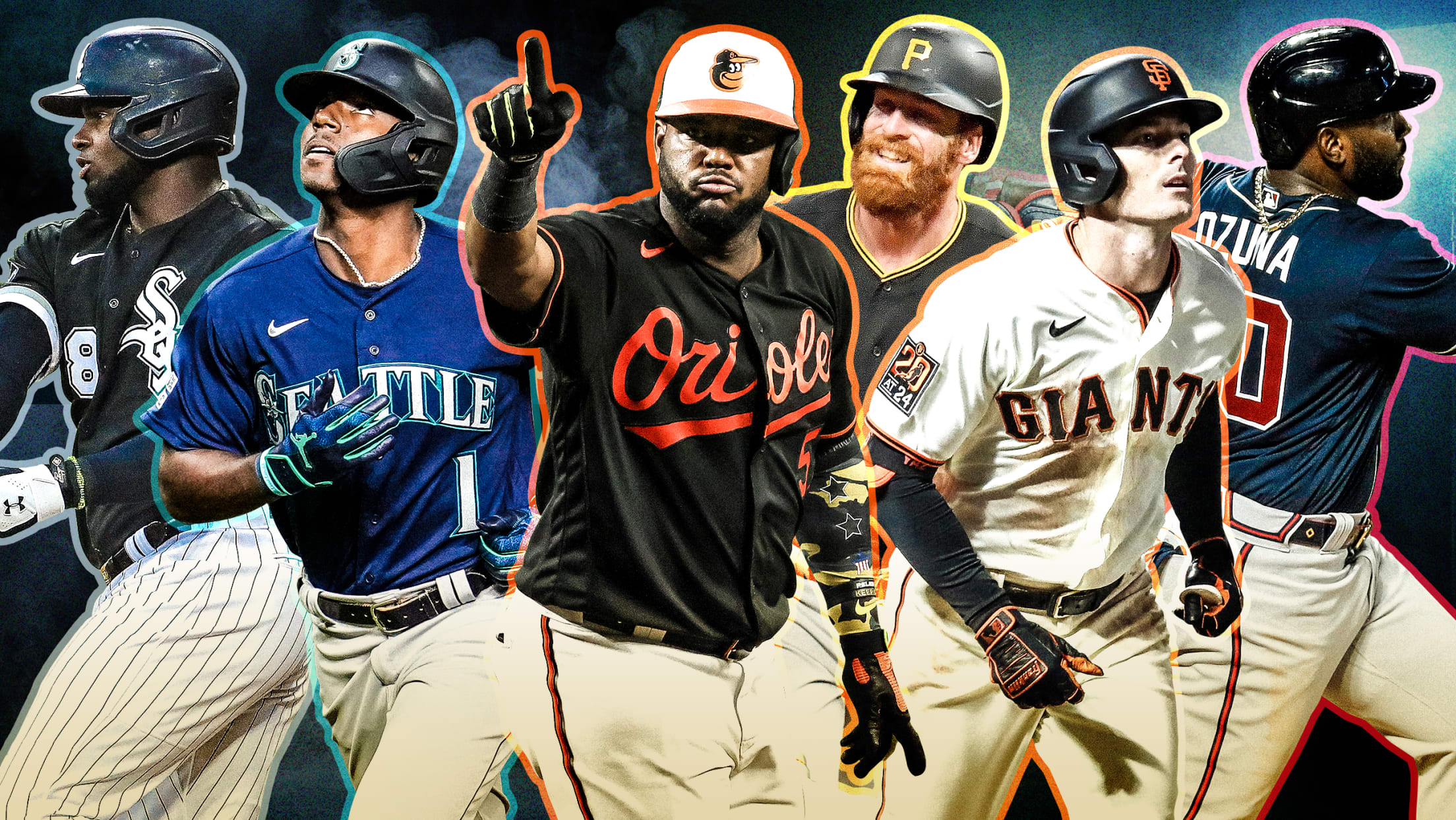 Everything in this season so far has been surprising, both good and bad. At this point, it is probably best just to steel one's self for these kinds of surprises all season. That doesn't mean it won't be fun. It just means that surprise should be the default emotion at
Everything in this season so far has been surprising, both good and bad. At this point, it is probably best just to steel one's self for these kinds of surprises all season. That doesn't mean it won't be fun. It just means that surprise should be the default emotion at this point. It's a wild season, to say the least.
With that in mind, today we look at the most surprising start by a player on every team. Some of these are good, some of these are bad, but all of them are the opposite of what anyone could have reasonably expected. Then again: We should probably not "expect" anything at this point. Just take in the madness.
AMERICAN LEAGUE EAST
Blue Jays -- Vladimir Guerrero Jr., 1B: Last year was a little bit of a lukewarm start, but the incredible power and skill of Vlad Jr. made many observers, myself included, think there was an explosion coming this year. It hasn't happened yet: Vlad's hitting .172.
Orioles -- Hanser Alberto, 2B: There are obviously many guys to choose from here -- José Iglesias, Rio Ruiz, Renato Núñez, Pedro Severino -- but Alberto, when you consider his defense (and that he is hitting .429) might be the most valuable player in baseball so far. Hanser Alberto!
Rays -- Ryan Yarbrough, LHP: The Rays supposedly had the best top three starting pitchers in baseball heading into the season … but it's Yarbrough (1.54 ERA) who has put up the best numbers on that staff so far.
Red Sox -- Andrew Benintendi, LF: The Red Sox pitching has been so bad that Benintendi's 2-for-24 start has been mostly ignored.
Yankees -- Aaron Judge, RF: We always knew he was good (when healthy), but he hasn't looked this good since his Rookie of the Year/almost MVP campaign in 2017. He has homered in five straight and is powering a team that looks unstoppable right now.
AMERICAN LEAGUE CENTRAL
Indians -- Oscar Mercado, CF: The outfielder-desperate Indians found Mercado a godsend last year, but it's tough to get off to a worse start than he's off to: He's 2-for-25 so far.
Royals -- Kris Bubic, LHP: The surprise, really, is seeing him in the Majors at all; this has been his first appearance above Class A ball, after all. But the stuff sure does look like it'll play.
Tigers -- JaCoby Jones, OF: So JaCoby Jones has never hit above .235 in his five-year MLB career. He currently leads the AL with a 1.212 OPS (min. 25 at-bats), because of course he does.
Twins -- Josh Donaldson, 3B: The Twins' lineup was full of bashers before Donaldson signed with the team, and he was thought to be precisely what the team needed to finally get over the top, postseason-wise. But, hobbled by injuries, Donaldson hasn't been Donaldson yet: He's hitting .182, and now he's out of the lineup with calf tightness.
White Sox -- Luis Robert, CF: All right, fine, so he was everyone's Rookie of the Year pick, so I suppose this isn't that surprising. But did you see him looking this polished, this fast? Not only does he look ready … he looks like the most indispensable player on this team.
AMERICAN LEAGUE WEST
Angels -- Shohei Ohtani, DH/RHP: Seeing Ohtani pitch was one of the baseball experiences fans were most looking forward to this year. But it has not been good thus far: 1 2/3 innings over two starts, eight walks and seven earned runs. Now we know there may be a reason: After his Sunday start, Ohtani expressed discomfort in his pitching arm and underwent an MRI.
Astros -- Alex Bregman, 3B: All sorts of things have gone wrong for the Astros so far, but their MVP candidate starting off hitting .211 is rather high on the list.
Athletics -- Matt Chapman, 3B: Speaking of MVP candidates off to slow starts, the A's third baseman is still waiting for his season to begin (.598 OPS).
Mariners -- Kyle Lewis, CF: Mariners fans were excited to see what Lewis could do this year. But did they imagine him, immediately, becoming one of the most purely enjoyable players to watch in all of baseball? He's hit safely in all 10 of their games and has three homers.
Rangers -- Lance Lynn, RHP: Lynn was better than almost anyone realized last year, but so far, he has thrown 12 shutout innings, won two games … and given up just three hits.
NATIONAL LEAGUE EAST
Braves -- Marcell Ozuna, LF/DH: Ozuna was a bit of a disappointment in St. Louis for two years, a good player but not the great player they thought they were getting. The Braves may have gotten that player, though: He's putting up even better numbers than he did in his best Marlins days (1.115 OPS). And they don't have to play him in the outfield.
Marlins -- Miguel Rojas, SS: It has been more than a week since the Marlins have played, which is just an extra week that Miguel Rojas gets to be a guy hitting .700.
Mets -- Robinson Canó, 2B: Not a lot is going right for the Mets right now, but for as much complaining as Mets fans have done about Canó since last year, they can't complain with how he's playing now. He's hitting .375 and slugging .531 and, perhaps most surprising, he has played in every game.
Phillies -- Phil Gosselin, INF: Like the Marlins, the Phillies haven't played in a week, which means Gosselin, a 31-year-old middle infielder, is still a guy who has a 2.417 OPS. (In two games, but, as I said, it's a weird season.)
Nationals -- Starlin Castro, INF: Fun fact: Of the 35 active players with the most hits in their career, Castro is the second youngest, only a couple of months older than Jose Altuve. He leads the defending champs right now with nine.
NATIONAL LEAGUE CENTRAL
Brewers -- Christian Yelich, OF: The 2018 NL MVP was hoping the first home weekend series of the year would snap him out of his horrible start, but then all the games in Milwaukee were postponed this weekend. Thus he remains stuck with his truly remarkable 1-for-27 start.
Cardinals -- Tyler O'Neill, LF: The Cardinals' outfield situation is as unsettled as any in baseball, with the three outfielders routinely batting 7-8-9 in the lineup and top prospect Dylan Carlson looming. But while Harrison Bader (1-for-11 on the year) and Dexter Fowler haven't locked down their positions, it looks like O'Neill might be moving in that direction. He has two monster homers and leads the team in OPS so far.
Cubs -- Tyler Chatwood, RHP: The Cubs have been hopeful that Chatwood would solve his wildness issues and become the pitcher they believed he would be two years ago. It appears to finally be happening: 12 2/3 IP, 4 BB, 0.71 ERA.
Pirates -- Colin Moran, 3B: You might have known Moran before this year as B.J. Surhoff's nephew, or maybe the guy whose last name is how morons spell "moron." Now you should know him as the NL leader in homers with five.
Reds -- Eugenio Suárez, 3B: The Reds' offense was supposed to carry them this year, and Suárez was supposed to be the centerpiece. But after the Sunday doubleheader finale, he was hitting just .094.
NATIONAL LEAGUE WEST
D-backs -- Luke Weaver, RHP: There were questions about Weaver after his injury woes last year, but Arizona certainly believed he had a big role to play on this team. But after two starts, he has given up 12 earned runs.
Dodgers -- Cody Bellinger, CF: Everyone else on this team has been so great so far that no one has noticed that the reigning MVP is hitting .150. He did hit his first homer of the year on Sunday, though!
Giants -- Mike Yastrzemski, OF: He was a fun story last year, and a plus for this team … but he's putting up numbers right now that his grandfather never put up for a full season, or even half of one (.343/.500/.657).
Padres -- Trent Grisham, OF: Of all the Padres' additions the last couple of years, the former Brewer -- who will forever be known in Milwaukee for his Wild Card Game error last year -- Grisham was one of the lesser-heralded ones. But he has three homers already, and two steals, even: He's a fantasy star!
Rockies -- Nolan Arenado, 3B: Anyone see "the Rockies will start 6-2 despite their superstar player hitting .226 with one RBI" coming? On the opposite end of this: Matt Kemp, who is 5-for-13 with two homers thus far.