Tuesday's PHI-NYY now part of Wed. twin bill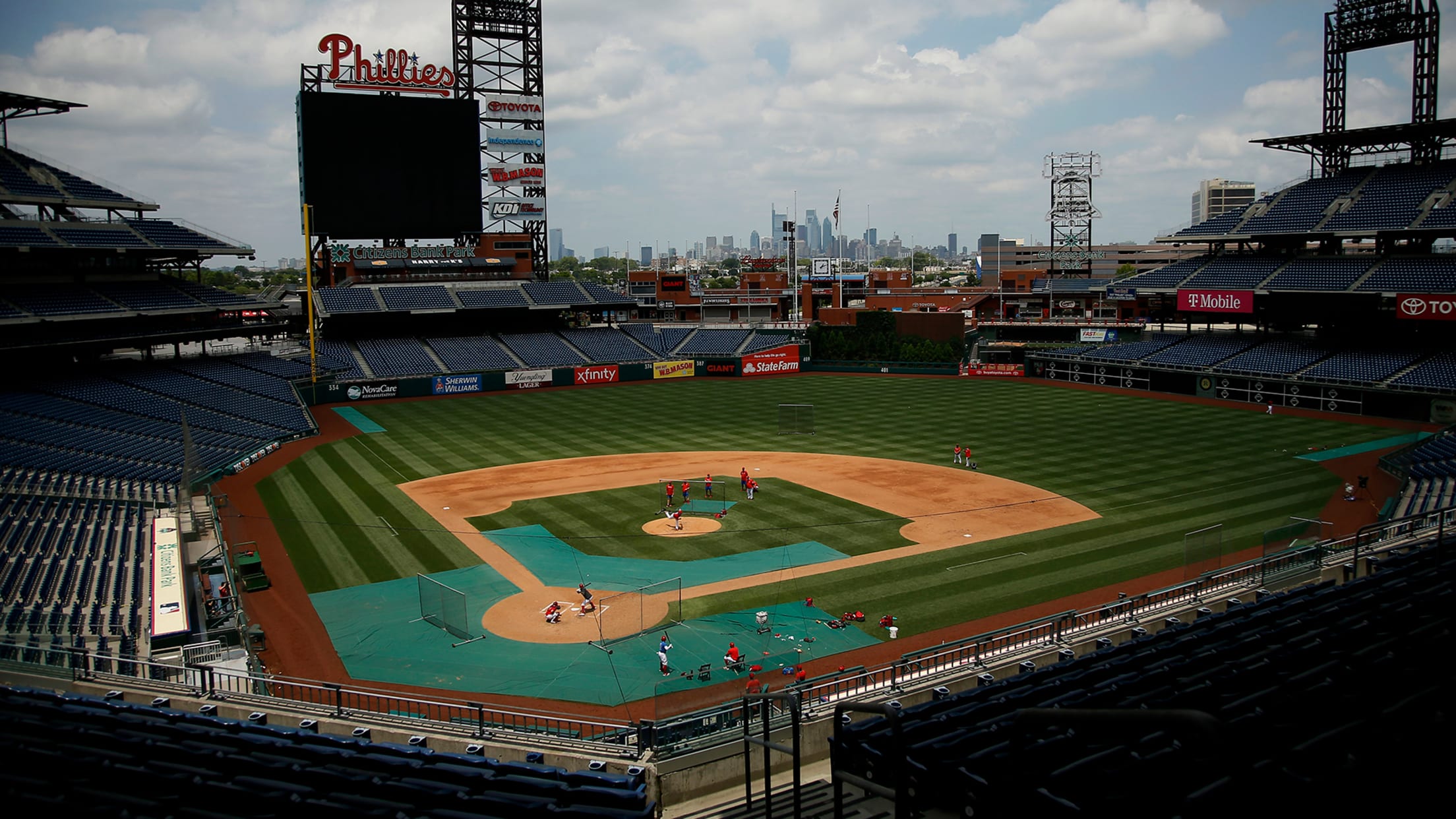 NEW YORK -- The Yankees wearing their fabled home pinstriped uniforms for a game in Philadelphia? It could happen on Wednesday, adding a new quirk to a unique and unprecedented Major League season. With Tuesday's Phillies-Yankees game at Yankee Stadium postponed due to the forecast of severe inclement weather from
NEW YORK -- The Yankees wearing their fabled home pinstriped uniforms for a game in Philadelphia? It could happen on Wednesday, adding a new quirk to a unique and unprecedented Major League season.
With Tuesday's Phillies-Yankees game at Yankee Stadium postponed due to the forecast of severe inclement weather from Hurricane Isaias, the teams are now scheduled to play a doubleheader at Citizens Bank Park on Wednesday.
In the first game of the seven-inning twin bill, scheduled for 4:05 p.m. ET, the Yankees will serve as the "home" team. (According to the rulebook, if a game is played at one team's home grounds, then that team is in fact the home team whether it bats first or second.) The Phillies will be the home team for the second game, which is scheduled to begin approximately 35 minutes after the conclusion of the first game.
"Hey, it's 2020, playing in this environment," Yankees manager Aaron Boone said. "We've got to be able to adapt to it. I feel like we'll be able to, but it obviously creates some challenges. The seven-inning doubleheader situation makes things a little bit more manageable. We feel like we have all the people in there to get through it and will embrace that the challenge of it all."
Last season, the Yankees wore their home uniforms during the MLB London Series, against the Red Sox. But before that series, it had been more than two decades since the Bronx Bombers suited up as the home team for a regular-season game played in a ballpark not called Yankee Stadium.
A concrete and steel expansion joint fell from the upper deck of The House that Ruth Built on the afternoon of April 14, 1998, forcing the postponement of that evening's game against the Angels. That contest was rescheduled to be played at Shea Stadium the next day, with Darryl Strawberry homering in the Yankees' 6-3 victory. When Strawberry went deep, the Home Run Apple popped up halfway in acknowledgement of the former Mets slugger's drive, then returned to its resting position.
Prior to 1998, the Yankees also called Shea Stadium home during the 1974-75 seasons while Yankee Stadium was extensively remodeled.
For the Phillies, the most recent instance for which they were the "away" team at their home park was June 27, 2010, against the Blue Jays. That game was originally scheduled to be played in Toronto, but was moved due to civil unrest concerns surrounding the G8 Summit, being held in the city that week.
That game saw the Blue Jays batting last, and the designated hitter was in use.