FAQ: How coronavirus impacts Yankees, MLB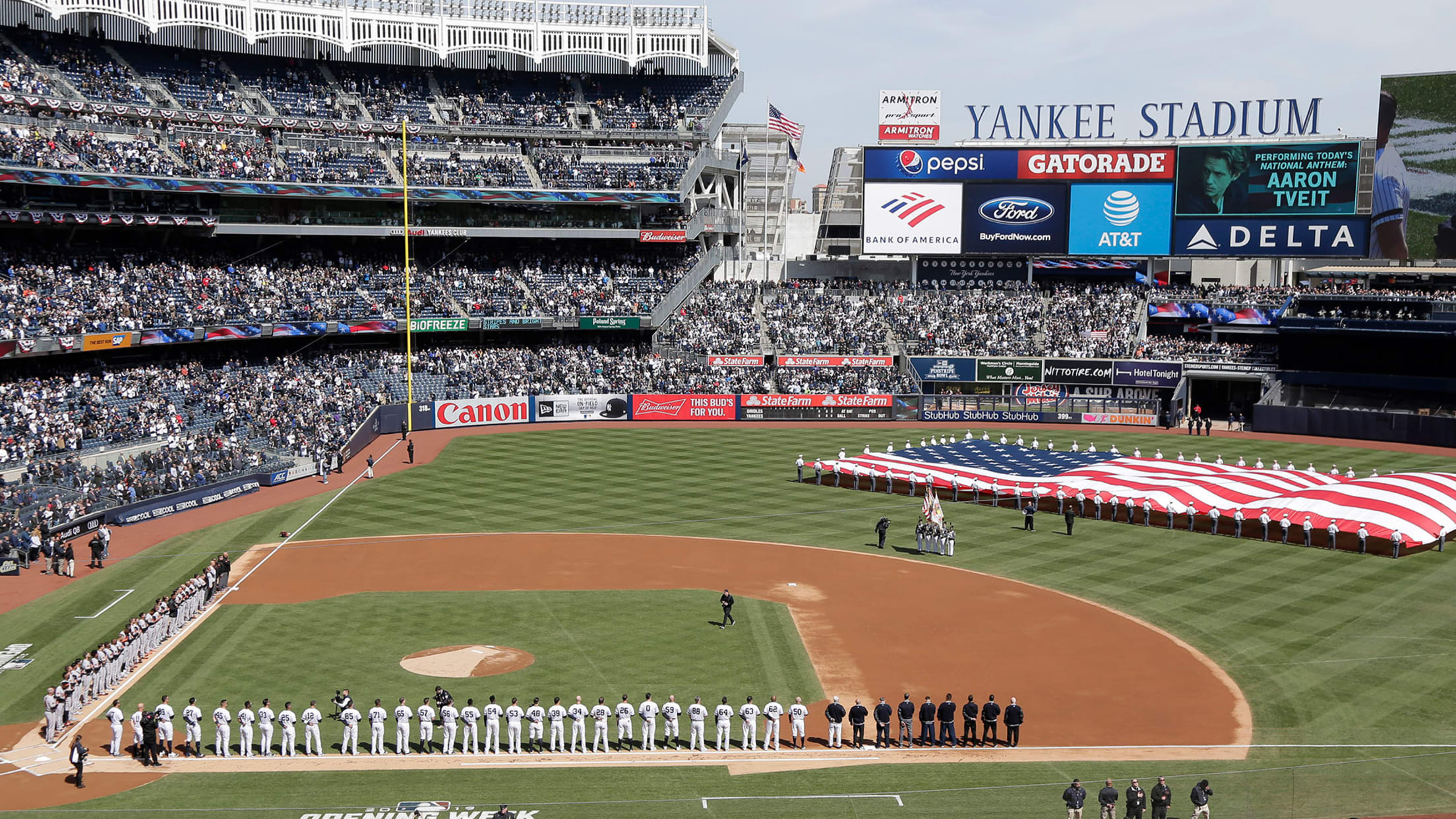 TAMPA, Fla. -- The reality that the beginning to the Major League season would be delayed reached Aaron Boone during batting practice on Thursday, as the Yankees manager watched his players prepare for a Spring Training game against the Nationals in West Palm Beach, Fla. Those nine innings will stand
TAMPA, Fla. -- The reality that the beginning to the Major League season would be delayed reached Aaron Boone during batting practice on Thursday, as the Yankees manager watched his players prepare for a Spring Training game against the Nationals in West Palm Beach, Fla.
Those nine innings will stand as the Yankees' most recent action for an undetermined period of time. As Major League Baseball confirmed Thursday afternoon, all Spring Training games have been suspended and the beginning of the regular season will be delayed by at least two weeks due to the national emergency created by the coronavirus pandemic.
"This is a unique situation that's bigger than baseball," Boone said. "You want to be doing your part on behalf of the world. We'll be cooperative and try to play our part the best we can."
On Friday afternoon, the Yankees issued the following statement:
"Yesterday, Major League Baseball announced the suspension of Spring Training games and a delay of at least two weeks to the start of the 2020 regular season due to the national emergency created by the coronavirus pandemic. The Yankees fully support this decision and will continue to proactively monitor current events in conjunction with medical experts, government officials and Major League Baseball.
"We recognize that our great fans have a variety of questions. However, given the unprecedented nature and fluidity of what is taking place, we appreciate your patience as we diligently work through the many aspects and details of this continually evolving situation.
"When updated official information becomes available, the Yankees will communicate it to their fans promptly and through a variety of channels, including Twitter (@yankees) and on the www.yankees.com website.
"We thank you for your understanding as we collectively navigate through this challenging time being faced by the worldwide community."
When will the season start?
There is no official start date for the season at this time. What we do know is that the start of the season will be delayed at least two weeks. Opening Day had been scheduled for Thursday, March 26.
MLB will continue to evaluate ongoing events leading up to the start of the season. Guidance related to daily operations and workouts will be relayed to all 30 clubs in the coming days.
How will the schedule change to accommodate the late start?
According to the release sent by MLB, the league and teams have been preparing a variety of contingency plans regarding the 2020 regular-season schedule. MLB will announce the effects on the schedule at an appropriate time and will remain flexible as events warrant, with the hope of resuming normal operations as soon as possible.
What's going to happen with the rest of Spring Training?
Forthcoming Spring Training games were canceled as of 4 p.m. ET on Thursday, and 2020 World Baseball Classic qualifying games scheduled in Tucson, Ariz., were postponed indefinitely. The cancellations include a two-game Yankees exhibition series against the Blue Jays in Montreal that had been scheduled for the end of Spring Training.
What about Minor League Baseball?
Minor League Baseball announced Thursday that the start of the regular season, originally scheduled for April 9, will be delayed indefinitely.
Where will players go?
Zack Britton, the Yankees' player representative, said on Friday that the team unanimously voted to remain in Florida and continue informal workouts at the George M. Steinbrenner Field complex. They were given the options of returning to their homes or to New York City, but Britton said that the team's numerous medical resources in the greater Tampa area made it "a good place for us to be."
Yankees' Minor League players have been given the same options as the big league club. Those choosing to remain in Tampa can continue to work out at the player development complex on Himes Avenue.
Will there be any access for workouts?
The workouts will largely take place behind closed doors, with pitchers throwing from bullpen mounds, hitters taking batting practice in indoor cages and strength work in the gymnasium. As the workouts are considered informal, there will be no fan or media access to the complex.
What other measures have been taken?
The Yankees have had two rounds of anti-viral treatment conducted on their home clubhouse in the last week, and it is likely that more will follow. General manager Brian Cashman said that the club had adjusted their amateur and professional scouting levels, informing cross-checkers that they could no longer fly and telling amateur scouts to travel by car instead of plane.
All professional scouts had been sent home prior to the MLB suspension of Spring Training, and all international scouting has been suspended. Many employees, including those with offices at Yankee Stadium, have been told to work remotely.
Who were the Yankees scheduled to play?
The Yankees were scheduled to open the regular season with four series against American League East rivals. The schedule had them traveling to Baltimore for a March 26-29 series with the Orioles before returning to the Tampa Bay area for a three-game series with the Rays from March 30-April 1. They would have then traveled to New York for a homestand to host the Blue Jays (April 2-5) and Orioles (April 6-9).
How might this affect the Yankees once play resumes?
The projected Opening Day roster could see some changes, specifically to the status of Aaron Judge and Giancarlo Stanton. Judge (stress fracture of right rib) will have a CT scan to gauge his healing on or around March 20 and has said that he believes he could be ready as soon as mid-April, while Stanton (right calf strain) is also projected to be ready for big league duty sometime in April.
Judge found a silver lining before Thursday's shutdown was announced, saying, "For me, I wouldn't mind a couple of more weeks to recover."
In addition, left-hander James Paxton resumed playing catch this week following back surgery and said that he is targeting a mid-May return to the big league rotation.
What are they saying?
"We love playing in front of our fans. We've got the best fans in the world. I think the most important thing is obviously the safety of not just the players, but also the fans and everybody in the ballpark. We'll see how we're supposed to proceed and just continue to get our work in. Whenever the season starts, wherever it starts, we'll be ready." -- Brett Gardner