Yanks give HOPE to Furniture Sharehouse
Families in need of furniture get welcome surprise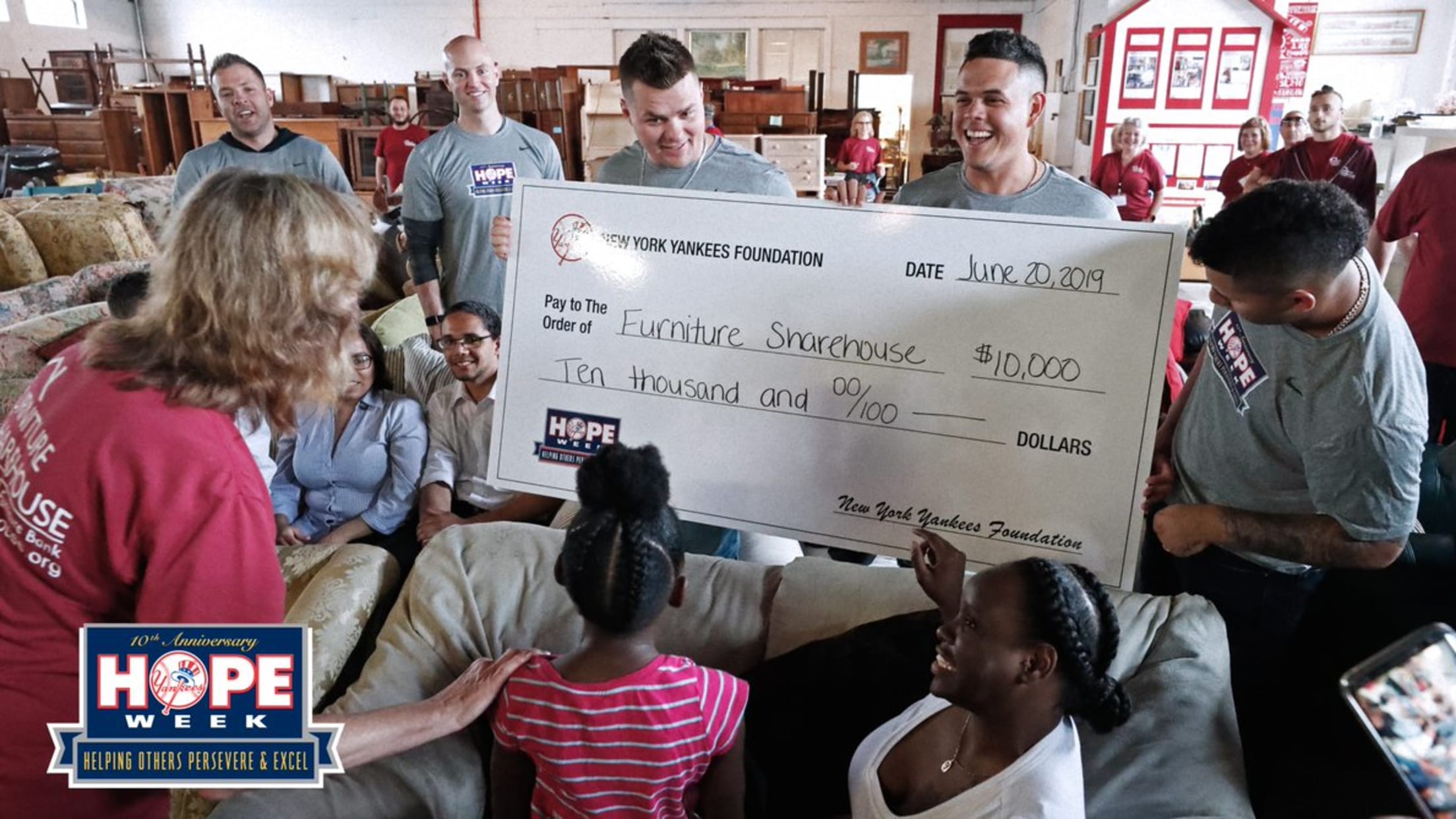 WESTCHESTER, N.Y. -- After a magical showing in the Bronx on Wednesday, the Yankees had another trick up their sleeves for the fourth day of the 10th annual HOPE Week. On Thursday, at the Furniture Sharehouse in the Westchester County Airport, two families from Mount Vernon, the Collazos and the
WESTCHESTER, N.Y. -- After a magical showing in the Bronx on Wednesday, the Yankees had another trick up their sleeves for the fourth day of the 10th annual HOPE Week. On Thursday, at the Furniture Sharehouse in the Westchester County Airport, two families from Mount Vernon, the Collazos and the Gullivers, were surprised by members of the Yankees while picking out furniture from the donation warehouse.
Greeted by Yankees' vice president of communications and media relations Jason Zillo, along with numerous Furniture Sharehouse volunteers, the two families were expecting to choose from the wealth of donated items in the warehouse to help furnish their homes. But they were certainly not expecting the helping hands of Austin Romine, Luke Voit, Gleyber Torres, Gio Urshela, J.A. Happ, Zack Britton, Jonathan Holder and bullpen coach Mike Harkey to be at their disposal.
The players assisted the Furniture Sharehouse volunteers, called "personal shoppers," in helping the two families choose from the donated items in the warehouse. Donning their HOPE Week T-shirts, the Yankees put pieces of tape on items chosen by the families, marking the item for the movers who help deliver the furniture to these families. After the furniture was chosen, the players then joined the families for a lunch of pizza and salad.
Rosa Collazo, mother of the Collazo family, is a medical assistant who is going back to school to become a registered nurse. She is starting her new home from scratch.
"It meant a lot. Today was a special day. I've been a Yankee fan since I was young, and I thought that I was just coming here just to pick out furniture, but having everyone here was way bigger, and it was very special for me and for my son," Collazo said. "Coming from where I'm from, it is really hard to do everything, and I've pushed my way along, but it really means a lot."
"When a family comes in, we find out how big their family is and what their needs are," said Caryl Hahn, a board director for Furniture Sharehouse. "We want to give people what they need, and for the Yankees, who are such a huge brand, and so iconic, and so important, and they're picking us? This small, little volunteer-run operation? I'm speechless. It's really awesome."
Today's #HOPEWeek honoree is @furnsharehouse, which collects gently used furniture and gives away to families in need. We hauled a donation up to their warehouse in Westchester and then helped a couple of deserving families pick furniture for their homes. pic.twitter.com/LVt6HxErKl

— New York Yankees (@Yankees) June 20, 2019
Kate Bialo founded Furniture Sharehouse in 2007, and the nonprofit organization has helped more than 4,000 families take home more than 75,000 items of furniture over its 12 years of operation. Along with helping the families choose furniture, the Yankees donated $10,000 and two trucks full of furniture to the Furniture Sharehouse and are taking all the Sharehouse workers to Thursday's game against the Houston Astros. Bialo will be throwing out the first pitch.
"I've been doing physical therapy for my shoulder, and I've just been waiting for the moment when I could email my physical therapist and say, 'Hey, do you think my shoulder is ready to throw out the first pitch tonight?" Bialo said.
While the Sharehouse workers may have been in awe of the Yankees, the Yankees were just as in awe of the dedicated volunteers. "Baseball is a sport that people come and watch and everyone gets to celebrate, but this is more of a thing where the work day in and day out goes unnoticed," Romine said. "They're not in this for the thank you, they're not in this for the accolades or anything that comes with it, they're just in this to do it because it's the right thing to do."
"The New York Yankees are renowned around the world, not just for the decades of success, but because our brand transcends wins and losses. It allows us to do things that most organizations and professional sports teams can't do," Zillo said. "We've got a group of guys in our clubhouse that run towards, not run away from, events like today. They're able to use their platform as professional athletes to bring to light some important people and important causes, like what happened today."
The $10,000 donation from the Steinbrenners and the Yankees organization will help Furniture Sharehouse provide furniture for even more families in the Westchester area.
"We are a very low budget operation, and we have to raise every penny to keep our operation going, so the gift of $10,000 was phenomenal for us," Bialo said. "We say it takes about $350 of our operating expenses to furnish each family, so it's phenomenal to know that money is going to help us help even more families come here and pick out their furniture."
"The fact that they are able to give all of this [furniture] away, for free, to families in need, is truly amazing," said Jennifer Steinbrenner Swindal, who runs the Steinbrenner family's private foundations.
Urshela, who is experiencing his first HOPE Week with the Yankees, said, "It's amazing that the Yankees have been doing this week for 10 years to help people who really need it."
Romine, who has been a part of the Yankees organization since 2007, added, "It means everything to be able to help out. They come to all our games, they cheer for us, they live and breathe for us, so any chance we can get to make a lasting impression on a kid or help someone, we love doing it."