2020 vision: How Yanks' OD roster could look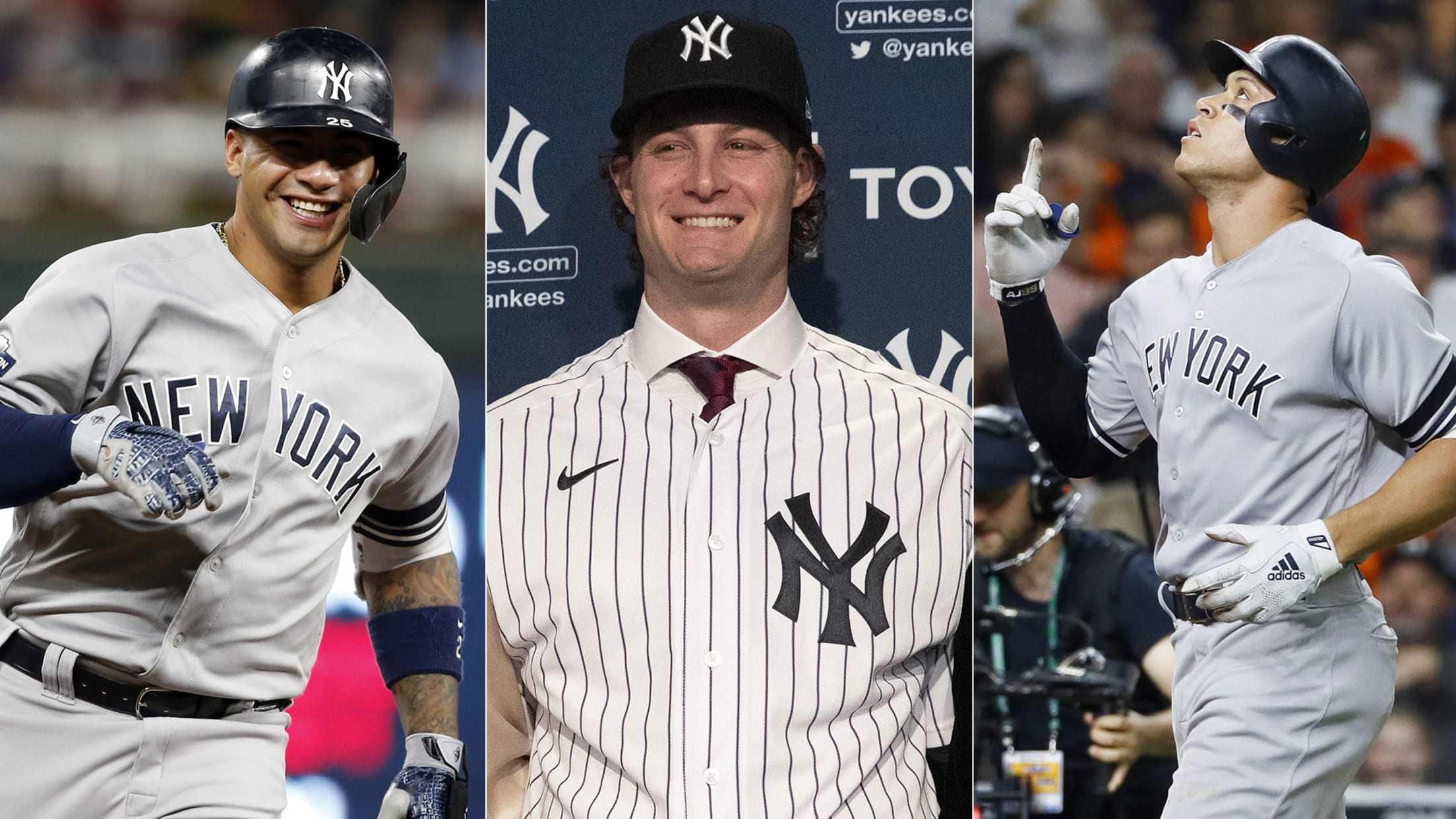 TAMPA, Fla. -- When Yankees manager Aaron Boone ambled to the center of the George M. Steinbrenner Field home clubhouse for last year's Spring Training address, he outlined the objective of securing the club's first American League East title in seven years. They did, and the goal is set even
TAMPA, Fla. -- When Yankees manager Aaron Boone ambled to the center of the George M. Steinbrenner Field home clubhouse for last year's Spring Training address, he outlined the objective of securing the club's first American League East title in seven years. They did, and the goal is set even higher in 2020: Anything short of the World Series will not be enough.
"We have a championship-caliber club," Boone said. "We're one of those handful of teams that feel like we're truly in that mix. It's been important for us to embrace that, maybe even this year to a different level. One of my first messages to the guys is, we'll embrace that every single day because those expectations don't go away, especially when you play in New York."
• Forecasting all 30 teams: Lineups, rotations, closers
Here's an updated look at what the Yankees' roster could look like come Opening Day, keeping in mind that rosters are expanding from 25 to 26 players this year:
Catcher (2): Gary Sánchez, Kyle Higashioka
Sánchez has impressed early in camp as he takes on a new right-knee-down style behind the plate, suggested by new catching coach Tanner Swanson. Higashioka, whom Swanson described as "an elite receiver," is out of Minor League options and continues to be the backup favorite. Challengers include non-roster invitees Chris Iannetta, Erik Kratz and Josh Thole.
First base (2): Luke Voit, Mike Ford
Voit projects as the starter, with the Yankees banking that he will return to his pre-injury form following offseason surgery to correct a sports hernia. From Opening Day through June 29, Voit compiled a .901 OPS with 17 homers and 50 RBIs in 78 games. Ford's left-handed power provides an enticing option for a lineup that is decidedly heavy on righties.
Second base (1): DJ LeMahieu
Anointed as the Yankees' 2019 MVP by Boone and others, LeMahieu projects to handle everyday duty at second base, where he was a three-time National League Gold Glove Award winner ('14, '17, '18) with the Rockies. The Yanks utilized LeMahieu at three positions last season, including 75 games (66 starts) at second.
Shortstop (1): Gleyber Torres
Torres advanced through the Minors as a shortstop and played the position extensively in the first half of last season. Now he is looking forward to the challenge of returning there on a full-time basis. While Torres' range and throwing will be areas of focus during the spring, he set career highs in every offensive category last year while joining Joe DiMaggio as the youngest Yankees to hit at least 30 homers in a season.
Third base (2): Gio Urshela, Miguel Andújar
General manager Brian Cashman has proclaimed that third base is Urshela's job to lose, coming off a terrific season in which he hit .314/.355/.534 with 21 homers and 74 RBIs in 132 games, leading the club with 34 doubles. The Yankees are continuing to evaluate Andújar at third base, left field and first base this spring, and his bat appears lively enough to make the Opening Day roster.
Outfield (3): Clint Frazier, Brett Gardner, Mike Tauchman
An outfield alignment that initially projected to boast Aaron Judge and Giancarlo Stanton now instead appears to feature Frazier and Tauchman flanking Gardner in center field to begin the year, with Andújar likely seeing some reps in left field as well. While there is hope that Judge and Stanton will rejoin the lineup in April, Aaron Hicks is not expected to return from Tommy John surgery until at least June.
Utility (2): Thairo Estrada, Tyler Wade
The Yankees see both Estrada and Wade as useful jacks-of-all-trades. Wade served three stints with New York last year and was included on the postseason rosters. MLB's expansion to a 26-man roster makes him a perfect addition to the Bombers' bench. Estrada features some of the same versatility that Wade offers, appearing at second base, shortstop and the corner outfield spots last season.
Starting pitchers (5): Gerrit Cole, Masahiro Tanaka, J.A. Happ, Jordan Montgomery, Jonathan Loaisiga
With Luis Severino out for the season because of Tommy John surgery and James Paxton unavailable until at least May following back surgery, Happ has been elevated from a possible No. 5 starter to the likely No. 3 (good thing they didn't trade him!), while Montgomery is a front-runner to grab the No. 4 spot. Loaisiga has showcased some of the best stuff in camp, and the Yanks are continuing to decide if he better projects as a starter or multi-inning reliever.
Relievers (8): Aroldis Chapman (closer), Zack Britton, Luis Cessa, Chad Green, David Hale, Jonathan Holder, Tommy Kahnle, Adam Ottavino
New York's power bullpen was viewed as one of its greatest strengths last season, a quality that the Yankees believe they'll maintain. The road again leads to Chapman, who converted 37 of 42 save opportunities while posting a 2.21 ERA in 2019. Bombers relievers posted a 4.08 ERA last year, ninth lowest in the Majors but their highest since 2007 (4.37). They also ranked fifth in the Majors with 750 strikeouts, three shy of a club record set in '18.
On the bubble: RHP Deivi Garcia, RHP Ben Heller, IF/OF Rosell Herrera, LHP Tyler Lyons, RHP Michael King, RHP Nick Nelson, RHP Clarke Schmidt
Boone has spoken about Garcia, King, Nelson and Schmidt in glowing terms as options who could help the club at some point this season. Some in the clubhouse believe Schmidt is big league ready right now. Herrera has opened eyes with a live bat and defensive versatility; he figures to push Estrada and Wade for a utility role. Lyons was on the postseason rosters last year, though he is no longer on the 40-man roster. Heller has yet to pitch in a game this spring.