Who has edge? NYY-HOU position by position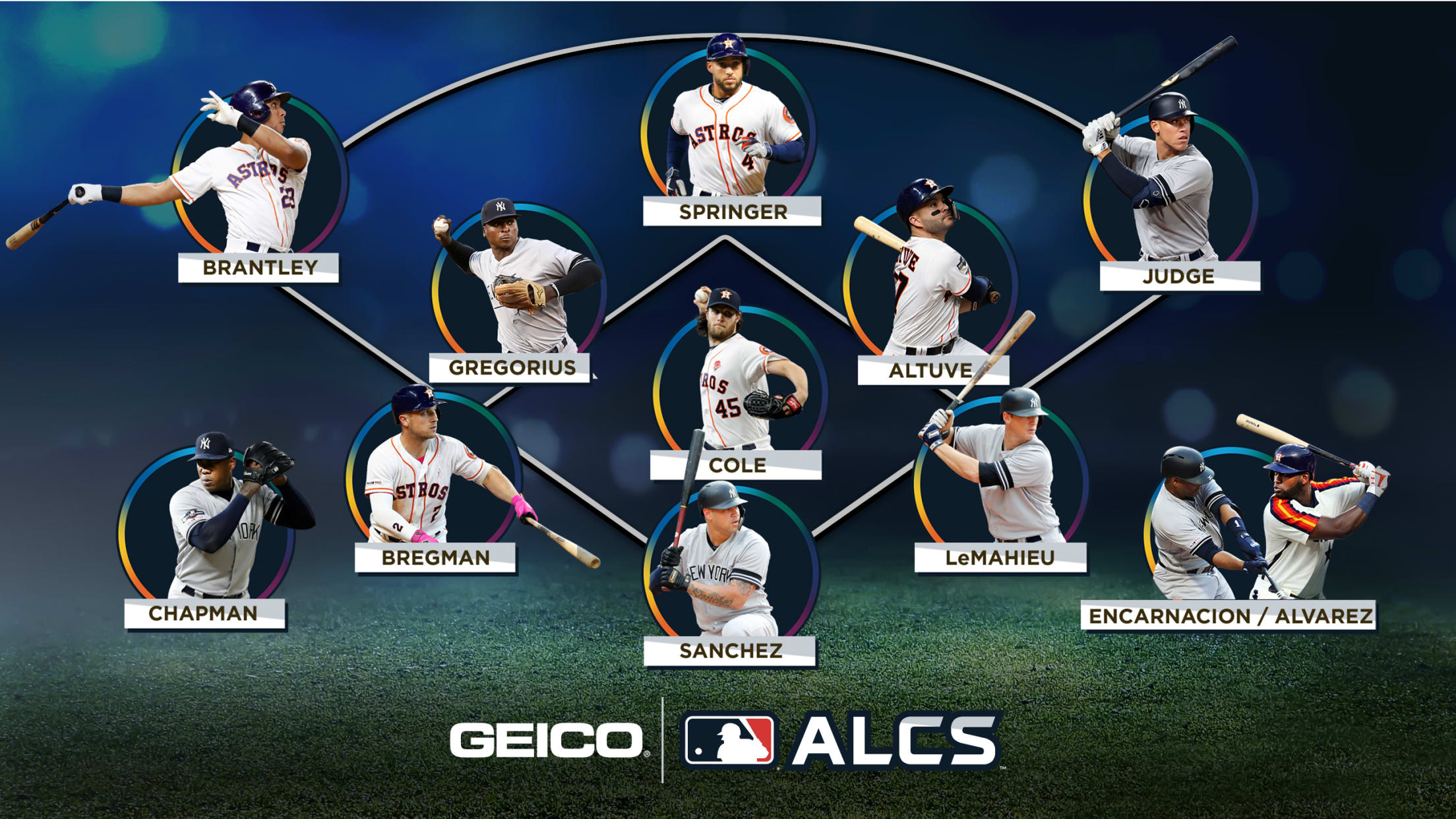 The Astros and Yankees are meeting in the American League Championship Series, which begins Saturday night in Houston. And if recent history is any indication, they are going to treat baseball fans to a highly competitive series. When these franchises clashed in the 2017 ALCS, it took seven games for
The Astros and Yankees are meeting in the American League Championship Series, which begins Saturday night in Houston. And if recent history is any indication, they are going to treat baseball fans to a highly competitive series.
When these franchises clashed in the 2017 ALCS, it took seven games for the Astros to squeeze past the Yankees, on their way to a World Series championship. The 2019 regular-season series between them was similarly hard fought, with Houston again going 4-3 while outscoring New York by a thin margin, 39-37.
So here they are again. After a long battle for the AL's best record, the Astros (107-55) held off the Yankees (103-59) and earned home-field advantage for this series. But Houston had a more difficult time getting through the AL Division Series, finally advancing with Thursday's Game 5 win against the Rays. The Yanks not only swept the Twins, they won each of the three games by at least four runs, giving them three extra days' rest heading into the ALCS.
Who has the edge in this hotly anticipated rematch? Here is a position-by-position look at how these teams compare.
Catcher
The Astros have a solid veteran tandem, with 33-year-old defensive specialist Martín Maldonado typically catching Gerrit Cole, and 35-year-old Robinson Chirinos handling the rest. Chirinos was well above average offensively this year, but the Yankees' Gary Sánchez is the far more dangerous presence at the plate, smacking 34 homers this season and ranking at or near the top of various Statcast leaderboards for his high quality of contact. That ability to take over a series with his bat is too much to ignore here.
Advantage: Yankees
First base
The Yankees used Luke Voit here a lot during the regular season, but DJ LeMahieu started all three ALDS games at first. LeMahieu has certainly showed the bat to play first, with a .327/.375/.518 line, 26 homers, and 102 RBIs in his fantastic debut season in the Bronx. He continued to rake in the ALDS (4-for-14 with three extra-bases hits). Yuli Gurriel put up fairly similar numbers at the plate -- thanks to a blistering hot streak in July and August -- and is one of many tough outs in the Astros' lineup. LeMahieu has been just a bit better in 2019, and he's been a steady source of productivity for a Yanks lineup beset by injuries.
Slight advantage: Yankees
Second base
There is no MVP Award for the ALDS, but if there were, the Yankees' Gleyber Torres may have won it. The 22-year-old went 5-for-12 with three doubles, a homer and a 1.378 OPS in three games, coming off a season in which he bashed 38 homers with an .871 OPS. Torres looks like a blossoming superstar, but then again, José Altuve has been at that level for a while now. Slowed by injuries early this season, he recaptured his 2017 AL MVP Award form in the second half (.325/.372/.622, 21 homers), then carried that into a strong ALDS performance that included three big flies.
Advantage: Astros
Shortstop
Injuries limited both Houston's Carlos Correa and New York's Didi Gregorius this year, as they played just 75 and 82 games, respectively. Correa has the higher ceiling and put up the more robust numbers (.926 OPS vs. .718 for Gregorius). But while Gregorius played consistently after making his season debut in June, back issues limited Correa to only three regular-season games after Aug. 19. A quiet ALDS raises further questions about whether Correa is operating at anywhere near full capacity, and that has to affect the decision in this matchup.
Slight advantage: Yankees
Third base
Gio Urshela's 2019 season far surpassed any reasonable expectations, as he seized an opportunity and hit .314/.355/.534. But while Urshela has been a pleasant surprise and strong performer for the Yankees, the Astros' Alex Bregman just might win the AL MVP Award. Even if Bregman doesn't overtake Mike Trout in the voting, he has firmly established himself as one of the game's elite players, excelling on both sides of the ball.
Advantage: Astros
Left field
Houston's Michael Brantley and New York's Giancarlo Stanton are both tough hitters to face, but for different reasons. Brantley makes a lot of contact, sprays line drives and is nearly a .300 career hitter. Stanton has the chance create a memorable highlight every time he steps in, thanks to his immense power. But Stanton has played all of 21 games in 2019, with 12 of those coming in September and the postseason. The results have been solid in that time, but it's difficult to know what to expect.
Advantage: Astros
Center field
The Yankees might be considering including Aaron Hicks on their ALCS roster, but he hasn't played since Aug. 3. Meanwhile, Brett Gardner finished strong (10 homers in September), and he had a good ALDS. The 36-year-old somehow is better than ever at the plate, and he was a key link to the Yanks' last World Series championship team. As impressive as his 2019 has been, George Springer's has been even better. The 2017 World Series MVP launched 39 homers despite missing time with a hamstring injury, and he matched Gardner's 10 September dingers while slugging .725.
Advantage: Astros
Right field
Houston's Josh Reddick recovered from a long rough patch in July and August to rake in September (.954), but then he went 1-for-10 with five strikeouts in the ALDS. It's worth wondering whether rookie Kyle Tucker might get more of a shot in this round. Either way, the Yankees have the biggest bat here in Aaron Judge, who recovered his power stroke in the last two months of the season and showed his patience with four walks in the ALDS. Judge is also underrated in the field, ranking third in Defensive Runs Saved among outfielders over the past two seasons.
Big advantage: Yankees
Designated hitter
The Yankees' Edwin Encarnacion has the track record. The 36-year-old, who remains a significant threat at the plate, passed the 400 career homer mark this season and has delivered in the postseason before. Houston's Yordan Alvarez can't match that resumé, but his bat is too potent to ignore, coming off perhaps the greatest offensive performance (on a rate basis) by a rookie in MLB history. Among those with at least 300 plate appearances this season, only Trout was better, going by park-adjusted wRC+. Alvarez has hardly seemed overcome by the moment in the postseason, going 6-for-19 (.316) with three doubles in the ALDS, although he has not homered since Sept. 21.
Advantage: Push
Starting pitchers
This was thought to be the Yankees' weak spot coming into the postseason, but New York's rotation produced a 2.63 ERA and a 19-to-4 strikeout-to-walk ratio in the ALDS. Of course, James Paxton, Masahiro Tanaka and Luis Severino also combined for just 13 2/3 innings, with none going past five. Each of those pitchers has the ability to dominate on any given night, but the Yanks' bullpen strength also means that manager Aaron Boone doesn't have to push his starters.
Now, the Astros aren't without question marks here. Zack Greinke was touched up for six runs in his ALDS start, and Wade Miley's late-season struggles pushed Houston into starting Justin Verlander on short rest in Game 4 -- a decision that backfired. Because he was needed in an Game 5 of the ALDS, Cole likely won't start in the ALCS until Game 3, and Houston will have to figure out what to do about Game 4. Nonetheless, the combo of Verlander and Cole is too good to ignore, especially with Cole looking like the best pitcher on the planet right now.
Advantage: Astros
Bullpens
As mentioned, Boone was aggressive with his bullpen against the Twins, as the club made 15 individual relief appearances in three games, allowing three runs in 13 1/3 innings and striking out 16. It's a relief corps that offers a lot of different looks, skill sets and eye-popping pitches, and it should be rested and ready for the ALCS.
Houston manager AJ Hinch might not have quite as much faith in his crew. Ryan Pressly and closer Roberto Osuna each had one tough outing in the ALDS, and the unit as a whole allowed 25 baserunners in 13 innings. There are still good arms here, but expect Hinch to continue getting as much as he can from his starters.
Advantage: Yankees
Prediction: Both teams can crush the ball and have dangerous bats throughout their lineups. The tipping point might be on the pitching side. A bullpen game would seem to favor the Yankees, but the Astros have the horses in their rotation to avoid that situation for most of the series. Cole and Verlander provide a big advantage, yet Houston's first series stretching to five games messed with their rotation and chipped away at that edge a bit. Even so, the Astros could combine for four full-rest starts in a seven-game series, which would be tough to beat. Houston advances after another winner-take-all Game 7.