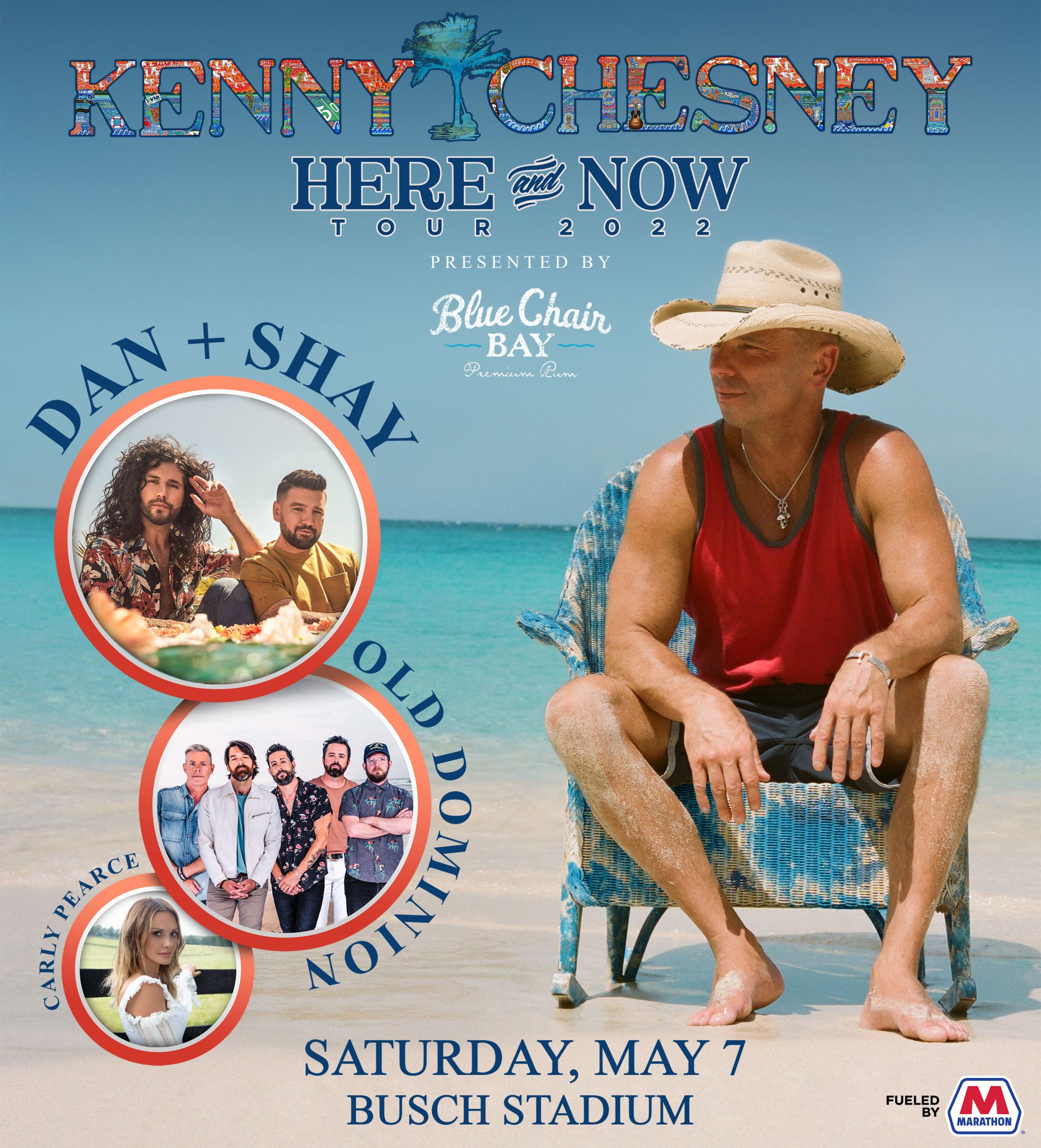 After a two year wait, Kenny Chesney is coming back to St. Louis! The Here and Now Tour presented by Blue Chair Bay Rum and Fueled by Marathon will take place on Saturday, May 7, 2022. You'll want to be at Busch When the Sun Goes Down for this epic night!
You'll be Speechless when Grammy Award winners Dan + Shay take the stage. How can we Make It Sweet(er)? Old Dominion will be joining the party! Finally, you'll love Every Little Thing about the night when Carly Pearce kicks off the show!
Tickets are on sale now. All tickets purchased for the Chillaxification Tour, originally scheduled for 2020, will be honored for the 2022 show.
Official Platinum Seats
Secure the best seats in the house! Platinum seats are located on the floor, as well as in most seating bowl locations, and are variably-priced based on location. Platinum seats are available to all customers and do not require a password. These seats are on sale now and will be available while supplies last. Limit of 8 tickets per customer.
VIP Packages
Chesney VIP Packages are on sale now and will be available while supplies last. Limit of 8 tickets per customer.
All Chesney VIP Packages include:
Pivotal. Seminal. Indelible.
UBER-Exclusive, Limited Edition Screen-Printed 'Here and Now Tour' Poster
Limited-Edition Print Artistically Commemorates the Essence of Kenny Chesney
Based on Original Artwork, Individually Hand Numbered & Comes with a Certificate of Authenticity
Essential Kenny Chesney VIP Merchandise
Ultimate 'Here and Now Tour' Pack Designed Exclusively for VIPs
Includes a Special Collection of Kenny Chesney Themed VIP Merchandise
Choose from one of six Chesney VIP Packages below:
SANDBAR VIP PACKAGE (VIP1)
One Awesome General Admission Floor Ticket in the ULTRA-exclusive Sandbar *
Package Incudes Early-Entry & First Access to the Sandbar!
*General Admission is non-reserved (standing only).
GOLD VIP PACKAGE (VIP2)
One Incredible Reserved Seated Floor Ticket
BLUE VIP PACKAGE (VIP3)
One Amazing Reserved Seated Floor Ticket
BLACK VIP PACKAGE (VIP4)
One Phenomenal Reserved Seated Ticket
RED VIP PACKAGE (VIP5)
One Exceptional Reserved Seated Ticket
GREEN VIP PACKAGE (VIP6)
One Excellent Reserved Seated Ticket
VIP PACKAGE DISCLAIMER INFORMATION
Sandbar VIP Package purchasers will be contacted via e-mail a few days prior to the event date. Information will be sent to the e-mail address provided at the time of purchase. If you have any questions regarding your ticket purchase, please email [email protected].
All sales are final. There are no refunds or exchanges under any circumstances. All packages and package contents are non-transferable. VIP merchandise will be shipped directly to each package purchaser, some exceptions may apply. Package purchases are restricted to U.S. & Canadian addresses only. Information provided at the time of purchase (name, address, e-mail, etc.) is the same information that will be utilized for individual contact requirements as applicable. The artist, tour, promoter, ticketing company, venue or any other affiliated parties are not responsible for outdated or inaccurate information provided by the consumer at the time of purchase. Commemorative VIP laminates are for commemorative purposes only. The VIP laminate does not gain or authorize access into the venue, VIP or any backstage areas.
All-Inclusive Tickets
Beverage service begins when gates open at 4:00 p.m. and will run through 9:30 p.m.
Food service begins at 5:00 p.m. and will run through 9:00 p.m.
UMB Champions Club
An upscale buffet that includes ballpark fare, a carving station, action stations, cookies and brownies
Three full-service bar areas include Budweiser, Bud Light, Bud Select, Shock Top, wine, mixed drinks and Coca-Cola products
Private restrooms
National Car Rental Club
An upscale buffet that includes ballpark fare, a carving station, action stations, cookies and brownies
Full-service bar includes mixed drinks, wine, Budweiser products, Shock Top, Goose Island IPA and Coca-Cola products
Private restrooms
Party Suites and Legends Club
Includes a buffet of ballpark favorites
Full-service bar in each suite that includes mixed drinks, wine, Budweiser, Bud Light, Shock Top, Goose Island IPA and Coca-Cola products
Premium Party Suites
Upscale buffet featuring ballpark favorites and more
Exclusive one-time catering delivery of upscale menu enhancements

Chilled shrimp platter and assorted cheese platter
Basket of warm pretzels delivered
Dessert cart with assorted treats
Full-service bar in each suite, featuring mixed drinks, wine, Budweiser and Bud Light bottles, Shock Top and Goose Island IPA and Coca-Cola products