Fiesta Gigantes
Fiesta Gigantes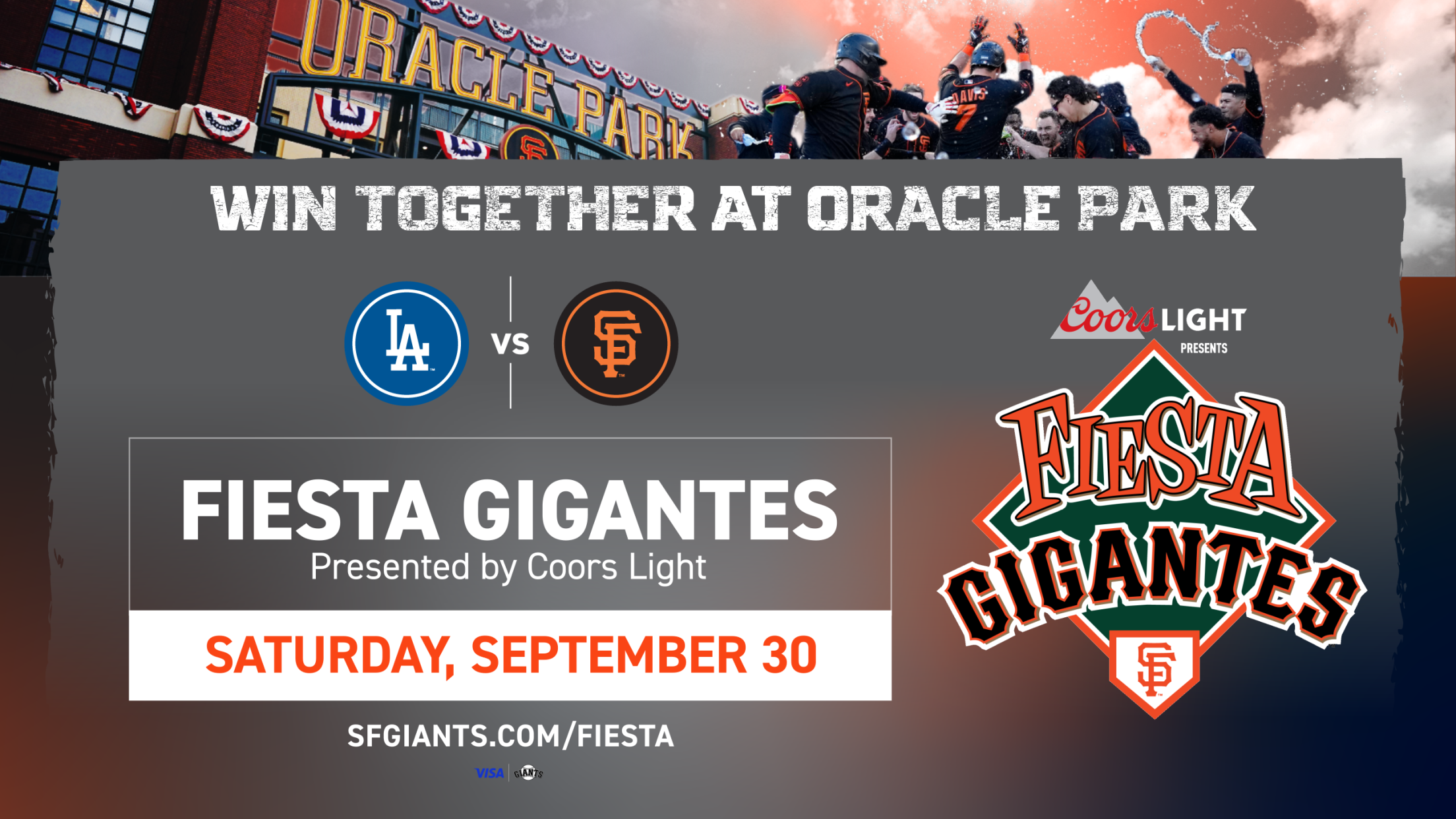 Celebrate Fiesta Gigantes, presented by Coors Light, as Giants host Dodgers
The annual Fiesta Gigantes, presented by Coors Light, returns to Oracle Park on Saturday, September 30. Join the Giants as we celebrate Hispanic culture and highlight the work of local nonprofits serving our Hispanic communities. The team on the field will wear black Gigantes jerseys for the game.
PREGAME ACTIVATIONS
Be in your seats early to enjoy cultural performances, a special ceremony and more.
National Anthem: Frankie J, Mexican American Latin Pop and R&B singer
First Pitch: Jesse Hernandez, @urbanaztec, local artist and the designer of the fan-favorite Urban Aztec "SF" Gigantes logo
Home Plate Ceremony: The Pioneer Award, Hispanic Heritage Baseball Museum Hall of Fame. Presented to Erwin Higueros, Giants Spanish Language Broadcaster and Director of Hispanic Marketing. Established in 1998, the Hispanic Heritage Baseball Museum Hall of Fame is a non-profit organization dedicated to recognizing the profound influence that Hispanic players have made on the great game of baseball. The Pioneer Award is presented annually to a distinguished individual who, by their achievements, has contributed to major pioneering outcomes enhancing Major League Baseball.
Lefty O'Doul Plaza:
Magda Vazquez (Mariachi)

Angel Ortiz (Banda)
In Ballpark:
SPECIAL FOOD OFFERINGS:
Mixed Fresh Fruit Cup with Tajin – Orlando's Caribbean Grill (Section 140), Hearth Table (lower centerfield), Farmer Market (Section 216), Corona Container (Section 311)
Agua Frescas - All Mission Street Taqueria Locations
Elote – Orlando's Fish Tacos (Section 140)
Cuervo Spicy Margarita with Tajin-salted rim - Cantina Bar (Section 102), Cuervo Bar (Section 232), Cable Car Bar (Section 316)
Enjoy sample tastings from:
Hornitos on the Promenade Level
Don Julio in the Edible Garden
Jose Cuervo on the Club Level
Coors Light at the Coors Light Cove
Herdez Salsa in Willie Mays Plaza
McBride Sisters Wine in the Edible Garden
¡Vamos Gigantes!