Lady Gaga - The Chromatica Ball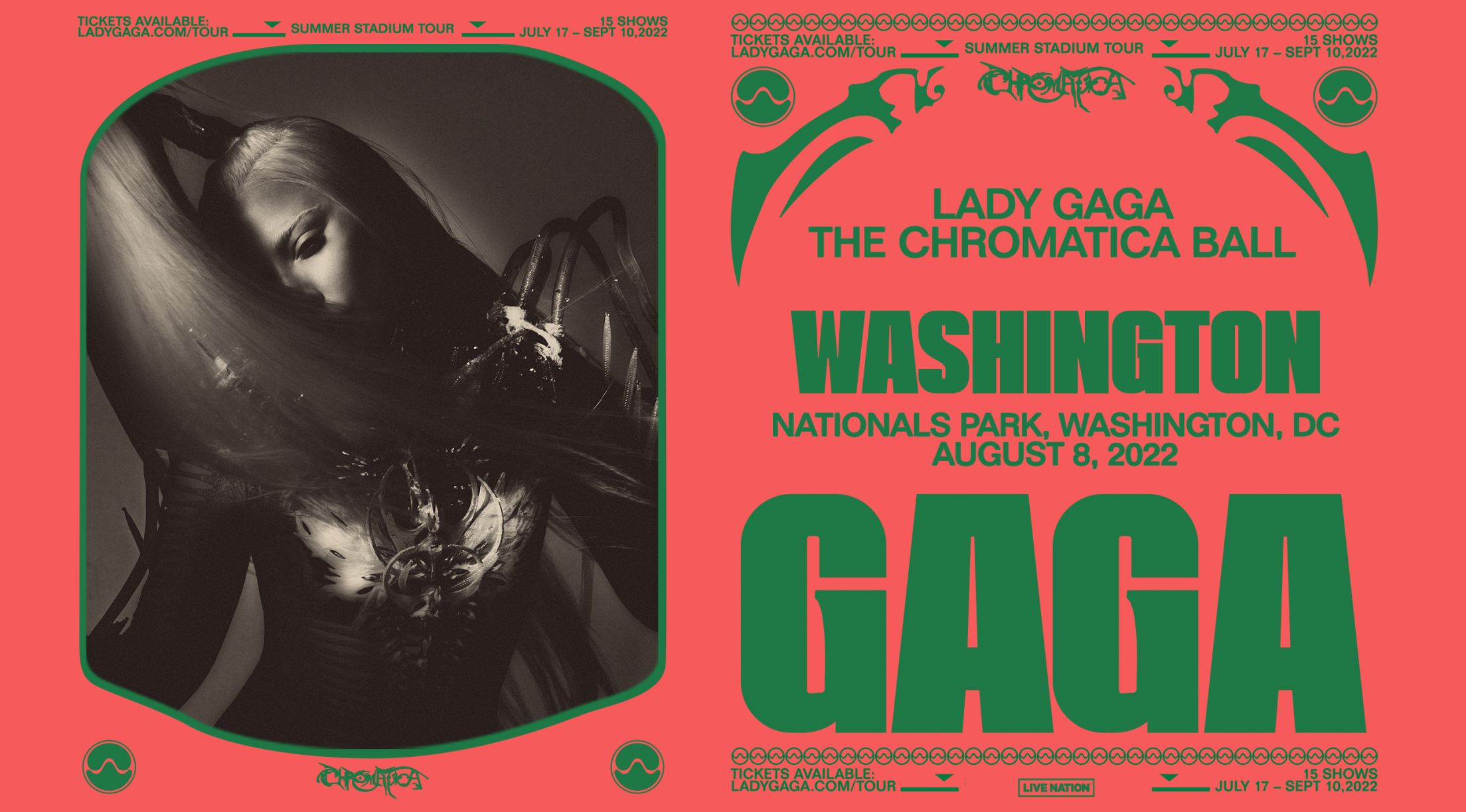 Concert Information
Show Date: August 8, 2022
Please note
NEW GATE TIME: 7:00 pm

This is a rain or shine event.
Tickets
All Presales are now closed
Public On Sale (Ticket Limit: 8)
Public On Sale
Monday, March 14, 2022, 10am
Citi ® Card Member
Monday, March 14, 2022, 10am
VIP Packages
Monday, March 14, 2022, 10am
Parking
Monday, March 14, 2022, 10am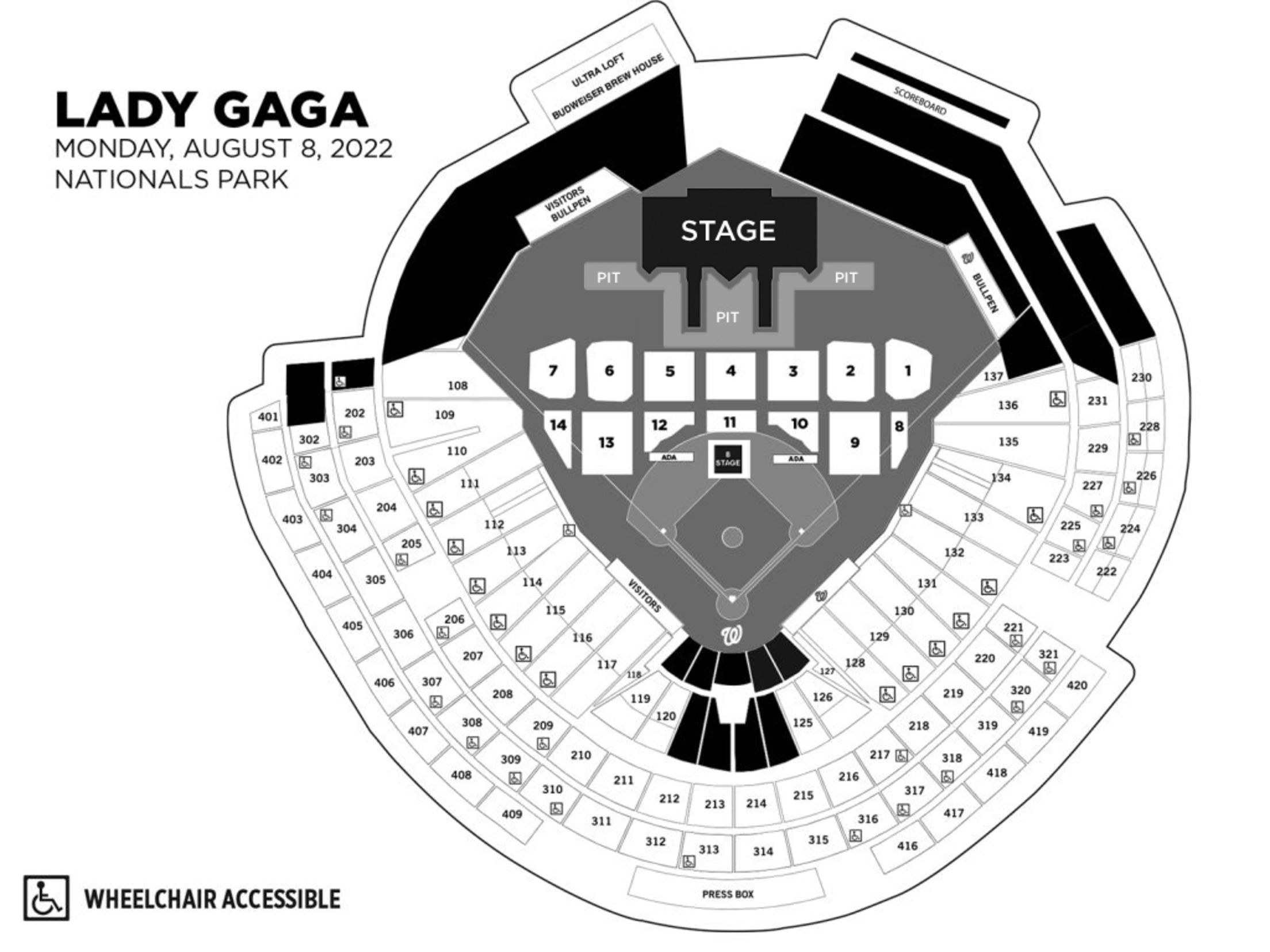 All sales are final, no refunds or exchanges or cancellations allowed.
All tickets will be digital. Please download the MLB Ballpark App to access your tickets. Please be sure to select "Nationals" for your location.
Nationals Park follows the health and safety mandates provided by our local government. As of March 1, 2022, in accordance with the DC Mayor's COVID Situational Update on 2/14/22, masks will not be required indoors at Nationals Park and we will no longer require proof of vaccination. In the best interest of fans and staff, the Nationals will continue to monitor local COVID-19 trends and modify policies and procedures accordingly.
Nationals Bag Policy is in effect, visit nationals.com/bagpolicy for more.
Please note that concert tickets will not be available for purchase by calling the Washington Nationals or at the Nationals Park Box Office until the day of the show (pending availability).
If you would like to reserve a suite, please contact a member of our Premium Sales and Service staff via email at [email protected].
Important Field Ticket Information
Field ticket holders must pick up their wristbands before entering Nationals Park in order to access the field.
Wristband pick-up is located under the Blue Tent on First St. SE, near the intersection of First St. SE and Potomac Ave SE. See the map below.
Wristband pick-up will begin at 4:00 p.m. on Monday, August 8. In order to redeem your wristband, the ticket holder must be present with their own Field ticket.
All Field Wristband ticket holders must be wearing a wristband to enter the field.
All gates are scheduled to open at 7:00 p.m. We recommend that Field ticket holders arrive early to allow extra time to pick up wristbands, pass through security and locate seats. The fastest way to access the field is by using the aisles on the first base side of the stadium.
Flat shoes are recommended. The field cover can be uneven to walk on when wearing heels or flip-flops.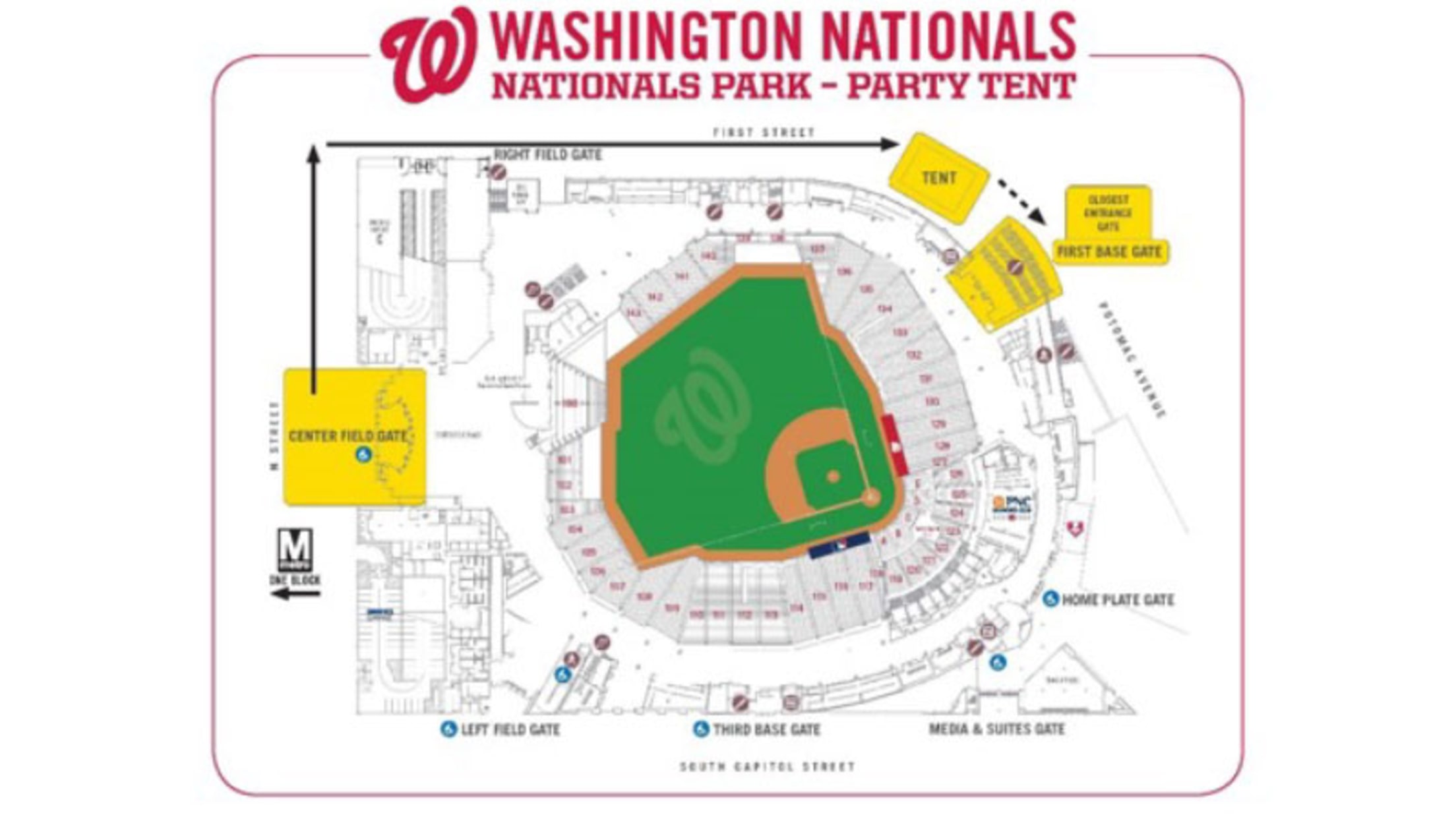 Important Reminders
BEFORE THE SHOW
Tickets: Apart from four VIP Packages that are Will Call Pick Up, all tickets for this event are available exclusively in the MLB Ballpark app. Please log into the MLB Ballpark app using the email you used to purchase your tickets and select the Washington Nationals in order to view and manage your tickets. Upon login, you will be able to access, scan, and forward your concert tickets. For more information on accessing your tickets in the MLB Ballpark app, click HERE. Visit Nationals.com/LadyGaga to purchase additional tickets.
BAG POLICY: Any bag larger than a clutch must be clear plastic, vinyl, or PVC. Fans with diaper or medical bags may use ADA/Family lanes at the Center Field and Home Plate gates. For specific details, please see the Nationals Park Bag Policy at nationals.com/bagpolicy or click HERE.
Binbox: In the event you cannot bring in an item (i.e. sign or bag), there will be Binbox positioned outside Right Field Gate and Home Plate Gate; they will be in position at 4:30 p.m. for Right Field Gate and 6:30 pm for Home Plate Gate and will remain in position until one hour after the concert concludes. Security personnel will be in position at both Binbox locations, and Binbox staff will be onsite at each location to troubleshoot any website/app issues for purchases.
Gate Time: Gates open at approximately 7:00 p.m. Times are all subject to change.
Will Call: Located at the Main Box Office on N St. SE, to the left of Center Field Gates, will open at 12:00 p.m. Windows 1-8 at the Main Box Office will be open to assist ticket buyers. Those picking up tickets will be required to present both a picture ID showing the designated Will Call name and the credit card used for purchase. Third-party Will Call WILL NOT be accepted for this event.
VIP Information: If you have questions about your VIP Package or Meet & Greet, please email

[email protected]

Photo/Video Policy: Professional Cameras with detachable lenses, GoPros, Drones, Professional Recording Devices, Tripods, Monopods, and Selfie Sticks are not allowed.
Food & Drink: No outside food or beverages will be allowed except for one clear, factory-sealed or empty plastic water bottle no larger than 1 liter. Only one water bottle per person will be permitted. Other approved items are juice boxes, insulin containers and baby food.
Check the weather and dress appropriately:This is a rain or shine event. Small purse umbrellas will be allowed inside the ballpark. For specific sizing details, please see the Nationals Park Bag Policy at nationals.com/bagpolicy or click HERE.
GETTING TO THE PARK
Parking: Nationals-managed parking lots/garages will open at 4:00 p.m. Please note that there will be no overnight parking available, all guests are expected to be out of the garage within an hour after the show concludes.
Purchase Prepaid Parking: Please click HERE to purchase parking. Drive-up parking is subject to availability.
Driving Directions: Please click HERE for driving directions.
Plan your trip:Remember to plan your trip before you leave. We want attendees to be able to enjoy the entire show, so we encourage you to check Metro's WEBSITE for up-to-date information. Metro hours will not be extended for this concert, so please plan accordingly.
Drop off: Please consider using rideshare options to get to the Park. Half Street between M and N St. and N St. between First St. SE and South Capitol St. will be closed to vehicular traffic beginning at 5:30 p.m. Please do not drop off or pick up anyone on South Capitol St. This is a busy highway and stopping on this road is illegal and dangerous for you and your passengers. Suggested locations for drop off/pick up: N St. SE and New Jersey Ave. SE, L St. SE between First St. SE and New Jersey Ave. SE and M St. NW and Half St. SW.
Gate entry: There are seven major gates at Nationals Park. Avoid long lines at the Center Field Gate entrance by using the other gates.
DURING THE SHOW
Prohibited items: Please review the list of prohibited items outlined under our Guest Conduct Policy, click HERE.
Report problems immediately: If you need assistance please contact a Nationals Park team member or use the Guest Text Messaging system by texting "NATS" along with a brief description of the issue and the location to 202-980-4357.
Lights and Pyrotechnics: Please be aware that this show includes moving and blinking lights (ie strobes, lasers, motion lighting). In addition, pyrotechnics will be used throughout the show.
Keep aisles clear: For your safety and those around you, we ask that you keep the aisles clear.
Do not stand on seats: Standing on seats is very dangerous and is not permitted.
Banners and signs: Cannot exceed 2ft x 4ft and cannot include inappropriate content. No handles or poles can be attached.
For more information on Guest Conduct, click HERE.
Thank you for your cooperation and we look forward to having you as our guest at Nationals Park!