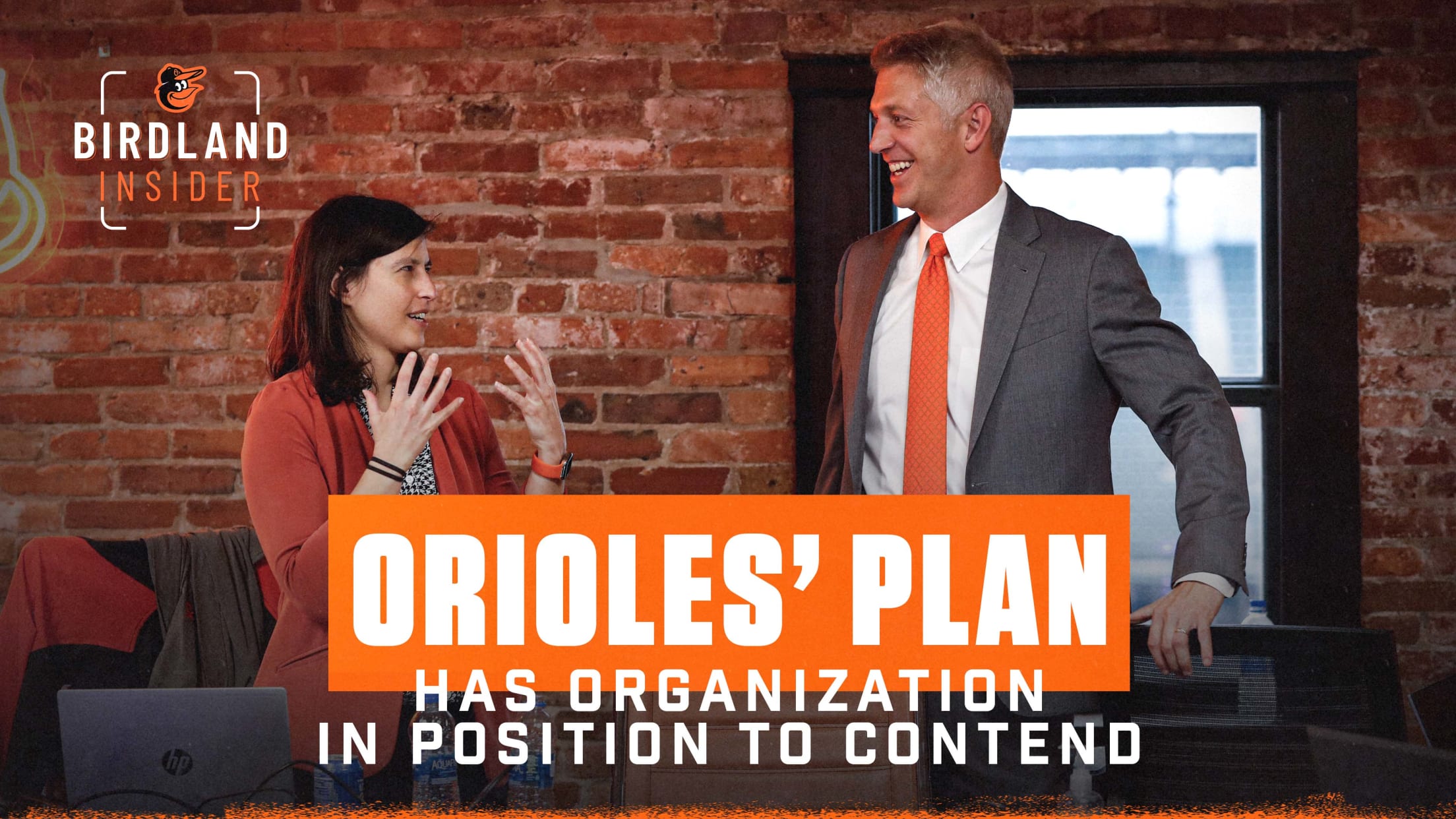 Scroll
Orioles' Plan Has Organization in Position to Contend
Executive Vice President and General Manager Mike Elias believes the Orioles have the best farm system in baseball. He's not the only one.
MLB.com surveyed general managers, farm directors, scouting directors, and analytics specialists anonymously for a series of stories entering 2023 and 50 percent of those responses voted the O's as the best farm system in the sport. During that same survey, nearly 73 percent of those responses voted Gunnar Henderson as their pick to win American League Rookie of the Year this season.
Henderson is the top-ranked prospect in baseball by MLB Pipeline and Baseball America following Adley Rutschman's time at the top of both lists. The pair were part of Elias' first draft class and the beginning of a plan to revamp Baltimore's organization.
"We're going to build an elite talent pipeline that's going to extend from the lowest rung of our minor league ladder, the Dominican Summer League, all the way up through Triple-A, and onto the Major League roster here in Baltimore," said Elias after being hired by the Orioles in November 2018.
Before joining the O's, Elias spent seven seasons in Houston. In his years with the Astros, he helped shape a roster that produced back-to-back 100-win seasons, a World Series Championship, two American League Championship Series appearances, and two division titles. Elias also played an integral part in building one of baseball's top-ranked farm systems known for routinely graduating talent to the MLB club.
He was tasked with doing the same thing with the Orioles. But before Elias could do anything, a complete overhaul of the Baseball Operations department was necessary. He noted that improving areas such as domestic and international scouting, player development, and analytics were major focuses of his.
Elias and his team did not have long before their first true test in Baltimore. Seven months after he was hired, the Orioles had the first pick of the 2019 First-Year Player Draft. A talented class did not make the selection an easy one, but in the end, the O's selected Rutschman, a catcher out of Oregon State University.
Rutschman entered Baseball America's (No. 5) and MLB Pipeline's (No. 6) Top 100 prospect list and never dropped, ascending to No. 1 overall by both outlets before 2021. He finished second in the American League Rookie of the Year voting in 2022 and was voted Most Valuable Oriole by the Baltimore media after breaking the franchise record (since 1954) by a rookie and by a primary catcher with 35 doubles in his debut season.
Henderson rapidly rose in prospect rankings. His first appearance on a Top 100 list came at the end of 2021 when Baseball America ranked him No. 80. He debuted on MLB Pipeline's list at No. 64 entering 2022. By midseason last year, Henderson was the No. 1 overall prospect by both outlets and Baseball America named him their Minor League Player of the Year while MLB Pipeline named him their Hitting Prospect of the Year.
Baseball America notes that the Orioles' 2019 draft class is the first to produce multiple No. 1 overall prospects on its Top 100 since they began their rankings in 1990. JJ Cooper, Baseball America's editor-in-chief, wrote this is just the second time that a team had different players ranked as the No. 1 prospect in baseball in back-to-back offseason Top 100 lists, joining J.D. Drew and Rick Ankiel and the 1999-2000 Cardinals.
With two of their next three selections during the 2019 Draft, the O's picked Kyle Stowers, an outfielder out of Stanford, and Joey Ortiz, an infielder out of New Mexico State.
Director of Draft Operations Brad Ciolek credited Elias and Assistant General Manager of Analytics Sig Mejdal's detailed blueprint and attention to detail as to why the Orioles are so successful in the draft.
"Having all of this data available to us, as well as great communication, effective logistics, and resource planning has ultimately led to this point," said Ciolek.
Ciolek also credited the team's player development staff, led by Director of Player Development Matt Blood, with doing a tremendous job developing players once they enter the organization, but noted it is all of those things – scouting, analytics, and player development – working together to produce successful drafts.
Very few teams have been more successful than the Orioles during the last four drafts.
Over the last few years, the draft selections have included outfielder Heston Kjerstad, infielder Jordan Westburg, infielder Coby Mayo, outfielder Colton Cowser, infielder Connor Norby, and most recently, infielder Jackson Holliday.
A combination of those players appear on Top 100 prospect lists no matter the outlet. MLB Pipeline has eight Orioles on their list, including Henderson as their No. 1 overall prospect. The list also includes right-handed pitcher Grayson Rodriguez and left-handed pitcher DL Hall, who were in the organization prior to the current front office's arrival, as well as Holliday, Cowser, Westburg, Kjerstad, and Ortiz.
Before 2021, the O's had never had five players appear on MLB's Top 100 prospect list. Now they have eight, one shy of the record by any MLB team. Jonathan Mayo of MLB.com notes that organizations with eight or more prospects on a preseason Top 100 in the last five years - Rays (2021), Padres (2020), Braves (2020, 2019, 2018) - all made the postseason in 2022.
It's much of the same at Baseball America with Henderson, Rodriguez, Holliday, Cowser, Hall, Westburg, Norby, and Ortiz ranked in the Top 100. The Orioles' eight prospects on the list are the most in Major League Baseball.
ESPN.com's Kiley McDaniel recently wrote that the Orioles may have as many as a dozen everyday-quality position players starting the season in Double-A or higher.
Jim Callis of MLB.com_, who has spent nearly his entire working life covering baseball prospects, believes the Orioles have the best farm system in the sport, and believes Holliday will be the No. 1 overall prospect by the end of 2023. The O's farm system has been ranked at or near the top of nearly every publication's list the last two years, including No. 1 by _ESPN.com entering this year, No. 1 in each of the last three lists by MLB Pipeline, and No. 1 by Baseball America at midseason last summer.
The Orioles aren't just making an impact domestically. Before Elias, the O's were rarely involved in the international market. The remarkable turnaround on the international side, led by Senior Director of International Scouting Koby Perez, has the Orioles as major players internationally for the first time in over a decade. The team has broken international signing bonus records for a single player each of the last three signing periods. Prior to the 2020-21 class, Baltimore had never given out a seven-figure signing bonus in team history. Many of those signees are climbing the ranks and are starting to appear domestically, adding to the growing pool of impact prospects in the organization.
It is obvious the Orioles have the talent to succeed. The question now is, what does it mean for their future?
A recent article by Baseball America's Matt Eddy, who borrowed a prospect valuation methodology introduced by Driveline, studied the 34-year history of the publication's Top 100 prospect lists and found that the Orioles "project to be among the most valuable concentrations of minor league talent since 1990." Some of the other organizations that appeared in Eddy's results – 2011 Kansas City Royals, 2015 Chicago Cubs, 2018 and 1992 Atlanta Braves, and 2016 Los Angeles Dodgers – all won a World Series within five years.
Elias laid out his plan, and he and his team are now seeing it through. The rebuild is over, and there is a new plan to focus on – making the playoffs.