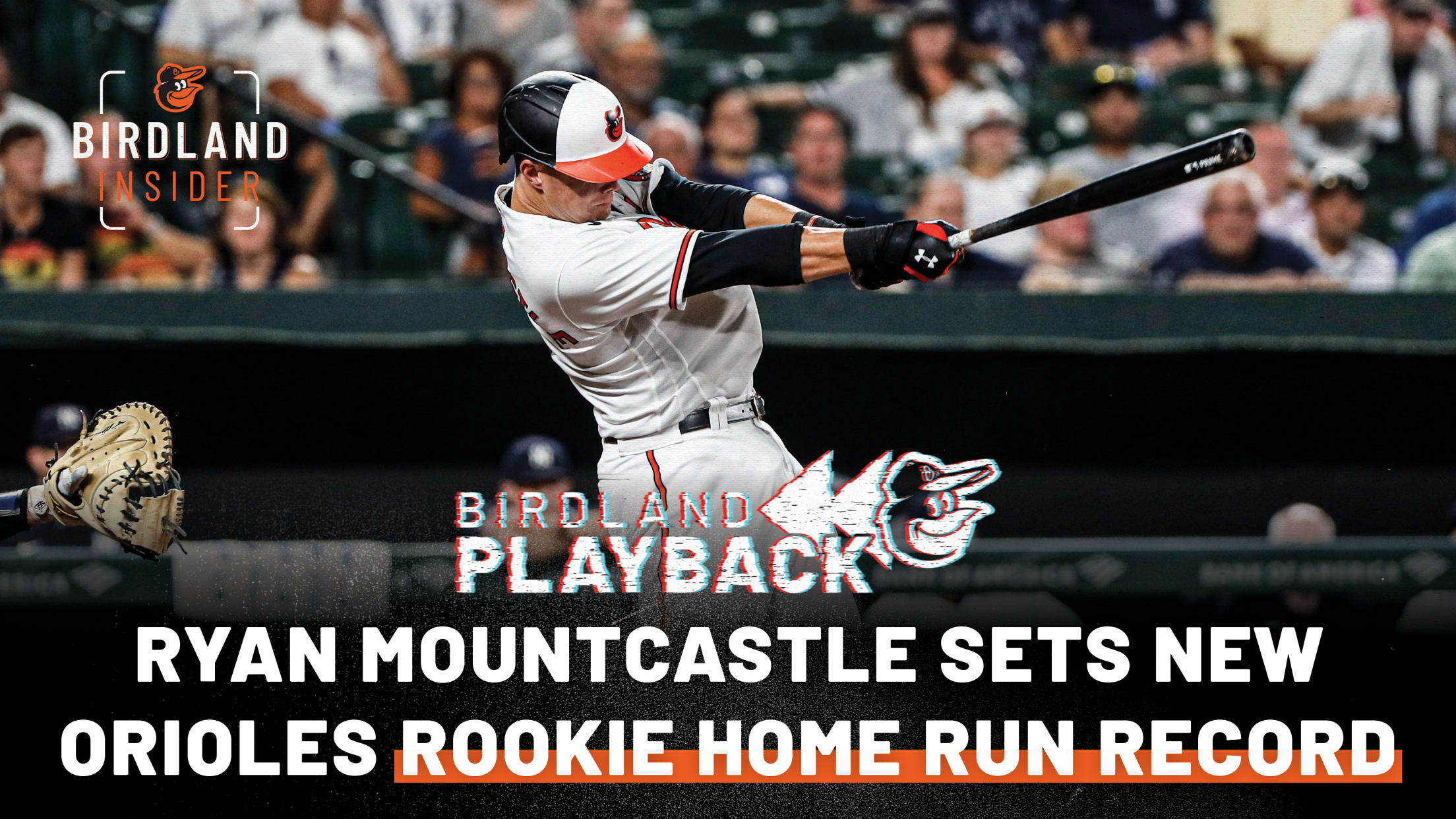 Scroll
Birdland Playback: Ryan Mountcastle Sets New Orioles Rookie Home Run Record
For those who watched Ryan Mountcastle during the 2021 season, it was no surprise he was voted the Players Choice American League Rookie of the Year. He led all rookies with 33 home runs and ranked second among AL rookies in slugging percentage (.487), extra-base hits (57), total bases (260), and RBI (89); tied for second in runs (77); third in OPS (.796), hits (136), and doubles (23); and tied for fourth in walks (41). He appeared in 144 games, the second-most by an AL rookie.
But one of the most defining moments of his rookie campaign came on a rainy September night when he etched his name in Orioles history, hitting his 29th home run of the year, a 438-foot solo shot in the sixth inning, to surpass Orioles Legend and Hall of Famer Cal Ripken, Jr., and set a new Orioles rookie single season home run record.
"It was crazy," said Mountcastle. "I mean Cal is obviously the face of the Orioles it feels like. And for me to pass him, it's a special moment for me and my family."
While he knew he was closing in on the record, the only thing on Mountcastle's mind as he entered that at-bat was finding a good pitch to hit. He worked the count to 2-0, and then got a fastball over the plate. The moment he made contact, Mountcastle knew it was hit well.
"It was definitely in the back of my head once I started to creep a little closer," said Mountcastle. "Once the game started, I tried not to think about it. But once it finally happened it was a little bit of a relief and a cool experience."
Mountcastle's record-breaking season was made all the more impressive after he got off to a slow start at the beginning of the year, hitting just .198 (18-for-91) with one home run in 25 games in April.
"Ryan got off to a little bit of a slow start in April," recalled manager Brandon Hyde. "I thought he was pressing a little bit early, but once he relaxed and started swinging at a little bit better pitches to hit, you started to see the impact, middle-of-the-order type of player that he is."
Things started to heat up for Mountcastle in May, when he hit .256 (22-for-86) with four home runs, nine extra-base hits, and 14 RBI. But his impact was never more obvious than in June when he slashed .327/.382/.634 with nine home runs, 13 extra-base hits, and 26 RBI in 26 games, en route to being named the AL Rookie of the Month.
Mountcastle's standout month was highlighted by his first-career three homer game on July 19 vs. the Blue Jays. It was the 33rd three-home run game by a rookie in Major League history, and the second in Oriole's history, joining Nick Markakis (August 22, 2006).
"The three homer game was really cool," recalled Mountcastle. "The crowd started chanting my name and the curtain call out to the fans was really cool. Just [the fans] being supportive about it was awesome."
The support the fans showed Mountcastle was well deserved. In his first full season in the majors, Mountcastle became the first Oriole rookie to lead the team outright in home runs since Curt Blefary in 1965, ranked ninth all-time among rookies in AL history with 33 home runs, and finished the season with 89 RBI, the second-most among rookies in O's history.
While Mountcastle's rookie campaign will not soon be forgotten, he is already looking toward building for the future.
"I have a whole career ahead of me, hopefully," said Mountcastle. "It's my first year and I've had my struggles, and I think toward the end here I've done better. I'm just trying to improve each and every year, and trying to get better each and every year."