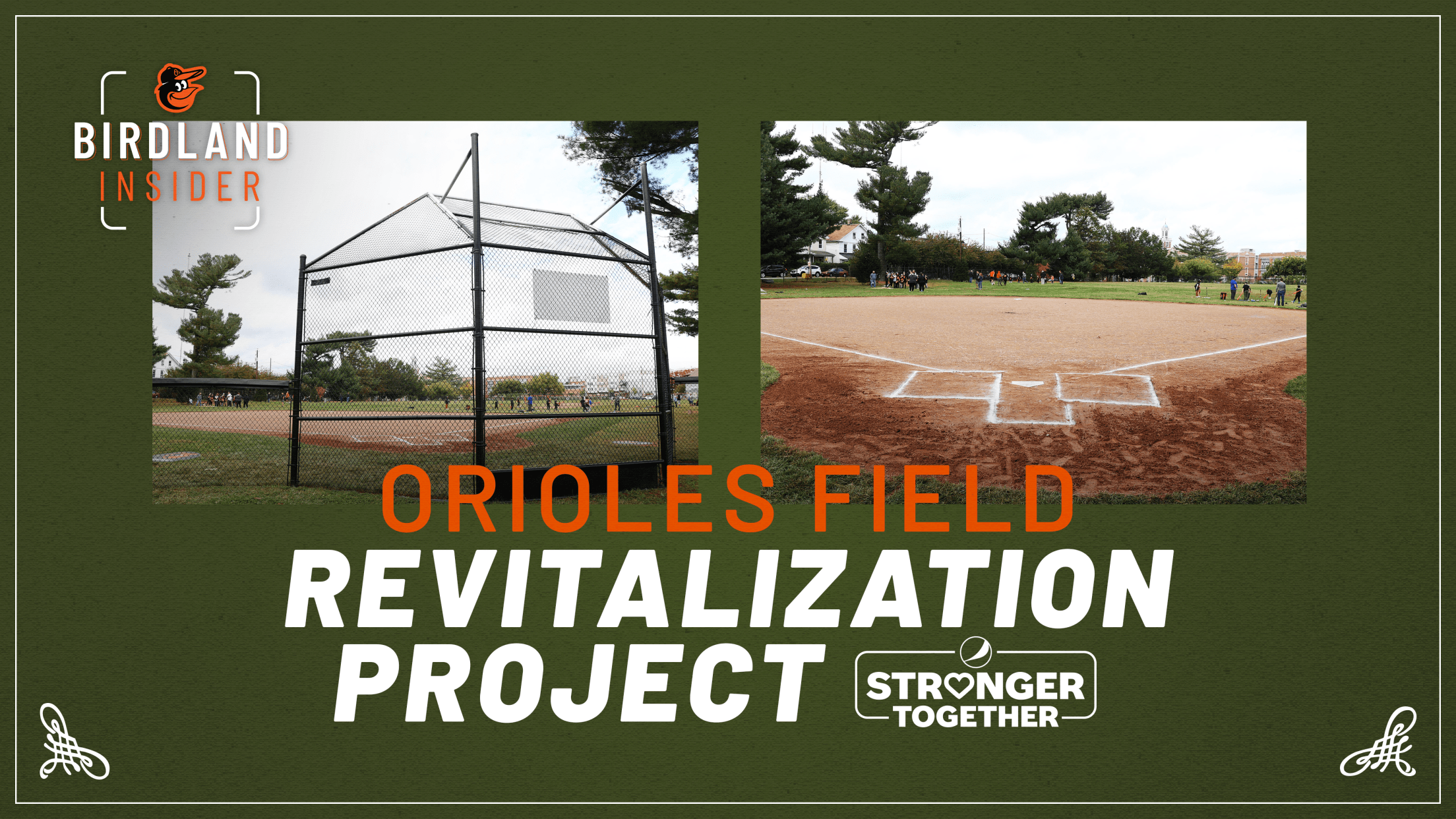 Scroll
Orioles Complete First Field Revitalization Project
Over the weekend, the Orioles completed their first field revitalization project at Roosevelt Park in Baltimore City, a first step in their three-year partnership with Pepsi Stronger Together, PepsiCo's series of grassroots initiatives bringing tailored programming to support communities across the country.
The Orioles Field Revitalization Project is designed to improve the field conditions of baseball and softball fields in Baltimore City, making them safe, playable, and inviting places for youth to enjoy the game. In coordination with Baltimore City Recreation and Parks, Orioles Director of Field Operations Nicole Sherry, and other parties, the Orioles identified the 60-foot youth field at Roosevelt Park as the site for the 2021 project.
Located in the Hampden neighborhood of Baltimore City, the field needed attention to specific areas that would provide a safe space for kids to play. Throughout October, work was done to grade the infield, seed bare spots throughout the grass, and spread new infield dirt, among other projects to enhance the quality of the field and the surrounding area.
The field renovation was completed on Saturday with the help of Orioles representatives, Orioles Orange & Black Gives Back Employee Volunteers, Pepsi staff, Baltimore City Recreation and Parks, Oriole Advocates, and other community partners. The volunteers put the finishing touches on the field by assisting with laying sod, painting fencing, repairing benches, raking and lining the field, among other improvements.
Following a ribbon cutting to celebrate the completion of the field, the Orioles donated baseball and softball equipment and hosted a youth clinic for Hampden Small Fry, a youth league that is part of the Baltimore Orioles Reviving Baseball in Inner Cities (RBI) Program.
The 50 youth players in attendance received new and gently used equipment collected from the Cardboard to Leather Equipment Collections at Orioles homes games in 2021. Following the distribution event, the children were able to put their new equipment to use by participating in a clinic lead by former Orioles pitcher Dave Johnson. Since the Oriole Advocates Charitable Foundation began the Cardboard to Leather Equipment Collections program, more than 80 tons of equipment have been donated to children in need.
Through a series of strategic programs, also including Jr. RBI and equipment collections, the Orioles and Pepsi Stronger Together gives Baltimore City youth the opportunity to play on improved fields, receive access to proper new and gently used equipment, and learn valuable life skills including teamwork, self-esteem, self-discipline, and leadership through the game of baseball and softball. More information can be found by visiting Orioles.com/RBI.