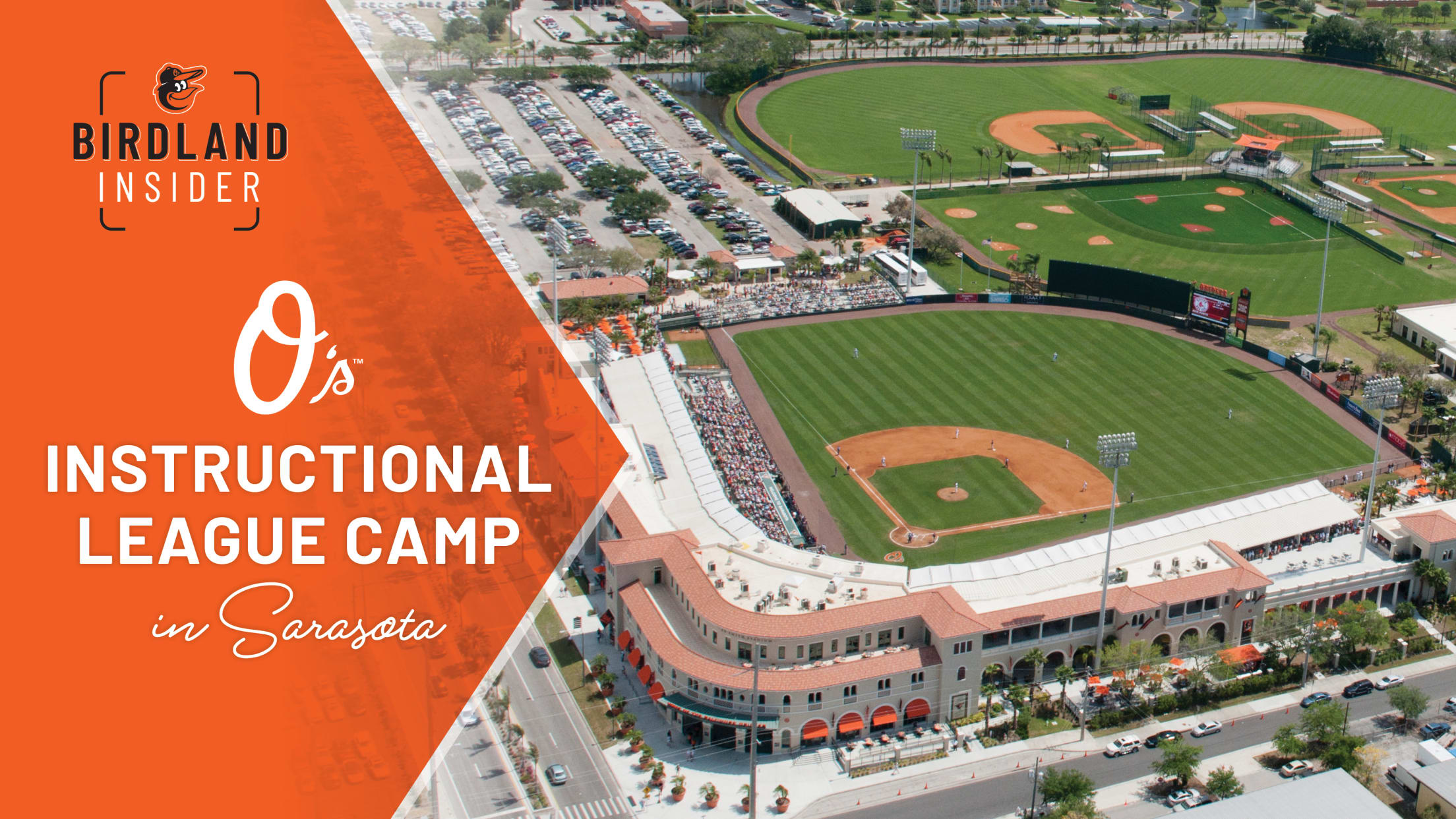 Scroll
Orioles Kick Off Fall Instructional League in Sarasota
By
Adam Esselman and Liam Davis
October 18, 2021
Today, 50 Orioles Minor Leaguers – including 17 members of the 2021 draft class and 19 of the club's Top 30 prospects according to MLB Pipeline – reported to the Ed Smith Stadium complex for the team's Fall Instructional League camp. The program, which focuses on specific individual development to help accelerate a player's progress through the Minor League system, will run through Saturday, November 20.
In total, 17 pitchers, 17 infielders, 13 outfielders, and three catchers made the trip to the southwestern coast of Florida. Among them are some of baseball's top prospects, as well as members of the 2020 and 2021 draft classes, players who were sidelined by injury during the 2021 Minor League campaign, international prospects, and several intriguing players acquired in recent trades.
THE TOP PROSPECTS
In attendance at the Orioles' Fall Instructional League camp are three of the Top 100 prospects in baseball, according to MLB Pipeline.
Left-handed pitcher DL Hall, the No. 72 overall prospect in baseball and the No. 3 prospect in the Orioles' system, pitched to a 3.13 ERA (11 ER/31.2 IP) and a 1.01 WHIP, with 56 strikeouts to 16 walks, in seven starts for Double-A Bowie before being shut down due to an elbow injury. The 2017 first-round pick will look to rehab from his injury in preparation for 2022 Spring Training.
Gunnar Henderson, the No. 74 prospect in baseball and the club's No. 4 prospect, slashed .258/.350/.476 with 17 home runs, 28 doubles, four triples, 68 runs scored, 56 walks, and 74 RBI in 105 games between Double-A Bowie, High-A Aberdeen, and Low-A Delmarva in his first full season of professional baseball.
The No. 5 overall selection of the 2021 First-Year Player Draft, outfielder Colton Cowser, will also be in attendance. The Sam Houston State product is ranked as the No. 76 overall prospect and the fifth-best prospect in the O's system. He made his professional debut with the Florida Complex League Orioles Orange before being promoted to Low-A Delmarva in August. In his first professional season, he hit safely in 25 of 32 games between the FCL Orioles and the Shorebirds, slashing .375/.490/.492 for a .982 OPS with two homers, eight doubles, 30 runs scored, 25 walks, and 34 RBI.
2021 DRAFT CLASS
Cowser is joined by 16 fellow members of the O's 2021 draft class: right-handed pitchers Justin Armbruester, Keagan Gillies, Dylan Heid, Carlos Tavera, and Peter Van Loon; catchers Connor Pavolony and Creed Willems; infielders Collin Burns, Connor Norby, and Jacob Teter; and outfielders Billy Cook, Trendon Craig, Ryan Higgins, John Rhodes, Reed Trimble, and Donta' Williams.
Norby, who led the nation in hits as a junior at East Carolina University (NC), is ranked as the No. 9 Orioles prospect by MLB Pipeline. Other 2021 draftees ranked among the O's Top 30 prospects include outfielders Reed Trimble (No. 21) and John Rhodes (No. 30). Following the promotion of a dozen of the 2021 draft picks to Delmarva on August 17, the Shorebirds finished out the season with a 20-10 record in their last 30 games.
2020 DRAFT CLASS
All six members of Baltimore's 2020 draft class will participate in this year's Fall Instructional League camp: outfielders Heston Kjerstad and Hudson Haskin, infielders Jordan Westburg, Anthony Servideo, and Coby Mayo, and right-handed pitcher Carter Baumler.
Infielder Coby Mayo, the club's fourth-round pick in 2020, was also among the wave of promotions to Delmarva on August 17. After the cancellation of the Minor League season in 2020, Mayo slashed .319/.426/.555 with nine homers, 14 doubles, one triple, 46 runs scored, 29 walks, 11 stolen bases, and 41 RBI in 53 games between the FCL Orioles and the Shorebirds in his first professional season.
In his debut season, 2020 No. 30 overall pick Jordan Westburg posted an .868 OPS with 47 extra-base hits (15 HR, 5-3B, 27-2B) in 112 games between Low-A Delmarva, High-A Aberdeen, and Double-A Bowie. He made 69 starts at shortstop, 36 at third base, and seven as the designated hitter. He owned a 1.075 OPS in 20 games with the Shorebirds before he was promoted to Aberdeen.
BOUNCING BACK
In addition to left-hander DL Hall, several other top Orioles prospects return to the diamond during Fall Instructional League following injury.
The No. 2 overall selection in the 2020 First-Year Player Draft, outfielder Heston Kjerstad, returns to baseball activities following a diagnosis of myocarditis last year.
Right-hander Carter Baumler, who was Baltimore's sixth and final pick in the 2020 First-Year Player Draft, will participate in the camp to rehab from Tommy John surgery.
Infielder Joey Ortiz owned an .801 OPS in 35 games between the IronBirds and Baysox before a torn left labrum ended his campaign, while Anthony Servideo owned an .801 OPS in 20 games for the Shorebirds before he was shut down for sports hernia surgery.
Baltimore's second-round pick in 2020, Hudson Haskin, finished with a .786 OPS, 59 runs scored, and 22 stolen bases in 83 games between the Shorebirds and IronBirds after a fractured thumb in August cut his season short.
INTERNATIONAL PROSPECTS
Since Mike Elias was named Executive Vice President and General Manager in November of 2018, the Orioles have invested heavily in their international presence. Highlights include the club's first-ever seven-figure international signings, C Samuel Basallo and SS Maikol Hernández, in the 2020-21 International Signing period, and the groundbreaking of a new, state-of-the-art training academy in Guerra, Dominican Republic, earlier this month.
Basallo, ranked as the No. 24 Orioles prospect, and Hernández, ranked as the No. 19 Orioles prospect, are both participants in this year's Fall Instructional League. The two are joined by 2019-20 International Signing period headliner outfielder Luis González, the No. 28 prospect in the Orioles system. Other homegrown international prospects participating in the camp include infielder Anderson De Los Santos and outfielder Stiven Acevedo.
ROUNDING OUT THE LIST
Additional Top 30 Orioles prospects in attendance are infielders Adam Hall (No. 15) and Darell Hernaiz (No. 23), and left-handed pitcher Drew Rom (No. 25).
Rounding out the 2021 Instructional League roster are several intriguing players acquired via trade. Highlighting this group are right-handers Kyle Brnovich and Zach Peek, acquired from the Angels in exchange for Dylan Bundy in 2019; right-handers Jean Pinto and Garrett Stallings, acquired from the Angels in exchange for José Iglesias in 2020; and infielder Noelberth Romero and outfielder Elio Prado, acquired from the Red Sox in exchange for Andrew Cashner in 2019.
Instructional League is also about development for coaches as they continue to build relationships with the players. Nearly 30 Orioles player development and baseball operations staff members will lead the camp, including 2021 Cal Ripken, Sr. Player Development Award winner and Double-A Bowie Manager Buck Britton, Baysox hitting coach Ryan Fuller, FCL hitting coach Anthony Villa, Coordinator of Florida and Latin American Pitching Dave Schmidt, Minor League Strength and Conditioning Coordinator Nick White, and Mental Skills Coordinator Kathryn Rowe.
LOOKING AHEAD
While 50 Orioles Minor Leaguers prepare for 2022 Spring Training at Ed Smith Stadium, eight more are getting additional seasoning in the Arizona Fall League. 2021 Orioles Brooks Robinson Minor League Co-Player of the Year and No. 11 prospect, outfielder Kyle Stowers, is joined on the Mesa Solar Sox roster by No. 12 prospect outfielder Yusniel Diaz, left-handed pitchers Cameron Bishop and Nick Vespi, right-handed pitchers Logan Gillaspie and Conner Loeprich, infielder Greg Cullen, and catcher Ramon Rodriguez. Triple-A Norfolk's Tim Gibbons is serving as the hitting coach for the Solar Sox.
Orioles pitchers and catchers are scheduled to report to 2022 Spring Training on February 15 and the first full-squad workout is set for February 20. The 2022 season will mark the Orioles' 13th consecutive Spring Training season in Sarasota and the club's 12th at renovated Ed Smith Stadium. For more information, visit Orioles.com/Spring.