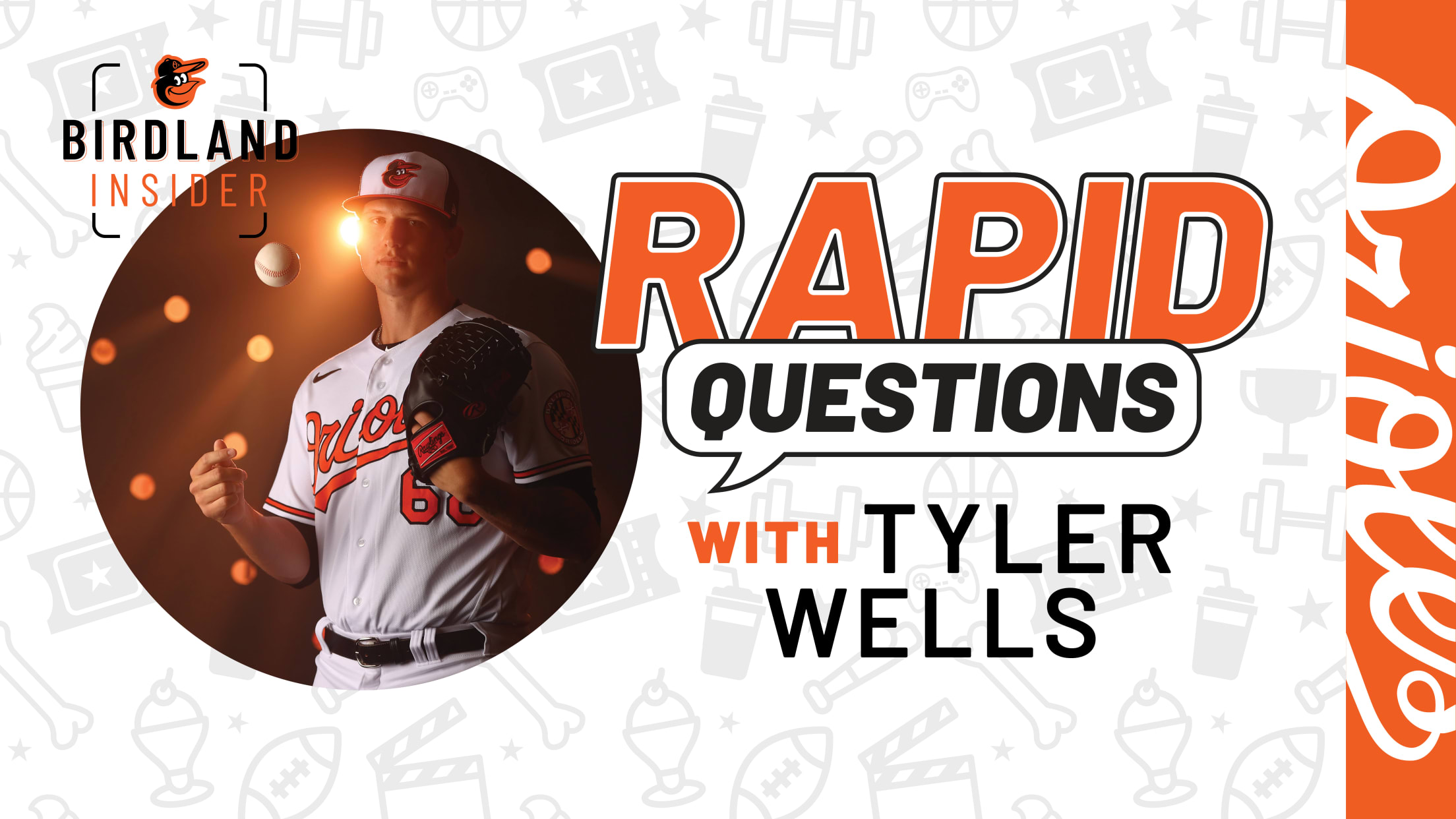 Scroll
Rapid Questions with Tyler Wells
After an exceptional rookie campaign in 2021, Tyler Wells has transitioned from reliable reliever to one of the key members of the team's starting rotation in 2022. Selected by the Orioles in the Rule 5 Draft in December of 2020, Wells shed his rookie label early on, becoming one of the most trusted arms in the O's bullpen. His 0.91 WHIP led all O's hurlers last season and was the lowest in the league among qualified rookie relievers, while his .192 opponents' batting average was the second-lowest by a rookie (min. 40 G) in club history (since 1954), trailing only Gregg Olson (.188 OBA - 1989).
To learn more about who he is off the diamond, Birdland Insider sat down with Wells for a rapid-fire Q&A talking about his favorite offseason activities, his go-to ice cream truck order, his pets, and who he thinks is the greatest athlete of all time.
What's your favorite ballpark to play in and why?
Playing at Citi Field in New York was the most fun for me because of the energy of the fans. They are always up and going and it's just a really good energy in how much they get into the game.
What did you want to be when you grew up?
A Major League baseball player. I had that written down since I was in kindergarten.
If an ice cream truck pulled up right now, what would your order be?
I'd order a waffle cone with vanilla, chocolate chip cookie dough ice cream.
If you could trade places with one person for a day, who would it be and why?
I would probably trade places with a CEO of a big company in order to try to understand what they go through every single day, so that one day if I ever have the opportunity to build something then I'll have an idea of how to structure my day.
What is your favorite way to spend an off-day in Baltimore?
Most of the time I hang out by the pool, read a little bit, listen to some music, cook, make some coffee. A pretty relaxed and chill day.
Does your number have any special meaning behind it?
It didn't until I had fans point out that I'm also 6'8" so now I just attribute it to me being 6'8.
Which teammate would you want to be stranded on a deserted island with?
If I'm going based on survival skills, I'm probably going with Austin Hays. If I'm picking a coach, I'm going Darren Holmes.
What's your go-to karaoke song?
"Your Man" by Josh Turner.
You have to make a dish for a potluck, what is your go-to dish to bring?
There is a dip that I always have back home if we have a big party. It's Hormel chili with some cream cheese and you cook it in a crockpot… It's so good!
What is your favorite show that you can never get tired of watching?
It's a tie between Game of Thrones and Blue Mountain State.
If you weren't playing professional baseball, what would you be doing?
Probably working as a sports medicine doctor or sports physical therapist.
Which actor would you choose to play you in a movie about your life?
I have never actually thought about this before. I'm going to say Ashton Kutcher or Channing Tatum.
What's your favorite video game?
For a while I was into Apex Legends, but it has now turned into Call of Duty.
Do you have any pets? If so, what type and what are their names?
I have two dogs. I have a German Shepherd and her name is Lucy and I have a Golden Retriever and his name is Cash.
What superpower would you like to have and why?
I would probably choose mind reading. Outside of baseball I have a very protective instinct, so for me always knowing what people are thinking would be a very beneficial thing to have.
If you could play any position other than your own, what would you play?
Third base or first base.
Who's the greatest athlete of all time and why?
I'm going to go with Bo Jackson. The ability to play multiple sports at such a high level in both the NFL and MLB is really astounding.
What's your favorite thing to do in the offseason?
I enjoy golfing, fishing, hunting, traveling, any kind of outdoor activity, and hanging out with family.