Oriole Park to be an early voting center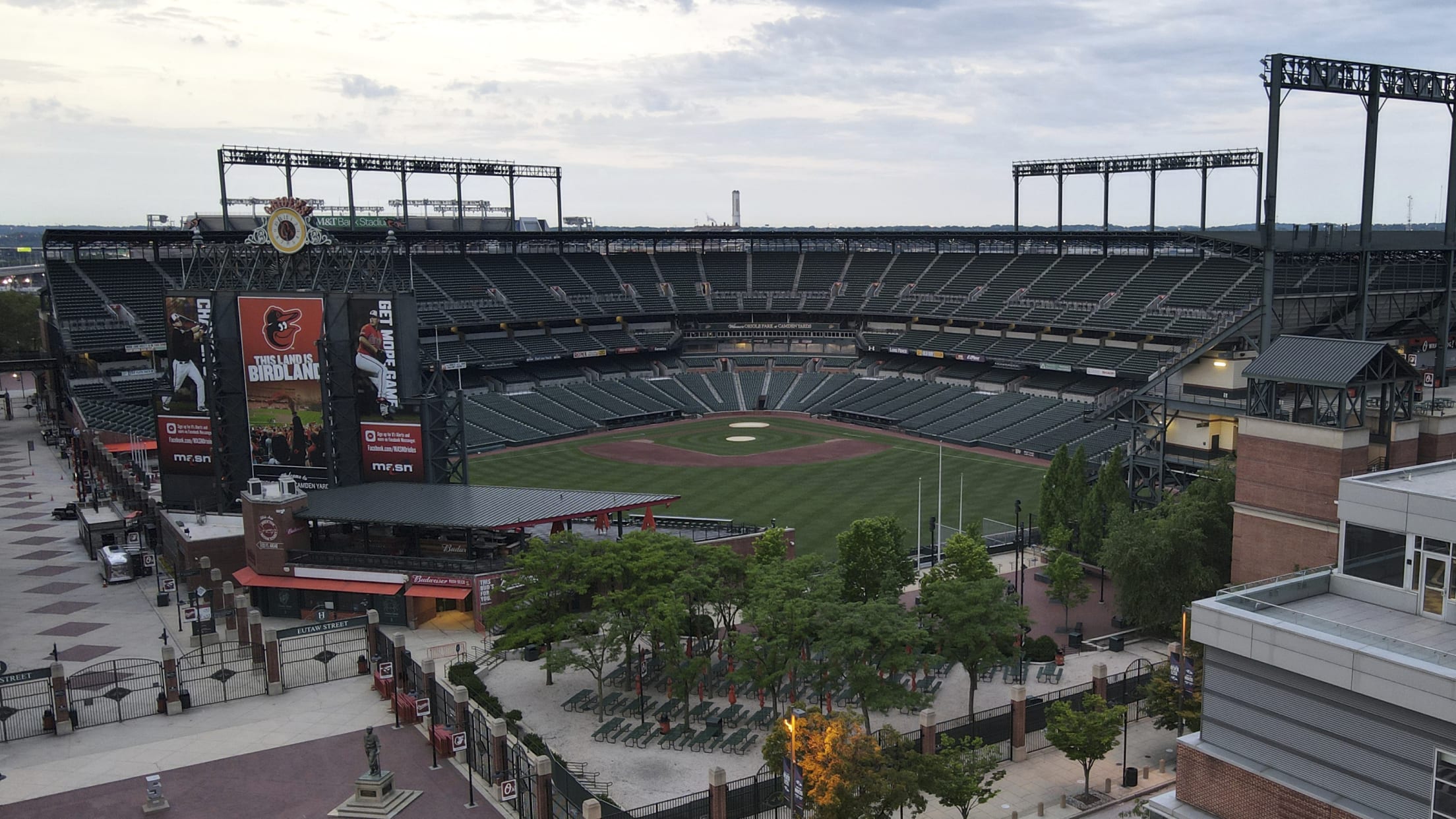 Oriole Park at Camden Yards has always been a place to cheer. This election season, it will become a place where you ensure your voice is truly heard. The Orioles announced Wednesday they and the Baltimore City Board of Elections are in the final stages of designating Oriole Park as
Oriole Park at Camden Yards has always been a place to cheer. This election season, it will become a place where you ensure your voice is truly heard.
The Orioles announced Wednesday they and the Baltimore City Board of Elections are in the final stages of designating Oriole Park as an early voting center, with an eye toward guaranteeing Baltimore City residents a safe and secure place to vote. The plans come as part of the club's ongoing "Voter Up" campaign, which in support of Major League Baseball's league-wide voter engagement initiative strives to raise awareness about key dates in this year's election cycle.
"In these challenging times, the Orioles are proud to join Major League Baseball and the Commissioner's effort to use league-wide platforms to contribute to the public welfare and the preservation and celebration of our American spirit and system of democracy," said Orioles executive vice president John Angelos.
Additionally, the Orioles and MLB have also declared Election Day as a paid day off for all full-time employees and have encouraged them to vote and volunteer as poll workers or in other roles. Oriole Park at Camden Yards will be one of several MLB stadiums to serve as voting centers or ballot drop locations for the upcoming general election, along with Dodger Stadium in Los Angeles, Nationals Park in Washington, D.C., and Comerica Park in Detroit.
The Orioles have declared Election Day as a paid day off for all full-time staff. pic.twitter.com/4nHZYa8yuc

— Baltimore Orioles 😷 (@Orioles) September 16, 2020
Hello, spring
The Orioles on Wednesday also announced their prospective Grapefruit League schedule for 2021 Spring Training. Pitchers and catchers are scheduled to report to the club's Ed Smith Stadium complex in Sarasota, Fla., on Tuesday, Feb. 16, and position players will report on Sunday, Feb. 21, with the first full-squad workout set for Monday, Feb. 22.
The Orioles will open their 32-game spring slate Feb. 27 against the Braves at Ed Smith Stadium, and they will close it out March 28 at the Red Sox. Their final home game is March 27 against the Twins. For the full schedule, visit orioles.com/spring.
Somos MLB
This Friday through Sunday, MLB is celebrating Hispanic Heritage Month with its "Somos MLB" (which translates to "We Are MLB") initiative, which aims to celebrate the contributions to baseball by Latino players past and present.
The Orioles will recognize Hispanic heritage on Saturday, when Orioles Hall of Famer Dennis Martínez will throw out a virtual ceremonial first pitch prior to that evening's game against the Tampa Bay Rays. Martínez, nicknamed "El Presidente," will also join the TV and radio pregame shows to discuss his work aiding COVID-19 relief efforts in his native Nicaragua.
From the trainer's room
The Orioles are unsure if they've seen the last of reliever Shawn Armstrong this year, as the right-hander works his way back from a hip issue at the club's alternate training site.
Sidelined since Aug. 26 due to what the Orioles called left S.I. joint inflammation, Armstrong resumed throwing off a mound at Bowie on Tuesday. But manager Brandon Hyde said it was questionable whether Armstrong would be able to ramp up to game readiness before the season concludes Sept. 27.
"He's getting closer, but we are not sure about his return date yet," Hyde said. "If he continues to progress and respond to his side work, it's possible."
One of Baltimore's most durable relievers in 2019, Armstrong pitched to a 2.19 ERA over his first 11 games. He posted a 5.13 ERA in 51 appearances in '19.
Anniversary plans
Five full decades ago, Brooks Robinson threw across the diamond to Boog Powell to clinch Game 5 of the 1970 World Series, concluding one of the most dominant seasons in Orioles history. The club will celebrate the 50th anniversary of that 1970 World Series championship during Friday's game against the Rays. The celebration will recognize the 1970 team, which went 108-54 during the regular season and defeated the Cincinnati Reds, 4-1, to win the club's second World Series title.
Brooks is back on your screens all week long!

Head to our Facebook at 1pm today through Friday to relive the 1970 World Series championship. pic.twitter.com/VRPwrIc2og

— Baltimore Orioles 😷 (@Orioles) September 15, 2020
Several club legends from that team are scheduled to make virtual appearances to mark the anniversary. At 6 p.m. ET on Friday, fans can turn to the Orioles' YouTube channel to stream a roundtable discussion with Robinson, Powell, Jim Palmer and Don Buford. Then prior to the game, Powell will throw out a virtual first pitch.
Fans can also relive the series by watching all four of the Orioles' wins (Games 1, 2, 3 and 5) in full. Games will stream daily at 1 p.m. ET on orioles.com and the Orioles' Facebook page through Friday.