'61, '98 Yanks power to next round of Bracket 2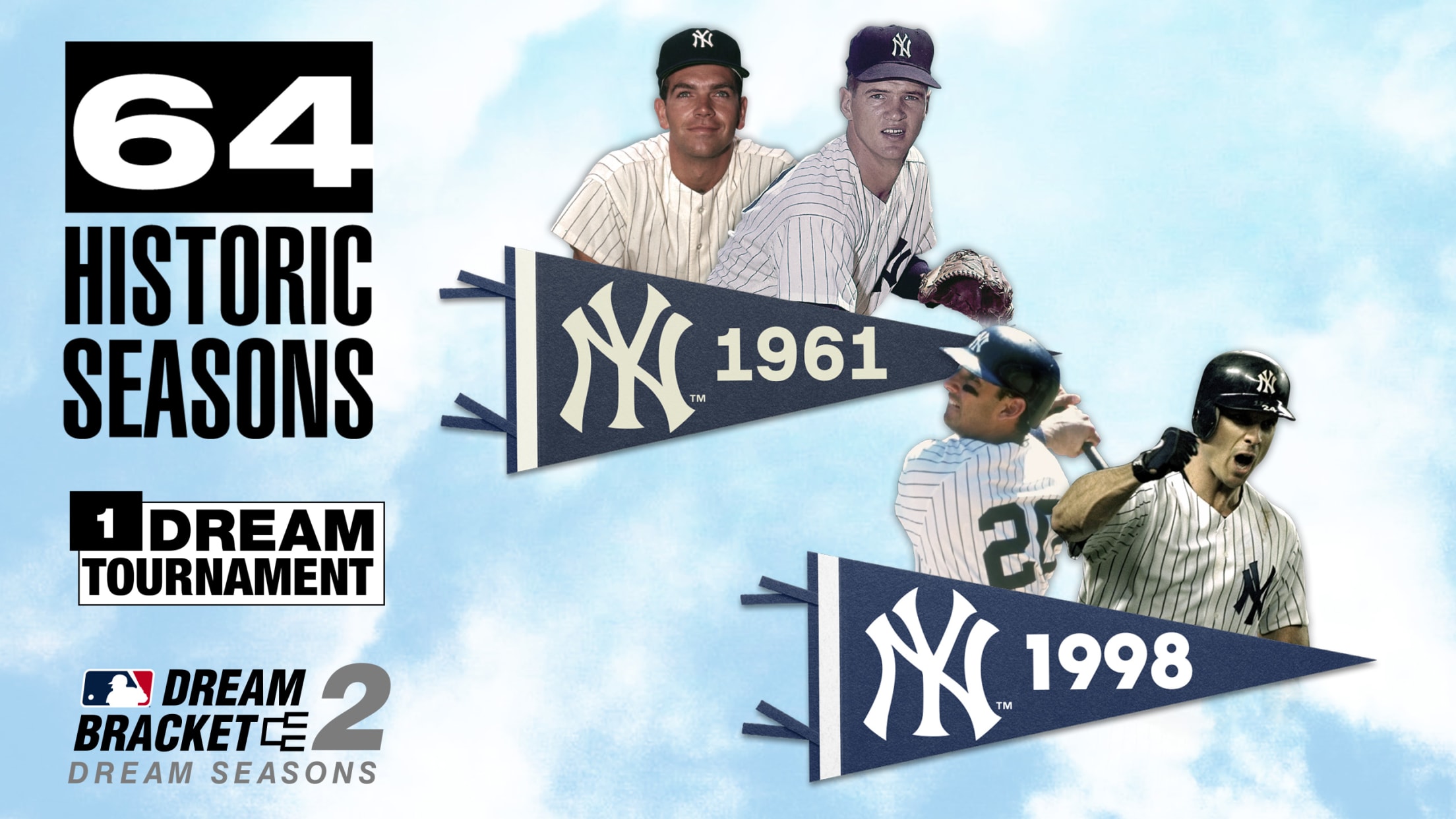 In an era when the rest of baseball seemed to be fascinated by home runs, the 1998 Yankees emerged as a multi-dimensional juggernaut. Destined for 125 victories and the 24th World Series championship in franchise history, that squad had it all: a complete lineup, a deep bench, stellar starting pitching
In an era when the rest of baseball seemed to be fascinated by home runs, the 1998 Yankees emerged as a multi-dimensional juggernaut. Destined for 125 victories and the 24th World Series championship in franchise history, that squad had it all: a complete lineup, a deep bench, stellar starting pitching and a lockdown bullpen.
Digitally reunited for the second installment of MLB's Dream Bracket, the 1998 Yankees took care of business against the 2019 Tampa Bay Rays, pushing past their American League East compatriots in six games. With David Cone, Andy Pettitte and David Wells pacing the pitching staff, Jorge Posada and Bernie Williams each stroked 10 hits in 22 at-bats (.455), while Derek Jeter belted two homers and tallied a team-leading 21 total bases.
Next up for the 1998 Yankees will be the '42 Kansas City Monarchs of the Negro American League, who edged the 2005 Chicago White Sox in seven games. There is more pinstriped action elsewhere in the bracket, as the '61 Yankees will meet the '31 Homestead Grays of the Negro American League in the second round.
The simulated competition, featuring many of the greatest teams in baseball history, is being produced by Out of the Park Baseball 21, MLB's most realistic strategy game (PC and Mac).
Game 1: Yankees 5, Rays 2
Posada cracked a go-ahead two-run homer in the eighth inning and Williams provided insurance with a run-scoring hit in the ninth as the Yankees took the series' first contest at Tropicana Field. Cone struck out 10 over six innings, limiting the Rays to Austin Meadows' two-run homer. Mike Stanton picked up the victory with two scoreless innings, and Mariano Rivera worked the ninth for the save. New York's first two runs were unearned against Charlie Morton, scoring on an error by shortstop Willy Adames and a Scott Brosius groundout.
• Complete Dream Bracket 2 rosters
Game 2: Rays 7, Yankees 6
Wells departed in line for the victory, enjoying a 6-1 lead through seven innings, but Tampa Bay stunned the Yanks with a six-run eighth. Orlando Hernandez faced seven men and retired only two, hitting a batter and walking a pair before manager Joe Torre summoned Stanton. Kevin Kiermaier greeted the lefty with a grand slam over the wall in right-center, giving the Rays the lead. Wells allowed a solo Ji-Man Choi homer among his five hits, striking out six. Posada drove in three runs and Jeter hit a fourth-inning homer off starter Blake Snell.
Game 3: Yankees 7, Rays 0
Pettitte was in command as the series shifted to Yankee Stadium, with the left-hander striking out 12 over seven scoreless innings. Pettitte permitted only two hits and a walk in the 101-pitch effort, combining with El Duque on a shutout. Tampa Bay's Tyler Glasnow held the Yanks to one run through five innings, but New York erupted for five runs in the sixth against him and Oliver Drake, an outburst highlighted by Brosius' three-run double.
Game 4: Yankees 4, Rays 3 (12 innings)
Paul O'Neill sent the crowd home happy in the 12th inning, connecting for a walk-off homer against lefty Ryan Yarbrough. The Yanks grabbed a third-inning lead on Williams' two-run single, but Meadows' RBI single tied the game in the seventh against starter Hideki Irabu, who allowed three runs and eight hits over 7 1/3 innings. Jeff Nelson, Rivera, Stanton and Darren Holmes combined for 4 2/3 frames of scoreless relief.
Game 5: Rays 7, Yankees 2 (11 innings)
Tampa Bay scored five runs in the top of the 11th inning, highlighted by Travis d'Arnaud's three-run double off Ramiro Mendoza. Cone was excellent again, striking out 11 over six innings of one-run ball, and Morton held New York to one run through 5 2/3 innings. Adames cracked the 1-1 tie in the 10th with a solo homer off Graeme Lloyd, but the Yanks answered with four hits in the home half against Snell, including Williams' RBI single. Tino Martinez was thrown out at the plate on a Tim Raines single representing what would have been the winning run.
Game 6: Yankees 4, Rays 2
Jeter connected for a two-run homer off Emilio Pagán in the ninth inning, powering the Yankees to their series victory. Wells turned in another quality effort, scattering seven hits while limiting Tampa Bay to two runs over seven frames. Jeter got the Yanks on the board early, ripping a third-inning RBI triple off Yarbrough, then scoring on a wild pitch. Nelson and Stanton handled the late innings, though Brandon Lowe gave the Yanks a scare with a two-out triple in the ninth. Holmes -- not Rivera -- entered to notch the final out, striking out Yandy Díaz on five pitches.