Tanaka reflects on playing with, against Ichiro
Yankees ace: 'He was a superstar when I was in elementary school'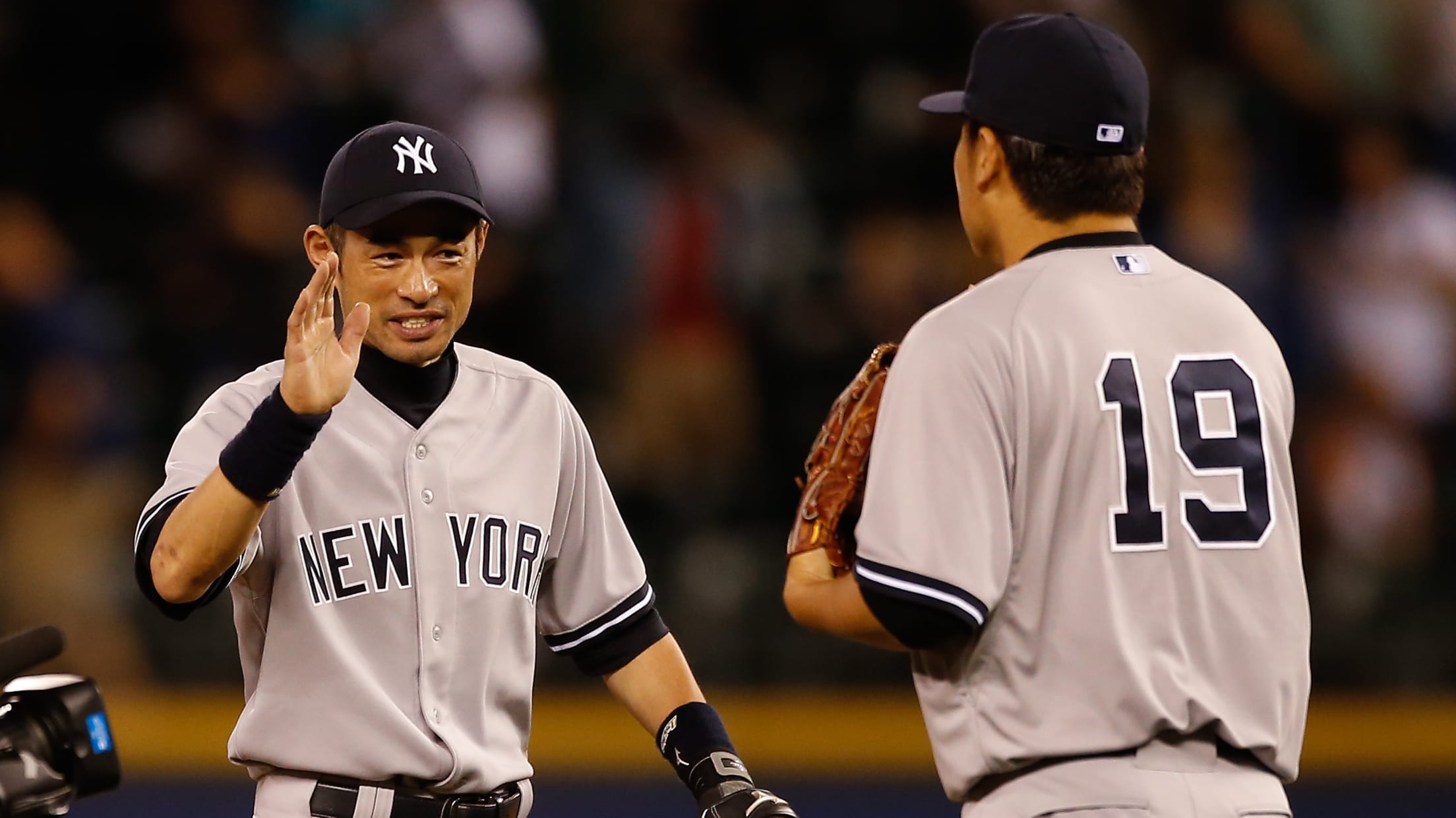 TAMPA, Fla. -- Masahiro Tanaka wanted to watch every moment. As Ichiro Suzuki announced his retirement half a world away on Thursday morning, the Yankees hurler was tethered to a television set in the clubhouse at George M. Steinbrenner Field, absorbed with appreciation for the iconic performer. "I think that
TAMPA, Fla. -- Masahiro Tanaka wanted to watch every moment. As Ichiro Suzuki announced his retirement half a world away on Thursday morning, the Yankees hurler was tethered to a television set in the clubhouse at George M. Steinbrenner Field, absorbed with appreciation for the iconic performer.
"I think that atmosphere only happens to special players," Tanaka said through an interpreter. "You sense respect. I think it was full of it there, because of who he is."
With a pair of Mariners victories over the Athletics in Major League Baseball's season-opening series at the Tokyo Dome, Ichiro's illustrious career came full circle. Ichiro made his professional debut in 1992, when Tanaka was 4 years old.
"He was a superstar when I was in elementary school," Tanaka said. "I never thought that I would be playing with him in my wildest dreams. I had the opportunity to be teammates with him in the World Baseball Classic in 2009, and obviously I had the chance to play with him here in '14."
That was Tanaka's rookie season with the Yankees, a year in which the 40-year-old Ichiro batted .284/.324/.340 in 143 games. Though Tanaka loved sharing a big league clubhouse with Ichiro, he said that his favorite memory of their time as teammates came in the 2009 World Baseball Classic.
In the championship game against South Korea at Dodger Stadium, Ichiro lined a two-out, two-strike single to center field, driving in a pair of 10th-inning runs. It was Ichiro's fourth hit of the game, and Yu Darvish pitched the home half of the 10th inning, securing Japan's 5-3 victory.
"I think he was carrying all the pressure of the world at that time," Tanaka said. "When we look back, I think he was going through a little bit of a struggle throughout the tournament. In that last game, he came through with the big hit that basically allowed us to win that game."
In 2012, Ichiro was acquired by the Yankees after spending his first 11 and a half seasons in Seattle. Yankees general manager Brian Cashman also chimed in with his appreciation for Ichiro's career.
"Ichiro Suzuki is one of the greatest baseball players the world has ever seen," Cashman said. "He has been married to this game for virtually his entire life -- refining and perfecting his craft -- and the relationship has been a beautiful one. As an organization we are fortunate to call Ichiro one of our own, and we congratulate him on a truly astonishing career."
After two and a half seasons with the Yankees, Ichiro joined the Marlins in 2015, which gave Tanaka the unexpected opportunity to pitch against the future Hall of Famer.
Tanaka started a June 15 contest at Marlins Park in Miami, in which Ichiro went 2-for-4 against Tanaka, singling twice. Tanaka also struck out Ichiro and retired him on a groundout in the Marlins' 2-1 win.
"I never thought that I would be teammates with him, and never thought I would actually face him," Tanaka said. "I treasure that experience, of being able to face him."