13 strangest moments in Yankees history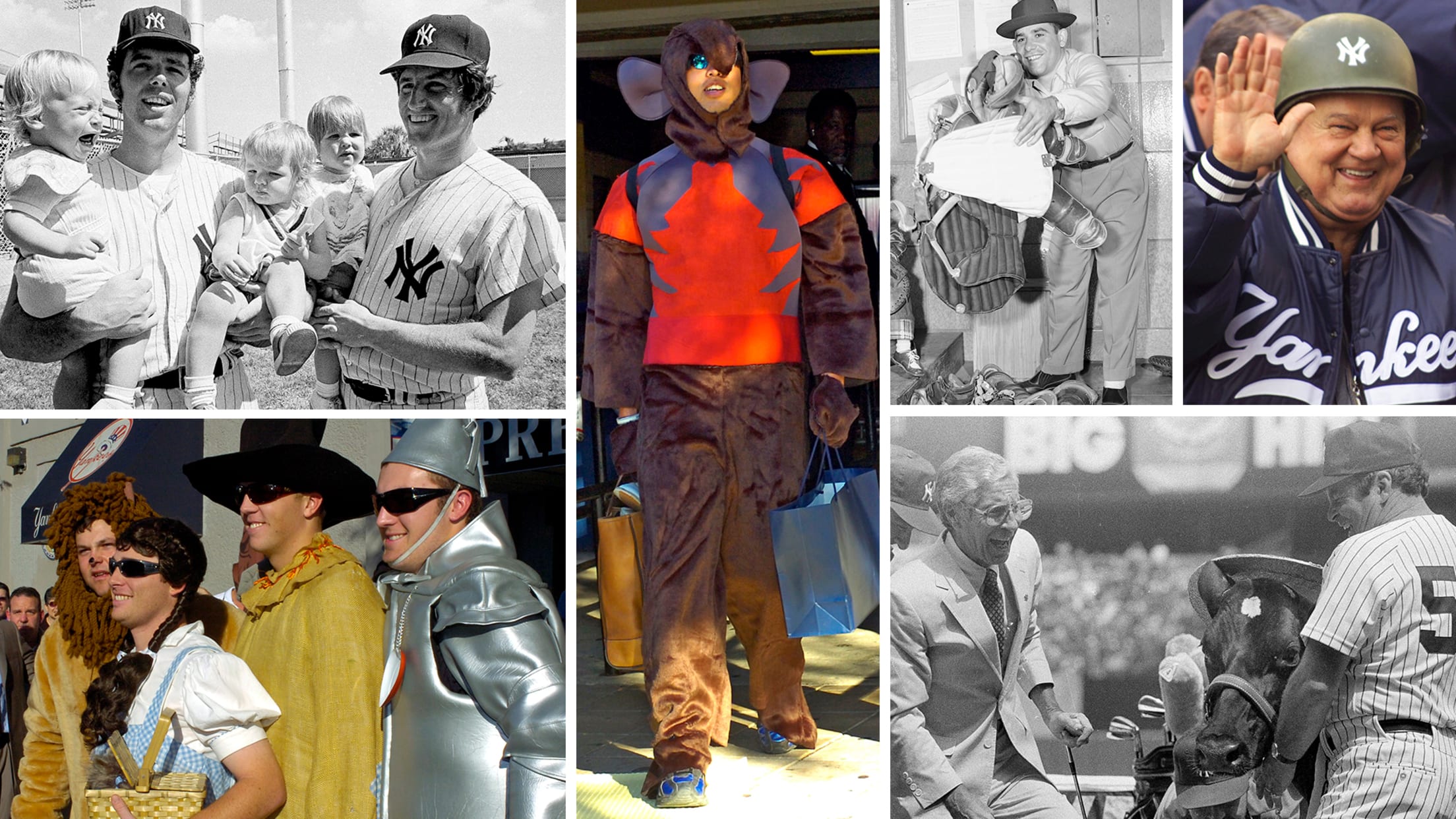 With 27 World Series championships and 40 American League pennants to their credit, no Major League team boasts a richer history than the Yankees. It hasn't been all business, though: That winning has been accompanied by some amusing and unique episodes along the way. Here is a selection of some
With 27 World Series championships and 40 American League pennants to their credit, no Major League team boasts a richer history than the Yankees. It hasn't been all business, though: That winning has been accompanied by some amusing and unique episodes along the way. Here is a selection of some of the strangest moments in Yankees lore:
1. Yankees 1, Ostrich 0
April 3, 1919
Sadly, no video of this exists. During Spring Training in Jacksonville, Fla., Yankees outfielder Ping Bodie challenged an ostrich named Percy in a spaghetti-eating contest. Legend indicates that Bodie defeated Percy, who was heralded as one of the world's great eaters but passed out after his 11th helping of pasta. The competition was set up by Yankees co-owner T.L. Huston, suggesting that Hal Steinbrenner missed a terrific opportunity to have Aaron Judge or CC Sabathia honor the 100th anniversary.
2. Up in the sky!
Oct. 2, 1936
Facing off against the crosstown-rival Giants for Game 2 of the World Series at the Polo Grounds, the Yanks built a comfortable 9-0 lead through the first three innings. How comfortable? With the fearsome Mel Ott walking to home plate, Yanks hurler Lefty Gomez halted the game to gawk at an airplane passing overhead, to the chagrin of manager Joe McCarthy. Gomez picked up a complete-game victory in the Yanks' 18-4 win, and the Bombers secured the championship in six games.
3. It ain't over
Various dates
No list of amusing Yankees moments could be complete without mention of Yogi Berra's famed sayings, though the late Hall of Famer himself once cautioned: "I didn't really say all the things I said." Nevertheless, from "It ain't over 'til it's over" to "It's like déjà vu all over again," the organization would never see a more quotable personality. Among Berra's greatest hits, some of which came later during his coaching and managing years: "The future ain't what it used to be," "Nobody goes there anymore; it's too crowded," "You can observe a lot just by watching," "When you come to a fork in the road, take it," and "Baseball is 90 percent mental. The other half is physical."
4. The Yankees make a trade
March 4, 1973
It was a bizarre press conference, the likes of which had never been seen before in Major League Baseball -- and likely never will be again. At Spring Training in St. Petersburg, Fla., Yankees pitchers Mike Kekich and Fritz Peterson announced they had decided to swap wives, families and even dogs in advance of the 1973 season. The families had been friends since '69 and were embracing the Swinging Seventies head on. The relationship between Kekich and Marilyn Peterson fizzled quickly, though Fritz Peterson and Susan Kekich remain happily married to this day.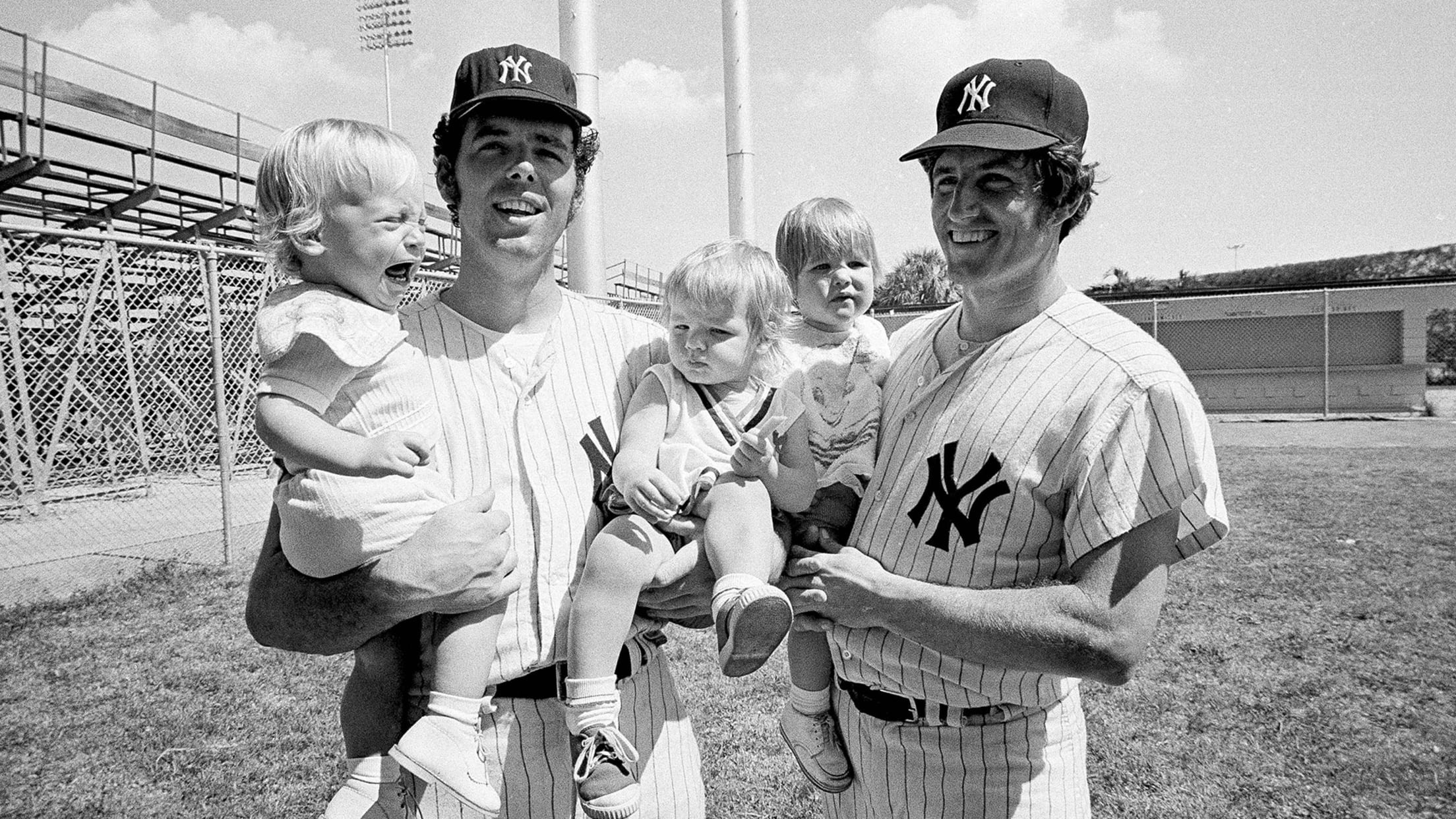 5. Holy Cow!
Aug. 4, 1985
As the Yankees celebrated Phil Rizzuto Day at Yankee Stadium, retiring the longtime shortstop's No. 10 in Monument Park, someone in the front office came up with the idea of presenting Rizzuto with an actual "Holy Cow" -- complete with a cardboard halo -- to honor his famous broadcasting catchphrase. The cow had other ideas, accidentally knocking Rizzuto to the grass behind home plate. Fortunately, Rizzuto and the cow were fine.
6. Donnie Baseball helps himself
Sept. 16, 1992
The Yankees were playing out the end of the 1992 season, hosting the White Sox before a crowd of 12,909. The home team lost, 9-6, but one young fan came away from the game with a winner of a story when first baseman Don Mattingly ranged toward the seats in pursuit of a foul pop. As the boy was distracted, Mattingly reached into his box of popcorn and grabbed a handful, munching as he returned to his position.
7. A cameo about nothing
Oct. 12, 1995
There were numerous Yankees references over the course of Seinfeld's lengthy run on NBC, but one of the best was in 1995's "The Wink," when Cosmo Kramer (Michael Richards) promises an ill boy that Paul O'Neill will hit two home runs for him in that night's game. "It's terrible!" O'Neill tells him. "You don't hit home runs like that. It's hard to hit home runs. And where the heck did you get two from?" O'Neill almost gets there, but his inside-the-park homer is ruled a triple and an error.
8. Zim reports for duty
Oct. 7, 1999
One day after being struck by a sharp Chuck Knoblauch line drive in Game 1 of the AL Division Series against the Rangers, beloved Yankees bench coach Don Zimmer returned to the dugout wearing a green Army helmet with the club's interlocking "NY" logo and "ZIM" painted on the sides. The Yankees won ALDS Game 2, 3-1, en route to a sweep of Texas. Zimmer also sported the helmet at the World Series parade later that autumn.
9. It's Saturday Night!
Dec. 1, 2001
Less than a month after the conclusion of the World Series, Derek Jeter hosted "Saturday Night Live," taking part in memorable sketches like "Derek Jeter's Taco Hole" -- strumming a guitar to plug a New Jersey eatery as part of a mariachi band alongside SNL's All-Star cast of Will Ferrell, Jimmy Fallon and others -- and "Yankee Wives," when Jeter, David Wells and David Cone dressed in drag to cheer on their significant others.
10. Follow the yellow brick road
Sept. 25, 2007
The Yankees had several memorable rookie dressup days during this decade -- a team of George Steinbrenner clones, complete with turtlenecks, was a good one -- but none was better than their 2007 homage to "The Wizard of Oz" after a 7-6 loss to the Devil Rays. Joba Chamberlain as the Cowardly Lion was an inspired choice, while Shelley Duncan (Scarecrow), Phil Hughes (Tin Man) and Ian Kennedy (Dorothy) played their parts to aplomb. Don't forget Kei Igawa as a Flying Monkey!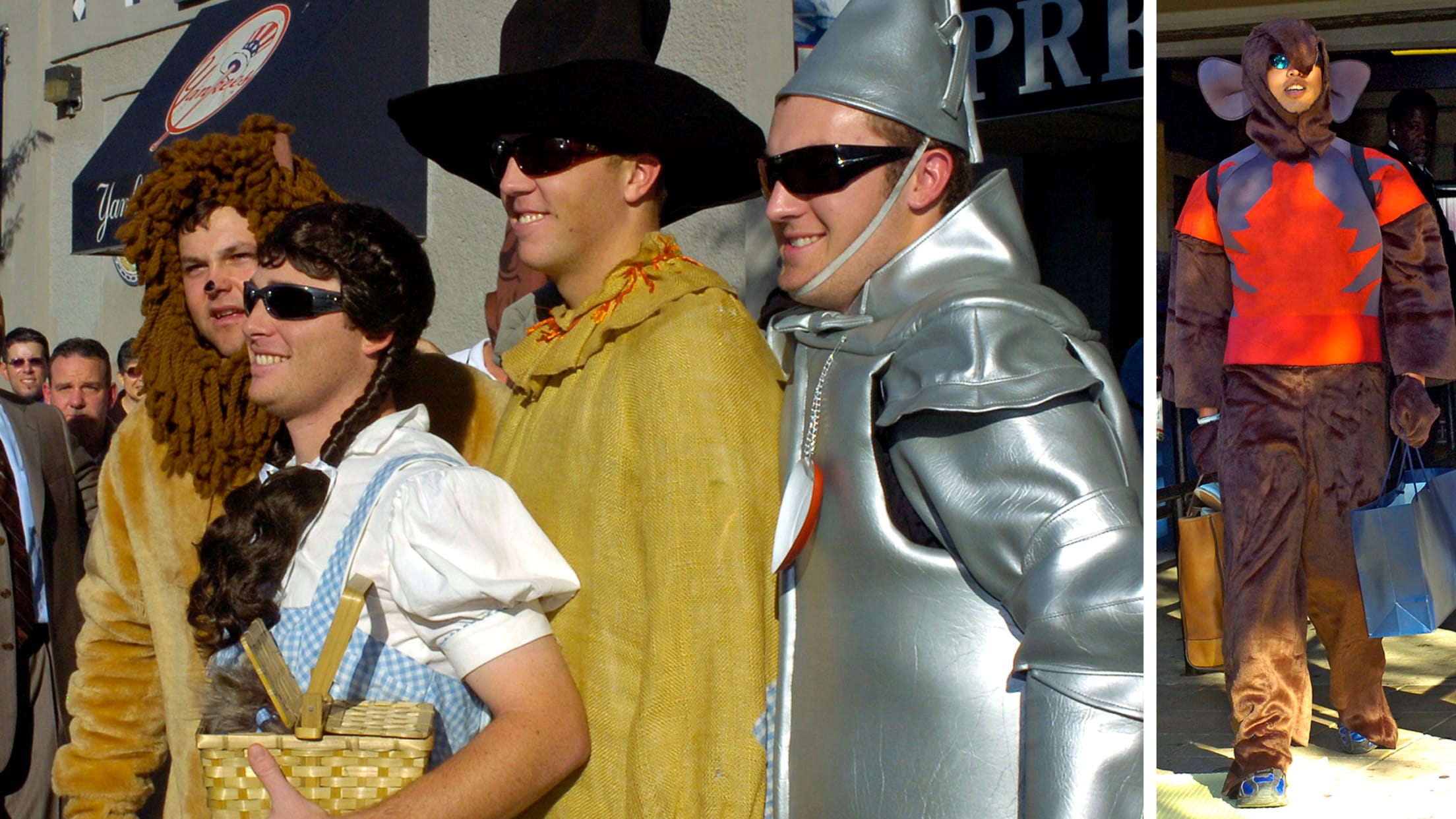 11. Chan Ho tells the truth
April 7, 2010
Honesty is the best policy, though Chan Ho Park might have been too forthcoming when approached by reporters after a 3-1 win over the Red Sox at Fenway Park in 2010. Yankees manager Joe Girardi revealed that Park was unavailable due to illness, and when quizzed about his status, a bewildered Park replied: "I had a lot of diarrhea. Is that what you want to know?" Park then repeated his diagnosis several times while Joba Chamberlain howled with laughter. Even Mariano Rivera couldn't help but grin. "What, it's funny?" Park told Chamberlain. "Save it."
12. Aaron who?
May 15, 2017
Ah, 2017. It was a simpler time -- when Aaron Judge could sit behind a desk in New York's Bryant Park, camouflaged only by a pair of clear-frame glasses and go unrecognized by fans wearing Yankees caps and jerseys. Placed there as part of a sketch for NBC's "The Tonight Show with Jimmy Fallon," Judge quizzed New Yorkers about the rookie slugger making headlines in The Bronx. One tells the ballplayer his favorite player is "Adam Judge. He's a beast." Indeed.
13. The Toe-Night Show
Sept. 26, 2017
The 2017 Yankees exceeded expectations, and as they surged toward the postseason, diminutive utility infielder Ronald Torreyes became a fan favorite. The 5-foot-6 Torreyes and the 6-foot-7 Judge entertainingly high-fived after home runs, and Torreyes expanded upon a dugout ritual started by the Cubs earlier that season when he used various items as a faux television camera, employing Didi Gregorius to "interview" teammates after big home runs. The first episode was aired during a 6-1 win over the Orioles, prompted by Starlin Castro's first homer in nearly a month.
Thanks to Marty Appel, Jeff Girgenti and Brian Richards for their assistance in compiling this list.