2022 Season Ticket Member Parking Marketplace

New benefits for Season Ticket Members with Parking Marketplace access - on sale now
New parking options, available exclusively to Season Ticket Members.
Season Ticket Members are guaranteed the best price in all Oracle Park lots.
Book in advance or day-of-game.
New Parking Options
New this season, Season Ticket Members can park right across the street from Oracle Park in the King-Townsend Garage. Also new for 2022, secure passes for the closest, most convenient spaces in Lot A/Pier 48 and Pier 30/32.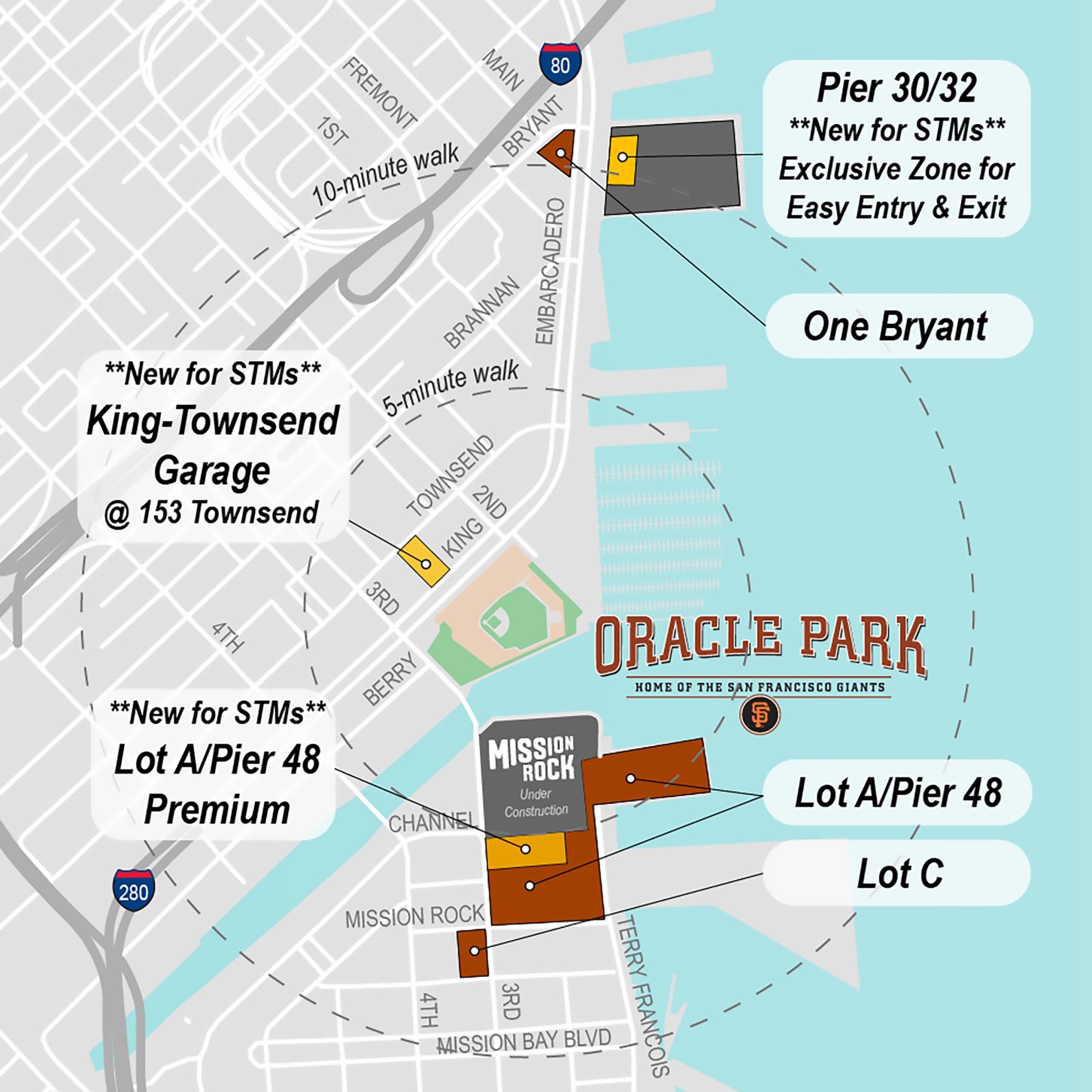 Can't find what you're looking for on the Marketplace? Try SpotHero for parking options throughout the area at a wide range of price points.
Pricing & Payment
Parking prices are now dynamic. Prices are lower for games and locations with less demand and higher for the most popular games and locations.
Season Ticket Members get 10% off the public rates in all ballpark lots.
See parking rates for individual games and locations when you purchase.
How to Secure Parking Passes
Click the Secure Parking Passes button above
Login with your MLB.com credentials
Select the parking offer you are interested in. NOTE: See important pass limit details below.
If purchasing individual passes, select the game date
Select the desired lot
Click Add to Cart
If purchasing individual passes, click Continue Shopping (bottom of the page) to add another game
Enter payment information. Any available account credit will be automatically applied.
Click to agree to the terms
Click Place Order
Pass Limits
Accounts are limited to one (1) parking pass per game. Purchasing an individual pass for a single game will make your account ineligible for the full package.
Delivery Options
Parking passes are mobile only via the MLB Ballpark app.
Resale
The resale of parking passes via StubHub is not permitted.
Also Available: Book parking throughout the area through SpotHero
State and local health officials are actively monitoring the status of COVID-19 in our community and retain the authority to change or modify rules and regulations associated with large events.
Inside Giants Season Tickets