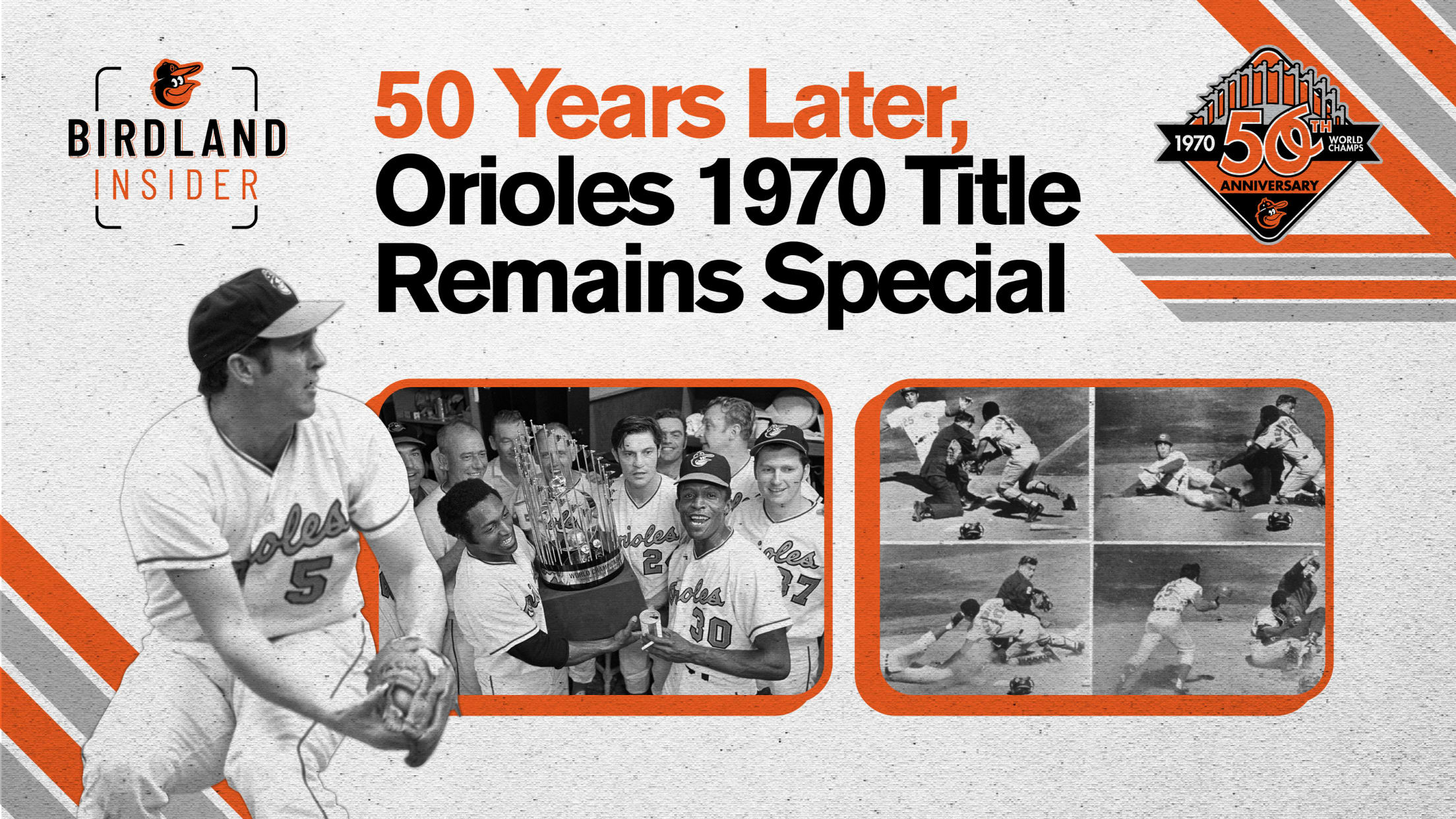 Scroll
50 Years Later, Orioles' 1970 Title Remains Special 
The 1970 baseball season will forever be known as Brooks Robinson's "coming out party" - when the world finally got to witness what those of us in Baltimore had seen for more than a decade: the greatest third baseman in baseball history.
In the Orioles' World Series triumph over Cincinnati's "Big Red Machine" Brooks made play after amazing play in the field, hit .429 with a pair of home runs, and led the Birds to a 4-games-to-1 triumph.
"Robinson beat us," was Reds manager Sparky Anderson's easy summation of the 1970 World Series. Ah, but it was not quite that simple.
Certainly, the images of that series revolve around the Orioles' eventual Hall of Fame third baseman. Ranging into foul ground and firing a one-hop throw on the Riverfront Stadium artificial turf to throw out Lee May at first base. Diving to his left to snare a line drive off the bat of Johnny Bench. Backing up to grab a smash off May and spinning to throw to second base and start a double-play. It was a tour de force performance to be sure.
But the seeds of that season's redemptive World Series victory were sown in the wake of the previous year's 5-game loss to the upstart New York Mets. Let's start at the beginning.
Earl Weaver, whose Hall of Fame managerial career was spent entirely with the Baltimore Orioles, once described a baseball skipper's job thusly:
"A manager's job is simple," Weaver said. "For one hundred sixty-two games you try not to screw up all that smart stuff your organization did last December."
Weaver actually may have been a bit flummoxed, then, entering the 1970 season. The braintrust in the Orioles front office did absolutely nothing during the previous winter to tinker with a 1969 team that had raced to 109 regular-season wins and a three-game sweep of the Minnesota Twins in the first-ever American League Championship Series, before falling to the Mets, 4-games-to-1, in the World Series.
Not. One. Move.
It's true. The regular lineup remained the same, as did the starting rotation. The bullpen and bench were virtually unchanged as well.
Consider that with only two exceptions, the same regular lineup - Boog Powell at first, Davey Johnson at second, Mark Belanger at shortstop, Brooks Robinson at third, Don Buford in left, Paul Blair in center, Frank Robinson in right, and Elrod Hendricks and Andy Etchebarren platooning at catcher - appeared in no more than seven games difference than they had in 1969. (Exceptions of Blair and Frank Robinson, who still played 133 and 132 games, respectively, in 1970.)
Consider that five pitchers - Mike Cuellar, Dave McNally, Jim Palmer, Tom Phoebus, and Jim Hardin - combined to make 155 of 162 starts in 1969 - and those same five made all but three starts in 1970!
And consider this: The Orioles used only 32 players during the entire 1970 season, including just 12 pitchers.
Other than exchanging some bench parts with their Triple-A farm team, and a mid-season tinker with the bullpen, the Orioles of 1969 and 1970 were virtually interchangeable. Only two players who were not part of the '69 team appeared in more than a handful of games in '70 - infielder Bobby Grich (30 games) and pitcher Moe Drabowsky, one of the heroes of the Orioles' first World Series title in 1966, who made 21 relief appearances after being re-acquired from the Royals in a mid-June trade.
The Orioles won their first five games of the season, and except for a two-week span in mid-April, held first place in the AL East throughout the duration of the year. The New York Yankees cut their lead to 2.0 games in late June; the Detroit Tigers trailed by 3.0 games on July 19. After that, it was a question of "when and by how many games" the Orioles would take the division.
They won 19 of their final 22 games starting September 8, including a season-ending 11 in a row. The Orioles stormed home 15 games in front of the second-place Yankees with a record of 108-54, winning one fewer game than the year before. Their two-year mark of 217 wins set an American League record for most victories in consecutive seasons. (In winning the AL East for a third straight time in 1971, they set the league's three-year record as well, with 318 victories over that span. Only the Chicago Cubs, with 223 wins in 1906-07 and 322 wins from 1906-1908, had more in a two- or three-year stretch.)
It was a club that had everything Weaver loved: pitching, defense, and three-run homers. Among the highlights of the season:
The Orioles became the first team since the 1956 Indians to boost three 20-game winners. McNally and Cuellar won 24 games each, and Palmer won 20. Reliever Dick Hall finished fourth on the team in victories, earning his 10th win on his 40th birthday, September 27 at Cleveland.
McNally struck out a career-high 13 batters in an 8-2 win over the Indians on Opening Day, while Cuellar pitched complete game victories in all four of his starts against the Angels, with two shutouts. Palmer set a club record with 305 innings pitched; he would top that on three occasions and is the only Orioles hurler to pitch 300-or-more innings in a season.
Three Orioles were awarded Gold Gloves that year - Davey Johnson at second, Brooks at third and Blair in the outfield. The only arguments about the Orioles defense were that Belanger didn't capture another at shortstop (he would win a total of eight in his career with the O's) and that Powell was denied at first base; he never won a Gold Glove in his career, but his teammates will tell you he was as good as there was at scooping errant throws and helping them take the honors.
Powell more than made up for the slight, being named AL MVP for the 1970 season. After finishing as runner-up in the 1969 MVP race to the Twins' Harmon Killebrew, "Big Bad John" batted .297, hit 35 homers and drove in 114 runs in '70. He then batted .355 with 3 doubles, 3 homers and 11 RBI in the postseason.
Despite finishing only 11th in the league in runs scored and homers, the Orioles had firepower at the right times. Frank Robinson batted .306 and belted 25 homers, and three others - Brooks Robinson, Paul Blair, and fourth outfielder Merv Rettenmund hit 18 each. Even lead-off man Don Buford had 17 homers.
As in 1969, the Orioles faced the Minnesota Twins in the best-of-five ALCS. The Orioles had swept the Twins in '69, the first year of the playoff system, wining the first two games in extra innings. The Twins were the only team with a winning record against the Orioles in 1970, winning seven of 12 games. But there would be no nail-biters in this playoff series. Cuellar became the first pitcher to hit a postseason grand slam in Game 1, and the Orioles broke open the first two games with a pair of seven-run innings before Palmer completed a second-straight sweep with a 6-1 complete game win in Game 3.
The World Series did not start out well. Brooks committed an error on the first ball hit to him - it was the first game the Orioles had ever played on artificial turf - and Cincinnati jumped out to a 3-0 lead through three innings.
Said Powell: "We got behind in the first inning of the first game against the Reds and I said, 'Aw no, not again.' We gotta stop this right now."
Stop it he did. A two-run homer in the top of the 4th inning cut the lead to 3-2, and the Orioles broke a tie in the 7th inning on Brooks Robinson's solo homer to go on to a 4-3 win.
The Orioles overcame an early 4-0 deficit in Game 2 and won 6-5 on the strength of a five-run 5th inning and 6.2 innings of three-hit relief from four pitchers to take a 2-game edge and send the series to Memorial Stadium. Game 3 was no contest, as Dave McNally tossed a complete game and smacked the first World Series grand slam by a pitcher in a 9-3 triumph.
Poised for a sweep, Baltimore could not deliver in Game 4 when future Oriole Lee May smacked a three-run homer off Eddie Watt in the 8th inning to give the Reds a 6-5 win.
Again in Game 5, the Reds jumped on Cuellar for three 1st-inning runs. The Orioles lefthander pitched shutout ball the rest of the way, however, and the Orioles scored two runs in each of their first three at-bats to win going away, giving them a 9-3 victory and their second World Championship.
A month after the series, Orioles general manager Harry Dalton was named MLB Executive of the Year by The Sporting News, considered baseball's "bible" at the time. It was the middle of the Orioles' three-year reign as American League champions, and during a stretch in which they won the AL East six times in nine years. Ironically, Dalton's award came following a season in which the Orioles did their least tinkering with the roster - and won their only World Series title during that stretch.
"It was a vindication for losing in '69," said Blair. "We dedicated ourselves to coming back and winning in '70. We completed the job this time. We took the Big Red Machine and made them a little toy wagon."