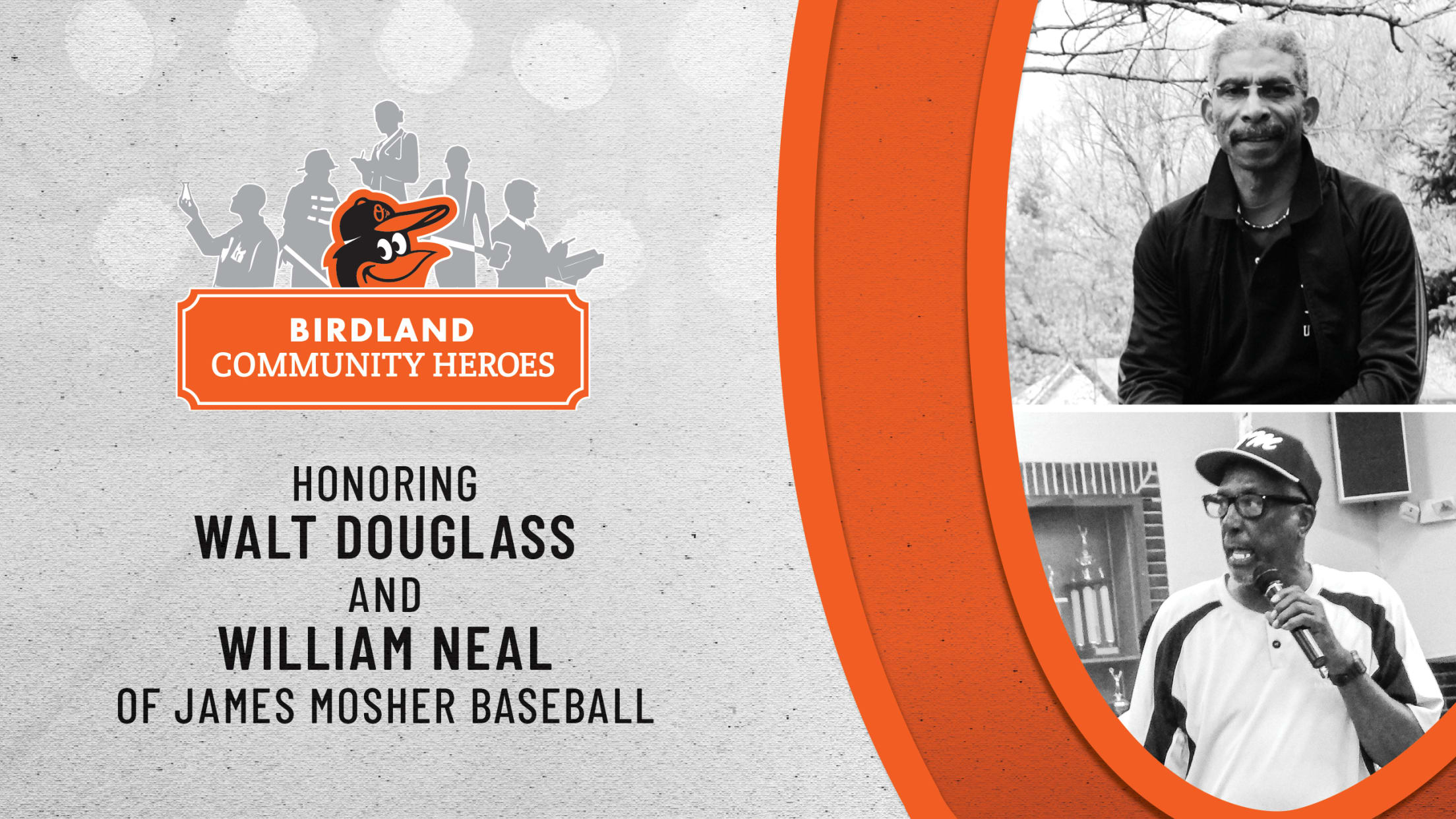 Scroll
Birdland Community Heroes: William Neal and Walter Douglass
In celebration of the 100th anniversary of the Negro Leagues, the Orioles are proud to recognize William Neal and Walter Douglass of James Mosher Baseball as the next Birdland Community Heroes. James Mosher Baseball is said to be the longest continuously-operating African American youth baseball league in the country. The league serves boys and girls ages 4 through 18 throughout the Baltimore metropolitan area. The organization has an active roster of over 50 dedicated adult volunteers who meet throughout the year and have committed wholeheartedly to give the program their time, talent, and energy so that the league's philosophy may become a reality. In recognition of William and Walter, the Orioles Charitable Foundation will be making a $2,500 donation to James Mosher Baseball.
William Neal is the president of James Mosher Baseball, which has been an active community organization in Baltimore for the past 60 years. William's dedication and career with James Mosher spans over 45 years. He has helped countless children learn the game of baseball and helped them use the game to learn life skills. Walter, who has been with James Mosher for 40 years, is a former executive secretary at the league who now focuses his time on coaching. Walter has shared that his favorite part about working with this organization is the opportunity it provides to serve families in his community. He enjoys helping children learn how to accomplish their goals and teaching them teamwork.
James Mosher Baseball is one of the original leagues to join the Orioles Reviving Baseball in Inner Cities (RBI) programs. The Orioles RBI program is a Baltimore City youth baseball and softball league, presented locally by T. Rowe Price. RBI is designed to promote interest in baseball and softball, increase the self-esteem of children, and encourage kids to stay in school and stay off the streets. A Major League Baseball league-wide initiative, the Orioles have administered and financially supported the RBI program at a local level since 1989. In 2018, over 600 Baltimore City youth participated in the Orioles RBI program.