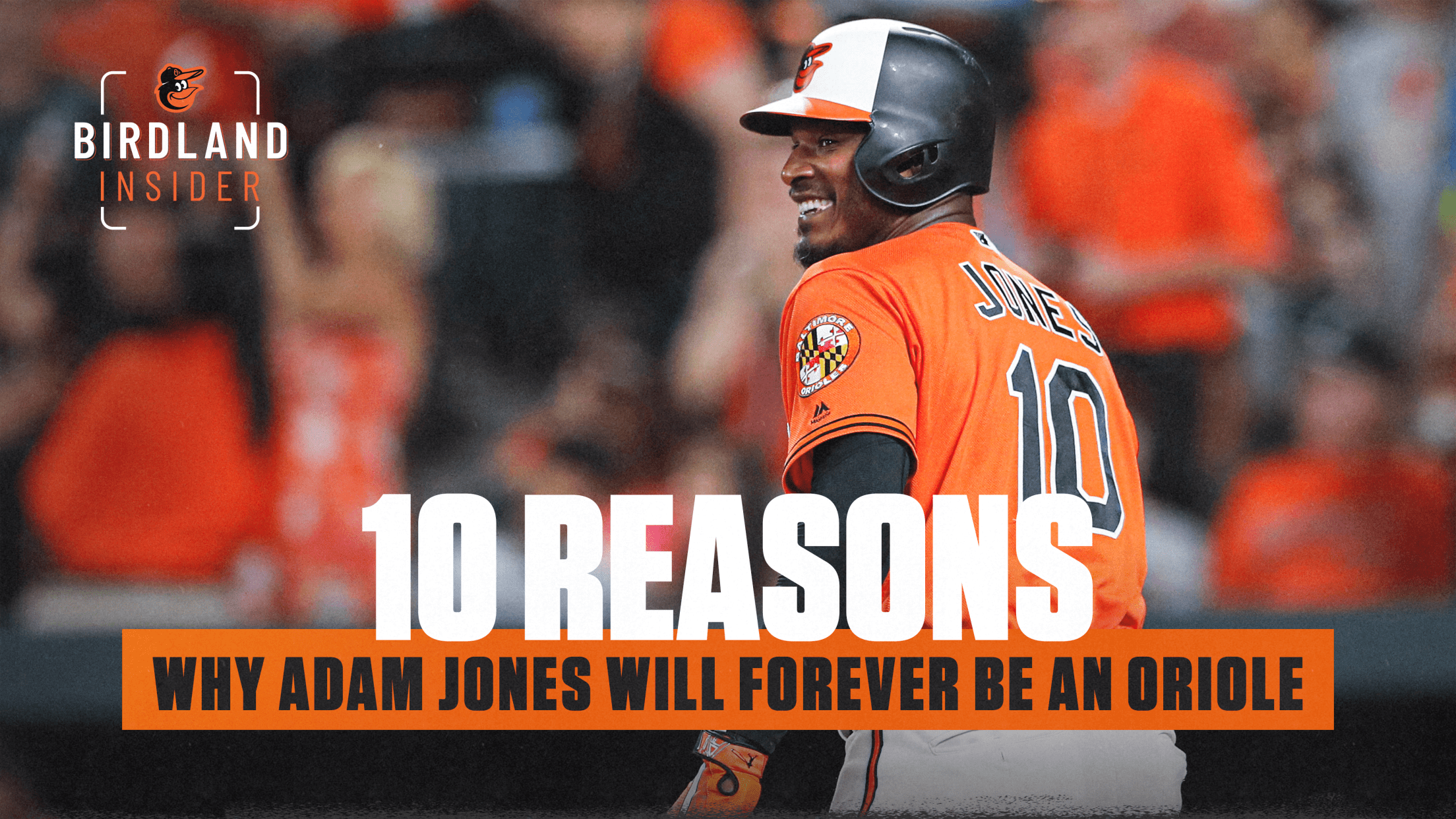 Scroll
10 Reasons Adam Jones will Forever be an Oriole
Five years after he last stepped foot on the grass at Oriole Park, Adam Jones continues to have an impact on Baltimore Orioles baseball. Though he may be retiring from the game, there are countless reasons why Jones will always be an Oriole.
1. His celebrations were second to none
No one will ever forget when Jones waved the Oriole flag on the field on September 16, 2014, celebrating the Orioles winning the AL East for the first time in 17 years. But that was not the first time his celebrations caught the attention of fans. Jones first got attention for his celebrations in 2013 when he started his now-famous pie celebrations. What started with Jones putting shaving cream on a towel and rubbing it in the face of one of his teammates who had a good game that night eventually evolved to include real pies in 2014. Delivered by a local bakery before each game, the pies mostly consisted of whipped cream, but would occasionally feature different flavors. It didn't matter how hard they tried, no one was safe from a pie celebration, just ask the Oriole Bird.
2. He knew how to keep things light
Behind the scenes, Jones was known for keeping things light in the clubhouse, and his loose demeanor was a key part to the Orioles' success. While that lightness was usually saved for his teammates, every once in a while, he really let it shine. Like the time he documented getting stuck in an elevator in Toronto with Chris Davis
3. He embodied Orioles Magic
It is impossible to think of "Orioles Magic" without thinking of at least one Adam Jones play. Whether it was in the field, at the plate, or wearing a Team USA jersey, Jones seemed to always defy the odds and come through when the team needed him the most. There was his three-run home run in the 17th inning at Boston to get Chris Davis the win (yes, as a pitcher) on May 6, 2012; his game-winning runs, including in the 10th inning against the Phillies on June 10, 2012; and the time he robbed Evan Longoria of a home run and threw out Matt Joyce at second base to turn a double play on August 25, 2014. But no one will ever forget "the catch" - Jones may not have been wearing the orange and black, but nothing said Orioles Magic more than when he leapt to rob Baltimore teammate Manny Machado of a home run in the Team USA-Team Dominican Republic quarterfinal matchup in the 2017 World Baseball Classic. Team USA went on to win the World Baseball Classic title.
4. His ever-lasting impact on the Baltimore community
A three-time Roberto Clemente Award Nominee, it was off the field where Jones made the biggest impact. After being traded to the Orioles in 2008, Jones embraced the Baltimore community like no one else. He was involved with the Boys and Girls Club of Metropolitan Baltimore, the Orioles Reviving Baseball in Inner Cities (RBI) Program, and the Maryland YMCA, making it a point to give back to Baltimore youth. In addition to monetary donations, Jones gave countless hours to each organization, ensuring that Baltimore youth felt cared for and were given the opportunity for a better future. Jones, with the help of the Orioles, made it possible for hundreds of children, who wouldn't otherwise have the opportunity, to experience an Orioles game, he helped send numerous children to YMCA summer camps each year, and he established an RBI award to encourage athletes to do their best, both on and off the field.
5. He introduced Birdland to Mo Gaba
Most O's fans first learned who Mo Gaba was by listening to him on the radio in the afternoons. But it was Adam Jones who truly introduced him to Birdland. The two became close at Jones' annual Purple Tailgate, an event he hosted to raise money for Baltimore organizations, including the Boys and Girls Club of Metropolitan Baltimore. From there, a special bond was born. Whether it was Jones inviting Mo out to the ballpark, or Mo keeping Jones honest in an interview, it was easy to see that their friendship meant a lot to both of them.
6. His name is etched in the record book
It is impossible to mention Orioles history without mentioning Jones. He ranks fourth in Orioles history in hits, at-bats, and total bases, fifth in runs scored, home runs, RBI, and extra-base hits, seventh in doubles, eighth in games played, tied for 10th in triples, and 11th in stolen bases. He is a five-time All-Star, six-time Heart and Hustle Award nominee, four-time Gold Glove Award winner, three-time Most Valuable Oriole, and 2013 Silver Slugger Award winner.
7. He always supports the hometown team
As soon as baseball season was over, Jones turned his attention to Ravens football. He was at the AFC Championship game in 2013 and always made time to host his annual Purple Tailgate at M&T Bank Stadium. He may not have grown up a Ravens fan, but there was no denying he was one after his 11 years in Baltimore.
8. He made everyone feel like they were a part of the team
Whether it was on social media or in person, there is a good chance that you have had the opportunity to interact with Jones. He always made sure fans knew they were an important part of the team and did his best to bring them into the action, whether it was playing rock, paper, scissor, shoot with them on the field, including them in his postgame pie celebrations, or spraying them with a hose, Jones always knew the fans were a big reason why Baltimore baseball is so special.
9. He made Baltimore his home
Nobody embraced Baltimore quite like Jones. Baltimore is where he really grew up and during his time with the Orioles, he truly made it home. Starting his family here, giving back to the community, supporting local teams, and frequenting small businesses, it is impossible to think of Baltimore without thinking of Jones.
10. He paved the way for the future of Orioles baseball
For the first time in a long time, Adam Jones did not lead the team as they took the field at Oriole Park. Instead, it was Cedric Mullins who led the team out of the dugout on August 10, 2018. That day, Jones stepped aside, letting the rookie take his place in center field, signaling that the future was here. Though there are many new faces in the dugout, Jones' impact is still evident. Austin Hays, one of the toughest guys Manager Brandon Hyde knows, admired how few games Jones missed and decided to model his game after him, remaining steady and doing whatever he can to get in the game and help the team.
Jones may be retiring from Baseball, but there is no doubt that he will forever be a Baltimore Oriole.