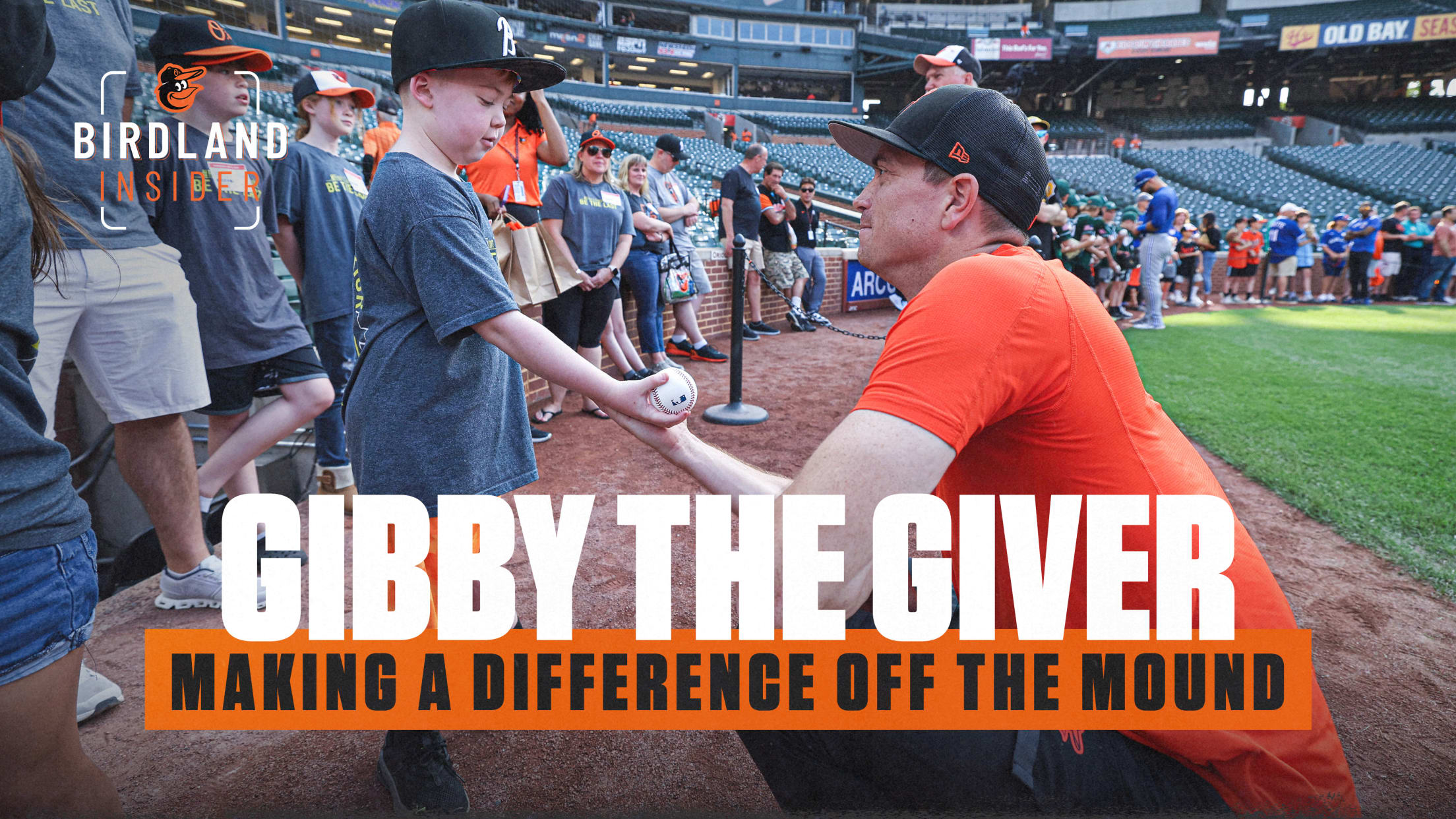 Scroll
'Gibby the Giver': Making a Difference off the Mound 
Kyle Gibson stood in front of his locker at Oriole Park with a coffee in his hand thinking about why he does what he does. Not on the mound, where he contemplates delivering the correct pitch for a strike, but off the field, where he is a family man, a husband and father to four, who always strives to lend a helping hand to those in need.
Gibson's parents instilled the importance of giving back at a young age. They made it a point to never accept anything for free. If something was given to them, they paid it forward by volunteering their time. However, it was not until he got older that Gibson truly recognized how important those acts of kindness could be and the impact he could have on others.
"People that you see on a daily basis are normally going through something that you have no idea about," said Gibson. "Whether somebody's having a bad day and that's why they say something rude to you or you get a look that you didn't expect, it's probably because something else is going on in their life. After going through some of the things I've gone through in life, that's something that I definitely think is important for people to understand."
When the Orioles signed Gibson to a Major League contract this offseason, they knew they were getting an impact player on the field and a leader in the clubhouse. With less than a month left in his first regular season as an Oriole, that has proven to be true. As of September 5, Gibson's 13 wins are tied for the American League lead. He recorded his 100th career win on August 5 against the Mets and celebrated 10 years of Major League service time on August 9. However, it is off the field where Gibson makes a true difference.
Gibson's impact in the community was once again recognized when Major League Baseball recently announced that Gibson earned his third-career Roberto Clemente Award nomination, this time with the Baltimore Orioles. The Roberto Clemente Award is given annually to the player who best represents the game of baseball through extraordinary character, community involvement, philanthropy, and positive contributions, both on and off the field.
Gibson and his wife, Elizabeth, are members of the Help One Now foundation, they donate to the Maryland Food Bank and House of Ruth through Big League Impact, an organization in which Gibson is the Vice President, they are involved with Crisis Aid International in St. Louis, Mo., and they work with a soup kitchen and food pantry in Fort Myers, Fla.
"We've been really fortunate to find a lot of great organizations that do a lot of great work," said Gibson. "We just have felt really connected to those."
The Gibsons have always known they wanted to give back. However, it was after Gibson was selected by the Minnesota Twins in the first round of the 2009 First-Year Player Draft that they really immersed themselves into their community work.
"We had financial means to now do more," said Gibson. "It was something that was really important us to make sure that we were stewarding the gifts that we had, and that we were stewarding the treasure we'd been given, and not keeping them for ourselves, but trying to have as much impact on the world as we can."
Shortly after he was drafted in 2009, Gibson and Elizabeth traveled to the Dominican Republic to attend the grand opening of a community project that his agent and a few other players had worked on together. That was when the couple realized the opportunity they had to make an impact abroad.
"As we started to learn more about need here and abroad, internationally, we just kind of felt like it wasn't okay to sit by and not do anything," explained Gibson.
Elizabeth was the first of the two to travel out of the country for a mission trip when she visited Haiti in 2015. It was that trip that inspired their work with Help One Now, a non-profit that focuses on empowering families in developing countries through entrepreneurship, education, and community care.
Five years later, in 2018, Gibson finally got his chance to visit Haiti as part of a group that helped build a high school for local children. For the first time, the children had a school within 40 miles of their home. The Gibsons are still involved with Help One Now, frequently raising money for the organization to continue to help their efforts in third world countries.
"The best part is when you find local leaders," said Gibson. "Whether it's in Baltimore or the Dominican, or a good leader at a charity, they can sometimes, most of the time, do way better work than I can just starting something up and figuring it out."
Since joining the Orioles, Gibson has already made an impact locally with the assistance of the club and Big League Impact. Every time the Orioles win this season, Gibson will make a financial donation to the House of Ruth, a non-profit organization that uplifts single mothers and their children. Gibson chose to donate to House of Ruth because he knows when you help moms who are in a tough spot, maybe by no choosing of their own, you are also helping their children. For every strikeout he records this year, Gibson will also make a donation to the Maryland Food Bank.
"Even in the most well-off communities in our country there's always people that need food, always kids that are living in hunger," said Gibson. "With just $10 the Maryland Food Bank gives families hundreds of pounds of food. It's just amazing."
Earlier this year, Gibson, along with Big League Impact and the Orioles, also hosted a Swinging For Impact event at TopGolf Baltimore. More than 15 of Gibson's teammates and their significant others showed up at the event, raising more than $36,000 for City of Refuge Baltimore, a non-profit organization that helps individuals and families transition out of crisis.
Gibson is a now a three-time Roberto Clemente Award nominee with Minnesota, Philidelphia, and Baltimore. He received his third nomination for the Roberto Clemente Award for the 2023 season with the Orioles. Wherever he goes, Gibson's impact follows. Giving back to the community is so important to Gibson that before signing with the Orioles, he made it a point to have conversations about how the club could support him and his community efforts.
"The community department has been awesome when it comes to supporting us," said Gibson. "Whether it's sharing on social media or giving us support for the events we are going to do. There's a lot that goes on here in Baltimore and if we can do a little bit here and there, you can help lift a lot of people out of bad situations. It is cool to see a team dive into that."
Over the past 10-plus years, Gibson has learned a lot. He has learned a lot about pitching, a lot about being a team player, a lot about giving back, and a lot about being a dad and husband. Now, standing at his locker, Gibson is ready to give his answer. Being a Major League Baseball player, father to four, and a husband has its own challenges and rewards. However, the one thing that is easy to Gibson is why, in the midst of everything, he makes it a priority to give back. His answer is simple: hope.