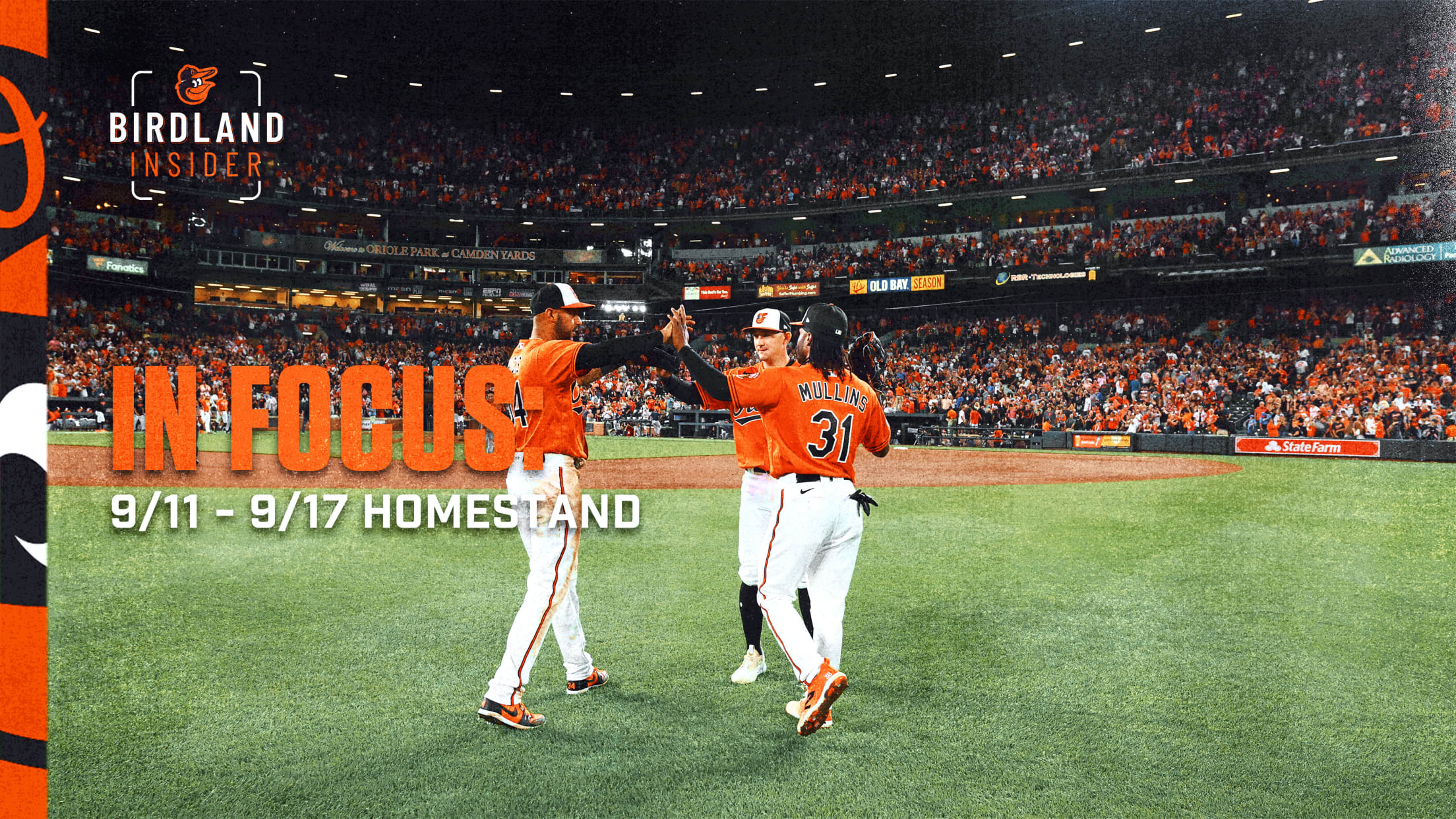 Scroll
In Focus: 9/11 – 9/17 Homestand
By
Peyton Stoike, Todd Olszewski, and Samantha Frank
September 19, 2023
September 11, 2023 – Cardinals vs. Orioles
The Orioles beat the St. Louis Cardinals, 11-5, marking their 46th comeback win of the season. Cedric Mullins hit a go-ahead grand slam in the fifth inning, his second grand slam this season and the third of his career. Gunnar Henderson recorded his 25th home run of the year, joining Cal Ripken, Jr. and Eddie Murray as the only rookies in O's history with 25+ home runs and 25+ doubles in a season.
September 12, 2023 – Cardinals vs. Orioles
John Means made his first Major League appearance in 517 days after undergoing left elbow UCL surgery. Means threw 5.0 innings, allowing three runs on four hits and striking out one.
September 13, 2023 – Cardinals vs. Orioles
Kyle Gibson allowed one run and struck out four over 6.2 innings, recording his 16th quality start of the season. Jorge Mateo recorded his 29th stolen base and his third in his past four games.
September 14, 2023 – Rays vs. Orioles
Heston Kjerstad made his Major League debut as a pinch hitter in the eighth inning. Gunnar Henderson and Ryan O'Hearn each homered.
September 15, 2023 – Rays vs. Orioles
Prior to the game, the Orioles honored Adam Jones as he officially retired from baseball as a Baltimore Oriole. Five years after he last stepped foot on the grass at Oriole Park, Jones threw out the ceremonial first pitch in front of his family and former teammates. Heston Kjerstad homered in the sixth inning for his first Major League hit. He became the 11th player in O's history to record a home run for his first Major League hit.
September 16, 2023 – Rays vs. Orioles
The Orioles shut out the Tampa Bay Rays, 8-0, regaining sole possession of the AL East, clinching the season series victory over the Rays, and dropping their magic number for a Postseason berth to one. Grayson Rodriguez threw a career-high 8.0 scoreless innings, striking out seven. Gunnar Henderson connected on his 27th home run of the year in the second inning, tying Orioles Legend and National Baseball Hall of Famer Eddie Murray for the third-most homers by a rookie in Orioles history.
September 17, 2023 – Rays vs. Orioles
The Orioles beat the Rays, 5-4, in 11 innings to clinch the 14th Postseason berth in team history. Cedric Mullins hit a walk-off sacrifice fly to score Adley Rutschman and win the game. Rutschman notched a two-out, game-tying single in the 10th, and connected on his 19th home run of the season to make it a one run game in the ninth. Adam Frazier doubled with two outs in the ninth inning to score Jorge Mateo and tie the game, sending it into extra-innings.