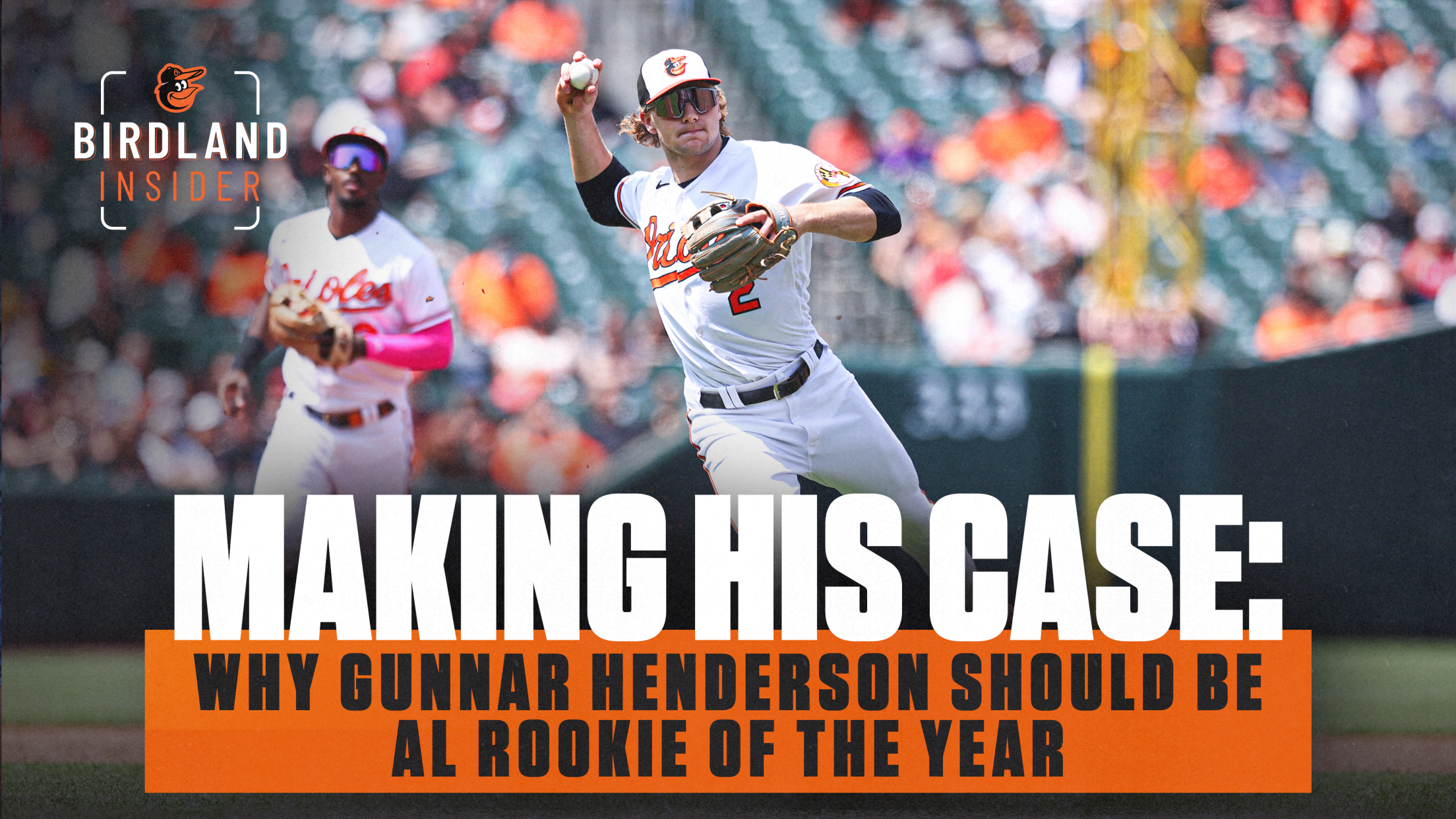 Scroll
Stating His Case: Why Gunnar Henderson is the AL Rookie of the Year 
Gunnar Henderson burst onto the scene on August 31, 2022, immediately making an impact, going 2-for-4 at the plate and hitting his first career homer in his second career at-bat. Having only played in 34 games last season, Henderson retained his rookie status entering the 2023 season, giving him the opportunity to put together a full season's body of work and prove why he was the favorite to win the American League Rookie of the Year award entering this year.
Henderson provided a boost to the Orioles on both offense and defense during the final months of the 2022 season. He put together 11 multi-hit efforts, including four-straight from September 13-17. Given the way he ended his first taste in the bigs, it was no surprise that he made his first career Opening Day roster heading into the 2023 season and has gone on to put together one of the best rookie seasons in Orioles history.
When looking at the totality of Henderson's season, there is no question he is the American League Rookie of the Year. As of Wednesday, September 28, Henderson is slashing .258/.327/.495 (142-for-550) and ranks first among AL rookies in homers (28), RBI (82), triples (9), extra-base hits (65), total bases (272), and runs scored (99). He ranks second in hits and doubles (28), third in slugging percentage, and fifth in OPS (.822). His 10-game winning RBI this year are the most among AL rookies.
One of the keys of Henderson's strong rookie campaign has been producing in both quantity and quality. His 206 hard-hit balls this season lead all MLB rookies and rank 10th among all AL hitters, per Statcast. His hard-hit rate sits at an eye-popping 52 percent, which ranks in the top five percent among all Major League hitters, and his average exit velocity ranks in the top 10 percent of MLB hitters, proving that he does not just hit the ball, he hits the ball hard.
Henderson's impact goes beyond what he does at the plate. His 13 defensive runs saved are the second-most among AL rookies, per Sports Info Solutions. He leads all MLB rookies with 6.2 bWAR and all AL rookies with 4.7 fWAR, one of the best ways to measure a player's value. Henderson also leads all of Major League Baseball with six runner runs, according to Statcast, which uses specific data to measure the performance of baserunners in taking extra bases.
He has etched his name in the Orioles history book multiple times this year. He connected on his 25th homer of the season on September 11, marking the fourth-most by a rookie in team history. He is the third O's rookie with 25+ doubles and 25+ homers, joining Cal Ripken, Jr. (1982) and Eddie Murray (1977), and the first rookie in team history and 20th in MLB history with 20+ doubles, 5+ triples, 20+ homers, and 10+ steals.
Despite getting off to a slow start this year, Henderson made the most of every opportunity and officially announced himself back in the thick of the Rookie of the Year race after his breakout in June earned him Rookie of the Month honors, becoming the sixth Oriole to ever win the award.
In the month of June, Henderson led AL rookies in slugging percentage, OPS (.994), homers (six), and RBI (16), ranked second in total bases (48), tied for second in extra-base hits (11), third in batting average (.320), and sixth in on-base percentage (.354).
From June 7-13, he reeled off four consecutive multi-hit games amid a six-game hitting streak, three of which were three-hit efforts, en route to being named the AL Player of the Week, after slashing .526/.550/1.083 (10-for-19) with one double, three home runs, five runs, six RBI, one walk, and two stolen bases in five games.
During a three-game home run streak from June 10-13, Henderson demolished a baseball onto Baltimore's historic Eutaw Street. His blast registered an exit velocity of 113.8 mph with an estimated distance of 462 feet. It was the farthest long ball by a rookie this season at the time and remains the hardest-hit ball by an Oriole this season. On June 13, Henderson crushed his first career grand slam, marking his third homer in as many games, the
Henderson's historic June also featured numerous personal feats. From June 10-13, Henderson became first Orioles rookie to homer in three-straight games since Ryan Mountcastle did so from June 2-5, 2021. On June 11, he hit his first career Eutaw Street home run, with an exit velocity of 113.8 mph and an estimated distance of 462 feet, it was the farthest homer by a rookie this year at the time and remains the hardest-hit ball by an Oriole this season. On June 13, Henderson crushed his first career grand slam, powering the Orioles to an 11-6 win over the Blue Jays.
He set new single-game career highs with four hits and five RBI on July 6 at New York-AL. He tied a career high with four times on base and three runs scored, in addition to tallying his first career multi-homer game, including his first career leadoff home run. His performance marked the first time an MLB player had four hits and two homers in the first four innings of a game since Matt Carpenter did so on July 20, 2018. On August 20 at Oakland, he became the youngest Oriole to record four extra-base hits (2-2B, 3B, HR) in a game in team history (since 1954) and the youngest MLB player since Miguel Cabrera on April 29, 2005, at Philadelphia.
Whether it is on offense or defense, Henderson's dynamic play across the diamond is constantly on display, proving why he is, and should be, the American League Rookie of the Year.