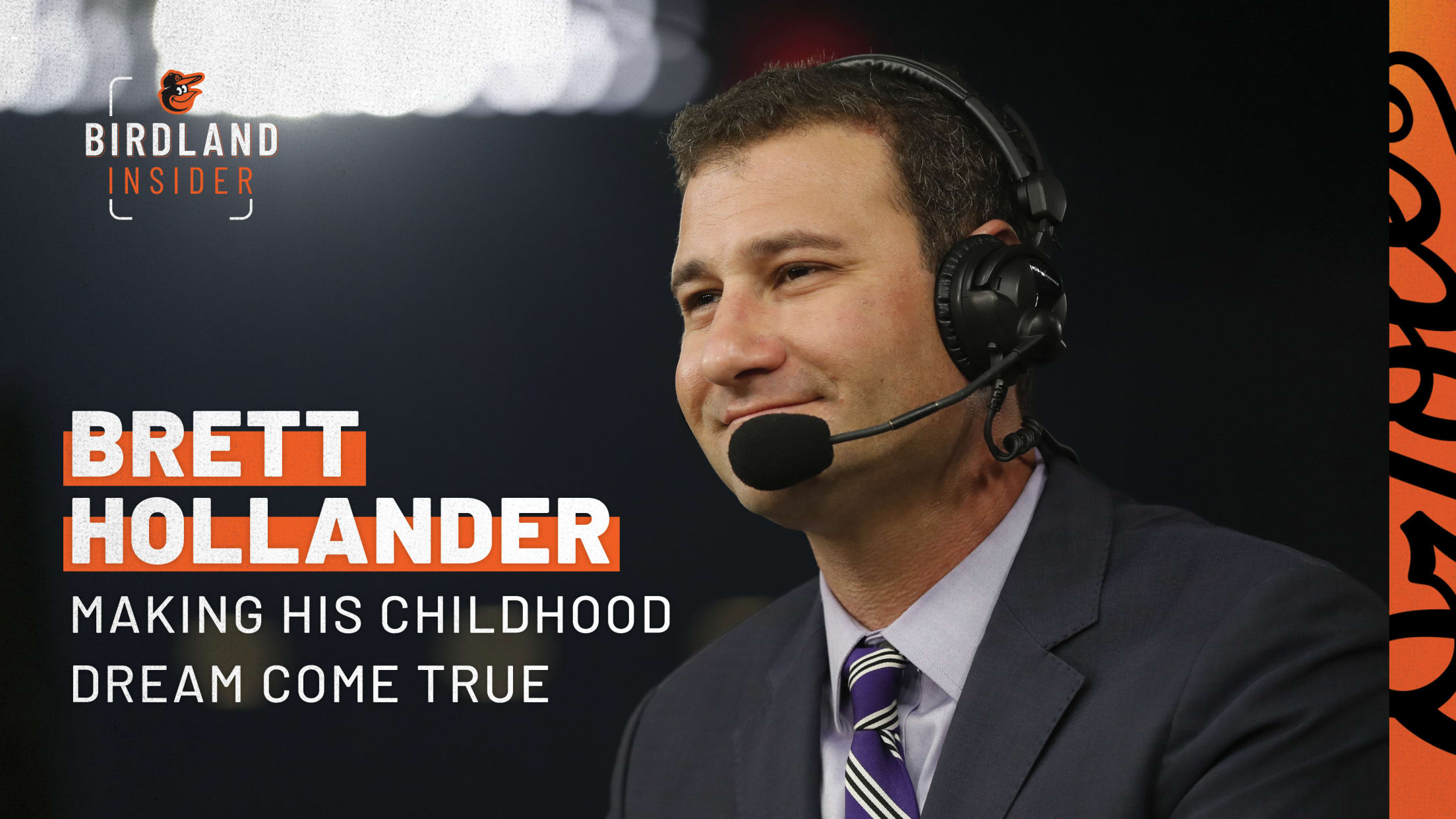 Scroll
Brett Hollander Making His Childhood Dream Come True
Brett Hollander still vividly remembers walking into Oriole Park at Camden Yards for the first time at eight years old. The Orioles were playing the New York Mets in an exhibition game, the first-ever exhibition at the new stadium. But more importantly, it was the moment he knew exactly what he wanted to do with his life.
"I had heard about Oriole Park at Camden Yards for years and it all became very real at eight years old," said Hollander. "And in many ways changed the trajectory of my life and what I wanted to do and what I wanted to be involved with. Seeing Oriole Park and stepping in this ball park for the first time. That's one of my most clear early memories."
From that moment on, Hollander did whatever it took to make his dreams of becoming a broadcaster come true. From starting a broadcasting program at his high school, to relaying beach traffic to listeners, Hollander was going to do whatever it took. And on July 24, 2020, after years of hard work, it finally happened. Hollander called his first game as a member of the Baltimore Orioles broadcast team.
But what was happening did not fully sink in for Hollander until days later on August 1, when Pat Valaika walked it off on against Tampa Bay in the bottom of the 11th inning.
"I called one walk-off," said Hollander. "A Pat Valaika base hit off Chaze Rowe and the Orioles won. The amount of walk-offs I watched and listened to over the years. That's kind of a pinch yourself moment."
When it comes to his career, Hollander considers himself very fortunate. That's why, when the job with the Orioles first became available, he was not sure what to do. He had spent the previous 10 years with WBAL radio, Baltimore's NBC affiliate. After starting with the radio station at 25 years old with a girlfriend and a dream, he left 10 years later with a wife, two daughters, and his own prime time talk show.
The radio station gave him the opportunity to do everything. He covered sports, and interviewed some of the country's biggest stars, from comedians, to political figures, to sports figures. He experienced Super Bowl Championships, even getting to hold the Vince Lombardi trophy on the plane ride back from New Orleans, and covered the best Postseason runs in recent Orioles history.
Hollander was a broadcaster. He did what he set out to do, and he was happy with where he was. But after a phone call with his brother, he realized the opportunity he had in front of him.
"I remember asking my brother about it," said Hollander. "Because I like taking every decision and thinking about it more methodically, but I asked my brother, 'What do you think?' and he said, 'Brett. It's easy, what would the eight-year-old version of yourself do.' And I said, 'I got to go to the Orioles.'"
Hollander did not have to think twice about what the eight-year-old version of himself would do. He still remembers going to a game in 1993 and receiving what he describes as, "probably the best giveaway in Orioles history." A cassette tape of a compilation of Chuck Thompson's greatest calls.
Hollander listened to the cassette every night. When his parents would bring him to games, Hollander can remember spending a majority of the time looking up at the broadcasting booths. And when he was not at a game, there is a good chance he was watching from his parents' room with the tv volume on mute.
"At a very young age I would record myself calling games into an old Dictaphone or tape recorder," recalled Hollander. "I've always kind of been obsessed with it."
He got his first taste of Orioles baseball as a senior in high school. As part of his senior project, Hollander acted as an intern with the then flagship radio station of the Orioles. He would help out where he could, holding microphones and helping with the behind-the-scenes productions. After one game, he even had his name read on air as they thanked the studio producers; he got a recording of it.
When it came time for college, Hollander had a decision to make. Rather than going to be a bigger journalism school, he opted for Dickinson College, a smaller, DIII liberal arts school, where he had the opportunity to make an impact and get as much experience as he wanted.
"I didn't go to a broadcast journalism heavy school," explained Hollander. "But we had the opportunity to learn and we got to call as many games as we wanted to call, and learn the craft and fail and figure it out on our own without the help of a huge athletic department and all that support. It was a really great place to learn. So I've been calling games forever."
Hollander did not start out his professional career calling games. In fact, his first job in broadcasting job out of college was doing beach traffic. But it did not matter to him what he was talking about, the moment he heard himself on air for the first time, he knew he made it.
Eventually, things progressed and Hollander started covering the O's for CBS Radio in 2008. It was his first time covering the team professionally, an experience he believes has helped him immensely.
"I was in Radio 2, and for those who don't know, there's Radio 1, there's Radio 2, there's Visiting Radio," explained Hollander. "And Radio 2 is like, you're one room away from where my idols and heroes are calling the games. But I started in 2008 covering the team and being in Radio 2 and building relationships with people and just being in the press box, I feel I did a nice job of not just building relationships, but making a lot of friendships here."
Hollander continued covering the Orioles during his time with WBAL. He came to games at Oriole Park, both to work, and to spend time with his family.
But the ballpark became an even more special place for him at the Home Opener on April 8, 2021. For the first time, Hollander was calling a game as a member of the Orioles broadcasting team with fans in attendance at Oriole Park.
"I've dreamt about calling Opening Day at Oriole Park since I was eight years old," said Hollander. "And I actually felt jittery before first pitch on Opening Day because it's just a different vibe, it's a different energy. It was Opening Day in Baltimore, and it kind of felt like normal."
Hollander has been to Oriole Park hundreds of times since that first exhibition game in 1992. Now, 30 years later, he is doing exactly what he said he wanted to do with his life. And when he comes to a game, instead of looking up at the broadcast booths, he is looking down at the field.
"It's always been a special place for me," said Hollander. "For me, just as a kid, but it means a lot more than that to me now because I've made a lot of friendships here, and it's a home of mine I feel in some way."