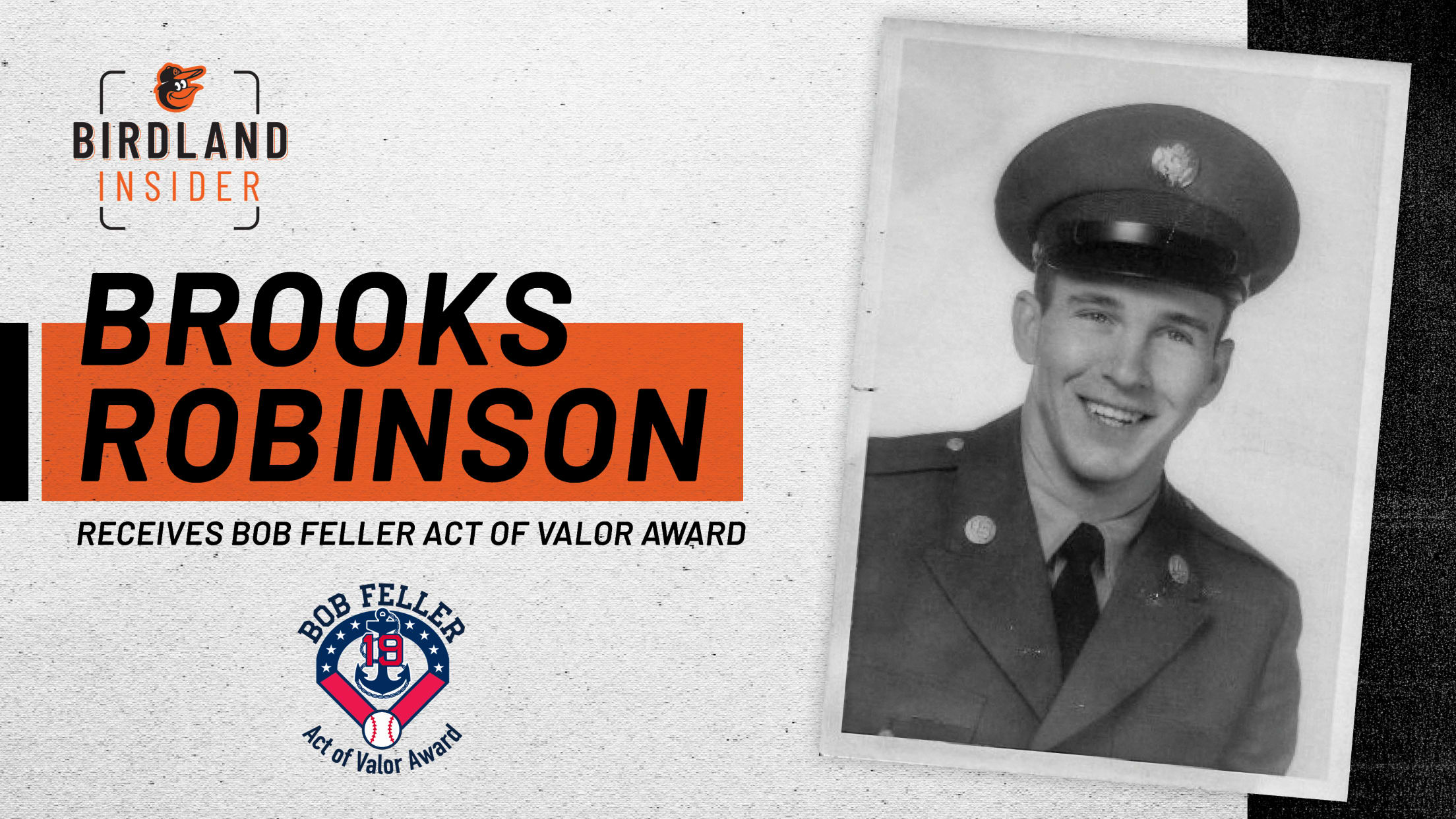 Scroll
Brooks Robinson Receives Bob Feller Act of Valor Award
Orioles Legend and National Baseball Hall of Famer Brooks Robinson recently added another award to his collection of recognitions. Along with an American League MVP (1964), World Series MVP (1970), 16 Gold Gloves, and a Roberto Clemente Award (1972) – not to mention 18 All-Star Game selections and a spot in the National Baseball Hall of Fame – he's been named a recipient of the prestigious Bob Feller Act of Valor Award.
The award is given each year to honorees who possess the values, integrity, and dedication to serving our country exemplified by the award's namesake, National Baseball Hall of Fame pitcher Bob Feller, who made the selfless decision to put his career in the Major Leagues on hold so he could serve his country.
Robinson not only supported his Orioles teammates on the field, but he also served honorably and faithfully as an Ordnance Parts Specialist in the Army National Guard in response to the Vietnam War.
In a press release announcing the 2020 honorees, Robinson shared: "I am thankful and humbled to accept the Bob Feller Act of Valor Award. Bob had an amazing baseball career but those of us who were privileged to know him knew that he was most proud of his military service. He wanted his legacy to be as much about honoring the men and women in uniform who served our country as it was about baseball," he continued. "Bob had a passion for educating others, especially youth, about service to our country. He was selfless. He put the needs of his country before baseball. The fact that Bob voluntarily joined the US Navy to serve his country right in the middle of a stellar baseball career cemented his stature as a true patriot. I will always remember Bob as a friend and one of the greatest pitchers to ever play baseball. I will also remember him as a man to admire because of his courage and dedication to making this country great."
Robinson is one of six 2020 award recipients representing both the military and Major League Baseball:
• National Baseball Hall of Fame Award – Brooks Calbert Robinson Jr.
• Major League Baseball Award – Craig Nicholas Stammen, San Diego Padres
• United States Navy Chief Petty Officer Award – Aviation Ordnanceman Chief Lacresha L. Dowdell
• United States Marine Corps Jerry Coleman Award – Master Sergeant Herman A. Kruppa
• Peer to Peer Award (Afloat) – USS AMERICA (LHA 6) Junior Enlisted Association
• Peer to Peer Award (Ashore) – Training Support Center Great Lakes Chapter of the Coalition of Sailors Against Destructive Decisions (CSADD)
Robinson joined the rest of the honorees on Thursday, November 19, in a virtual ceremony due to COVID-19 restrictions. Fans can watch his acceptance speech below.