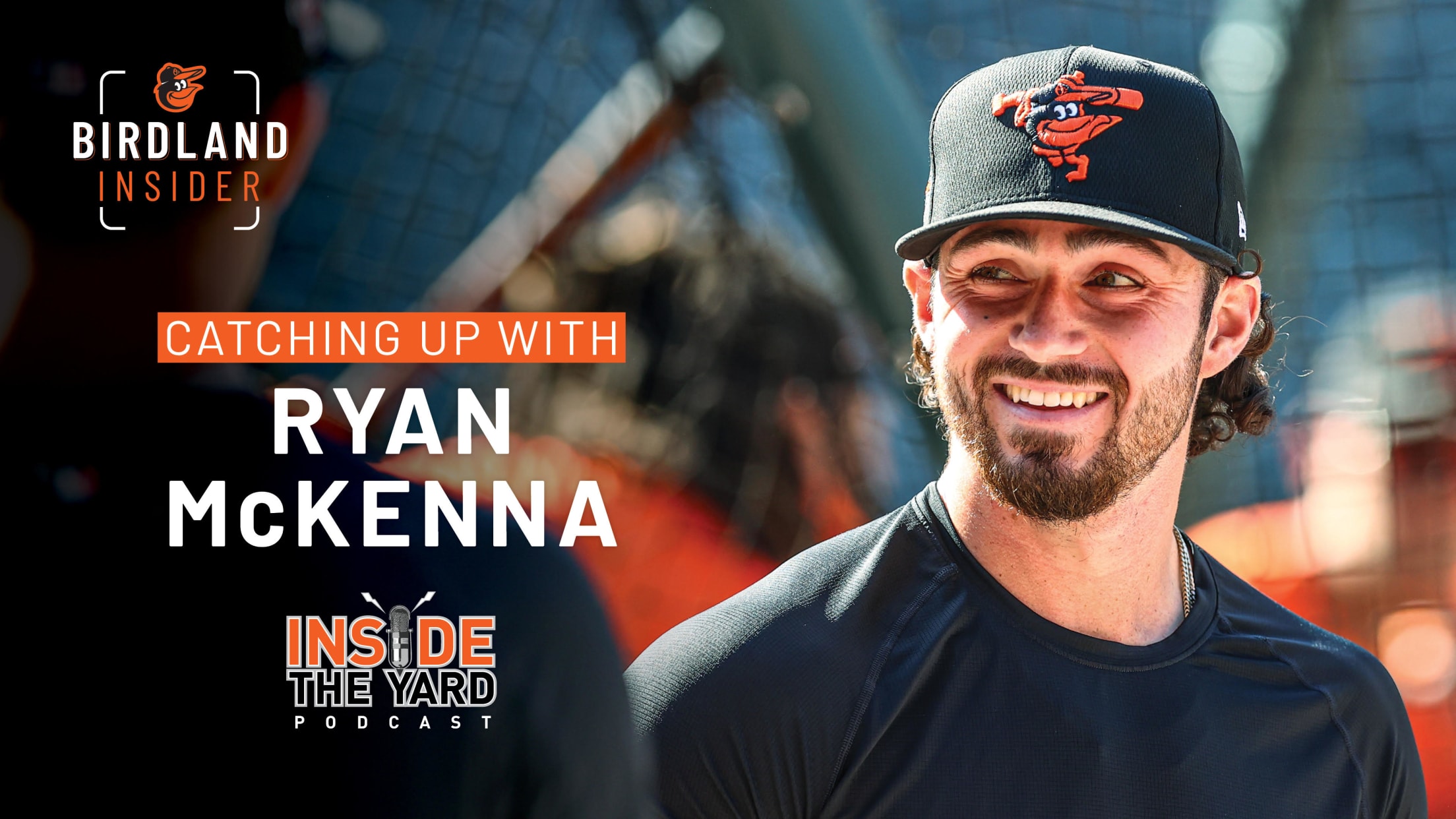 Scroll
Catching Up With Ryan McKenna
Ryan McKenna has made seven different stints with the big league team this year, but he is making the most of every opportunity. His four Outs Above Average are tied with Kelvin Gutiérrez for the second-most on the team, trailing only Cedric Mullins. He drew a bases load walk on July 28 to give the Orioles a walk-off win over the Marlins, and joined Manny Machado as the only Orioles in club history (since 1954) to record a triple for their first-career hit.
McKenna recently sat down with Geoff Arnold and Brett Hollander to discuss what it has been like to bounce around this year, how he uses his speed to impact his game, and what it was like playing baseball in New England.
"[Being recalled and optioned] is not easy," said McKenna. "I've never really done that in my career so far, but with that being said, I don't think it's any excuse for me to use performance wise. I know I'm capable of doing a lot of good things and helping this team win. It's a learning experience like anything else throughout my career."
McKenna has proved he can help the team win. In his 19 starts since the All-Star break, the Orioles are 9-10. Part of that success, he credits to the data and preparation provided by the front office and coaching staff.
"For me personally, I try to really identify what's going to help me specifically," said McKenna. "There's so much data. There's so much emphasis on every little thing that it gets sort of overwhelming at times and there's only so much you can think about in the box. Really the simpler the better. I think for me, [a pitcher's] velocity, what he has speed wise, what pitch mixes he likes to go to, and how he likes to throw against righties. That's the biggest thing for me and what I take away the most."
Another thing McKenna credits with helping him this year is having the opportunity to play alongside the guys he has come through the system with. He and Mullins were both drafted in 2015, followed by Austin Hays in 2016.
"Playing with them throughout the ranks and trying to come up together has been kind of a cool process," said McKenna. "And now we are in the big leagues and they've had a little bit more experience, and I think just with every situation that comes along we analyze it and say, 'Hey, this is what we did right, and this is what we did wrong.' Whether it's throwing to the right base, hitting the cut-off in a certain situation, knowing who's at-bat and what he likes to do and how we pitch to him. There's a lot that goes into it, but talking about it is the best way to learn about situations."
McKenna also shared what the draft process was like for him.
"The first day had passed and we were waiting in anticipation," recalled McKenna. "And the next day came around and my agent called and said, 'Fourth round, the Orioles want you here.' And I said, 'Yep. Let's do it.' So they signed me. And Ryan Flaherty had texted me shortly after, and that was really cool because he was an established big leaguer. Hearing from him was super exciting, and it was awesome for him to do that. Not many guys from Maine [are in the majors], I'm sure he was kind of feeling that, for me he knew exactly how I was feeling."
One thing Flaherty and McKenna both know about is the challenges of playing baseball in New England. McKenna can't remember the coldest game he ever played, but is confident it was in the high 20s or low 30s.
"We actually had snow on our field in May in New Hampshire at one point," said McKenna. "So that was tough. Fall baseball was obviously the worst when you would get one off the end of the metal bat and your hands wouldn't have feeling for the next three innings."
According to Statcast, McKenna's sprint speed of 29.1 ft/sec ranks in the top six percent of MLB. The trio discusses if he has always been the fastest kid on the team.
"I would say for the most part," said McKenna. "There may have been one or two circumstances where I was second or something. I wasn't very tall, so I wanted to just move my legs really fast and hope I get there before everyone else. But speed is just something I've tried to implement in my game and impact it positively. Trying to get that extra 90 feet is always huge in a lot of situations."
They finish with their "Fast Five" asking McKenna his favorite baseball movie, high school senior year batting average, the most influential baseball person in his life, his favorite minor league baseball city, and a talent he has outside of baseball.
"I can solve a rubik's cube," said McKenna. "We have a talent show before spring training with all the rookies and non-roster invites, and I said I could do it in under two minutes. I've done it a million times. I did it in travel ball, that's when I learned it. And then I got nervous so my hands started shaking and there was little light so I couldn't see the colors very well and I got booed off the stage. But I ended up solving it after."
You can listen to the episode above, or wherever you stream podcasts.