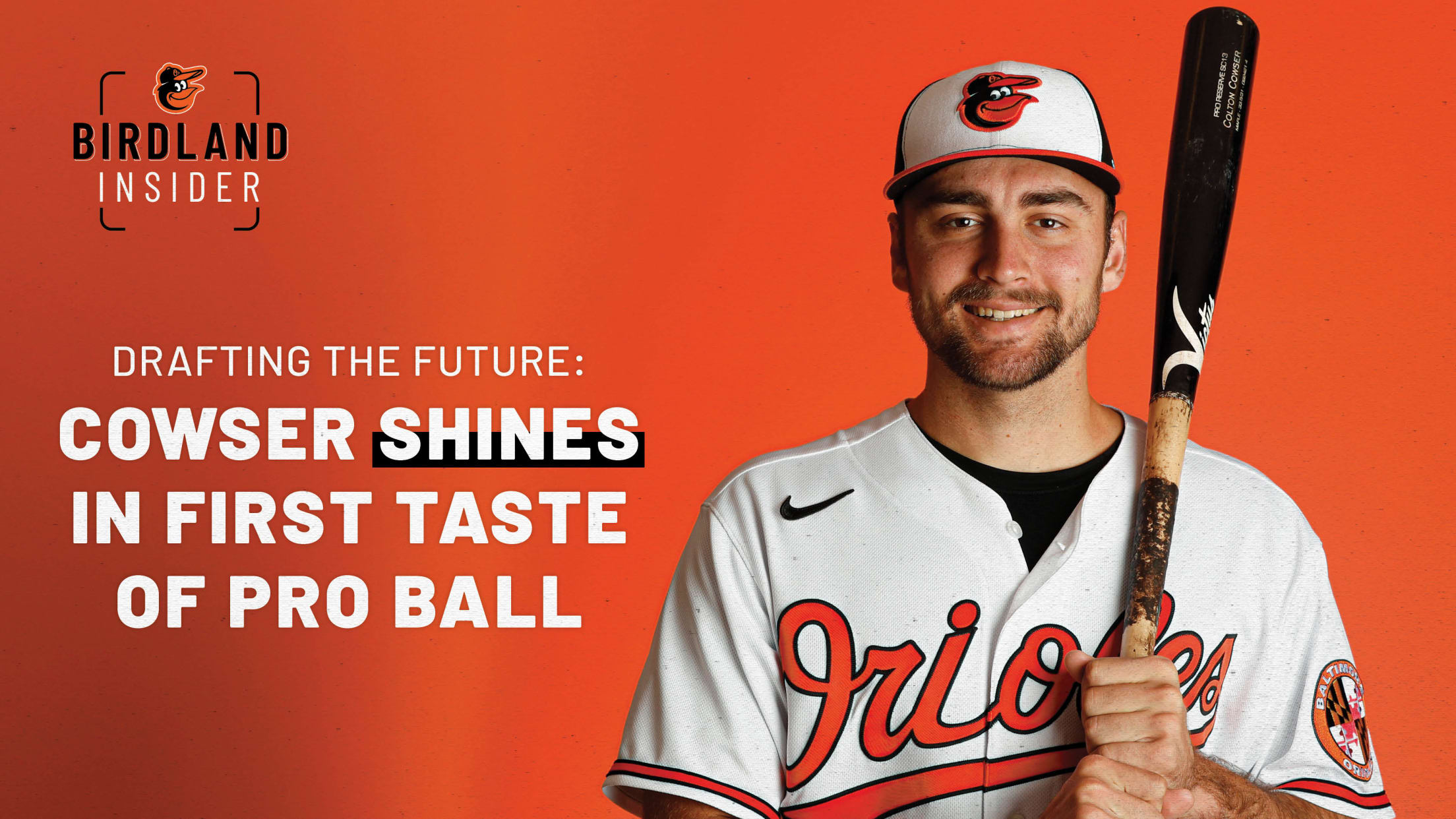 Scroll
Drafting the Future: Cowser Shines in First Taste of Pro Ball
When the 2021 draft class arrived at Low-A Delmarva, they made their presence known right away. The Baby Birds started hitting and didn't stop, with an offensive onslaught led by first-rounder Colton Cowser. The Shorebirds closed out the season going 20-10 in their final 30 games, outscoring their opponents 224-158, for an average of nearly 7.5 runs per game.
The highest draft pick in Sam Houston State University history, Cowser helped lead the charge for the Shorebirds with impressive production at the plate, hitting safely in 20 of 25 games and posting a .904 OPS, along with some clutch situational hitting.
Lauded by Executive Vice President and General Manager Mike Elias as "perhaps the best pure hitter in the draft this year," Cowser's hit tool was on full display in the Low-A East League for the final month of the season, showing why the Orioles viewed him as a top-five overall pick.
"The jump from college to the pros was an awesome experience," Cowser said after the season. "I know it was just a shortened season, but I really got to learn a lot and find a lot of things about myself. I think it went really well. I'm really looking forward to the future."
His hot start earned him recognition beyond just the Orioles organization, with Jim Callis of MLB Pipeline declaring Cowser's debut as the best of any first-rounder this summer.
While his strong debut was something for fans and the organization to celebrate, the first-year player isn't going to hang his hat on the success he enjoyed during his first taste of professional baseball. He knows that this year wasn't about individual statistics or even wins and losses.
"No one was really worried about their personal successes," Cowser shared. "We just wanted to go out there and have fun towards the end of the year, and that's what we did."
More important than the successes Cowser and the team enjoyed on the field were the relationships established off it. During the month that the 2021 draft class spent at Delmarva, the group was able to grow together and forge a strong bond that they hope to carry on throughout their journey to The Show.
"You're playing alongside these guys for a whole season, you're not going to want to be strangers," said the Texas native. "You get to know each other and pick up on different cues. Maybe someone is having a bad day, and you get to pick them up a little bit, really get their mindset going in the right direction again."
The mindset Cowser is referring is the growth mindset that the Orioles' Baseball Operations leadership, including Director of Player Development Matt Blood, have emphasized throughout all levels of the organization. Cowser bought into it right away, understanding that there are bound to be ups and downs in a player's career.
"You will have failures, and it's all about what you do and how you respond whenever you do have those failures. That's the basis of what growth mindset is, and it's good when the group as a whole is going through those things together."
After the regular season, which saw the Shorebirds fall just short of a playoff berth, Cowser and 16 other members of the 2021 draft class migrated south for a month-long instructional camp focused on player development. During camp, he benefited from getting to work with players who weren't in his draft class, establishing new relationships within the organization while growing as a professional and developing good habits and routines.
"I got to get better, but mainly was able to get to know everyone else that's part of the organization that wasn't in my draft class, which has been awesome. It's been good to get in a routine in the weight room and establish what the plan is going into this offseason and going into next season."
Going into 2022 with the No. 1 farm system in all of baseball, Cowser is excited, and believes Birdland should be, too.
"Fans should believe in this organization because we're trending in the right direction," he said after instructional league camp. "We have a lot of hard workers in this organization. Everyone's buying in to what the philosophy is. If you look throughout the minor league system this year, not only with our 2021 draft class that was really successful in Delmarva, but those guys making the jump from High-A to Double-A, Double-A to Triple-A, you can see that there's a lot of improvement going on. It's something to really look forward to in the future."