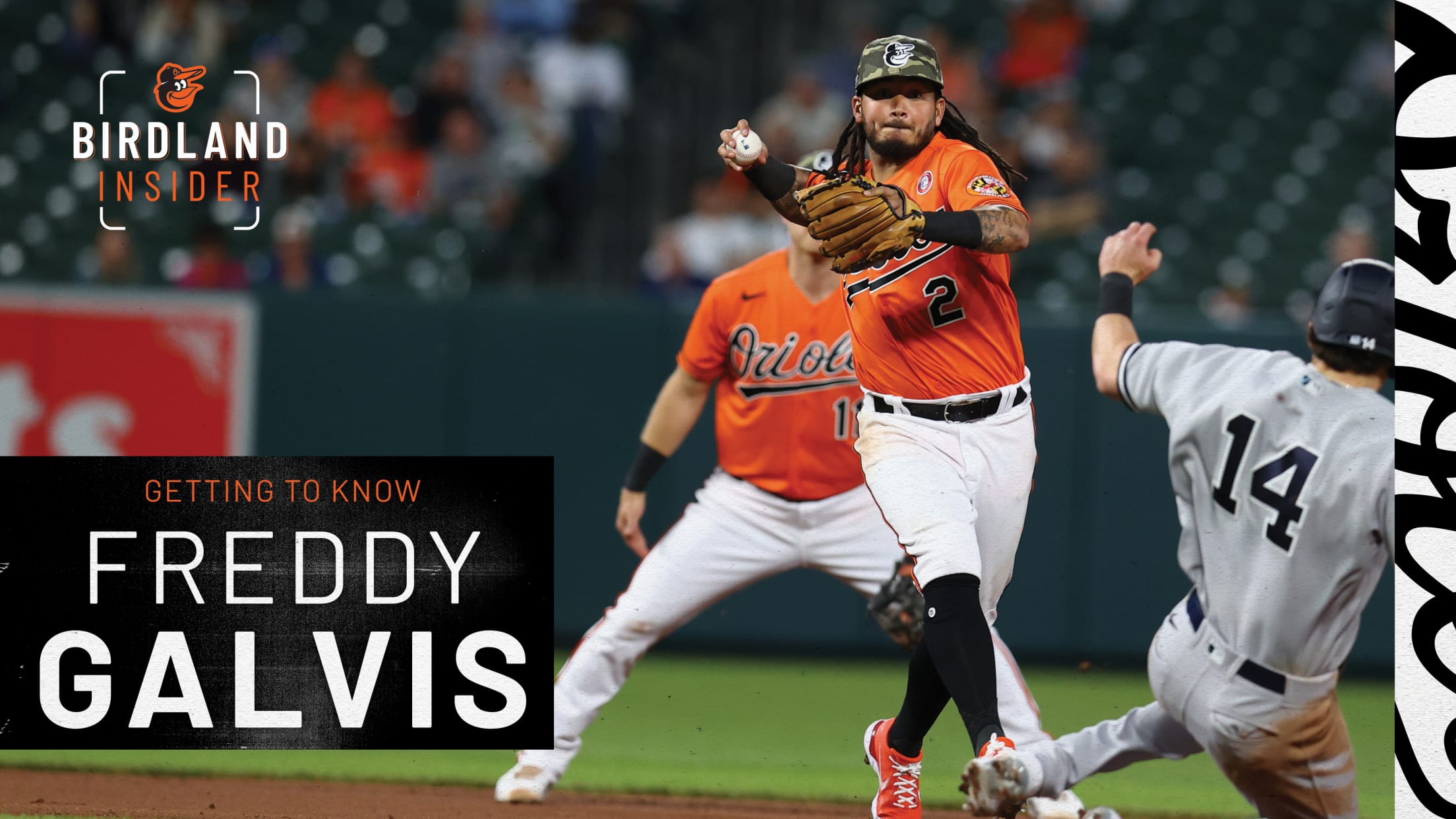 Scroll
Freddy Galvis' Journey From a Kid in Venezuela to a Veteran in Baltimore
Shortstop Freddy Galvis joined the Baltimore Orioles as a free agent on January 26, 2021, but his journey in Major League Baseball started long before that. Born in Punto Fijo, Venezuela, Galvis was scouted at the age of 16 by the Philadelphia Phillies and signed as an International Free Agent on July 2, 2006.
"It's hard for a young kid," Galvis shared. "Leaving my family back in Venezuela and going to a different country with a different language, things were really hard." But at the same time, it wasn't all that difficult for him. "I was chasing my dream," he said, and the Phillies helped him to do just that.
The young infielder worked his way through each level of Philadelphia's organization before getting his shot with the Phillies in 2012. Second baseman Chase Utley would miss the beginning of the season with a knee injury, and that opened the door for Galvis to make his Major League debut. On April 5, 2012 Galvis saw his dream become a reality in Pittsburgh.
"It was pretty cool because all the work that I put in since I was 12-13 years old, you see that in the moment."
Four days later, during the Phillies home opener on April 9 against Miami, Galvis recorded his first Major League hit, a two-run double to left field in the seventh inning. "That was a dream come true," Galvis said, "All of the work that I put in, all of the work that my family put in with me helping me each day back in Venezuela, paid off. It was a really good moment."
While with the Orioles, Galvis recently played in his 1,000th Major League game on April 3 at Boston, a moment he didn't think he'd ever reach.
"It was really good. I really liked it because when I got to the league, I was a utility man with Philadelphia. At that point, I was ready to play in the big leagues, but I didn't have the spot to play."
The Phillies roster had a loaded infield with Jimmy Rollins, Chase Utley, and Placido Polanco. That didn't detour Galvis one bit.
"I had to stick around a little bit and wait for my chance, then when I got it, I started playing every day and that's something that I feel proud to do. So playing my 1000th game, I was really proud for that moment."
Moving to a new city is difficult for anybody, but it was something Galvis was accustomed to. After spending six years with the Phillies, he was dealt to the San Diego Padres for the 2018 season before playing parts of 2019 with the Toronto Blue Jays and Cincinnati Reds. Galvis knew it was always a possibility to not spend his entire career with one organization.
"You can get traded, you can go to a different team, you can get released…I understand the movement and I understand it's a business, so I just take it like that."
He played the duration of the shortened 2020 season with the Reds before moving to Baltimore this offseason. There were bound to be extra difficulties when the COVID-19 pandemic was added to the mix, but Galvis rose to the challenge with a little extra help from his new teammates and clubhouse staff.
In a way, moving to a new city during the pandemic has been easier for him.
"I have my wife and my daughters here with me, so they make it easy. This year has been difficult, but we know the situation and we know how we have to take care of everything," Galvis explained.
He's been keeping a list of potential off-day activities for him and his family, based on his teammates' favorite spots in Baltimore. Although getting to know them has proven to be a challenge compared to past seasons, he has still managed to form meaningful relationships with his teammates.
I'm happy to be here. Everybody treats me the right way and I have a lot of good teammates.
Specifically, Galvis discussed the challenges of talking strategy with the team. "But it is more difficult now. You have to be six-feet away, so that can be bad. Before, you can go to the cage for your workout and everybody can be there so we can talk and share. But now, everybody has their own times, so it is hard to talk with your teammates," he explained.
Galvis may have entered the club as a newcomer, but to all of the young hitters, he is the veteran presence, something he finds humor in as a 31-year-old.
"I feel really young. I remember when I was younger, the veteran was 35-38 years old, so I guess they call me the veteran now," he laughed.
With more than 1,000 games played, the next closest position player on the club is Trey Mancini with just over 500 career games under his belt, and the only other Oriole who has been in the league consistently since 2012 is right-handed pitcher Matt Harvey. On being a leader to the young players, Galvis explained, "I just try to help my teammates and try to pass on what I've learned in the last 10 years. They ask me a lot of questions and I'm going to be here for them".
Galvis wasn't the lone newcomer for long. During Spring Training, it was announced that the Orioles signed free agent Maikel Franco, a familiar face for Galvis, who shared the left side of the infield with Franco in Philadelphia from 2014-17.
"It was a good feeling," Galvis exclaimed. "I've known him since he was 16-years-old, so I was happy to have a teammate that I knew before."
Franco shared in the excitement stating, "It's amazing! I think about 2014-17 as a young player beside him, and we both have more respect in this game now. Everything he does, he does the right way, and he is one of my good friends. I feel blessed, and it is amazing to be playing with him again."
Galvis continued, "It's been really good (playing together again). I think when you have that teammate that you can show up every day and share some ideas, stay together, and work together to try and do the best that we can to help the team, it's been really good."
Galvis is having one of the best offensive performances of his career this early into the season, and just reached another huge career milestone. Galvis hit the 100th home run of his career on May 19 vs. Tampa Bay off Ryan Yarbrough. It was a feat that meant he has proved the critics wrong from all those years ago. He was never going to be a power hitter they all said, a line drive and ground ball hitter at best. But Galvis knew he could accomplish more
"I followed what I felt I could do, hit the ball in the gaps and hit the ball out. That's where I thought I could hit the baseball and that's what I trusted." Hitting his 100th-career home runs is a very special moment, especially for where he came from. Galvis is the 28th Venezuela-born player to hit 100-or-more home runs in their career, and the 14th-fastest Venezuela-born player to do so, in terms of games played (1,035).
Galvis spoke highly of his biggest baseball influence, Omar Vizquel, whom he modeled his career after. "Since I was a kid, I used to watch (Omar) Vizquel because he was pretty good at defense and would make crazy plays."
Galvis would emulate these plays growing up. He continued, "I always went to the field to practice, I tried to make plays that he made on the field when he was with Cleveland (Indians)."
Although outside of baseball, it was Galvis' father who had the biggest impact on his life. The way he cared about his family and wanted the best for them, led him to become the best father that he could be for his own children. Anastasia and Nicole, seven and three years old, respectively, love to go to the field with their dad and don't mind the travel at all. "They love being on the field," Galvis glowed.
"Every single day they come to the field. They love the family room, but that's one of the things they're missing right now. But they're happy every single place that we go, and it's been good so far (to have them here)."
During the offseason, his family is everything. Galvis enjoys being by the pool and playing outside with his kids. They are always traveling during the year, so for Galvis, "I try to enjoy my house (when not playing baseball) and spend a lot of time with my family." If you're looking for Galvis when he isn't playing baseball, you'll likely find him on the couch all day long watching FC Barcelona play soccer, his favorite sport.
"Wow, I made it. All of those years I've been working hard, and now I'm here."