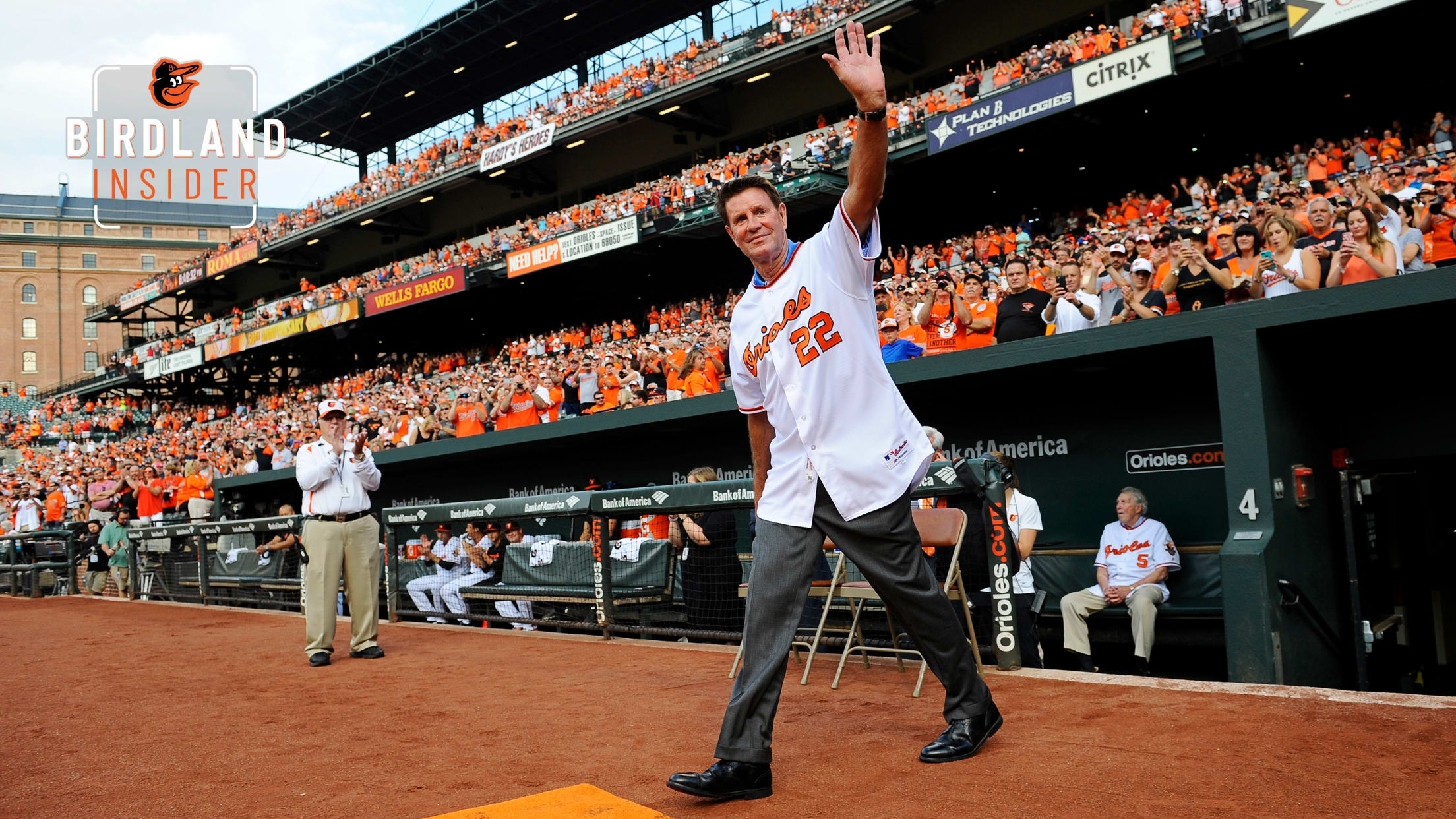 Scroll
Jim Palmer's Hall of Fame Life
There is no question that Jim Palmer is a Hall of Famer, both on and off the field.
There are the career numbers: 268-152 record, 2.86 ERA, 211 complete games, 53 shutouts, and eight seasons with 20-or-more wins (all coming in a nine-year span).
There are the years leading the American League: four times in innings pitched; three times in victories; twice each in ERA, winning percentage, games started, and shutouts; and once in complete games.
There are the honors: three Cy Young Awards (as well as two second place finishes); four Gold Gloves; six All-Star Game nods; two AL Pitcher of the Month and five AL Pitcher of the Week awards; and first-ballot electee to the Baseball Hall of Fame.
There are his post-seasons numbers: an 8-3 record and 2.61 ERA in 15 starts; six complete games and two shutouts; the youngest pitcher to hurl a World Series shutout; and the only pitcher in baseball history to win a World Series game in three different decades.
But the numbers and honors tell only part of the Palmer story.
In his third big league season, his path to the Hall of Fame was almost derailed by a torn rotator cuff. The nearly two years he spent back in the minors trying to regain his form and his fastball almost caused him to give up pitching. He could have been lost by the Orioles in the 1968 expansion draft. Instead, he went on to become the greatest pitcher the Orioles have ever had, and one of the best in baseball history, period.
As with many tales of greatness, there are the "what if's." What if he hadn't recovered from injury? What if he had been selected in the 1968 expansion draft by one of the new American League teams?
Palmer had enough "what if's" before his professional baseball career even began. Born in New York City to an unwed mother, he was adopted and spent his early years in the New York suburbs until his adoptive father died. His mother moved to California and married a man named Max Palmer, and young Jim took his new stepfather's last name. The Palmers eventually moved to Scottsdale, Ariz., where Jim earned all-state honors in baseball, basketball, and football. How different life could have turned out for young Jim.
After high school graduation, he played for a collegiate summer league team in Winner, S.D., where the Orioles scouted him. He agreed to sign – bypassing, among other possibilities, a baseball scholarship to Arizona State and a basketball scholarship at UCLA.
On the ride back from the playoffs in Sturgis with two of his teammates, Palmer was involved in a car accident that could have impacted his future Major League contract.
"We were doing 60 or 70 miles an hour, and we go off the road and flip the car three times," Palmer said. "I go to the hospital and have my knee stitched up. I hit my head three times," he said. "I get home and there are two telegrams from (Orioles general manager) Paul Richards, one with a $48,000 bonus to sign and one with $40,000 and a college rider. They didn't know about the accident, fortunately. So I end up signing with the Orioles, and as it turns out, it was the best thing that ever happened."
But what if Palmer had injured himself more seriously? What if Richards had found out about the accident, and rescinded the signing offer? Fortunately, for Palmer and the Orioles, neither happened.
Palmer went back to South Dakota in 1964, this time for his first season in pro ball, playing for Cal Ripken, Sr. at the Orioles' Class A Northern League affiliate in Aberdeen. He went to instructional league in the fall, and in 1965 made the big league club at the age of 19. He spent most of the season in the bullpen, making six starts in 27 appearances, and was tutored by his roommate, the former Phillies great and eventual Hall of Fame right-hander, Robin Roberts, who was twice his age. Palmer remains the last teenager to debut for the Orioles.
The next season, at age 20, he joined the starting rotation, led the club with 15 wins, and acquired a nickname – "Cakes" – after revealing in late July that he ate pancakes on the morning of his starts. The Orioles won their first pennant and World Series in '66, sweeping the Dodgers in four games. Palmer beat Koufax, 6-0, in Game 2, becoming the youngest to pitch a World Series shutout. He was about to turn 21. Life was good. Until it wasn't.
After throwing a one-hitter to beat the Yankees in in his fifth start of the 1967 season, Palmer left his next outing after 1.0 inning, then lasted 3.0 innings in a start on June 8. Beset with back and shoulder injuries, he made only two more appearances for the Orioles that year.
Over the course of the 1967 and 1968 seasons, he pitched up and down the Orioles farm system, trying to overcome the soreness and swelling in his shoulder and regain his fastball. He made 17 starts but pitched only 71 innings. He did not fare well in the Florida Instructional League after the 1968 season and was left off the Orioles' protected list for baseball's expansion draft. Neither the Kansas City Royals nor the Seattle Pilots selected him in the draft. He considered giving up the game.
"I tore my rotator cuff and missed most of '67 and '68," Palmer said. "In 1968, Earl Weaver said in fall instructional league that he wouldn't give a nickel for my ever pitching in the big leagues again. George Bamberger, the Orioles pitching coach was there, and he'd seen me give up 10 runs on 14 hits on Monday, and he tells me you've got to give it one more month."
Palmer returned to Baltimore for three days and, at the suggestion of a friend who worked for a pharmaceutical company, began taking Indocin, a new medication that had recently been approved to relieve pain, swelling and joint stiffness.
"It was like someone gave me a new arm," Palmer said. "I signed to play winter ball in Puerto Rico and went 6-0, pitched a no-hitter, and then went to spring training in 1969."
Pitching like the Palmer of '66, he jumped out to a 9-2 start before suffering a muscle tear in his shoulder in June. He was sidelined for 42 days, but in his second start back, pitched his lone career no-hitter, beating Oakland 8-0 on August 13. He finished 16-4; his 2.34 ERA and six shutouts were both second best in the American League.
That was the prelude to one of the best pitching runs baseball has ever seen. Beginning in 1970, Palmer won at least 20 games in eight of the next nine seasons, missing out only in 1974. He won the Cy Young Award in 1973, 1975, and 1976. In the decade of the '70s, he averaged 35 starts per season despite missing eight weeks in both 1974 and 1979.
In addition to his own pitching brilliance throughout the decade, he mentored countless Orioles hurlers – Mike Flanagan, Scott McGregor, Dennis Martinez, and Storm Davis among them – who went on to fashion their own fine careers and spoke often about what Palmer meant to them.
He went 16-10 in 1980 and 15-5 in 1982, losing the final heart-breaking game of the season when the Orioles fell to Milwaukee for the American League East title. He spent three months on the DL in 1983, but pitched two scoreless innings in relief in Game 3 of the World Series and was the winning pitcher against the Phillies, making him the only pitcher to win a World Series game in three different decades and the only Oriole to appear in each of the club's six trips to the Fall Classic.
The next season, after going 0-3 in five appearances, he put on an Orioles uniform as a Major League player for the last time on May 16, 1984 – 19 years to the day after his first big league win. He was released the next day, his baseball legacy intact.
Palmer had begun working Postseason games for ABC Sports while he was still active, and now launched a second career as a baseball analyst and color commentator. He worked five World Series for ABC, including the 1989 "Earthquake Series" between San Francisco and Oakland in 1989, and filled in on Orioles telecasts before joining the Orioles broadcast team full-time in 1989.
While playing, he also parlayed his success – and, let's face it, his handsome good looks – into serving as a national pitchman for several products, including "The Money Store" (where he replaced Yankees Hall of Fame shortstop Phil Rizzuto) and Jockey brand underwear (where he outpolled Steve Carlton, Pete Rose, and six other sports figures to become national spokesman).
He has written four books, as varied and disparate as his interests – Pitching in 1975, Jim Palmer's Way to Fitness in 1987, Together We Were Eleven Foot Nine (about his sometimes tumultuous relationship with manager Earl Weaver) in 1996, and Nine Innings to Success in 2016.
The broadcasting career, the product endorsements, and the books would be enough, but, more importantly, Palmer has answered the call of numerous charities and foundations seeking his support.
He served for many years as a spokesperson and national sports chairman for the Cystic Fibrosis Foundation, donating money earned from his work from Jockey went to the Foundation. In recent years, he has spoken on behalf of projects related to autism research. His stepson, Spencer, is on the autism spectrum, and some of the proceeds from an auction of his Cy Young and Gold Glove awards have gone to both autism causes and the Cystic Fibrosis Foundation.
Palmer will tell you that the aspects of his post-playing career have been just as important to him, particularly the opportunities to provide needed funding for medical research and other special projects. He also will tell you that none of it would have been possible without the breaks and second chances he got early on.
He has been part of the Orioles organization for 57 years, giving all he had as a pitcher, broadcaster, and goodwill advocate for the only ballclub he ever worked for. As he turns 75, it has added up to a Hall of Fame life – both on and off the field.