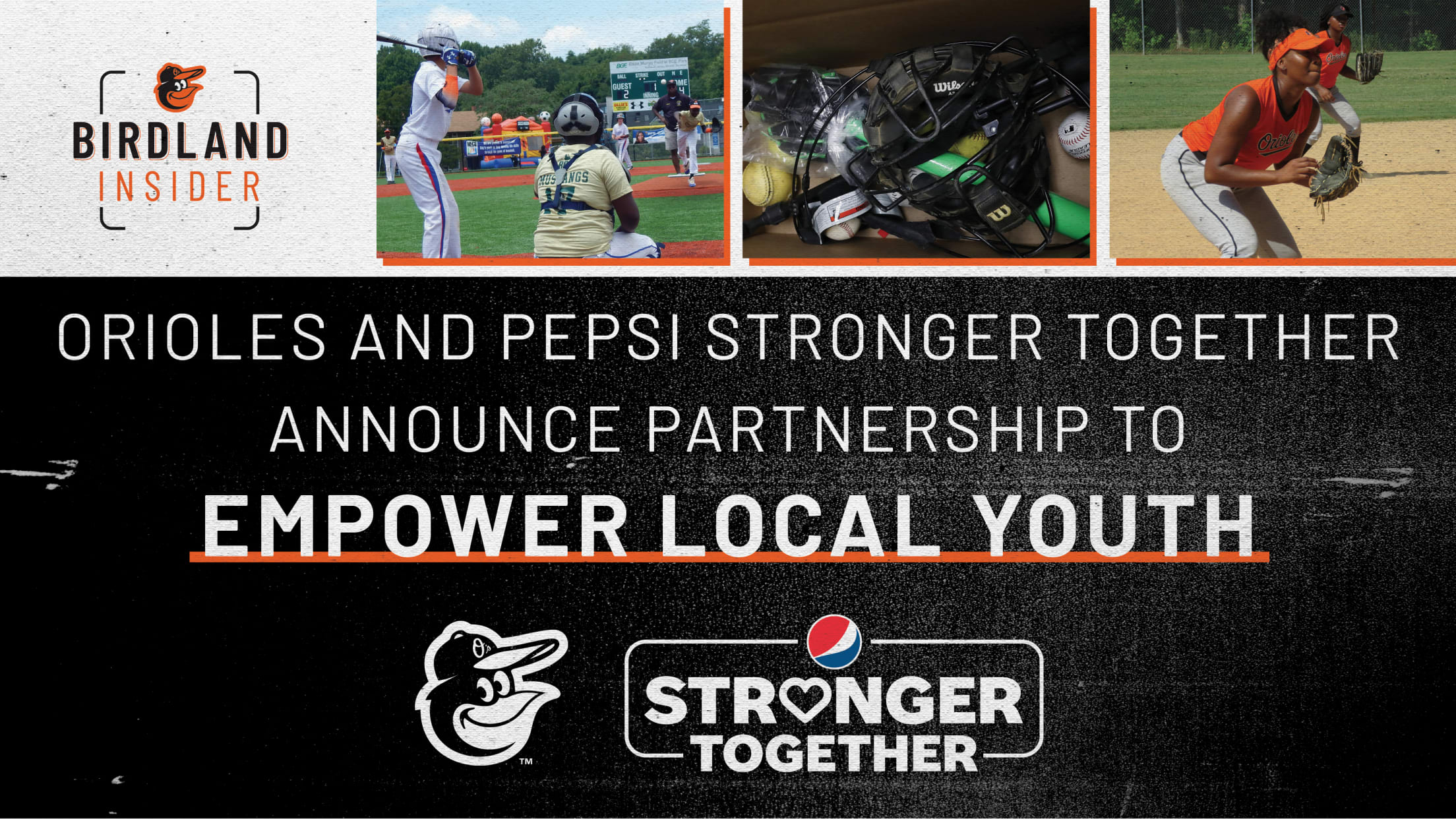 Scroll
Orioles and Pepsi Stronger Together Announce Partnership To Empower Local Youth
The Orioles today announced a three-year partnership with Pepsi Stronger Together – PepsiCo's series of grassroots initiatives bringing tailored programming support to communities across the country – to empower the next generation of baseball and softball players in Baltimore City. Through a series of strategic programs, the Orioles and Pepsi Stronger Together will give Baltimore City youth the opportunity to play on improved fields, receive access to proper new and gently used equipment, and learn valuable life skills including teamwork, self-esteem, self-discipline, and leadership through the game of baseball and softball.
As part of the Orioles' community pillars of Strengthening our Community and Empowering our Youth, the programs developed in partnership with Pepsi Stronger Together will offer continued support for youth holistic development through education, health and fitness, arts and music, and youth baseball and softball. Orioles players and coaches, members of the Orange & Black Gives Back Employee Volunteer Program, Pepsi staff volunteers, Baltimore City Recreation & Parks employees, and other community partners will participate in the various programs of this new partnership.
"We are thrilled to join forces with Pepsi Stronger Together to collaborate on these extensive initiatives," shared JENNIFER GRONDAHL, Orioles Senior Vice President, Community Development & Communications. "We look forward to gathering players and coaches, our Orange and Black Gives Back employees, and Pepsi volunteers to work side by side while having a tremendous impact on our Baltimore City community."
"Pepsi Stronger Together is proud to work with the Baltimore Orioles to provide resources to the community and foster the growth of a next generation, using the great sport of baseball as a vehicle," said LUIS LOPEZ DEL CASTILLO, Director, Sports Marketing, PepsiCo Beverages North America, South Division. "Now more than ever, it's important to give back to the communities in which we live and work. We look forward to continuing to show up where in counts to facilitate lasting change, in Baltimore and around the country," he added.
The community partnership will be comprised of three focuses: equipment collections, Junior RBI, and field revitalization.
CARDBOARD TO LEATHER EQUIPMENT COLLECTIONS:
For nearly three decades, the Orioles Advocates and the Oriole Advocates Charitable Foundation, a group of volunteers who promote and stimulate interest in baseball locally and internationally as brand ambassadors for the club, have hosted the Cardboard to Leather equipment collection at Oriole Park. Since the collection started, the Oriole Advocates have distributed over 80 tons of equipment to schools, orphanages, community groups, and hospitals based on the greatest need. The Cardboard to Leather program impacts 1,500-2000 children per year, who love the game of baseball, but need the equipment to play. As part of the Pepsi Stronger Together partnership, the Orioles and the Oriole Advocates will increase Cardboard to Leather collections at the ballpark from once a year to four times per year. This will continue to grow the game of baseball by addressing a critical barrier to play.
The first collection at Oriole Park will be Sunday, April 25, as the Orioles host the Oakland Athletics at 1:05 p.m. ET. Fans are encouraged to bring new or gently-used baseball and softball equipment to Gates A and H. Financial donations will also be accepted. More information, including other collection dates, will be communicated at a later date.
JUNIOR RBI:
The Baltimore Orioles Reviving Baseball in Inner Cities (RBI) program is a Baltimore City youth baseball and softball league designed to promote interest in the game, increase the self-esteem of children, and encourage them to stay in school and stay off the streets. To elevate this mission, through the Pepsi Stronger Together partnership, the Orioles will introduce the Baltimore Orioles Junior RBI program to Baltimore City youth ages 4-12 years old.
Over the course of a three-year plan, the Orioles will grow the game of baseball through the Orioles Junior RBI program. In 2021, due to the COVID-19 pandemic, the Orioles will encourage at-home play by providing equipment (plastic bat and ball set, batting tees), and offering at-home drill instruction, virtual clinics, and other opportunities. In 2022, the Orioles aim to return Junior RBI to the baseball diamond by extending the program to two Baltimore City youth leagues, impacting nearly 300 city children. In 2023, the Orioles plan to expand the Junior RBI program to other Baltimore City youth leagues to impact nearly 600 city children.
FIELD REVITALIZATION:
The Orioles Field Revitalization Project is designed to improve the field conditions of baseball and softball fields in Baltimore City, making them safe, playable, and inviting places for local youth to enjoy the game. By working closely with Baltimore City Recreation and Parks, Orioles Director of Field Operations NICOLE SHERRY, and other parties, the Orioles will identify potential fields and areas in need and evaluate the necessary improvements.
The Orioles look forward to this extensive partnership and are excited to continue to have a lasting impact on the Baltimore City community through the Pepsi Stronger Together campaign.