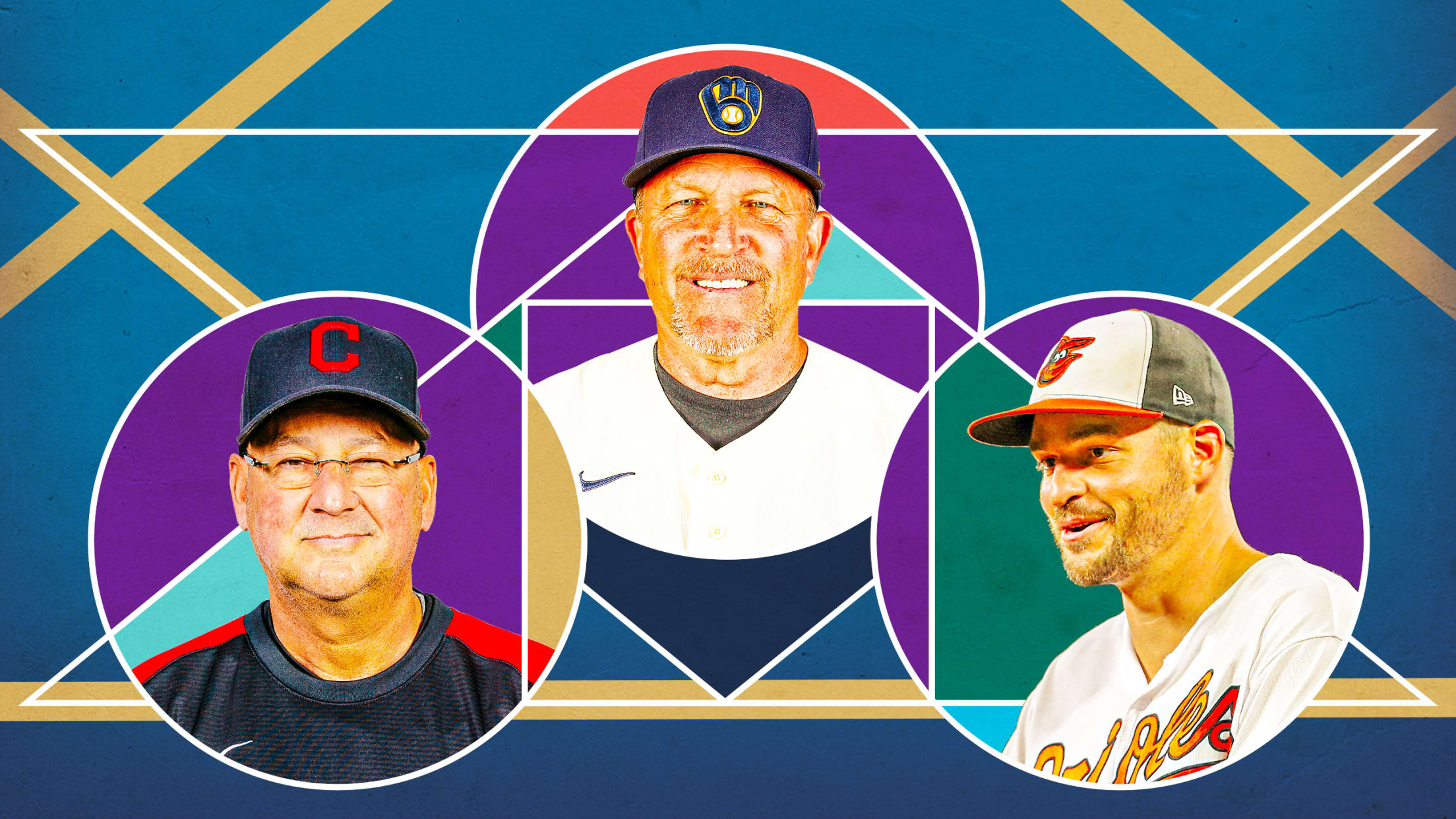 Scroll
A clean bill of health, and peace of mind
By
Mandy Bell, Joe Trezza, and Adam McCalvy
March 4, 2021
The three men -- Pat Murphy, Terry Francona and Trey Mancini -- had a connection long before their stories intertwined in 2020.
When it's a tale about baseball and Murphy is involved, there is always a connection.
Murphy is Milwaukee's bench coach for Craig Counsell, and they go all the way back to the University of Notre Dame, where Counsell was a skinny infielder and Murphy was a young head coach. Francona is Cleveland's manager, and wouldn't you know it, he was right there in South Bend, Ind., managing the White Sox Class A club when Counsell was a Notre Dame senior in 1992. Mancini is Baltimore's first baseman, and when he was a Notre Dame freshman in 2011, he dressed in the Coach Pat Murphy Locker Room and received a scholarship in Murphy's name that had been donated by Murphy's brother.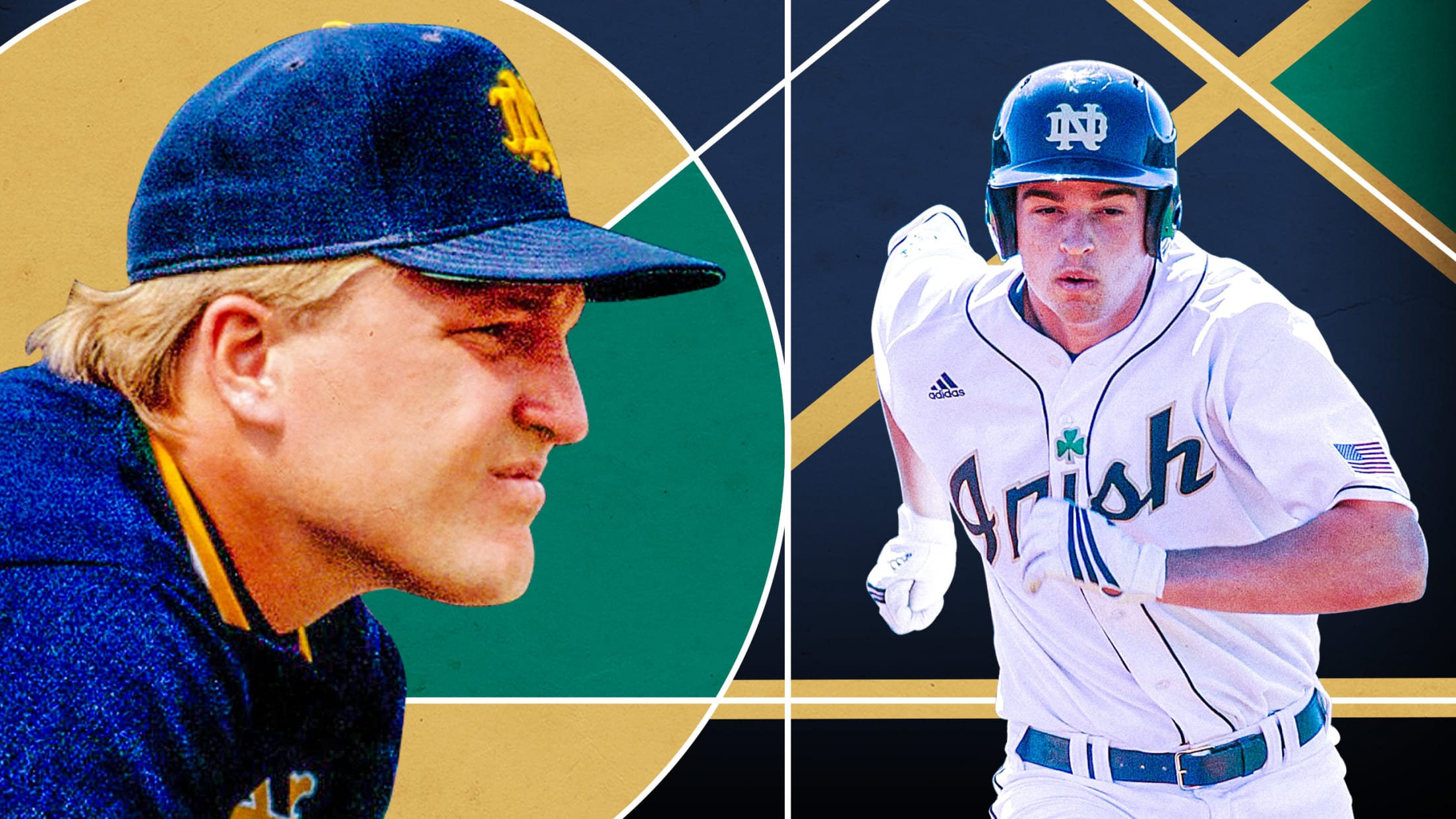 In 2020, their stories happened to intertwine again when all three men endured health scares that took them away from the game.
It started with Mancini, 28, who was diagnosed with colon cancer in March.
Murphy, 62, suffered a heart attack during a team workout at Miller Park in August.
Francona, 61, was sidelined shortly thereafter by blood clots that landed him in intensive care.
The game they loved went on without them. This spring, they are all back.
---
Holed up in his Washington, D.C., apartment last summer, Mancini watched nearly every Orioles game in shorts and sweatpants. He couldn't not. Some days, battling Stage 3 colon cancer -- against the backdrop of a global pandemic -- zapped the entirety of his time, his energy and his focus. But other times, when the fog from chemotherapy cleared, a twinge returned, the urge to feel the dirt under his cleats rather than the hardwood floor under his socks.
On these nights, Mancini rose from the couch and angled himself in front of the television. He grabbed a bat or a similarly-shaped household item, or sometimes nothing, sometimes squeezing just air, and envisioned batting against the pitcher on the screen. He cocked his hands behind his head, lifted his front leg slightly, simulated seeing ball hit barrel. This was how one of baseball's best players dealt when the game was taken away due to circumstances far from his control.
"I got to watch a lot of baseball last year, definitely more than I ever have," Mancini said recently. "You know, up until that point, most of my biggest problems or worries were all baseball related. Going through a slump was maybe the worst thing that I had gone through, and I'm very lucky to have said that at that point. I'd never been through anything like this with me or a family member. So it definitely put a lot in perspective."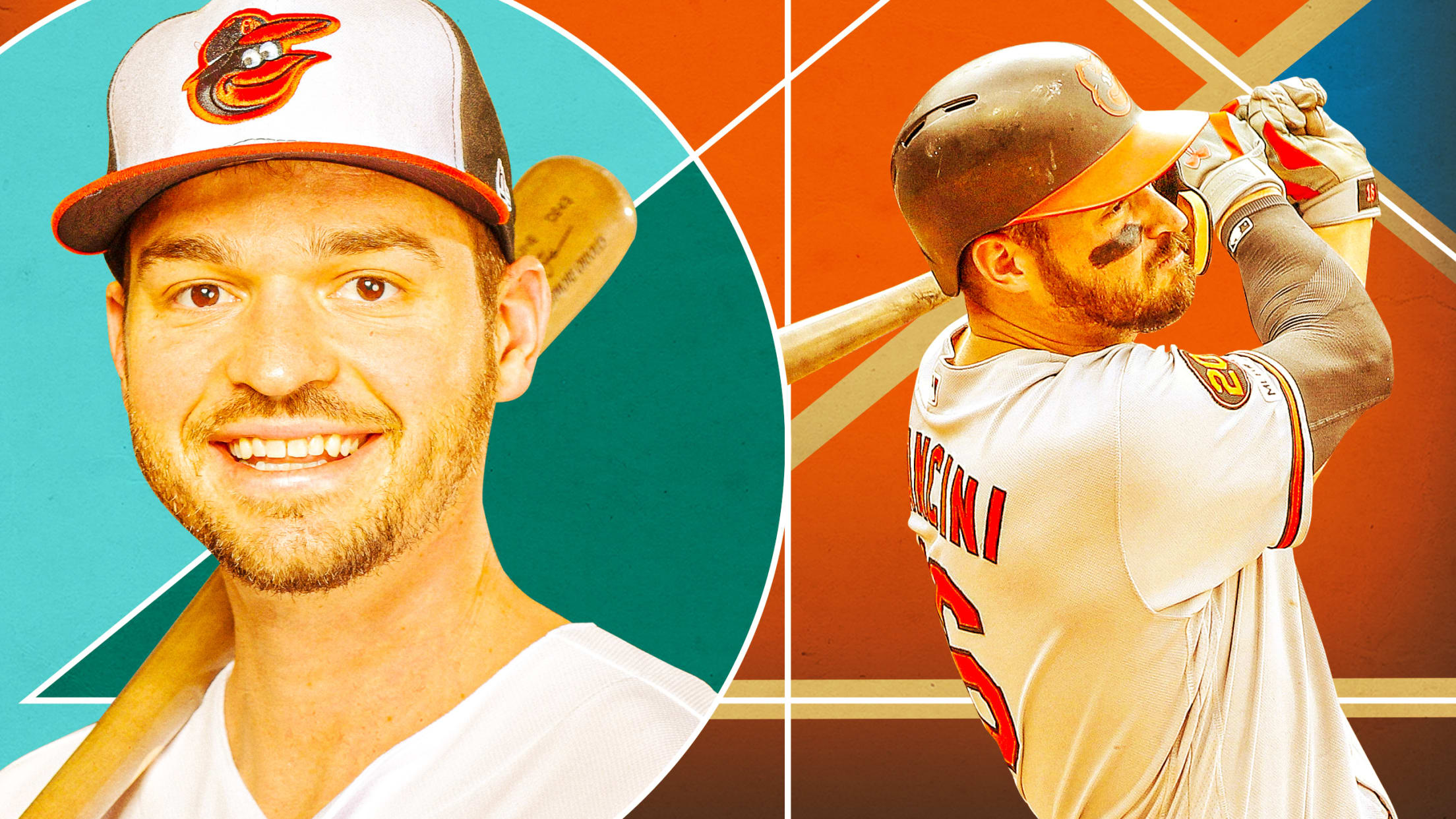 That perspective shifted suddenly and by surprise. Coming off a career year in 2019, Mancini didn't think much of it when he began to feel sluggish upon arriving to Orioles Spring Training in February 2020. When routine bloodwork revealed low iron levels, it was curious but not overly concerning. Then Mancini came down with the flu (at this point, COVID-19 was creeping into headlines in the U.S.; the O's spring home of Sarasota, Fla., would soon report its first positive case), and doctors prescribed an endoscopy and colonoscopy.
"We were really thinking he had Celiac disease," said Mancini's girlfriend, television host Sara Perlman, "because he's healthy, he's young and you're not expecting it from our situation. He's an athlete; it just didn't seem like it could happen to him."
Trey's father, Tony Mancini, was diagnosed with Stage 2 colon cancer at age 58 and beat it. The younger Mancini's colonoscopy revealed a malignant tumor two weeks shy of his 28th birthday. He underwent surgery to remove it at Johns Hopkins Hospital in Baltimore on March 13, the same day MLB shut down due to the coronavirus. Five days of lockdowns later, he learned he'd need chemotherapy, the news coming the day he turned 28.
Not a month prior, baseball had been Mancini's life. Now there was no baseball. And his actual life required fighting for.
"Right when you get a cancer diagnosis and you find out you have to go through chemotherapy, you're not really thinking about baseball too much," Mancini said. "I'd be lying if I'd say that was the first thing that came to mind. The whole time, I just wanted to be healthy long term and live a long life. Baseball definitely was on the back burner when I was going through all that."
The first few weeks were the hardest. Mancini moved into Perlman's apartment in D.C., leaving only to commute to Hopkins for bimonthly chemo treatments. They adopted a puppy. They binge-watched The Wire. They researched chemotherapy and how to overcome it. They adjusted their diets. They became extremely COVID-conscious, knowing Mancini was immunocompromised.
"The whole time, I just wanted to be healthy long term and live a long life. Baseball definitely was on the back burner when I was going through all that."
A cycle emerged: For Mancini, the week before treatment was manageable, the five days after often horrible. On the worst days, Mancini told Pearlman it felt like being hungover, miserable in your own skin, but with your head clear. On the best, they snuck in a home workout or tuned into Orioles games once the regular season began in late July. While the O's joined Mancini in raising money for colorectal cancer awareness, the face of their franchise mimed his batting stance from the other side of the TV screen.
By mid-September, Mancini had completed six months of chemotherapy treatment. He was back in the cage swinging several weeks later, and he remains cancer free.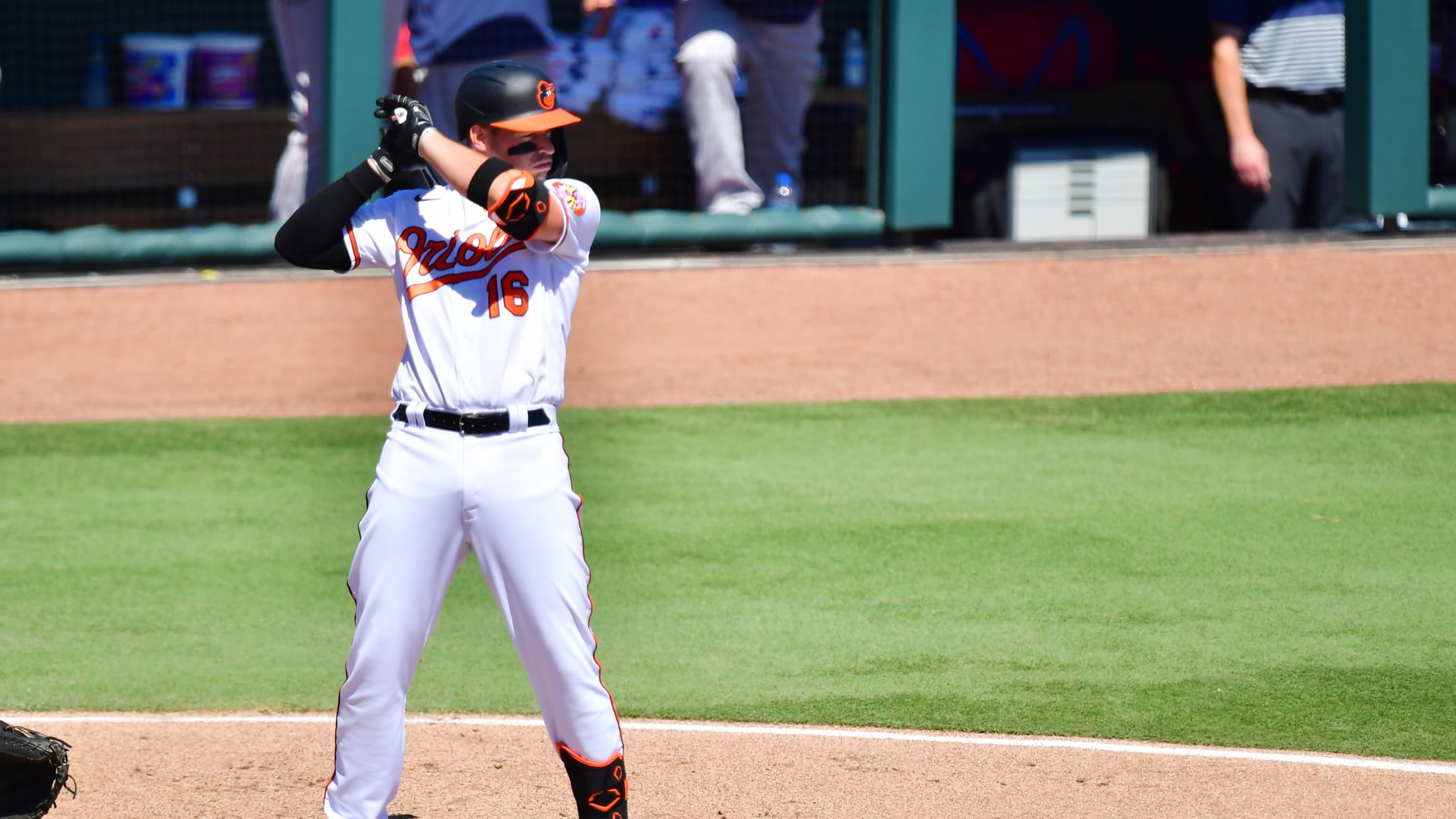 "Once chemo ended, I was able to really look forward to baseball again," Mancini said. "And it's been driving me and motivating me, but at the beginning and when you're going through it, baseball was always on my mind a little bit, but I'd say being healthy was always the top priority."
Now back in O's camp without restriction, Mancini can focus on baseball again. He says his comeback won't be complete until Opening Day, until it counts, and hurdles remain to be cleared. But he's confident the worst is behind him, that he has come out of it better off, both as a man and ballplayer.
"I'm very proud of where I am right now and I'm extremely happy to be here," Mancini said. "It was really weird not being part of the team and away from everybody. So I'm really cherishing being back with everyone. … I really think that I'm going to appreciate -- not that I didn't before -- but I really will appreciate being able to play Major League Baseball every single day again."
---
It was the afternoon of Aug. 1, 2020, in Milwaukee. Pat Murphy looked around the ragged, outdated ambulance that had rushed to the loading dock at Miller Park and had a scary thought.
"This might be my last ride and you're transporting me in this?"
It had already been a strange couple of days. The Brewers, after opening the shortened 2020 season on the road at Wrigley Field and PNC Park, were home to host the Cardinals. But a Friday, July 31 home opener had been postponed following positive tests for COVID-19 within the Cardinals' traveling party, and when cases spread, the entire series was postponed as of Saturday morning. The Brewers gathered several hours later at the ballpark for an impromptu workout.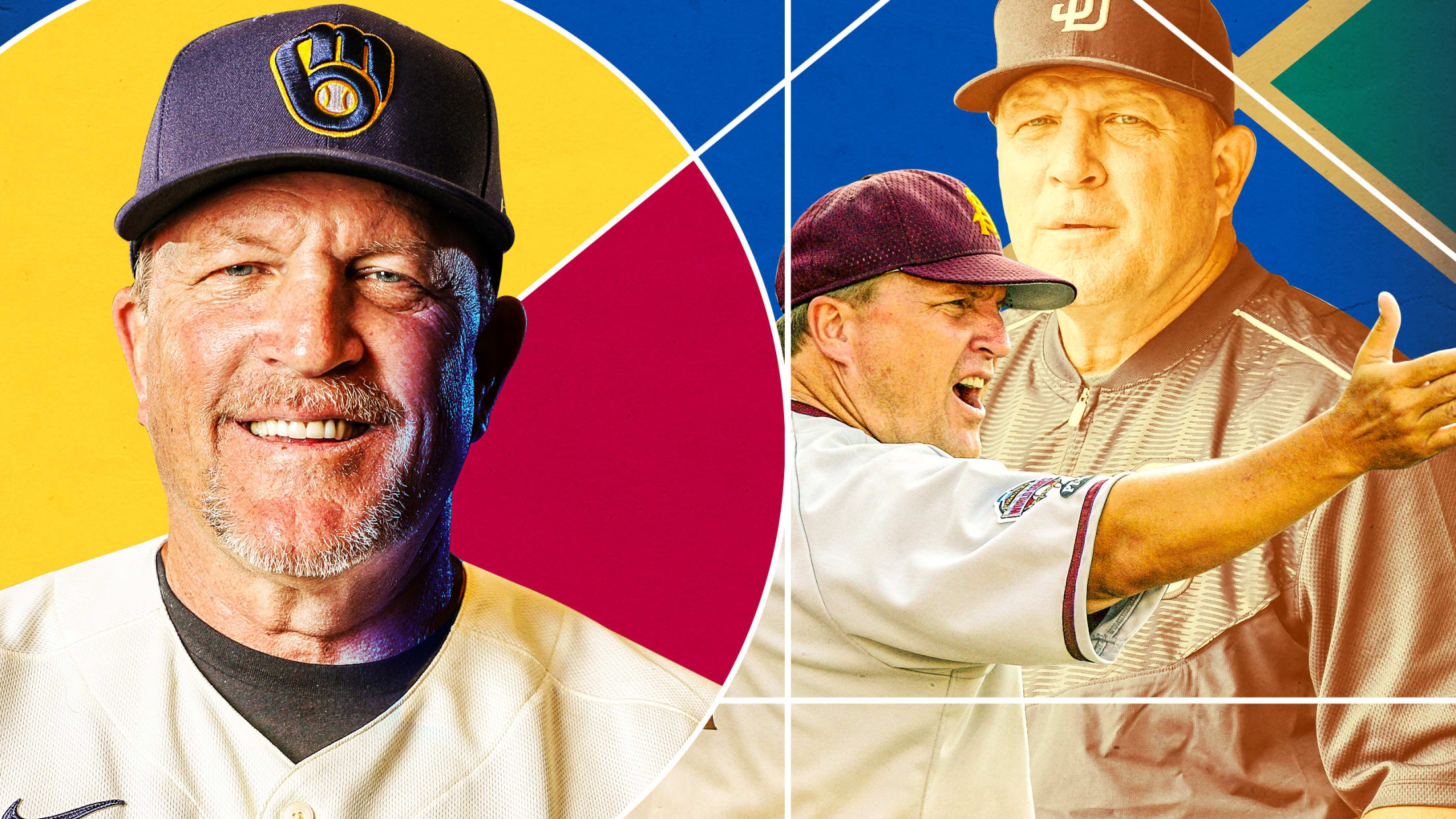 Murphy was standing in the grass near home plate hitting fungoes to a group of players on the right side of an infield that included veteran first baseman Justin Smoak. Murphy was in midseason form.
"Smoak and I were talking crap to each other, which is pretty standard," Murphy said. "I was hitting him balls and telling him he was old and that it's ridiculous that he's on the team.
"Not knowing what was to come."
As the trash talk intensified, so did the exit velocity off Murphy's fungo bat. Everyone was having a great time.
Then, Murphy didn't feel right.
"When I was done, I couldn't breathe," he said. "I thought it was the mask, so I pulled the mask down. Rafael [Freitas], the trainer, said something like, 'Hey, what's going on?'"
Murphy sat on the bench. His hands were numb. His jaw ached. He felt sick to his stomach. He went to the tiny bathroom just off the dugout and washed his face with cold water. He felt terrible. Freitas' alarm intensified and he suggested Murphy see team Dr. Mark Niedfeldt, who happened to be just inside the clubhouse.
Murphy, who is in great physical shape and had no family history of heart issues, brushed the concern aside. He figured he would feel better once it was time for batting practice to begin. When the time came, he still couldn't catch his breath. He went to see the doctor.
"He took my blood pressure and just said, 'Call an ambulance,'" Murphy said. "I realized then I might be in some trouble."
By the time Murphy and head athletic trainer Scott Barringer reached the ambulance waiting at the stadium's south dock, Murphy was in full cardiac arrest. Paramedics administered morphine and began asking questions about next of kin. Murphy, suddenly well-medicated, started cracking jokes. The medical personnel were not laughing.
Murphy told them about his daughter, Keli, and three sons Kai, Austin and 2-year-old Jaxon. The thought of not seeing them again flashed through his mind.
"He took my blood pressure and just said, 'Call an ambulance.' I realized then I might be in some trouble."
"I don't want to say I was totally at peace with it," Murphy said. "I'm just grateful I got a chance. I'm just really thankful the doctor was there because I would have never gone to the hospital, and I'm really thankful that those guys at the Cath lab were having a good day. They 'took infield' before they did this thing, you know?"
Murphy was in surgery 15 minutes after arriving at Froedtert Hospital. Later he learned he had 100 percent blockage of the left anterior descending artery.
"You're probably not going to live 45 minutes longer," Murphy said.
Counsell visited that night and stayed a long time. Eventually, Murphy had to kick him out. He spent three days in intensive care -- "The Ritz Carlton," Murphy said. "Like, 'I could get used to this.'" Then he was transferred to a general hospital room -- "Motel 6," he said with a scowl.
Eventually, Murphy was well enough to travel to Nashville to see his oldest, Keli. Then he traveled home to Arizona and began a cardiac rehabilitation program at the Mayo Clinic. He stayed in regular contact with Counsell and the Brewers coaches as the team treaded water through the strange season, and by Sept. 18, Murphy made it back to Milwaukee. The Brewers eased him back to work slowly; he watched the first game from an easy chair in one of the stadium's suites.
Again, he was in midseason form. When Murphy encountered Brewers midseason pickup Daniel Vogelbach, the 270-pound designated hitter and first baseman, he said, 'How did I have a heart attack and you haven't had a heart attack?" Murphy says Vogelbach gave him a puzzled look that said, "Who is this guy?"
"Murph and I are a lot alike in a lot of ways and I think that that's why you know I really enjoy being around Murph," Vogelbach said. "He jokes around. He's got a great sense of humor. But Murph wants to work and Murph wants to bring the best out of everybody. And that's something that I really enjoy."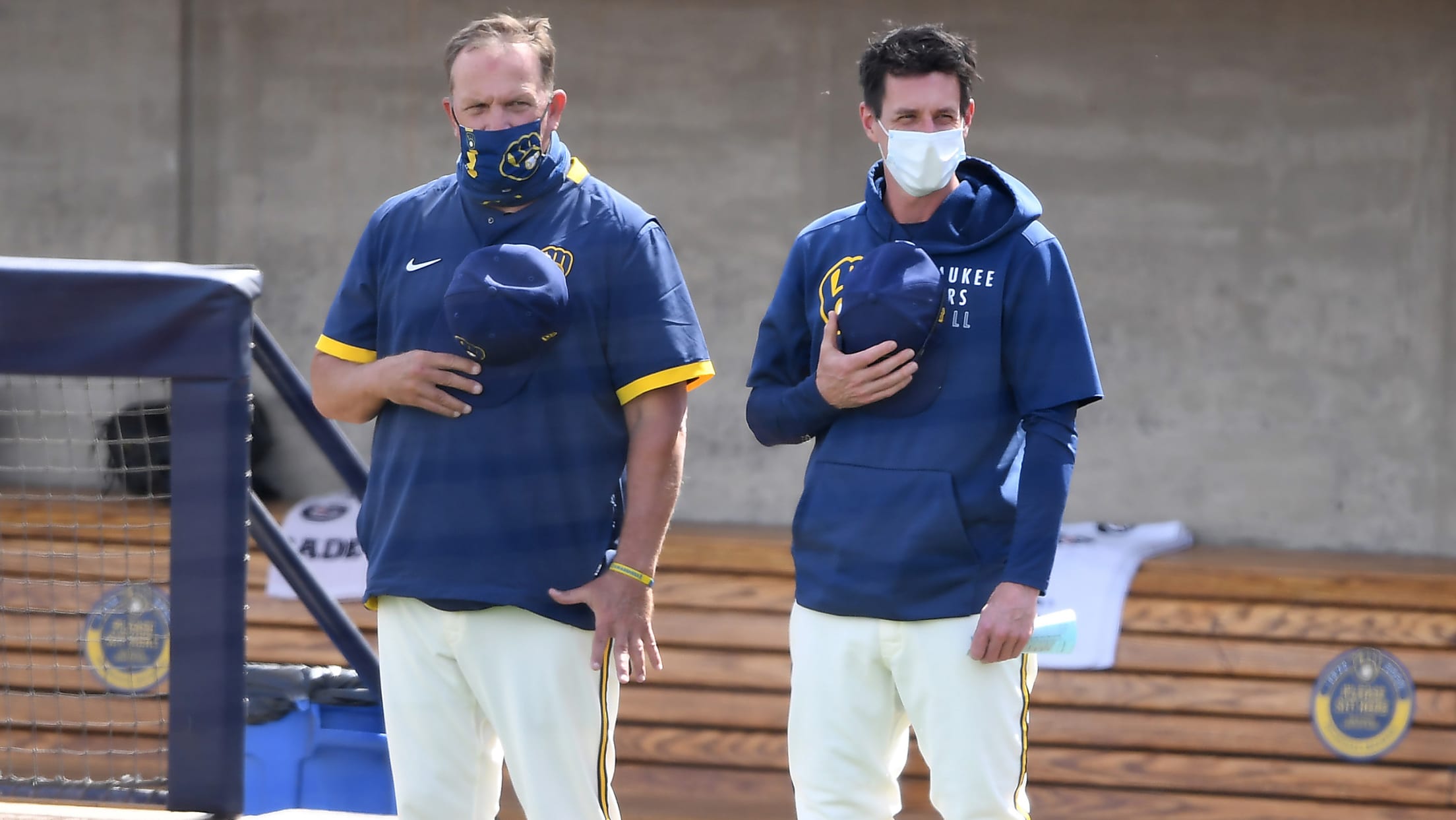 During the Brewers' final road trip of the regular season, and for the National League Wild Card Series against the Dodgers, Murphy was back on the bench alongside Counsell.
Murphy has had a great spring so far. Kai is an outfielder at Arizona State and Murphy was in the stands this month on the night his son homered and made a catch while tumbling over a side wall in a 2-1 win over Sacramento State. Murphy's physical exam at the start of Spring Training showed his heart was in good shape.
Physically, he's getting there.
"I'm not on a 10-speed. I'm on a 6-speed, still," Murphy said. "But that's probably better, knowing my personality."
He paused and added, "I'm still smart as sh--."
---
Many people knew that Terry Francona was dealing with health problems last year. Very few knew -- in the moment -- just how severe his condition was. What started as stomach problems that kept Francona from his job turned into a battle for his life.
"It was getting a little hairy there," Francona said.
Francona has been dealing with ongoing health problems for decades, but this recent stint started toward the end of the 2019 season. He had constant stomach problems that kept him from managing a few spring games last year. From the moment Spring Training was shut down due to the COVID-19 breakout until Summer Camp opened up in July, Francona estimated that he was put under anesthesia nine or 10 times for procedures.
Little did he know, he was just getting started.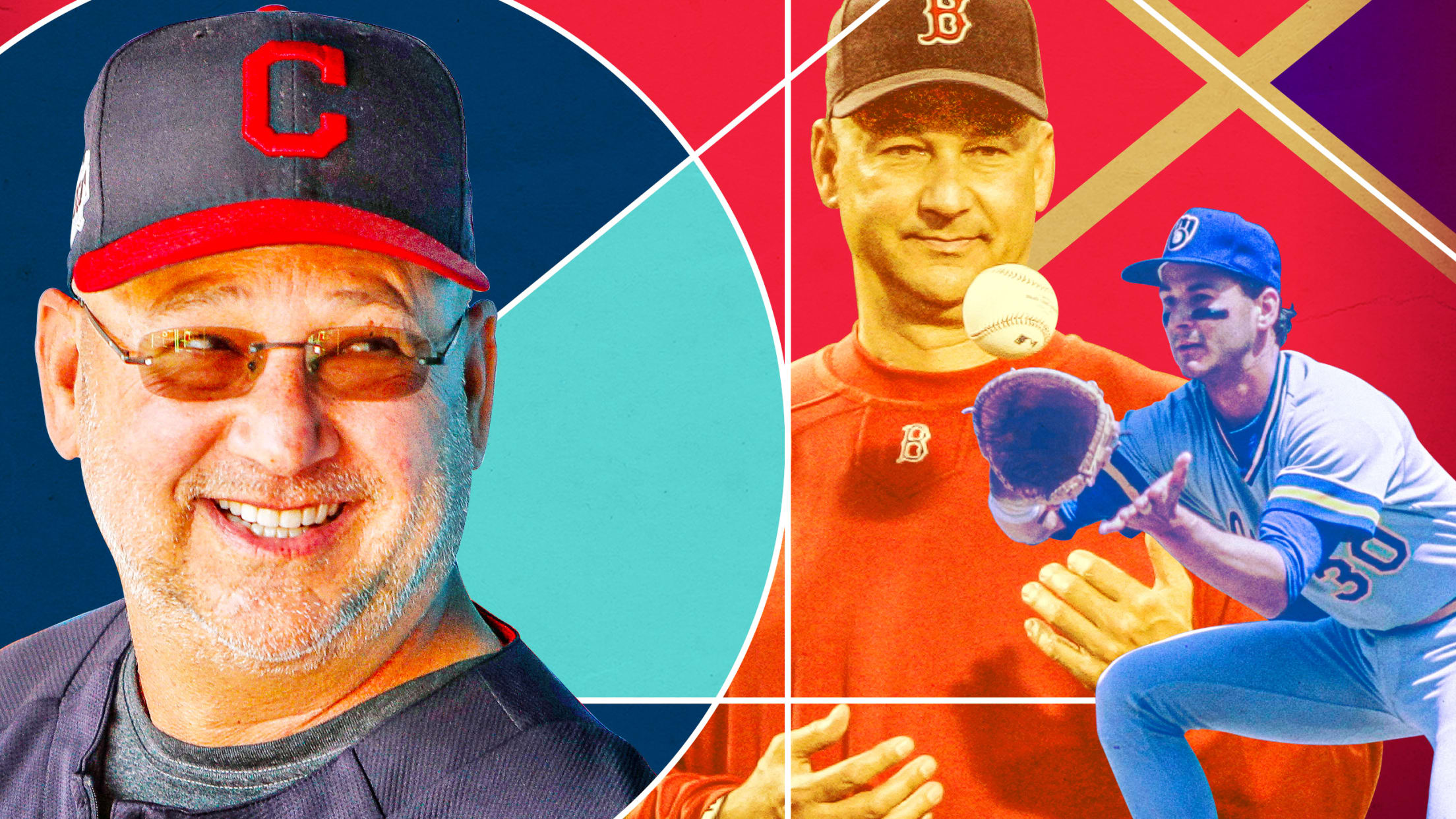 For a quick moment, Francona thought he was feeling better during Summer Camp. But that high lasted just a few weeks before his health came tumbling back down. And this time, the severity increased rapidly.
On Aug. 2, the Indians were in Minnesota, ready to wrap up a four-game series against the Twins. Francona met with local reporters on Zoom like he usually does prior to games, but just before first pitch, he left the ballpark unexpectedly to head back home to get back to the Cleveland Clinic. First-base coach Sandy Alomar Jr. was asked to fill in for Francona and ended up managing nearly the entire season.
With the team in Alomar's hands, Francona could focus solely on his health. The Clinic was still trying to figure out what was causing his gastrointestinal discomfort. Francona was constantly in doctors' offices, trying to find answers. But during this process, he forced himself to come back to the team -- although he was in no condition to do so -- to help provide some guidance when Mike Clevinger and Zach Plesac broke team protocols.
"I just felt like I really needed to be there to help through that period," Francona said.
Five days later, Francona realized something was very wrong.
Francona had dealt with plenty of symptoms, but this was different. He originally thought that he had aggravated a hernia, but when his right leg suddenly became too swollen for him to put on a shoe, he knew he was dealing with something way more serious.
"I was fidgety, and everybody was noticing," Francona said. "Even though we were winning the game, [replay coordinator Mike Barnett] said I was dropping F-bombs. I was just really uncomfortable."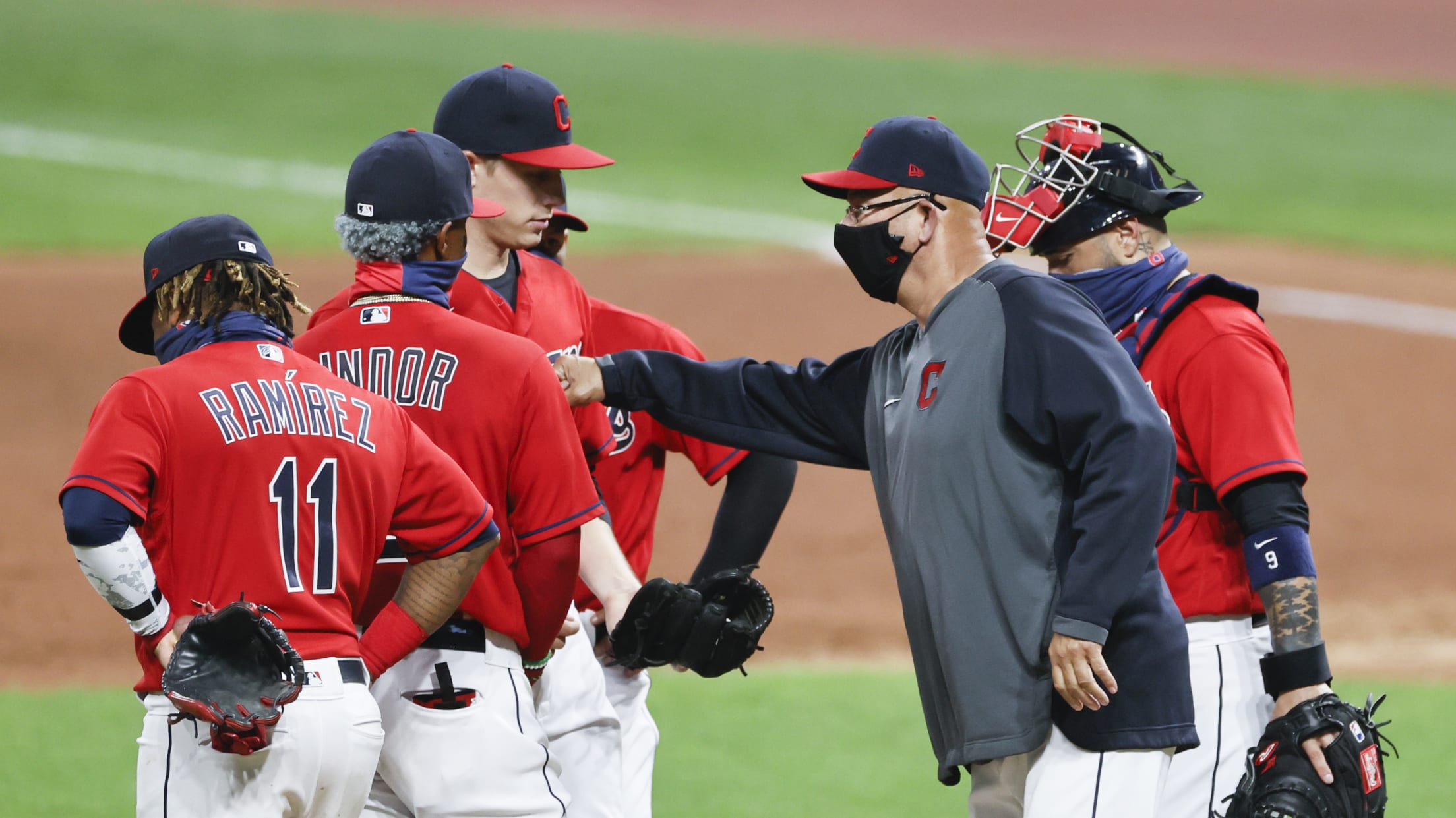 Francona was rushed back over to the Cleveland Clinic, where doctors discovered a blood clot. After surgery, he reacted poorly to blood thinners and ended up re-clotting three more times. In a span of four or five days, Francona had three surgeries and spent four days in the ICU.
"I kid with you guys a lot. On good days, I'm one step above comatose," Francona said, "but I was feeling pretty lousy, and I just couldn't figure out why, and it made a heck of a lot more sense when it was explained to me. I don't want to go through that anymore, though. I don't know why it happened, but I certainly don't want to go through it again."
By the end of the season, Francona was back in the stands, watching games. He felt much better at the start of the offseason after losing weight and beginning physical therapy. Just as Francona thought he had reached the peak of the mess he had gone through over the past year, he discovered another mountain was waiting for him around the corner.
"I kid with you guys a lot. On good days, I'm one step above comatose."
Francona started to get treated for gout in November and decided to fly back to Cleveland in January when the pain wasn't subsiding. That's when doctors found a staph infection in his left foot that kept him in the hospital for another 10 days. Francona underwent yet another surgery to remove part of the bone in his big toe, replacing it with bone cement.
It was yet another hurdle getting thrown in Francona's way of performing the job he loves. But this one, he was ready to leap. Despite having crutches under his arms, a boot on his foot and a PICC line in his arm to receive daily IV treatments, Francona reported to Goodyear, Ariz., on Feb. 19, ready to get his 21st managerial season underway.
Francona's hoping that by the end of March he'll be without crutches or his boot and return to 100 percent ... or, as he'd probably say, as close to 100 percent as Francona can get.
"I think we have tried to work with Tito to understand where he is physically," Indians president of baseball operations Chris Antonetti said, "and how do we help him do what he loves doing, and that's manage this baseball team.
"Both mentally and physically, he's in a good frame of mind. ... He's raring to go."
In that, Francona has company.
credits:
Mandy Bell covers the Indians for MLB.com Follow her on Twitter at @MandyBell02. Joe Trezza covers the Orioles for MLB.com. Follow him on Twitter at @JoeTrezz. Adam McCalvy has covered the Brewers for MLB.com since 2001. Follow him on Twitter and Instagram at @AdamMcCalvy and like him on Facebook. Art and design by Tom Forget.