College Students Ticket Offer

Save up to 50 percent on select seats
Using Student Beans verification, college students can purchase discounted tickets to select games throughout the season. After a quick verification process, each student will save up to 50 percent off the advance ticket price on select seats.
To create or verify your Student Beans account, register below.
Tickets
Once you've verified your account, you can purchase tickets here for upcoming games.
Offer Expires: Sept. 24, 2023
TICKET LIMITATIONS: Only a LIMITED number of tickets (as determined by the Yankees in its sole and absolute discretion) will be made available during this offer. All offer purchases will be further limited to a maximum of eight (8) tickets per household, per game. Offer purchases exceeding the ticket purchase limits will be canceled without contact from Ticketmaster or the Yankees.
GROUP TICKETS: For an individual to purchase 10 or more tickets together on behalf of a group, please contact the Yankees Group Sales & Service Department via email at [email protected], call (212) YANKEES or visit yankees.com/groups.
The terms and conditions of your ticket and policies applicable to use are updated to address COVID-19 and health & safety. By purchasing a New York Yankees ticket, you accept these Terms and Conditions and policies applicable to use.
*Offer valid for select, non-premium seating areas. Offer is online only, for a limited time only, subject to availability, has no cash value, is not valid on previously purchased tickets, and cannot be used in conjunction with any other promotional offer.
If you have any questions, please call (212) YANKEES or email [email protected].
Time, opponent, date and team rosters and lineups, including the Yankees' roster and lineup, are subject to change.
When purchasing tickets or ticket plans on yankees.com and associated websites, you are limited to a specified number of tickets or ticket plans for each event (also known as a "ticket limit"). The Yankees reserve the right to cancel any or all orders and tickets/ticket plans without notice to you if you exceed the posted limits. This includes orders associated with the same name, e-mail address, billing address, credit card number or other information.
The number of innings in a regulation game shall be determined by MLB and may be shortened in accordance with MLB rules. Licensor makes no representation, warranty and/or guarantee that nine (9) innings will be played in any regulation game.
Please note that protective netting is located between Section 011 on the 1st base/right field side of Yankee Stadium and continues to Section 029 on the 3rd base/left field side of Yankee Stadium. The height of the netting varies throughout Yankee Stadium.
---
Buy a student ticket and get free MLB.TV for the rest of the 2023 season!
To redeem free MLB.TV, you will receive an email with redemption instructions the day after purchase of a student ticket.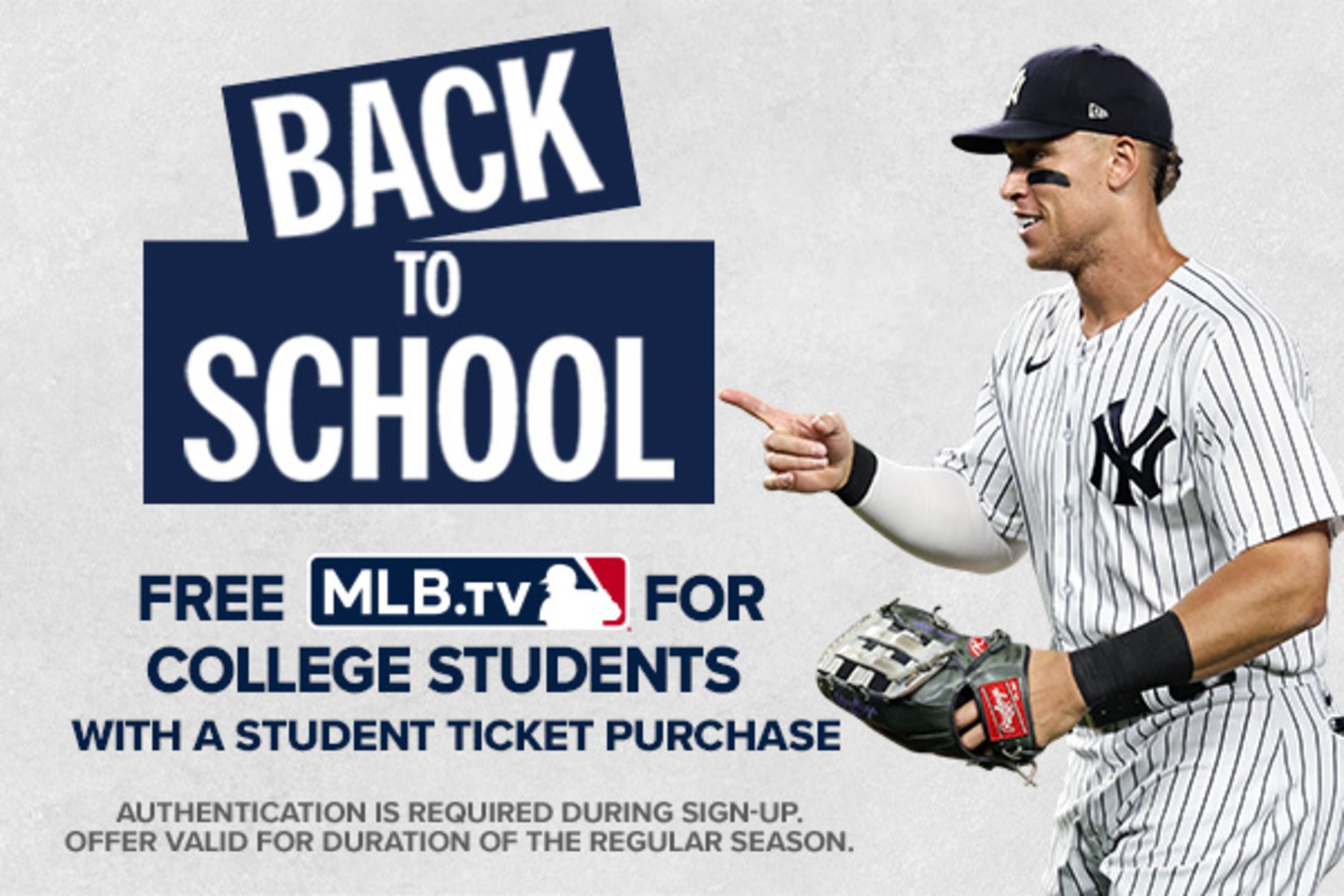 Offer valid for current/eligible students and new MLB.TV subscribers only. Offer does not auto-renew. Notwithstanding the terms generally applicable to MLB.TV or otherwise presented to you, the MLB.TV subscription made available to you through this benefit will not automatically renew.
---
REGULAR SEASON LOCAL LIVE BLACKOUT DISCLAIMER
All live games streamed within any MLB.TV product and available through the MLB App and any other location or device where MLB.TV is sold or available are subject to local and national blackouts. If a game is blacked out in an area, it is not available for live game viewing through MLB.TV. If you are an MLB.TV subscriber within an area subject to blackout, the applicable game will be available as an archived game approximately 90 minutes after the conclusion of the game. See full blackout disclaimer here. Notwithstanding the terms generally applicable to MLB.TV or otherwise presented to you, the MLB.TV subscription made available to you through this special student offer will not automatically renew. Your subscription to 2023 MLB.TV Yearly will expire on February 28, 2024.