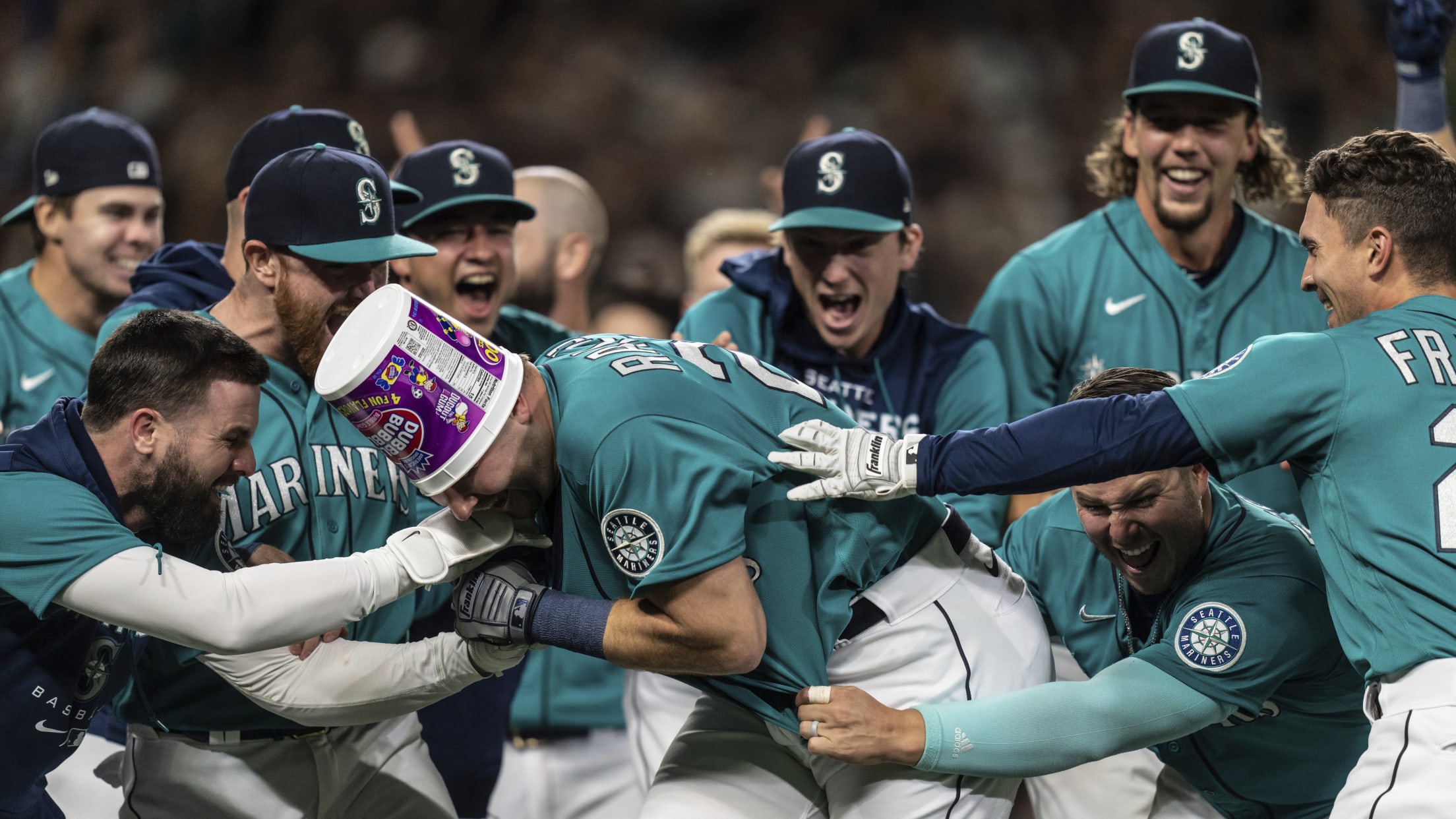 Scroll
Why the Mariners are the team to root for this October 
SEATTLE -- The hottest ticket in town was across the street.
The Mariners had a rare off-day at home, and Russell Wilson, the face of Seattle sports for a decade, was back in town for a blockbuster matchup on Monday Night Football. The place was packed, the crowd roaring and the drama high, with the Seahawks edging Wilson's Broncos in a down-to-the-wire thriller.
Nestled high above the field in the Hawks' Nest, the bleacher-style seats behind the end zone with the venue's rowdiest fans, Ty France sipped a Northwest IPA and sported a T-shirt and shorts, nothing flashy; same for Marco Gonzales, his cap backwards and his beer of choice a Coors Light. In between them, J.P. Crawford roared at each Seahawks defensive stop. A few rows away, Matthew Festa congregated a group of relievers in a similar setup. George Kirby and Adam Frazier were also in the house -- all in the bleachers, all taking in the sights and all mingling with Seattle sports fans.
Here was the majority of an MLB team, in a pennant chase, entrenched in the front lines with some of the most passionate Seattle sports fans. They could've been in a luxury suite, or doing something else entirely with their off-day. Yet among a group that almost all lives elsewhere in the offseason, they were all-in on taking in the best of their summer home with the people who make it special.
"Team of the people," Crawford said the next day.
Now, less than one month later and after snapping an agonizing 20-year playoff drought, they will be the hottest ticket in town. For that reason alone, the Mariners will be the darling to root for this October, the club that fans outside the Pacific Northwest will latch on to, those who don't have a team in the dance or who want to cheer for anybody but the Yankees, Dodgers or other big-market teams.
"It's a very close-knit team, and it feels almost like a college team, an amateur team," manager Scott Servais said. "Not particularly a big league team, guys making a lot of money and just out collecting a paycheck. That's not what this group is about. It's fun to come to the ballpark every day because they're focused on one thing and that's, 'What's it going to take to win the game tonight?'"
Once the postseason begins, MLB's best-kept secret that's been brewing in this geographically removed part of the country will finally be out on the national stage.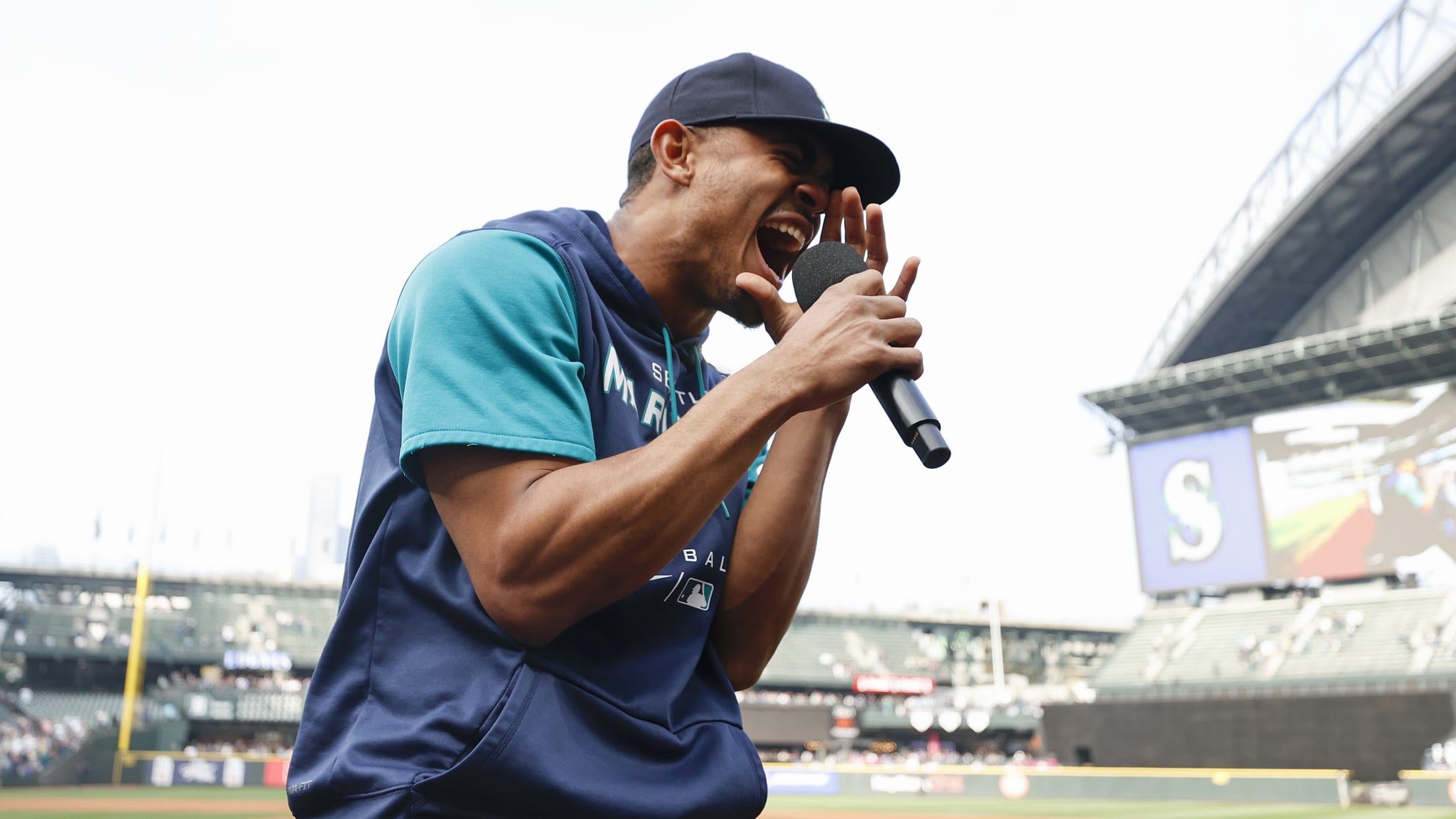 They have the personality
Julio Rodríguez is all of 21 years old and carries the credibility of being on the precipice of superstardom.
To him, Robbie Ray is "Uncle Robbie" and France is "my babysitter," both designations delivered with a wide grin -- and both amicably received. Those two are also an encapsulation of two veterans allowing a rookie to be himself.
"Whenever you're just yourself, you don't need to hide anything," Rodríguez said. "You don't need to change anything. You're just yourself and you're aligned with everybody and you're just trying to win. At the same time, man, you're just doing it your way. Nobody is telling you, 'That's wrong,'' or whatever. That's just your way. Everybody is going to help you out."
Such culture is a huge reason why Rodríguez, with the entire world in front of him, committed potentially his entire career to play here.
"We have a little bit of everything, it's such a diverse group," France said. "We've all kind of gravitated towards each other, and no one makes fun of us more than us."
It's not just the haven that Rodríguez has found himself in, which will rightfully draw the most attention this postseason, especially after an epic bid for the AL Rookie of the Year Award. No, it's the rest of the environment around the blossoming star that was brewing before he even arrived.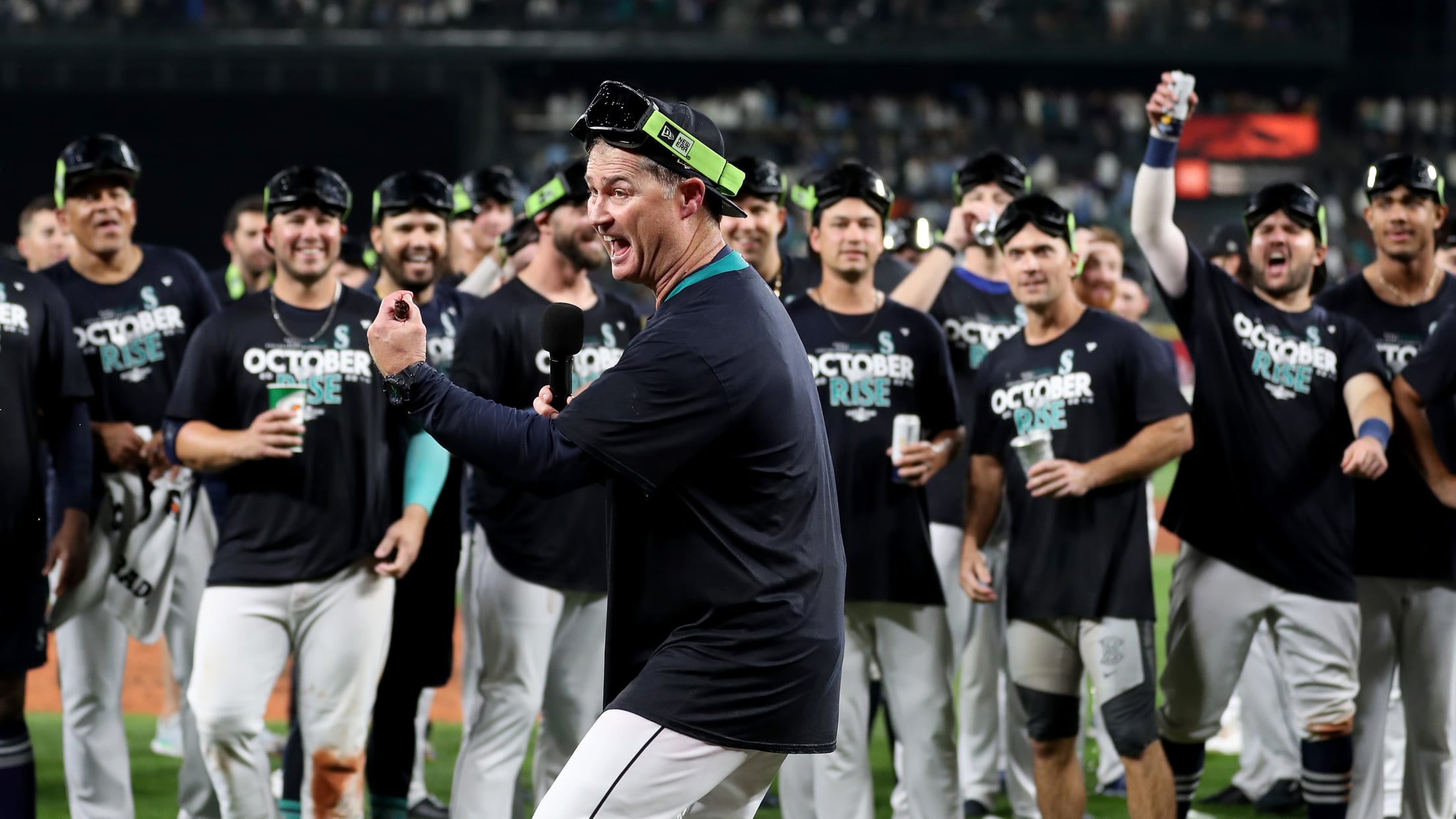 The Mariners won 90 games last season and brought back a large contingent, but they also added blockbuster pieces like Ray, Luis Castillo and Eugenio Suárez -- all of whom have felt immediately at home. Suárez, the club's "Unsung Hero" Award winner, even delivered a speech to the crowd before the team's charter to Toronto for the AL Wild Card Series.
"I look around and I see that all of these people come to watch us," Suárez said. "So I've got to do my best. They really deserve everything we're doing on the field, so that's why I think connecting with the fans is so important."
In this clubhouse, mostly everyone gets along. Rookies speak up, veterans share experience and -- above all -- players and staff feel comfortable in their own skin.
"I'm a firm believer that the old guard of making guys earn their spot on a team or making them earn their voice, that's out the window," Ray said. "To me, for a young guy to be comfortable, he needs to be himself. For us to be at our best, he needs to be at his best. ... That's how guys thrive. They're able to be comfortable when they're able to enjoy coming to the park every day."
Rodríguez is the most forward-facing embodiment of this behavior, but France might sneakily be the most effective in applying it. An All-Star for the first time this season, France has taken Kyle Seager's mantle as the resident jokester -- described by the former Mariners icon as the club's "golden retriever" -- and he's run with it well.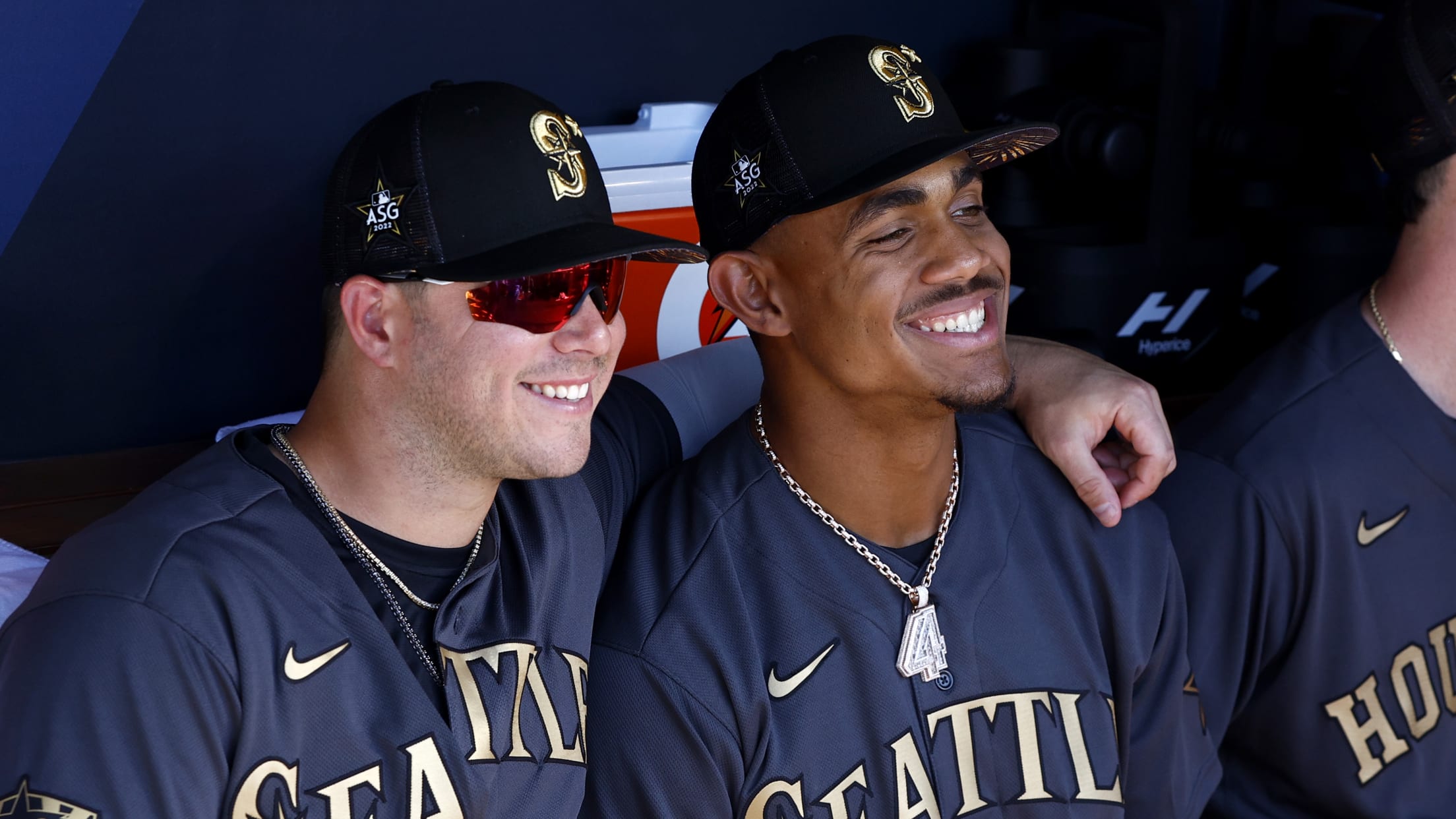 France's relationship with starting pitcher Logan Gilbert might be the most telling encapsulation of the clubhouse chemistry. After a much-needed win in Anaheim last month, in which Gilbert struck out a career-high 11, France joked that the unassuming pitcher is "like having the little brother that I never knew I didn't want," to which Gilbert responded, "That sounds like Ty. We go back and forth. Sometimes I think we've gotten closer, but then he says stuff like that."
Pitchers and position players coalescing positively isn't always a given -- in fact, it can often be an outlier. But the environment fostered in Seattle encourages alliance. Jarred Kelenic's upbringing is much different than Castillo's; Rodríguez is one of MLB's youngest players, yet he receives the same treatment as Carlos Santana, 15 years his elder.
With comfortability comes accountability. When players don't work hard, it's even more illuminated because of the effort from everyone else. Marco Gonzales described it as a simplistic policy, one that is intangibly plastered across the clubhouse. His words, which he apologetically prefaced were NSFW, carried weight, because said policy is unspoken and unseen.
"That's sort of something that's not really written on the walls anywhere," Gonzales said. "That's not on a shirt, nothing like that. That's been being built here for the last four or five years. ... The culture that we've defined here that we've been building, you are going to go against the grain if you're like that."
Said culture starts at the top, and preserving chemistry among a group that spends up to eight months with each other, day in and out, falls in president of baseball operations Jerry Dipoto's hands. The architect of this turnaround hasn't been without criticism, even within his own clubhouse -- most notably after a polarizing trade of leader Kendall Graveman to division-rival Houston at last year's Trade Deadline in a deal that brought back Abraham Toro and others.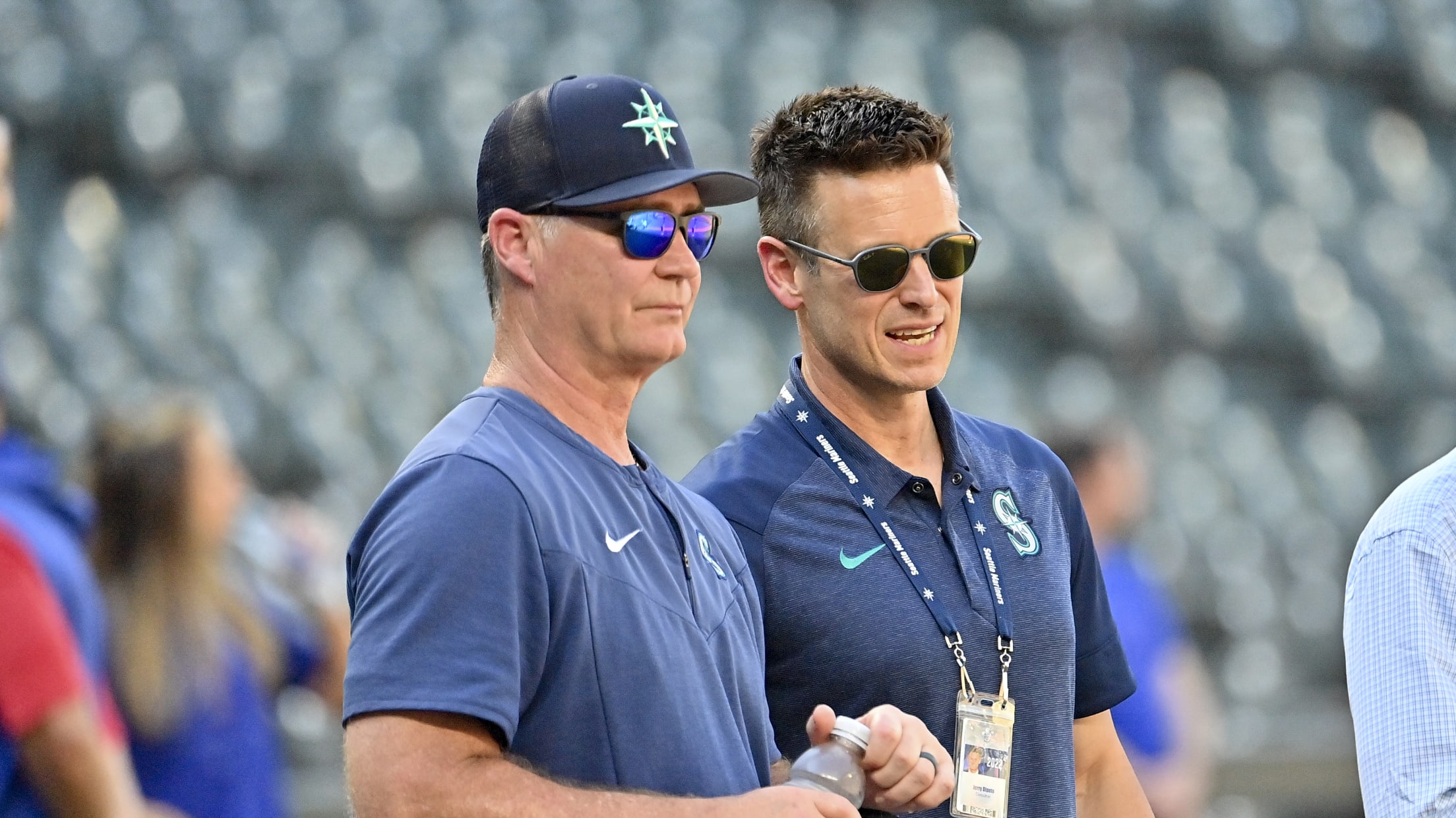 Dipoto, who doesn't regret the deal but has acknowledged the divisive player reaction multiple times, is focused on the future.
"While I'm no chemist, I am keen to observe what's working and what's not," he said.
Beyond talent, roster building is built on personable cohesion. Without naming names, Dipoto and Servais have alluded to previous years where that hasn't been the case. So, when they got the approval from ownership for a rebuild after an incredibly uncomfortable but necessary conversation following the 2018 season, they recognized that the slate was essentially clean. Yet pressure was high to turn things around, and they needed to do so on the backbones of players that could, quite simply, get along.
"Right or wrong, and this is not to be cold or callous, when we identify personalities that don't fit, we do our best to try and replace that person or just kind of move on," Dipoto said. "And even in the Minor Leagues, the same thing is true in our system. We try to best identify players who believe in what we do, believe in their teammates who can be positive impacts. ... If we find someone who doesn't, we tend to move on."
Until Friday, that culture hadn't yet proven itself to reach the grandest stage. It took nearly four long years and two key players to best foster it.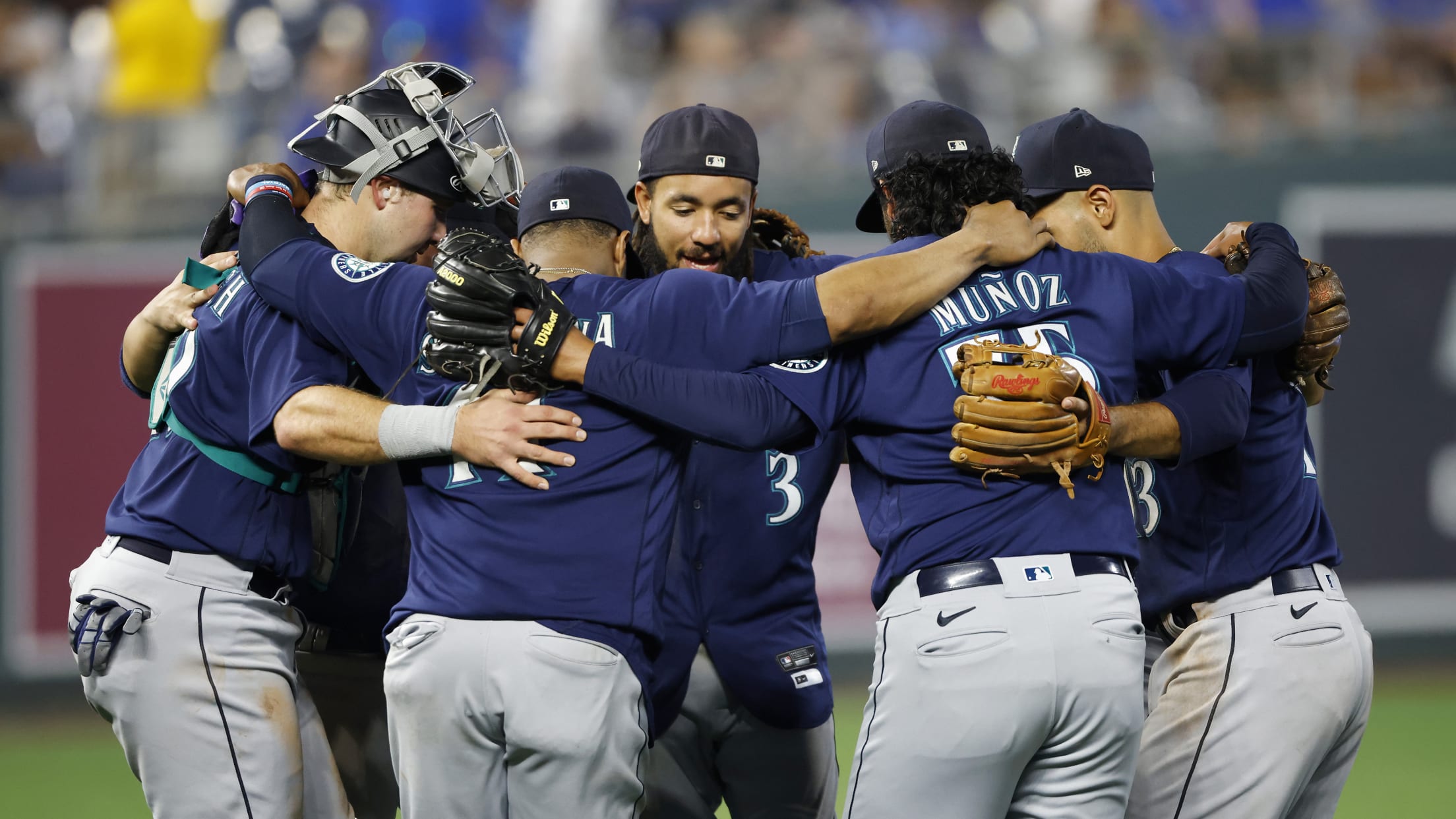 They embraced the drought
Gonzales and Mitch Haniger are the lone holdovers from before the rebuild, a time that for them feels like eons ago and yesterday all at once. They saw clubhouse favorites depart via trades, free agency and, lastly, retirement, after Seager hung it up last season. Through it all, the frustration of losing day in and out and facing a revolving roster -- which included an MLB record (at the time) 67 players used in the first rebuild year in 2019 -- they zeroed in on the daily preparation.
"It has to be our drought to end it," Gonzales said in the days leading up to the clinch. "We have to take ownership of it in order to be the ones to end it. If we show up and we say, 'Well, that's not our dirty laundry, that's not us,' we're doing it the wrong way. In order to hang another banner up in the rafters, we really need to take ownership of this, this organization, the city and really stake our claim."
Haniger wore the drought like a trench coat in a Seattle winter, passionately imploring Mariners fans to stick with them after an oh-so-close finish in 2021.
"You can't run from it," Haniger said on Friday, doused in champagne. "It's the reality of the situation. I feel like that's what you have to do. You have to stare it in his face and call it for what it is. You can't let things just linger and not address it. So I'm like, 'Yeah, the drought, we accept it. We're part of it.' We weren't here all 21 years, but like I said, it's ours. And it's something that we recognized, and we did it. We ended it."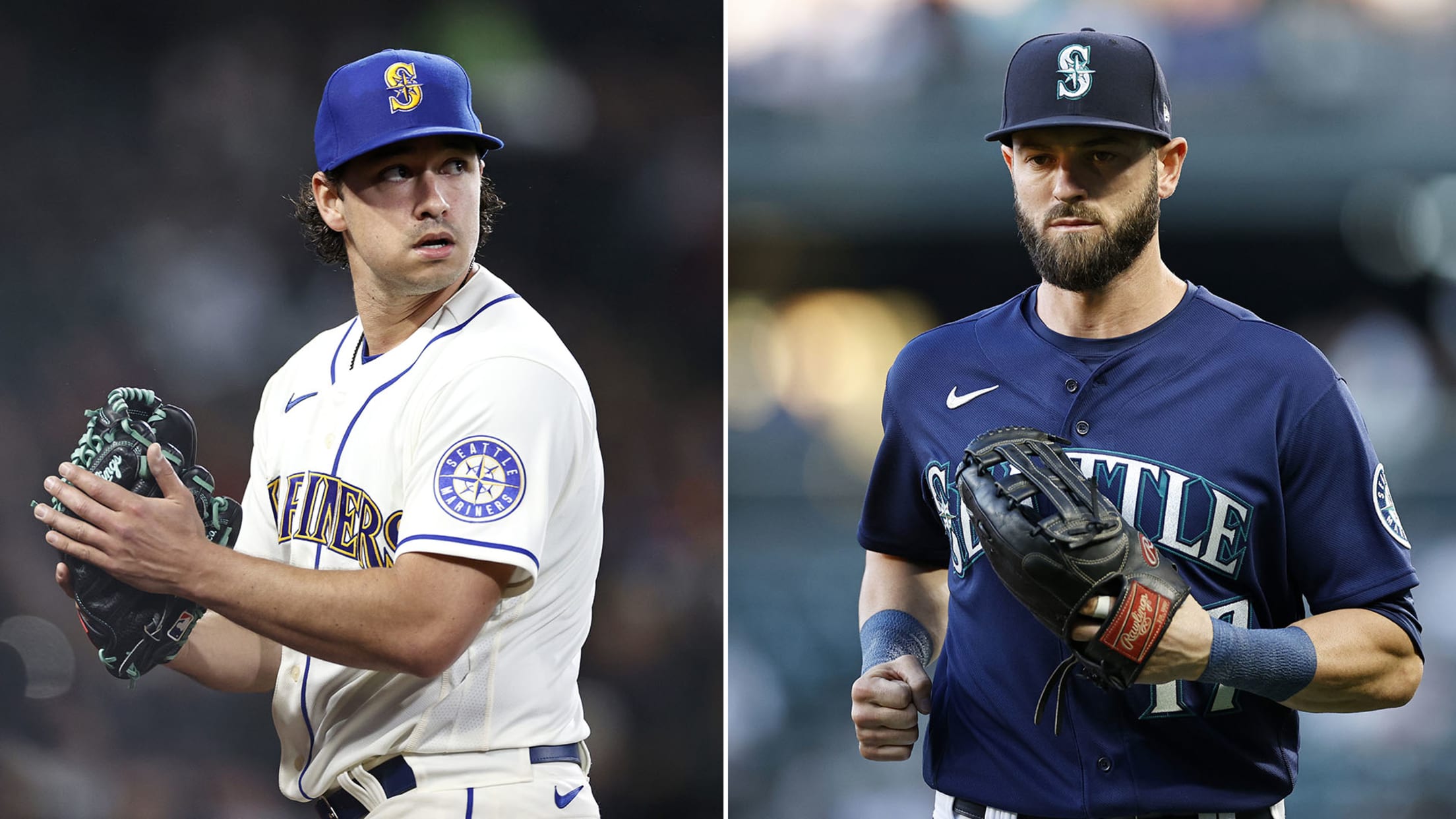 Now that they've exorcized those demons, the Mariners have an even grander platform on which to unveil themselves, beyond the Pacific Northwest.
They're a fun team to watch
Again, it's easy to point to Rodríguez and see the unbridled joy he plays with to supplement an elite five-tool skill set. He has all the attributes to become an October standout, and he'll justifiably receive much of the attention. But peeling back the layers of this roster reveals a group that executes the fundamentals, plays clean defense and runs the bases well -- making them aesthetically pleasing to watch.
"I do think that we have that type of appeal. ... We have a fun team to watch," Dipoto said. "And I think we've caught [fans'] attention, and it's fun to be at the ballpark. And we're having just as much fun as they are."
For folks who appreciate good pitching, Seattle possesses one of the AL's most consistent rotations, headlined with star power in Castillo and Ray and backed by one of MLB's statistically-best bullpens, all of whom possess unique looks. Dipoto, a big league reliever for eight seasons in the '90s, has the lens to see a bullpen's value.
"It's always been super important to myself, and Jerry's background -- that's where he spent his career," Servais said. "If you're going to win games late, and certainly this time of year, the guys who have the ball in their hand at the end of the game, it's the bullpen. It's typically not your starter. Your starter will get you there, but having the right guys down there that can finish it off for you is critical."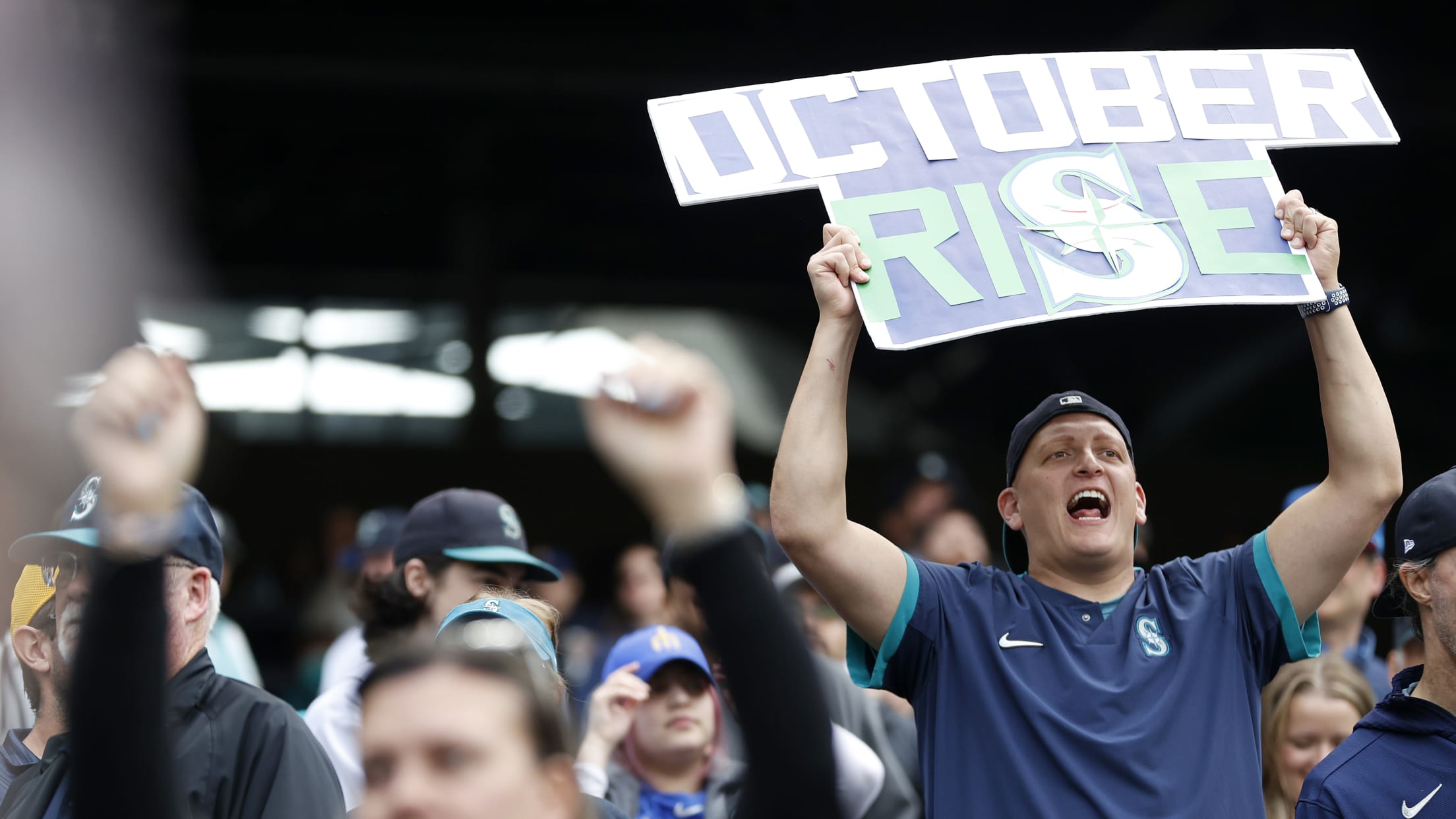 The Mariners' pitching has kept them in most games, especially early this season when their offense was stumbling. Even so, their style of play lends itself to tense, tight contests late -- with an MLB-high 34 wins in one-run games this year after leading the Majors in the category last season, with 33. Seattle also has 13 walk-off wins, the second most in MLB.
To fans who yearn for nail-biters, this is your team.
"Pitching and defense wins it all, and those are two things that we've done really well this year," Ray said.
***
So much of this franchise is rooted in its past. Every year, the Mariners do a masterful job of recognizing the 1995 and 2001 teams. The icons of yesteryear are still regulars in these parts, too; Edgar Martinez and Mike Cameron were both in the house for the clinch this week, and Ken Griffey Jr. has made many appearances this season, too.
But even they recognize the beauty of turning the page -- to something new, something special and perhaps something sustained.