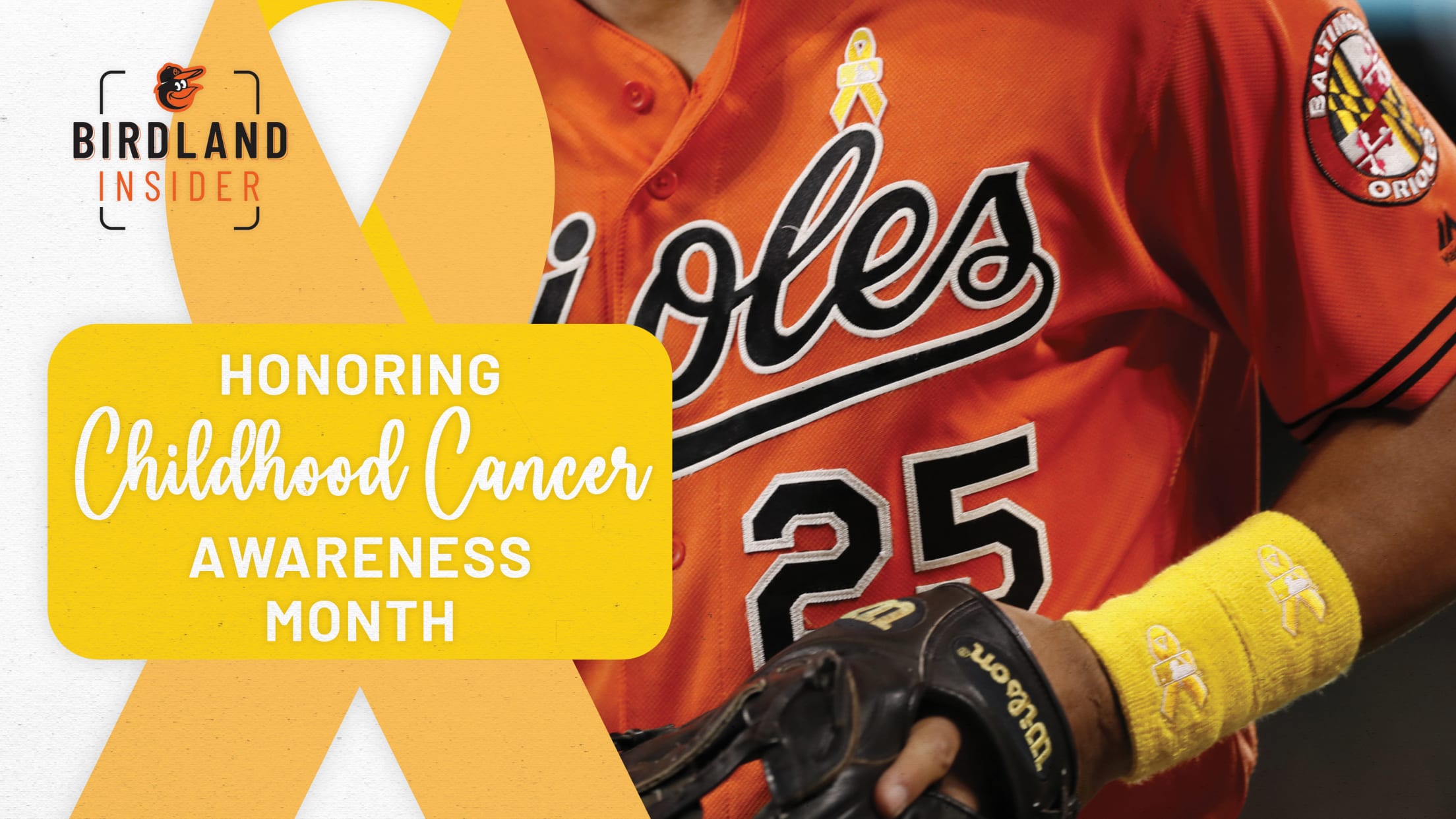 Scroll
Honoring Childhood Cancer Awareness Month
Each year, Major League Baseball comes together to recognize Childhood Cancer Awareness Month in September. On-field, the team sports gold ribbons and wristbands to show its support for the cause. Off the field, the club focuses on raising awareness, celebrating with survivors and connecting with children who are most in need.
In partnership with Starlight, a foundation which aims to bring joy and happiness to critically ill children, the Orioles donated two Nintendo Switch Handhelds, fully equipped with RBI 21, to children at University of Maryland Children's Hospital. The Orioles also donated promotional items to bring Orioles magic to the hospital during a time where in-person visits with patients are limited.
On September 7, the Orioles invited Dena Rovito, a special guest from Alex's Lemonade Stand, to throw out the ceremonial first pitch. In 2004, Dena was diagnosed with a Neuroblastoma and had surgery to remove the tumor. The surgeons at the Children's Hospital of Philadelphia resected 66 percent of the tumor.
After about a year, the tumor shrinkage stopped and maintained its size for the next several CT scans. Now, years later, Dena is a healthy, active seventeen-year-old that loves art, music, dancing, and gymnastics.
The only lasting effects from her tumor and surgery are weakness in her right hand from the nerve damage/remaining tumor and a permanent condition of Horner's Syndrome. The Horner's Syndrome is primarily cosmetic in nature and, in fact, she thinks some of the effects of it are pretty cool (she has two slightly different colored eyes!).
Alex's Lemonade Stand Foundation is changing the lives of children with cancer by funding impactful research, raising awareness, supporting families, and empowering everyone to help cure childhood cancer. Throughout the 2021 season, the Orioles are hosting families from this organization in memory of "Shakey" – an Orioles vendor who passed away earlier this year.
On September 25, the Orioles will welcome Luke Post to throw out the ceremonial first pitch. On May 6, 2019, Luke was diagnosed with T Cell Lymphoblastic Lymphoma, a rare form of Non-Hodgkin's Cancer. Since then, Luke has been receiving intensive chemotherapy treatment at the University of Virginia Children's Hospital. Luke's final day of chemotherapy was August 28, and he is looking forward to being a cancer-free survivor. During his treatments, Luke was inspired to raise money for UVA Hospital. He created No One Fights Alone T-shirts and was able to raise more than $6,000. Luke was born in Maryland and has been a huge Orioles fan his whole life. His favorite player is Trey Mancini.
Orioles Players Supporting Childhood Cancer Awareness Month
On the field, Orioles players are focused on performing their best each day. Off the field, many players have a passion for giving back to the community and raising awareness for personal causes. This September, Orioles pitcher Tyler Wells launched a fundraiser for the Pediatric Brain Tumor Foundation. Tyler shared, "Being part of this fundraiser means the world to me. I've worked with them in the past, and they have always gone above beyond for the children and have allowed me to a part of some incredible moments.
"For example, there was a day in 2018, we got to visit a children's cancer center and meet some of the amazing fighters that were staying there. It was such a humbling experience for me to see how strong and resilient these kids were. Within that next month of visiting those kids, we got to bring them out to a game. One of the best experiences of my life was the team being able to tell this little boy that he was cancer free.
"These children didn't ask for this, and with the experience that I've had with cancer in my family, I always want to help these kids and give them the strength and resources they need to beat cancer. So with this upcoming campaign in September, I'm challenging everyone who wants to help these children, use the link to my pledge page and let's help these fighters and their families beat these horrible illnesses. Let's give them a better life. Thank you for all the support and go O's."
Orioles Pitcher Matt Harvey is also supporting the Pediatric Brain Tumor Foundation. For every strikeout Matt records in the month of September, a donation is made to this organization. Matt is incredibly close to his fundraising goal of $5,000.
Year round, the Orioles are committed to individuals and organizations who are focused on strengthening our community and empowering our youth. To learn more, please visit Orioles.com/CommunityResources.