New York Yankees Museum
presented by Bank of America
Yankees By the Numbers
Records Defining Yankees Greatness
New York Yankees fans embrace franchise records. These milestones offer unique insight into team history. Records justify reverence for the Bronx Bombers' most celebrated heroes. Indeed, all-time franchise greats are identified by their records. These statistics answer "why" and "how" Yankees stars attained legendary status.
"Yankees by the Numbers" explores 50 New York Yankees franchise records. These statistical milestones substantiate the Yankees' heritage as baseball's most storied franchise.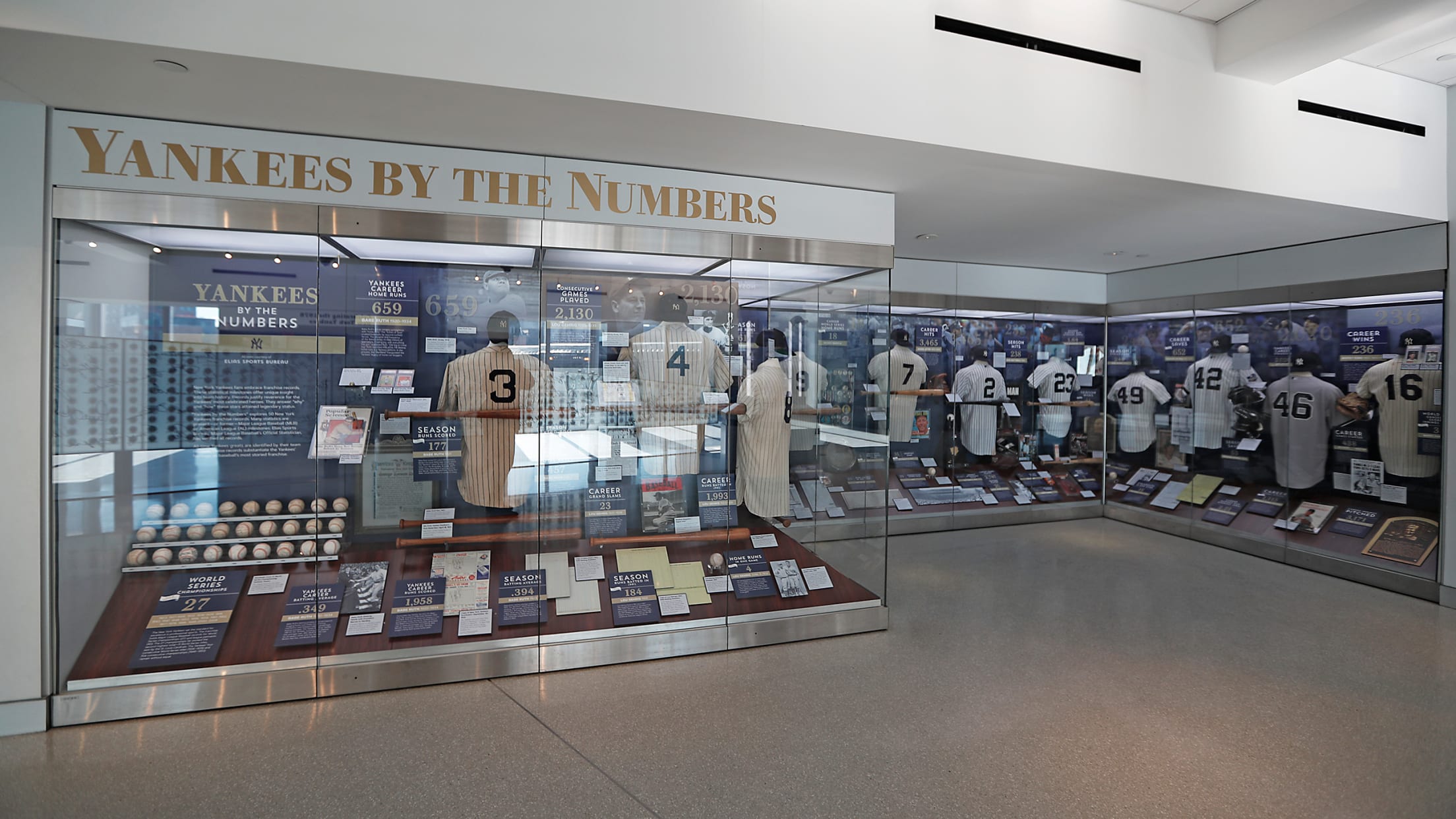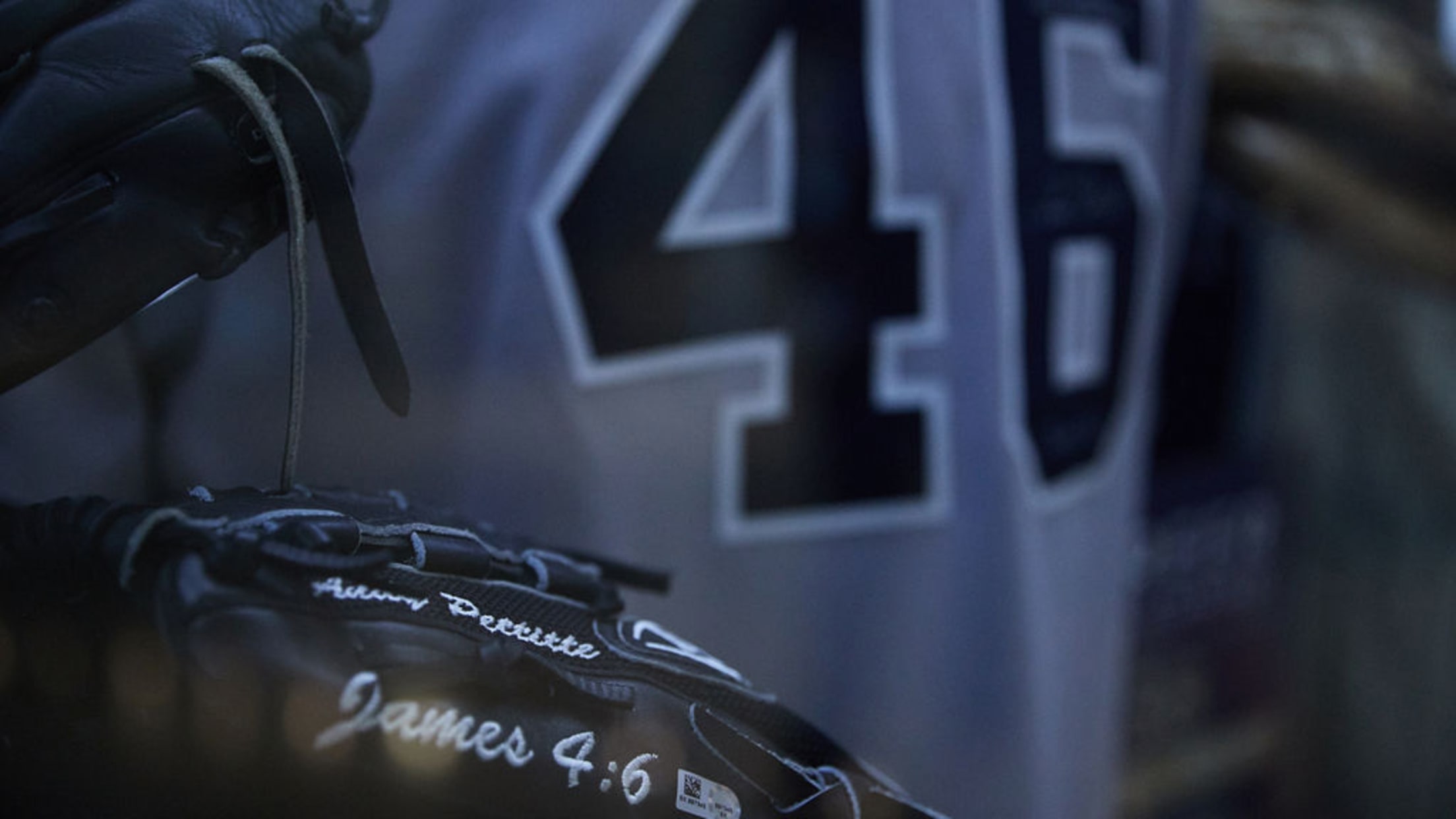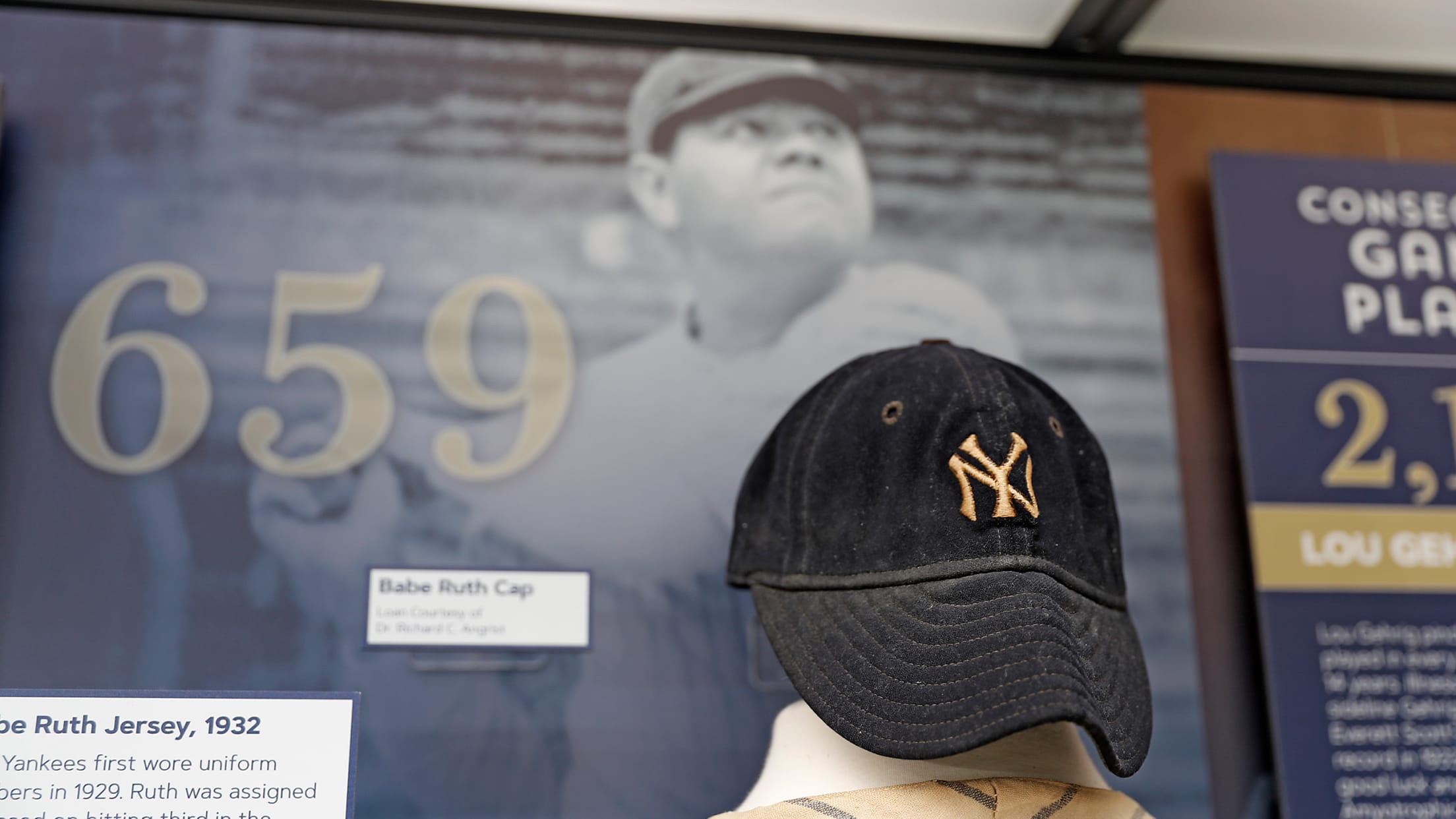 Featured Records Include:
Featured Artifacts Include:
1932 home uniforms worn by Babe Ruth and Lou Gehrig
1939 Joe DiMaggio uniform with "Centennial" patch
Yogi Berra 1956 home uniform and 1953 World Series bat
Mickey Mantle 1961 home uniform and 1961 home run bat
Roger Maris 1961 home uniform
Whitey Ford 1962-1963 glove and 1964 home uniform
Derek Jeter uniform from hit #2,999 – July 9, 2011 (first inning of 3,000th hit game)
Derek Jeter 2000 World Series MVP Award trophy
Don Mattingly 1985 home uniform
Ron Guidry 1977 home uniform
Mariano Rivera 2000 World Series uniform and 2003-2005 glove
Andy Pettitte road uniform and glove – September 28, 2013 (final career game)
Bronx Bombers
The New York Yankees' Home Run Heritage
The New York Yankees are baseball's "home run team." Iconic sluggers, intimidating batting orders, and milestone four-base hits have powered a century of success. Babe Ruth inaugurated the franchise's home run heritage. The Bambino's pinstriped successors continued this tradition. Yankees home runs have crowned legends and entered baseball lore. Fans pledge lifelong loyalties to home run heroes. Hard-hitting lineups – from "Murderers' Row" to today's Bronx Bombers – have overwhelmed opponents for decades.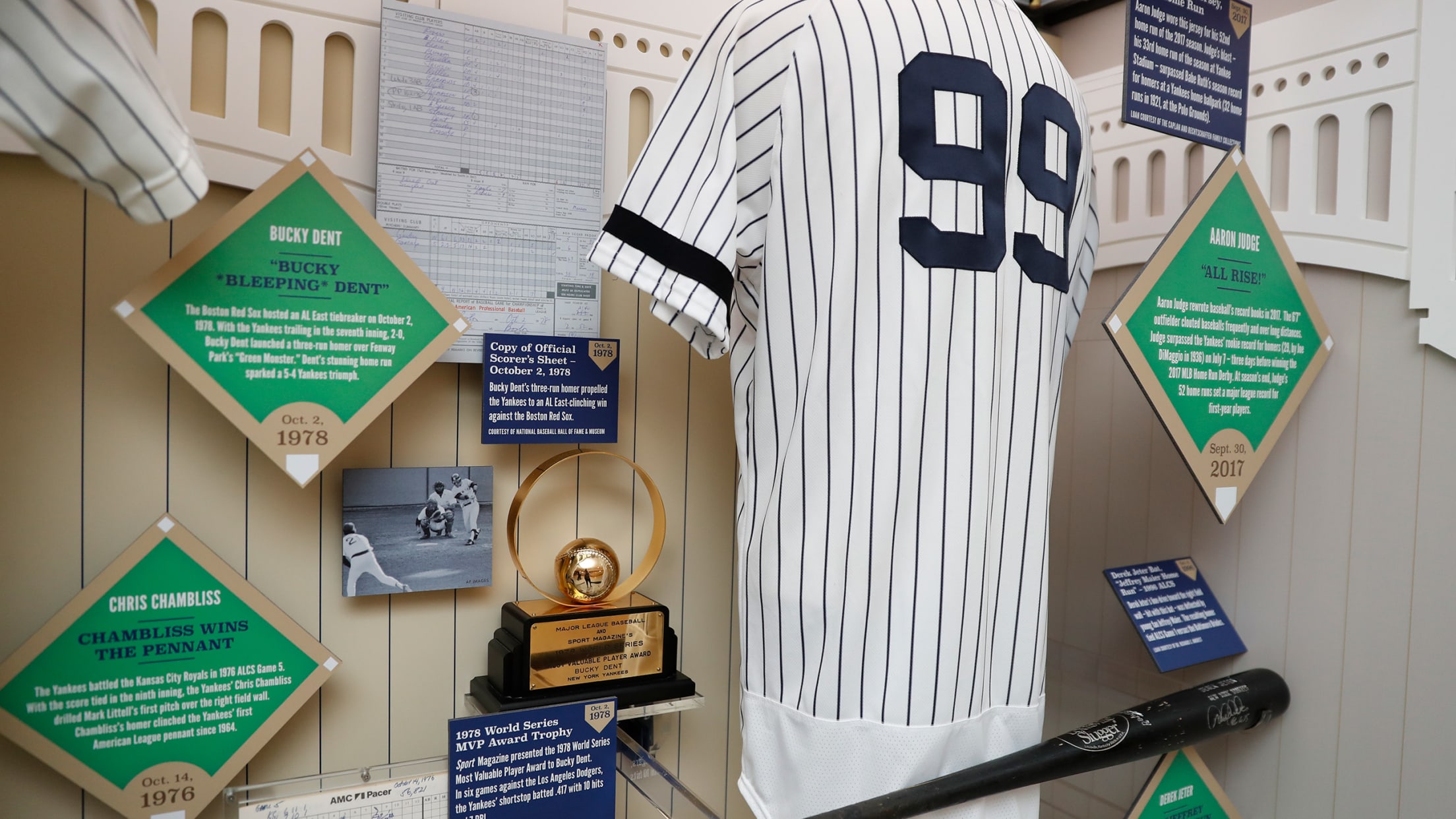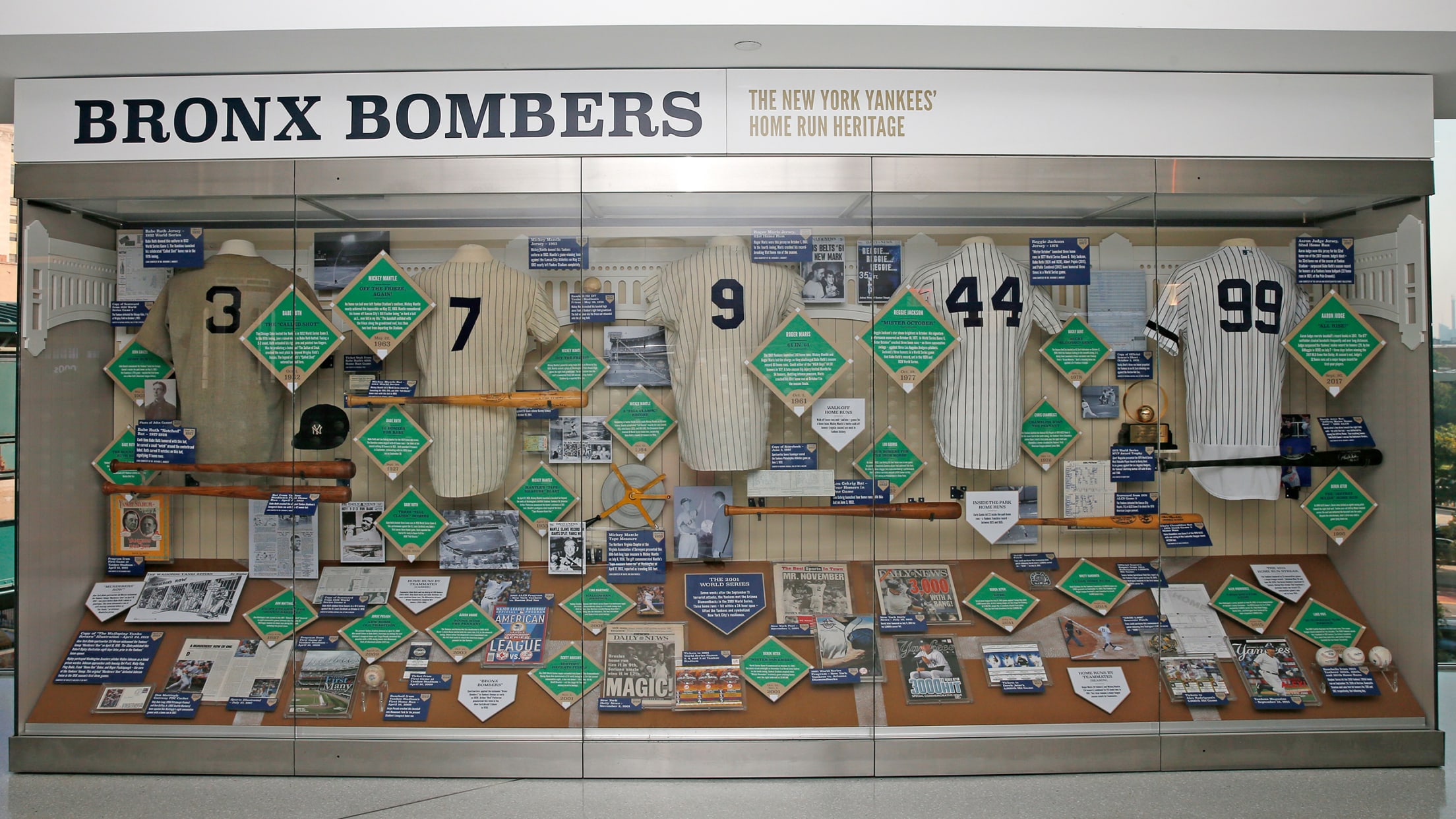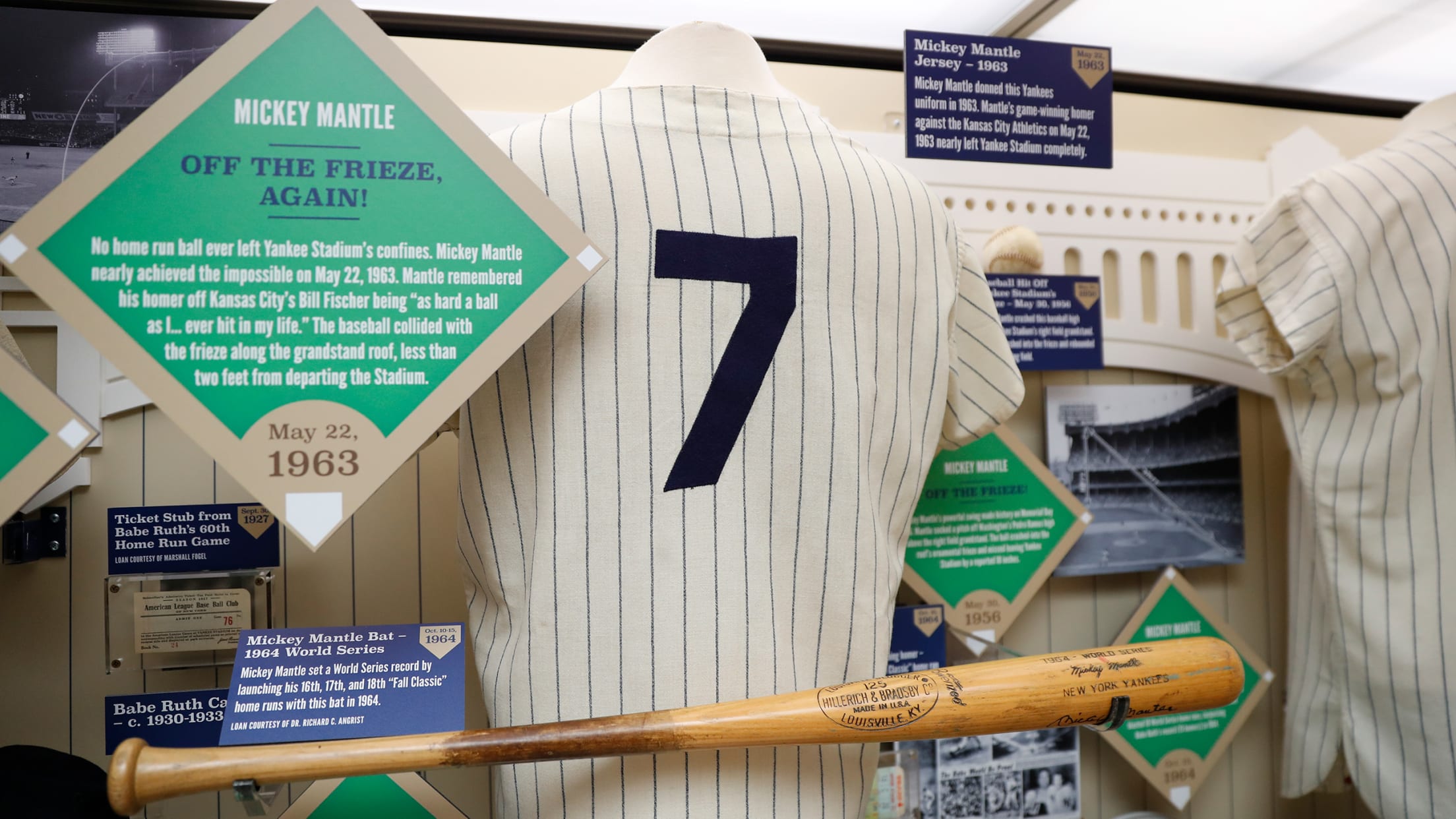 Featured Home Runs Include:
Yankees Home Run #1 – May 11, 1903
Yankee Stadium's Inaugural Homer – April 18, 1923
Three "Fall Classic" Homers for Babe – October 6, 1926 and October 9, 1928
60 Homers in 1927 – September 30, 1927
Four Homers for the "Iron Horse" – June 3, 1932
The "Called Shot" – October 1, 1932
Mantle's "Tape-Measure" Blast – April 17, 1953
Mickey Mantle – Off the Frieze! – May 30, 1956
61 in '61 – October 1, 1961
Mickey Mantle – Off the Frieze, Again! – April 22, 1963
Mantle's "Fall Classic" Record – October 15, 1964
Chris Chambliss Wins the Pennant – October 14, 1976
"Mister October" – October 18, 1977
"Bucky *Bleeping* Dent" – October 2, 1978
Eight Straight for "Donnie Baseball" – July 8-18, 1987
The "Jeffrey Maier" Home Run – October 9, 1996
Halloween Heroics by Tino Martinez – October 31, 2001
"Mister November" – November 1, 2001
Scott Brosius Repeats History – November 1, 2001
Aaron Boone Wins the Pennant – October 16, 2003
Jorge Posada Inaugurates Yankee Stadium – April 16, 2009
Derek Jeter's 3,000th Hit – July 9, 2011
3,000 Hits for Alex Rodriguez – June 19, 2015
Did You Know?
Featured Artifacts Include:
Babe Ruth bat from Yankee Stadium's inaugural home run – April 18, 1923
Babe Ruth "Notched" bat – 1927-1928 (eleven notches to signify eleven home runs)
Babe Ruth uniform from his "Called Shot" home run – 1932 World Series Game 3
Lou Gehrig bat from his four-homer game – June 3, 1932
Mickey Mantle 600-foot tape measure (presented to commemorate his April 17, 1953 homer)
Baseball hit by Mickey Mantle off Yankee Stadium's frieze – May 30, 1956
Roger Maris uniform from his 61st home run – October 1, 1961
Mickey Mantle 1964 World Series bat – used to set career World Series homer record
Chris Chambliss 1976 ALCS-winning home run bat – October 14, 1976
Reggie Jackson 1978 home uniform
Derek Jeter 1996 ALCS Game 1 "Jeffrey Maier home run" bat – October 9, 1996
Baseball from Yankee Stadium's inaugural home run (Jorge Posada) – April 16, 2009
Welcome to Cooperstown
Mariano Rivera and Mike Mussina, National Baseball Hall of Fame Inductees
In 2019, Mariano Rivera and Mike Mussina joined baseball's immortals through induction into the National Baseball Hall of Fame.
Mariano Rivera established a new standard for dominant relief pitching. His signature "cut" fastball shattered bats and stifled rallies. Pitcher No. 42 compiled a major league-record 652 career saves. He pitched on five World Series-winning teams and earned 42 postseason saves. Rivera attributed his success to faith, simplicity, and consistency.
Mike Mussina's name was synonymous with "ace pitcher." The Stanford University graduate won 123 games over eight Yankees seasons (2001-2008). Pinpoint control and "big-game" prowess fueled Mussina's success. Wearing Yankees pinstripes, the veteran starter struck-out 92 batters in 97 postseason innings. He pitched on American League championship-winning teams in 2001 and 2003. Mussina's career concluded with a 20-win season in 2008.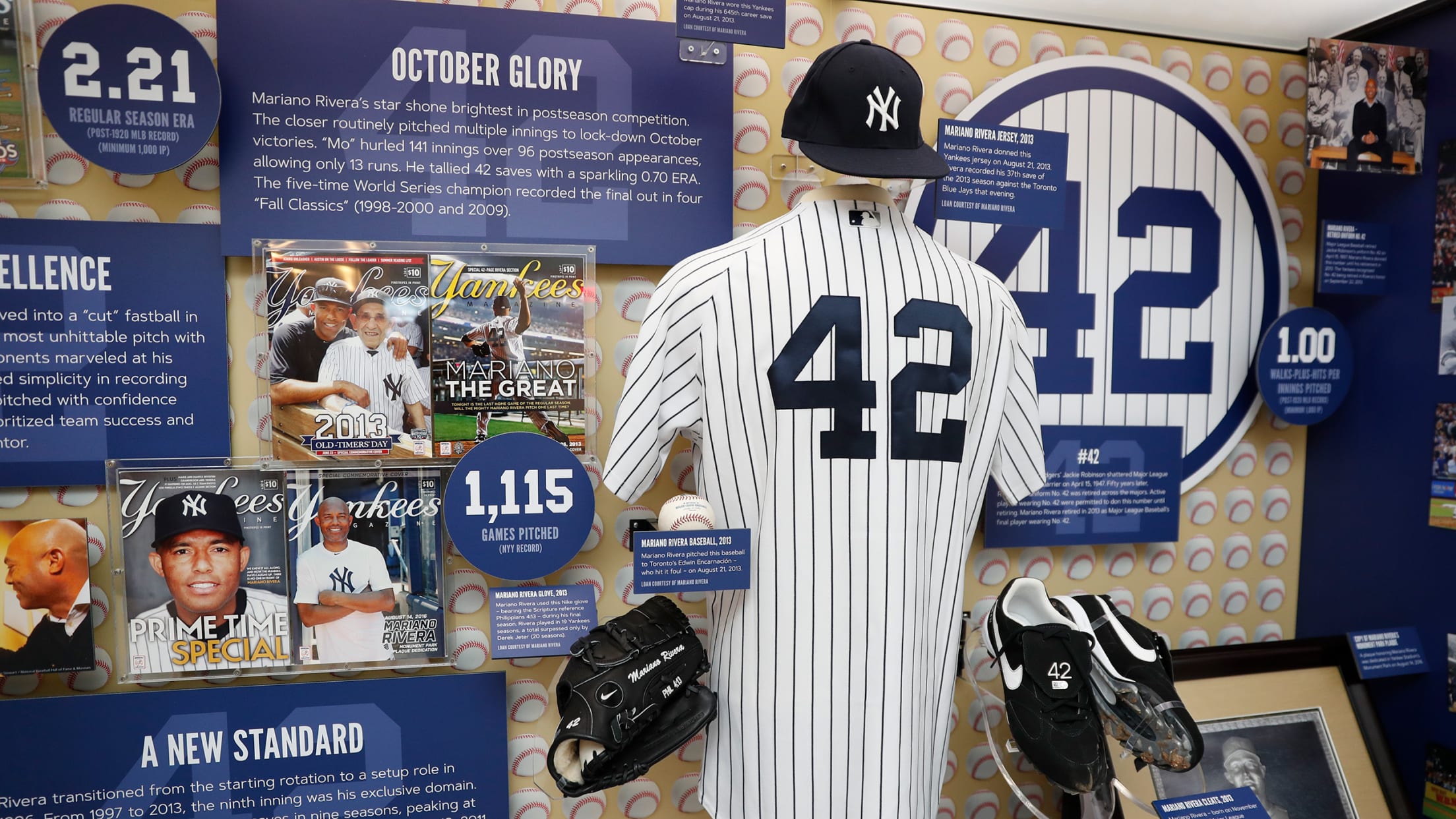 MARIANO RIVERA – CONSISTENT EXCELLENCE
Mariano Rivera's blazing four-seamer evolved into a "cut" fastball in 1997. The Panama native hurled baseball's most unhittable pitch with historic consistency. Teammates and opponents marveled at his near-flawless execution. Rivera emphasized simplicity in recording quick, efficient outs with his "cutter." He pitched with confidence and cool intensity. The humble closer prioritized team success and cherished his roles as teammate and mentor.
MARIANO RIVERA – A NEW STANDARD
Rivera transitioned from the starting rotation to a setup role in 1996. From 1997 to 2013, the ninth inning was his exclusive domain. The closer recorded 40 or more saves in nine seasons, peaking at 53 saves in 2004. Rivera's 602nd career save on September 19, 2011 surpassed Trevor Hoffman's major league record. The "Sandman" compiled 652 career saves with a 2.21 ERA.
MARIANO RIVERA – OCTOBER GLORY
Mariano Rivera's star shone brightest in postseason competition. The closer routinely pitched multiple innings to lock-down October victories. "Mo" hurled 141 innings over 96 postseason appearances, allowing only 13 runs. He tallied 42 saves with a sparkling 0.70 ERA. The five-time World Series champion recorded the final out in four "Fall Classics" (1998-2000 and 2009).
MARIANO RIVERA – #42
The Brooklyn Dodgers' Jackie Robinson shattered Major League Baseball's color barrier on April 15, 1947. Fifty years later, Robinson's uniform No. 42 was retired across the majors. Active players wearing No. 42 were permitted to don this number until retiring. Mariano Rivera retired in 2013 as Major League Baseball's final player wearing No. 42.
MIKE MUSSINA – A HALL-OF-FAME CAREER
Mike Mussina won 270 career games over 18 seasons. He compiled 2,813 strikeouts and a 3.68 career ERA. In an era dominated by high-scoring lineups, Mussina consistently silenced opponents' bats. The slick-fielding pitcher earned seven Gold Glove Awards, winning honors in three Yankees seasons (2001, 2003, and 2008).
Featured Artifacts Include:
Mariano Rivera home uniform and cap – August 21, 2013
Mariano Rivera glove, 2013
Mariano Rivera cleats, 2013
Uniform from Mike Mussina's final win at Yankee Stadium – September 18, 2008
Baseball from Mike Mussina's final career win – September 28, 2008
Game-used Mike Mussina Yankees cap and glove, 2003
Mike Mussina Rawlings Gold Glove Award Trophy, 2008