New York Yankees Museum
presented by Bank of America
Yankees Museum Baseball Wall
The Baseball Wall honors Yankees heroes, past and present. The Museum seeks to collect one autographed baseball from each player, manager, coach, and broadcaster in Yankees history. Baseballs collected are displayed within this impressive tribute. Participants in a minimum of one regular-season Yankees game are featured alongside Monument Park honorees.
Simultaneously, the Baseball Wall honors Don Larsen's perfect game in 1956 World Series Game 5. Statues of pitcher Larsen and catcher Yogi Berra are positioned at opposite ends of the Wall. Exactly sixty feet, six inches, regulation distance from the pitcher's mound to home plate, separates the statues. The Wall's top row of baseballs follows the trajectory of Larsen's final pitch during his masterpiece performance.
The Baseball Wall currently features 870 autographed baseballs. This number comprises approximately 55% of players, managers, coaches, and broadcasters in franchise history. Recently-acquired signatures, from new players, and from team alumni, are added once annually. All autographs are obtained directly from their signers, or through loan or donation to the Museum.
Presently, the Lou Gehrig-signed baseball is the oldest autograph displayed. Gehrig signed this baseball circa 1933. Chester Hoff, a pitcher on the 1911-1913 Yankees, is the earliest player represented in the Baseball Wall. (Hoff's baseball was autographed shortly before his death in 1998 at 107 years-old.) Baseballs bearing only one signature ("single-signed" baseballs) gained popularity in the second half of the Twentieth Century. Single-signed baseballs from pre-1950 players are extremely rare. For many early Yankees, no single-signed baseballs are known to exist.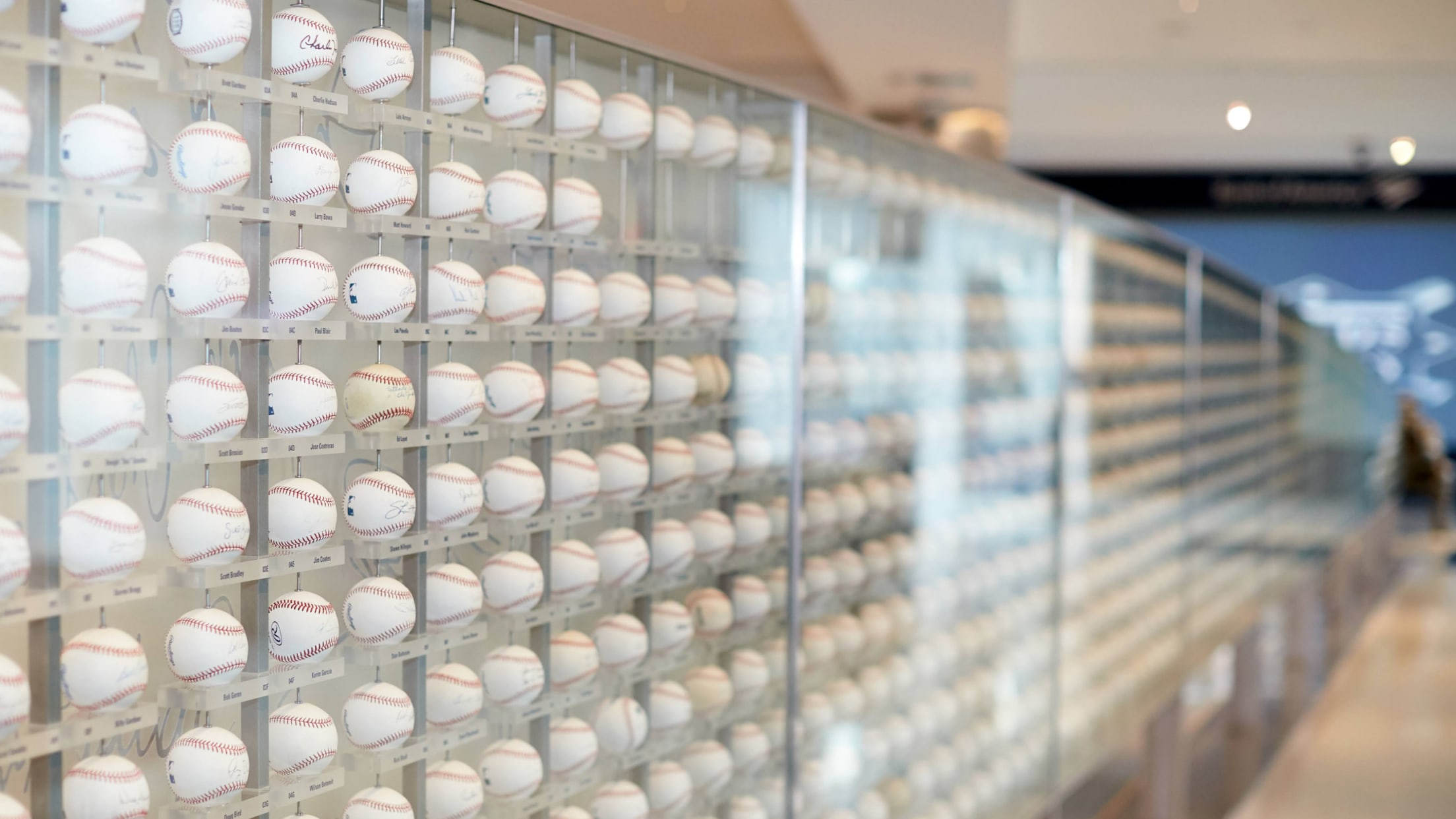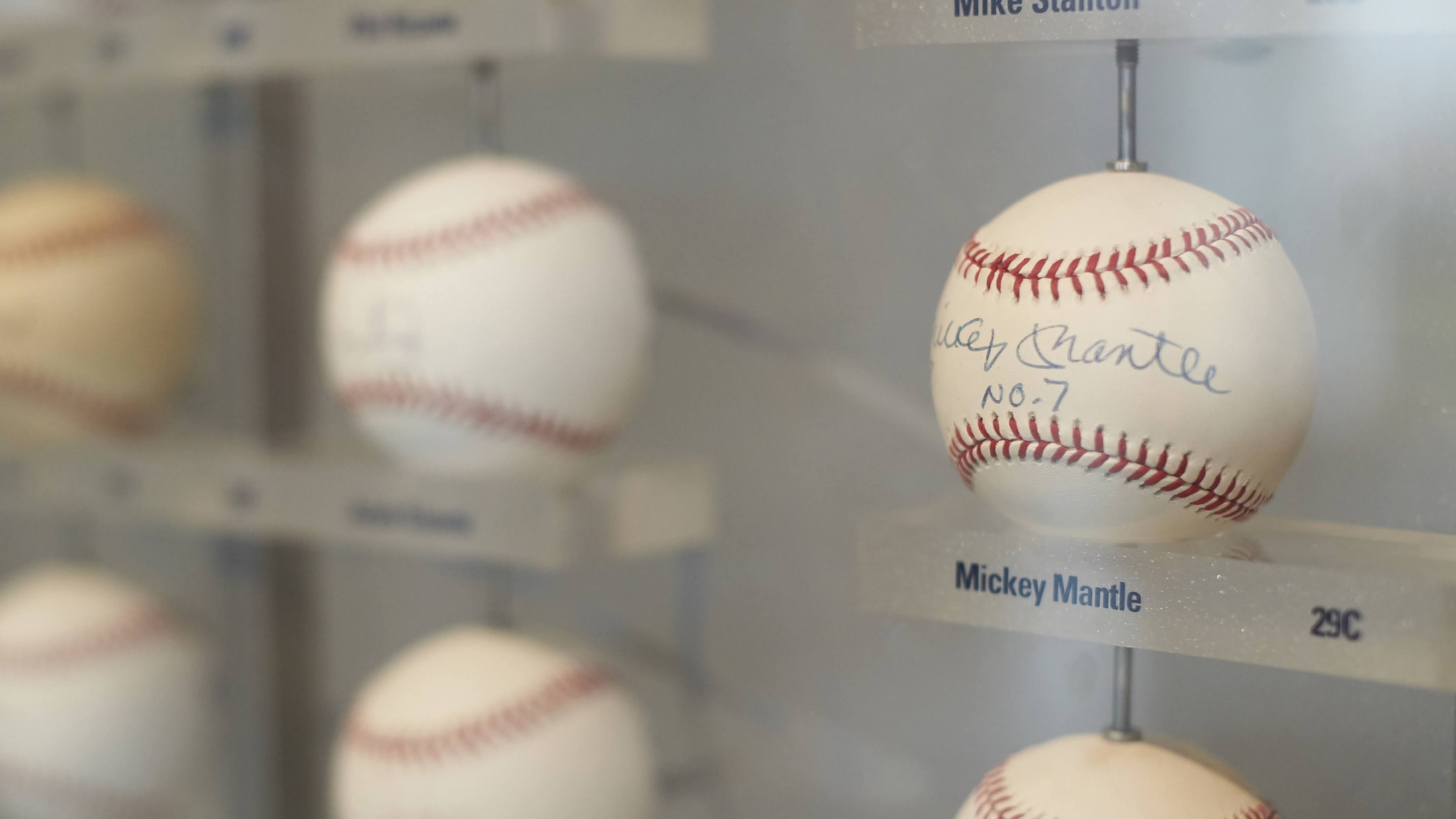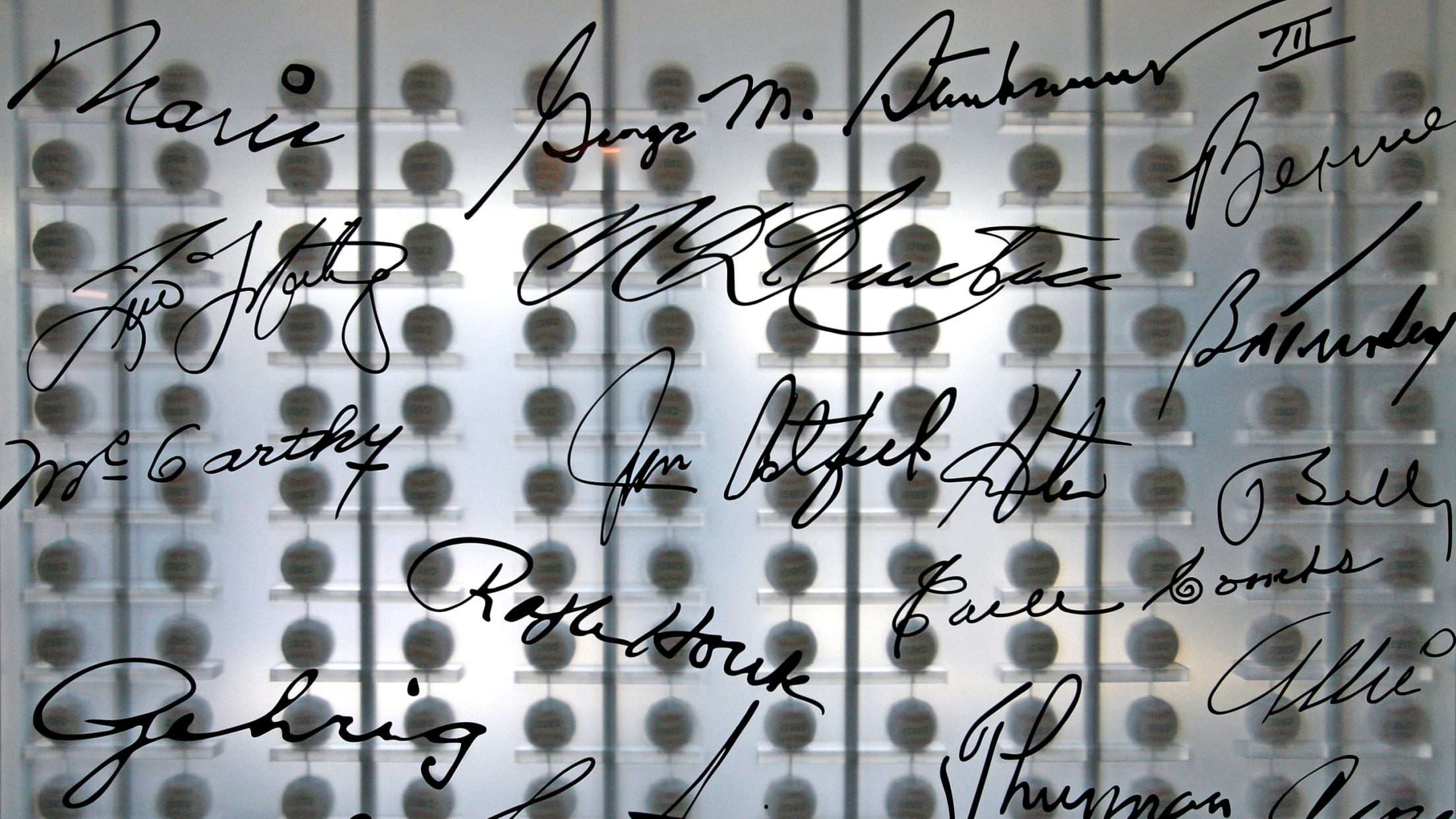 World Series Ring Display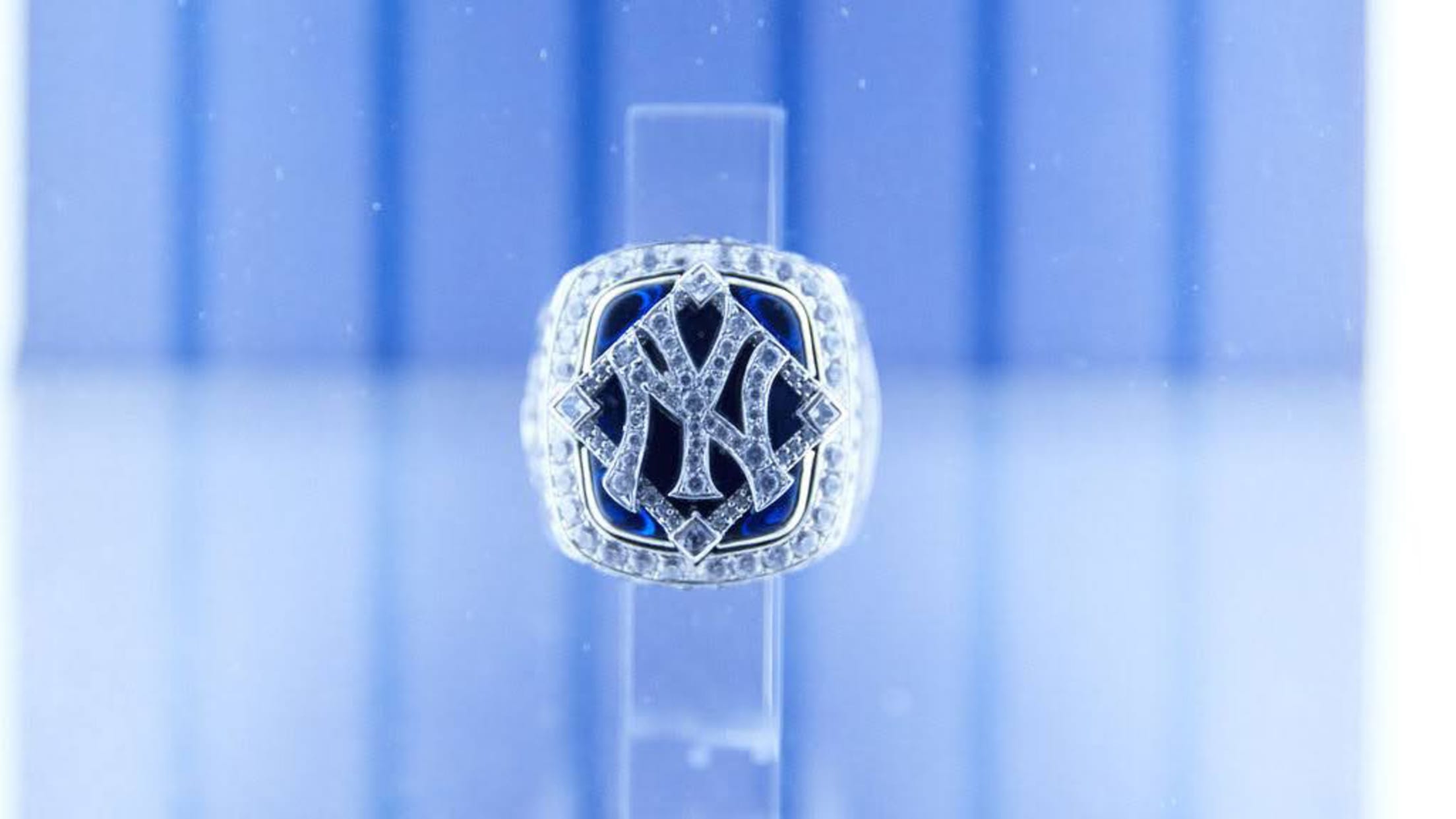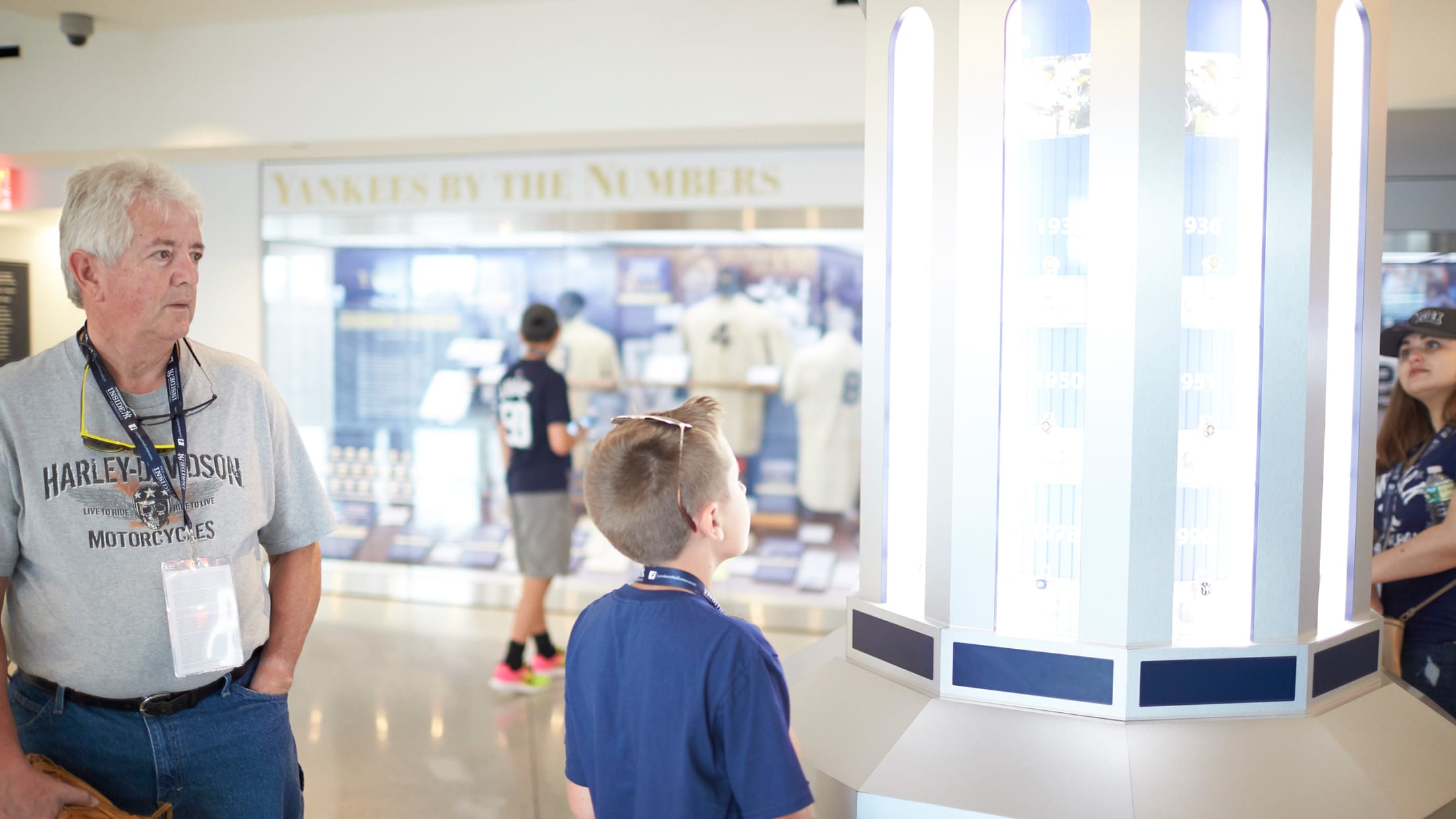 Yankees Museum guests love viewing the World Series ring exhibit. This display features 26 World Series rings and one pocket watch (1923) to commemorate each Yankees World Series championship. Balfour created the World Series ring display in 2011. The famous jeweler has produced all Yankees World Series rings since 1949.
The earliest and most recent championship emblems draw special attention. The Yankees presented pocket watches to commemorate winning the 1923 World Series. Early World Series-winning teams gifted pocket watches, stickpins, watch-fobs, or other jewelry to players. Championship rings first were awarded to 1922 New York Giants players. The most recent Yankees championship emblem (2009) is the first white gold World Series ring in franchise history. Featuring a blue spinel stone, the 2009 ring is encrusted with 119 diamonds.
Balfour manufactured all displayed rings and the 1923 watch specifically for this exhibit. Original molds were used to ensure exact matches to original rings. All Yankees World Series rings produced since 1996 bear the recipient's last name. Many guests observe the name "STEINBRENNER" on the 1996-2009 rings. The rings displayed were not presented to Yankees owner George M. Steinbrenner III. To ensure accuracy when reproducing these rings, and to honor the longtime team owner, the name "Steinbrenner" was selected.
Thurman Munson's Locker
Thurman Munson was the heart of the 1970s New York Yankees. The 1970 Rookie of the Year won three Gold Glove Awards (1973-1975) and earned 1976 American League Most Valuable Player honors. Despite sore knees and a pummeled body, the squatty-bodied catcher burned with competitive fire. Munson guided the Yankees to World Series championships in 1977 and 1978. Team owner George M. Steinbrenner III and manager Billy Martin designated Munson as Yankees captain in 1976, a title last bestowed on Lou Gehrig in 1935.
On August 2, 1979, Munson perished in an aviation accident. His tragic death devastated the baseball world. Steinbrenner retired Munson's uniform No. 15 and announced that his locker never would be reassigned. Munson's locker stood unused in Yankee Stadium's home clubhouse for 29 years. In January 2009, the locker was relocated to the Yankees Museum. It pays tribute to one of the most respected and most beloved heroes in franchise history.
Featured Artifacts Include:
1970 home uniform (Munson's AL Rookie of the Year season)
Munson's catcher's mitt, c. 1973
1976 bat (Munson's AL Most Valuable Player season)
Munson's game-used shin guards
Munson's game-worn Yankees cap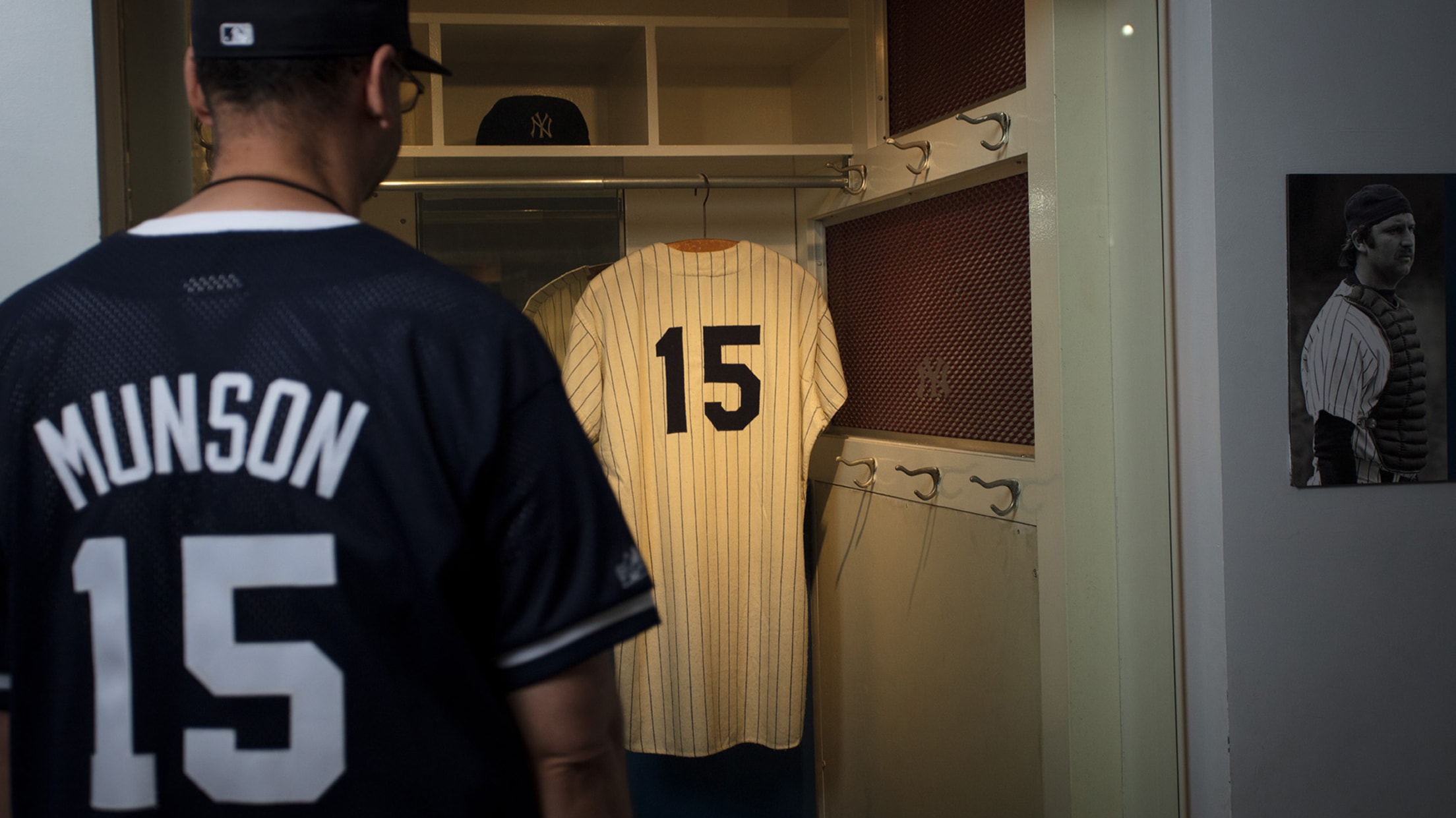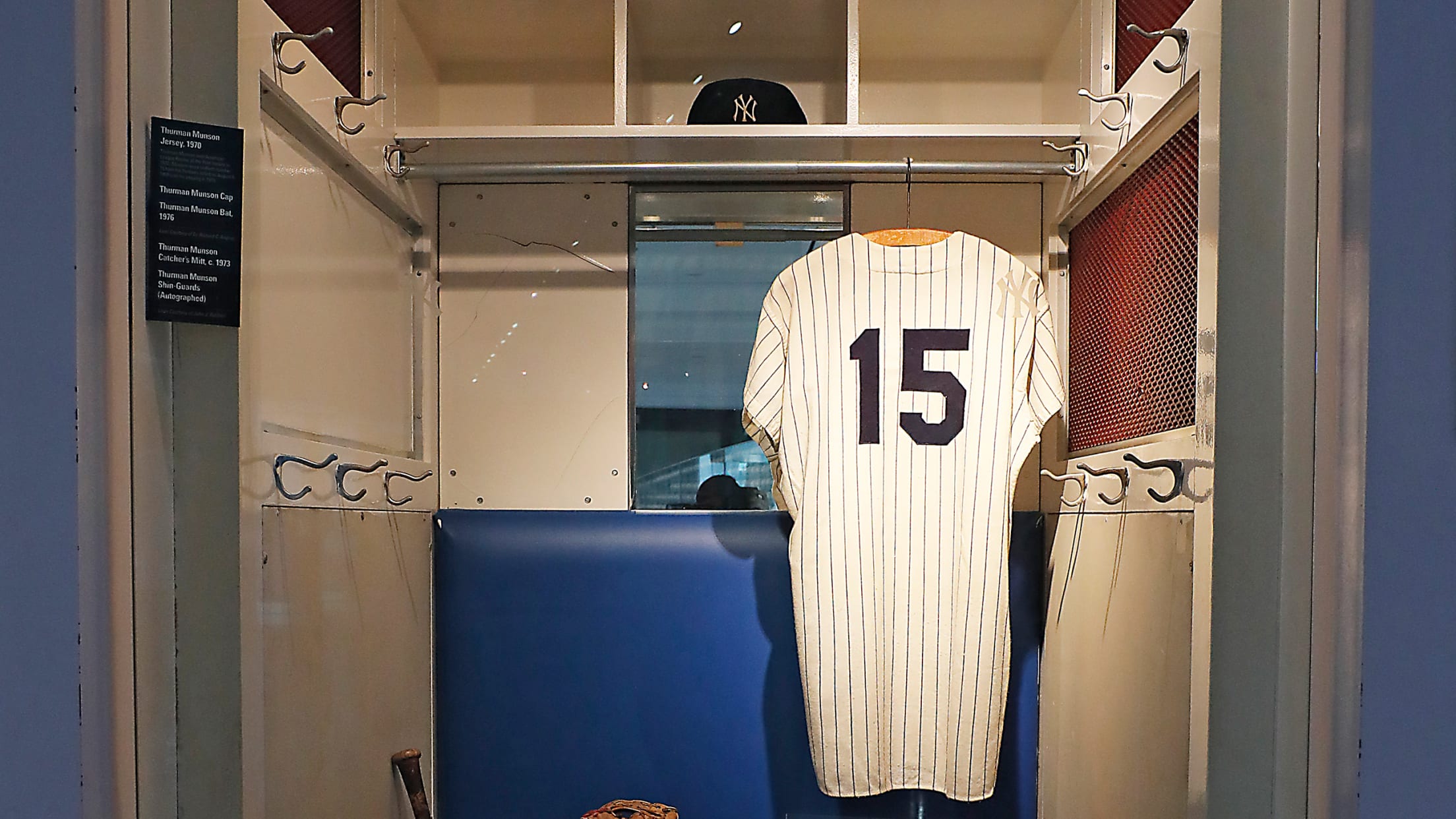 World Series Trophies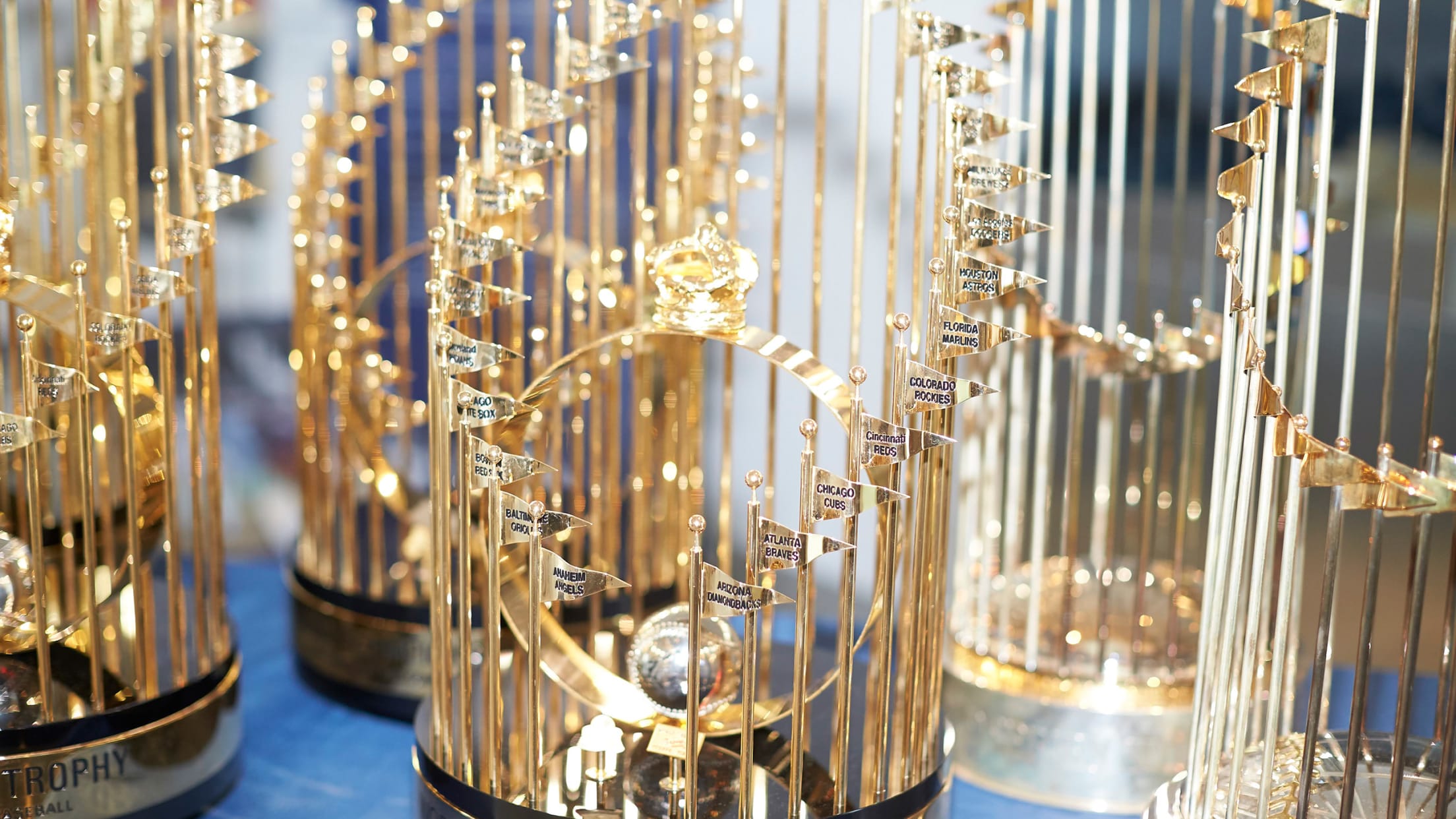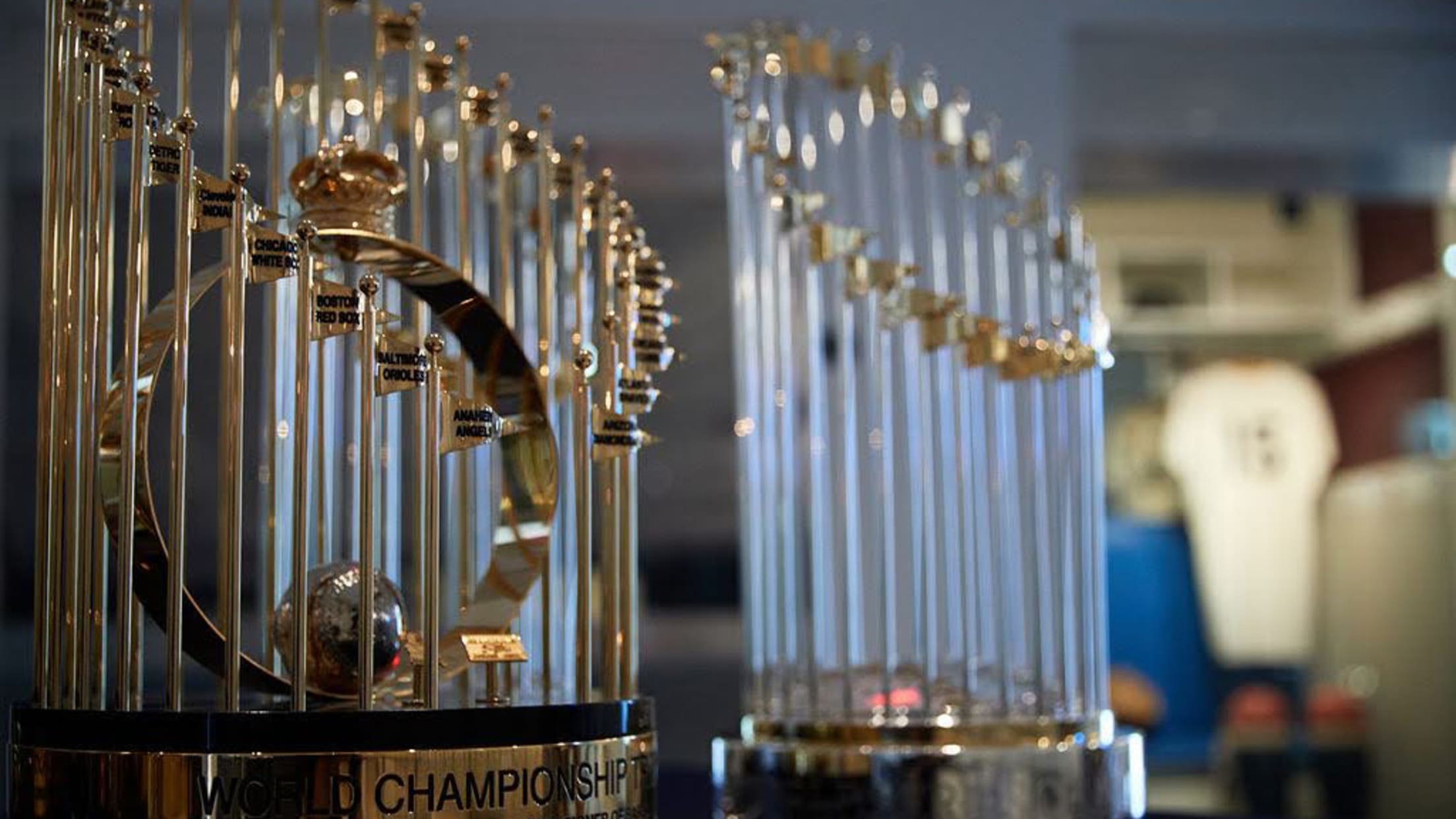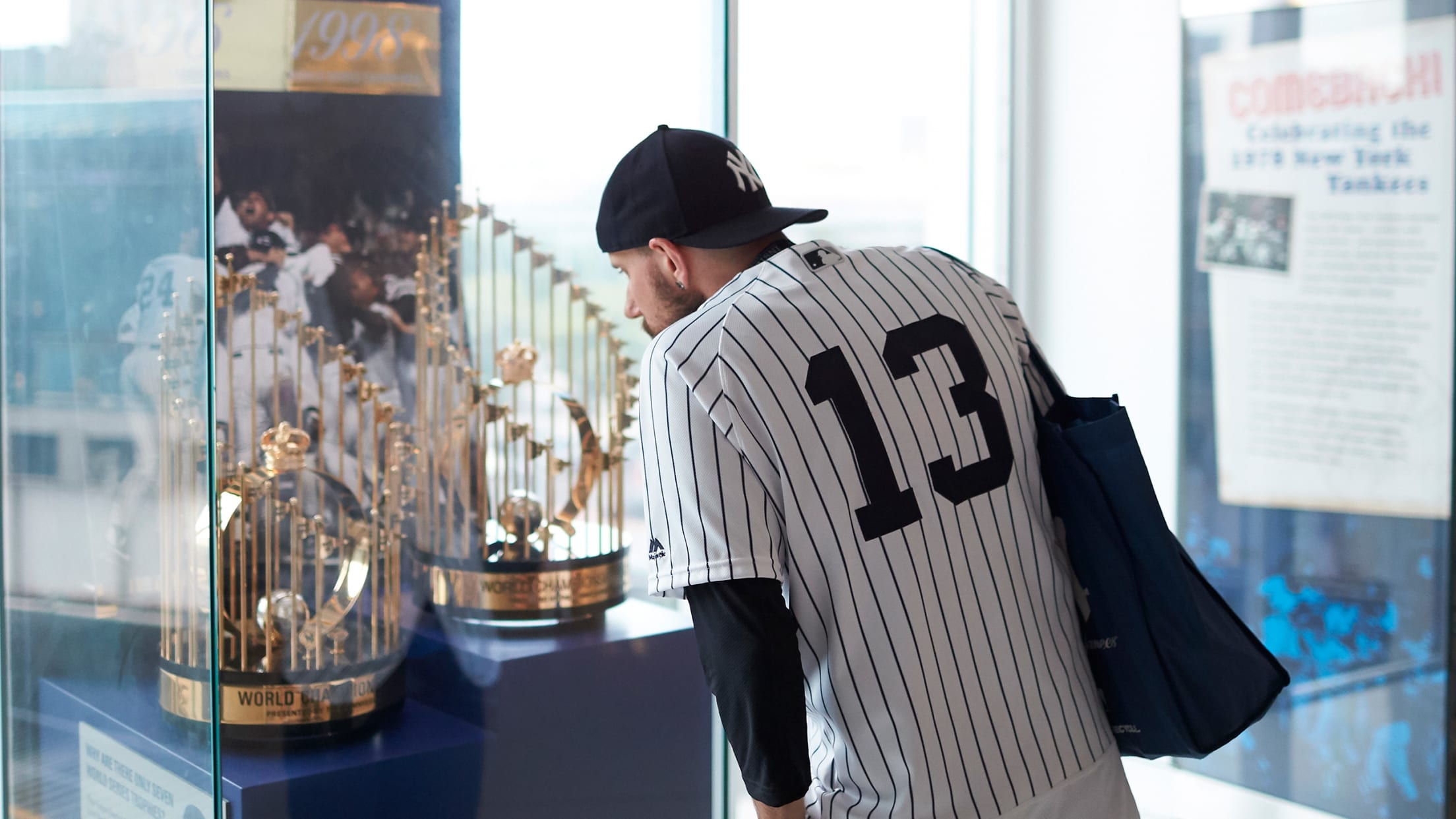 The Commissioner's Trophy symbolizes the culmination of every team's dream. The Museum proudly displays the Yankees' seven Commissioner's Trophies won since 1977.
The New York Yankees claimed 20 World Series titles between 1923 and 1962. During that period, "Fall Classic" victors received no formal trophy. An official award formally named the "Commissioner's Trophy", was created for the 1967 World Series. The Yankees have won seven World Series championships (1977-1978, 1996, 1998-2000, and 2009) since that time. Commissioner's Trophies from these seasons are displayed inside the Museum.
Balfour produced the Commissioner's Trophy from 1967 to 1999. Five of the Yankees' trophies (1977-1978, 1996, 1998-1999) were designed by Balfour. Each trophy features a black marble base; press pins from both World Series contestants; a gold-plated crown; and the names of major league franchises emblazoned on individual flags.
Tiffany & Co. redesigned the Commissioner's Trophy for the 2000 World Series. The famous jeweler produces all Commissioner's Trophies, including the Yankees' 2000 and 2009 trophies. A world globe image, symbolizing baseball's universality, covers each trophy's base, with 24-karat gold vermeil "stitches" crossing the globe. Thirty unmarked gold vermeil flags (representing Major League Baseball's 30 franchises) rise above the sterling silver base.
The Commissioner's Trophies on-display are the original trophies received by the Yankees. One Commissioner's Trophy is produced each season. The World Series winner retains permanent custody of each trophy.