Luxury Suites and Hospitality

Cyber Monday Suite Flash Sale
One Day Only – Monday, November 28 from 10 a.m. to Midnight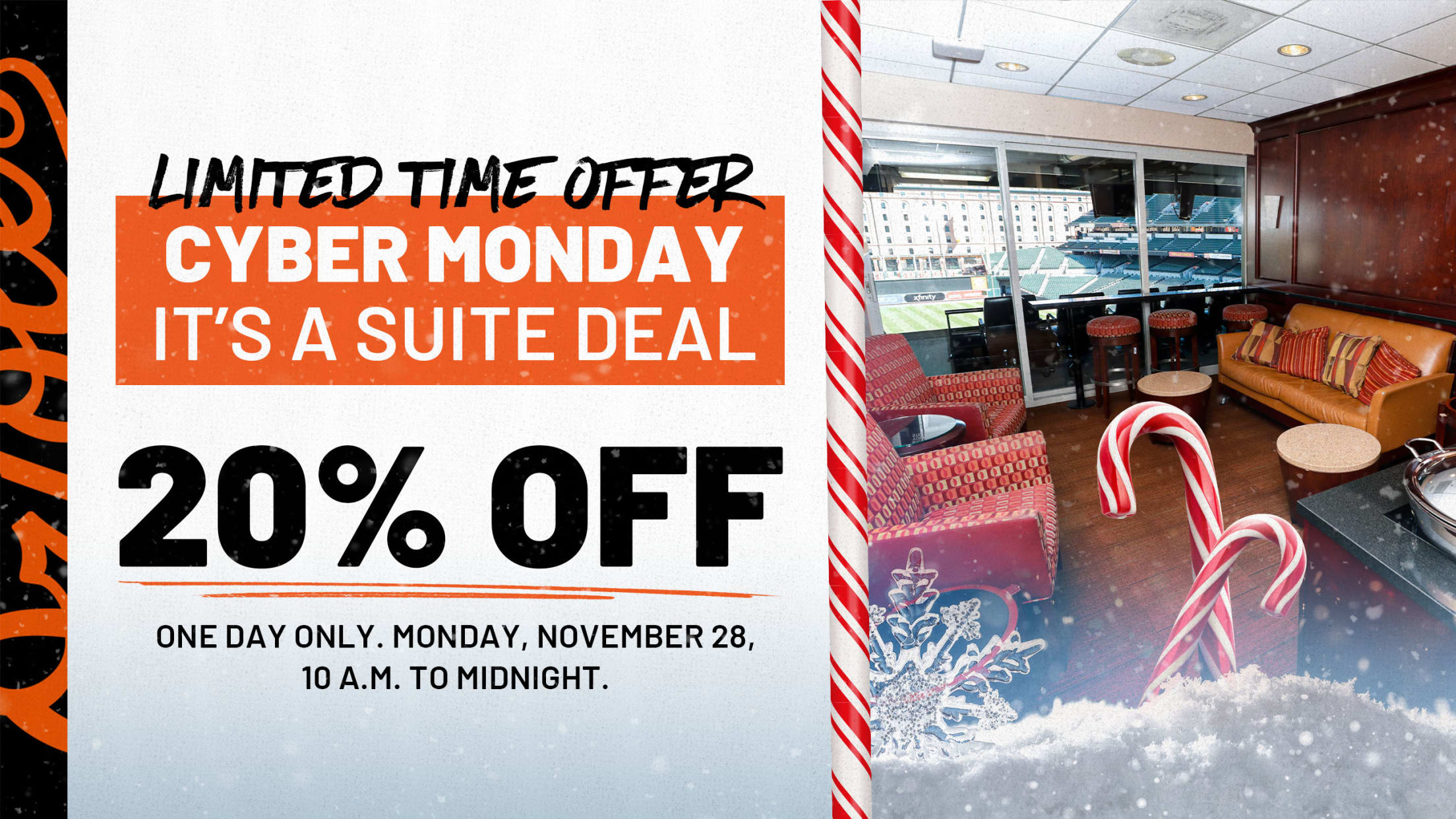 Countdown Until Flash Sale Begins
This Flash Sale Has Ended.
It's a Suite Deal! 20% off 2023 Single Game Suites
Place your $250 deposit today and an Orioles representative will follow up with you to set up your entire gameday experience. For questions, please call the Orioles Suites and Party Facilities Sales Office at (410) 547-6284. Suites are limited*. Offer is good while supplies last.
14-75 suite ticket options available
Includes four (4) parking passes
Optional catering not included
Amenities Include: Private Bathroom (excludes Party Suites), Climate Controlled Interior seating, Comfortable Outdoor Seating, Wet Bar and High-Definition TVs
Disclaimers
*Prior sales and reservations excluded. Must place $250 deposit online by midnight on November 28, 2022.
*After placing deposit, you will be contacted by an Orioles representative to finalize your purchase. Full and final payment for the suite must be received by February 1, 2023.
*All suites are subject to availability.
*Offer excludes Opening Day, Thursday, April 6, 2023.
Whether you are getting a group of friends together or entertaining your clients and employees, the Orioles are excited to customize the perfect experience for you. Choose from an array of packages and prices to meet all budgets for you, your family, and your business. Frequently Asked Questions »
Contact Us to Purchase your 2023 Suite:
Single Game Suites
Oriole Park boasts an impressive lineup of single game suites. We have a variety of suites which can accommodate groups from 14 to 44 guests. Suites begin as low as $1,300 for most games.
Single Game Suite Amenities Include:
Private Bathroom
Climate-Controlled Interior Seating
Comfortable Outdoor Seating
Wet Bar
High-definition TV's both inside and on the balcony to enjoy the MASN broadcast
5-Game Suite Package
Cheer for your Birds from an all-inclusive suite for five games with up to 14 people.
Each Package Includes:
Fully catered menu including drinks
Four (4) parking passes to each game
Access to Oriole Park's prestigious Club Level
Amenities Include:
Private Bathroom
Climate-Controlled Interior Seating
Comfortable Outdoor Seating
Wet Bar
High-definition TV's both inside and on the balcony to enjoy the MASN broadcast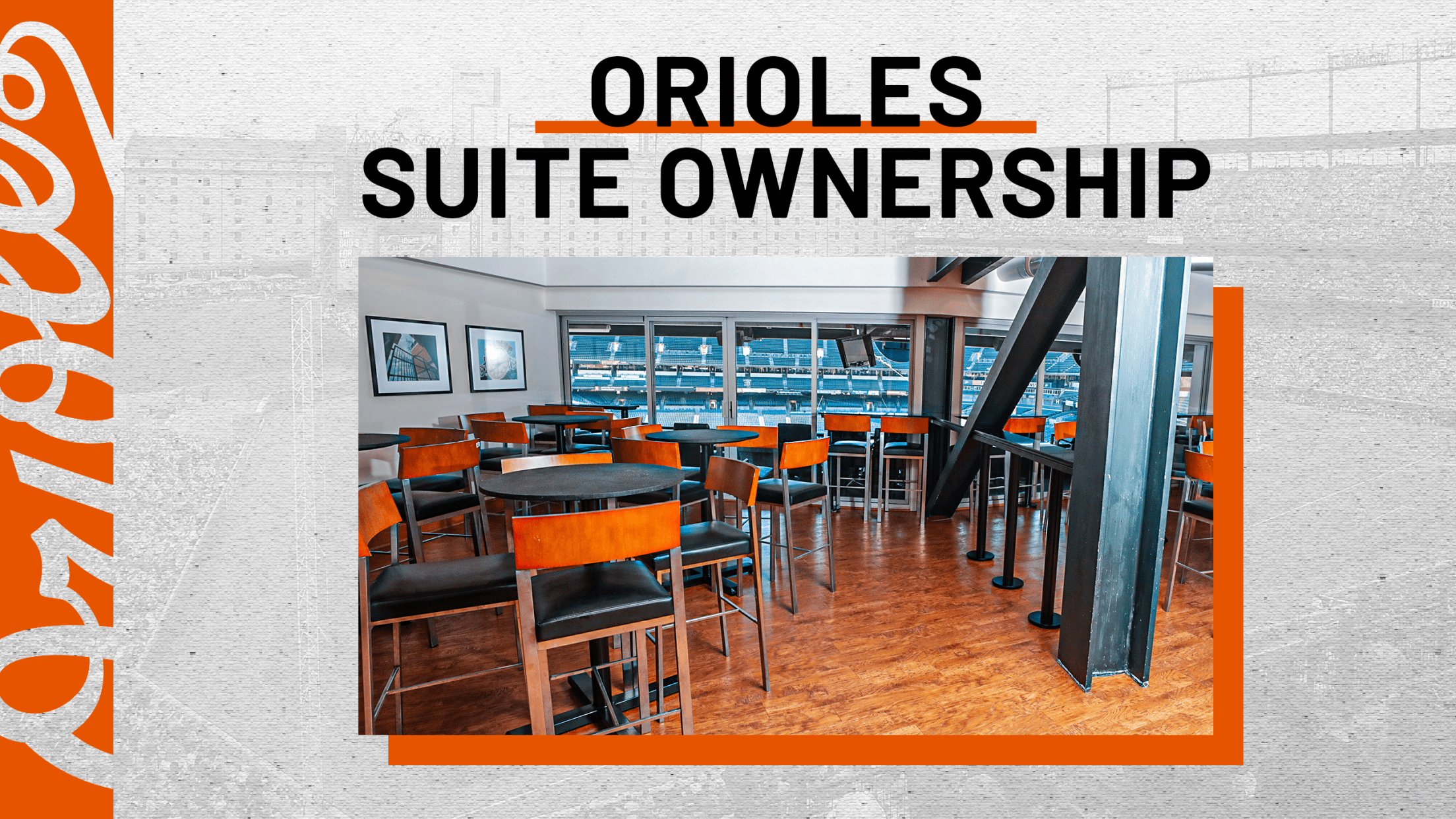 Business Entertainment Suites
Flexible Suite Plans: Full Season I 40 -Game I 20-Game I 10-Game
Attention business leaders! The suite ownership experience at Oriole Park provides a private, first-class setting for your business to create lasting impressions with potential clients, loyal customers, and valued employees. Flexible suite plans starting at 10 games or more featuring inclusive catering are available.
Suite Owner Priority:
Suite Owners receive priority when selecting plan locations for the 2023 Season
Priority to book Orioles Opening Day and Postseason Suites
Priority to reserve suites for concerts at Oriole Park
Inclusive, turn-key catering plans
Invitations to exclusive Suite Owner and Orioles Sponsor events
Batting practice access and other on-field experiences at The Yard
Reserved Suite Owner Parking in preferred, on-site locations
Company Branding and Signage Options for your Suite interiors (Full Season Plans Only)
Company-branded nameplate for your Suite entrance
In-suite appearances by The Oriole Bird and Orioles Alumni Players
Orioles Merchandise Discounts at the Orioles Team Store on Suite/Club Level
Party Suites
Located on the Club Level in left field, closest to Sections 284, 286 and 288, Oriole Park's three (3) party suites each can accommodate from 50 to 75 Guests! Dedicated to Orioles legends Brooks Robinson, Frank Robinson and Jim Palmer, the suites are furnished with high-back padded stools, high-top tables, HD TV's and sliding glass doors leading to the two-tiered balcony overlooking the field.
Suite Rental Includes:
Game tickets and six (6) parking passes
Access to suite(s) 60 minutes prior to the game
Amenities Include:
Private interior (high-back stools) and exterior seating
Climate-controlled interior
Comfortable outdoor seating
High-definition TV's both inside and on the balcony to enjoy the MASN broadcast
Home Plate Suite Package
Experience a whole new ball game at Oriole Park with a suite directly behind home plate.
Each Package Includes:
44 game tickets and eight (8) parking passes
Four (4) Diamond seats behind home plate on the day of your game
Fully catered menu including soft drinks and beer
A visit from The Oriole Bird
Miller Lite Flite Deck
The Miller Lite Flite Deck is one of Oriole Park's most popular areas to host your group outing. Located on the Club Level in right field, this unique space offers your group a more social seating option for any afternoon or evening at the ballpark.
Seating in the Miller Lite Flite Deck is comprised of drink rails and high-top tables with seating. The area contains three (3) decks which each can accommodate groups from 20 to 28 fans!
Pregame Party Facilities
Make your group outing extra special by hosting a pre-game party at Oriole Park. Spaces are available for groups ranging from 25 to 600 guests and take place 60 minutes prior to the scheduled first pitch. Following the party, fans take their seats within the seating bowl to enjoy the excitement of Orioles Baseball.
There is no room rental fee for a 60-minute pre-game party and a game ticket must accompany every party ticket.
Bullpen Picnic Area
Situated just beyond the center field fence and overlooking Oriole Park's unique bullpen is our most popular pre-game party area. This outdoor park setting is perfect for enjoying some casual, outdoor ballpark fun.
Ideal for groups of 25 to 600
Location: Street level beyond center field
Often shared with other groups
Menu: Standard ballpark menu; custom menu options available for groups greater than 100
Camden Club
The Camden Club is located on the 7th floor of the B&O Warehouse building. This space was once a year-round restaurant, but now offers a unique baseball themed setting for a business meeting or party.
Ideal for groups of 50 to 200 guests
Actual seating contingent upon room set-up
Location: Seventh Floor of the Ballpark Warehouse
Camden Yards Banquet Room
Located on the 6th floor of the B&O Warehouse building, the Camden Yards Banquet Room provides a spectacular view of the playing field and is perfect for large receptions, dinners, and meetings.
Ideal for groups of 100 to 400 guests
Location: 6th Floor of the Ballpark Warehouse
Learn More About Suites And Pregame Parties
Keep in touch and learn more about premium suite options. Please provide contact info and an Orioles rep will be in touch.