Women's Mini-Fantasy Camp
Women's Mini-Fantasy Camp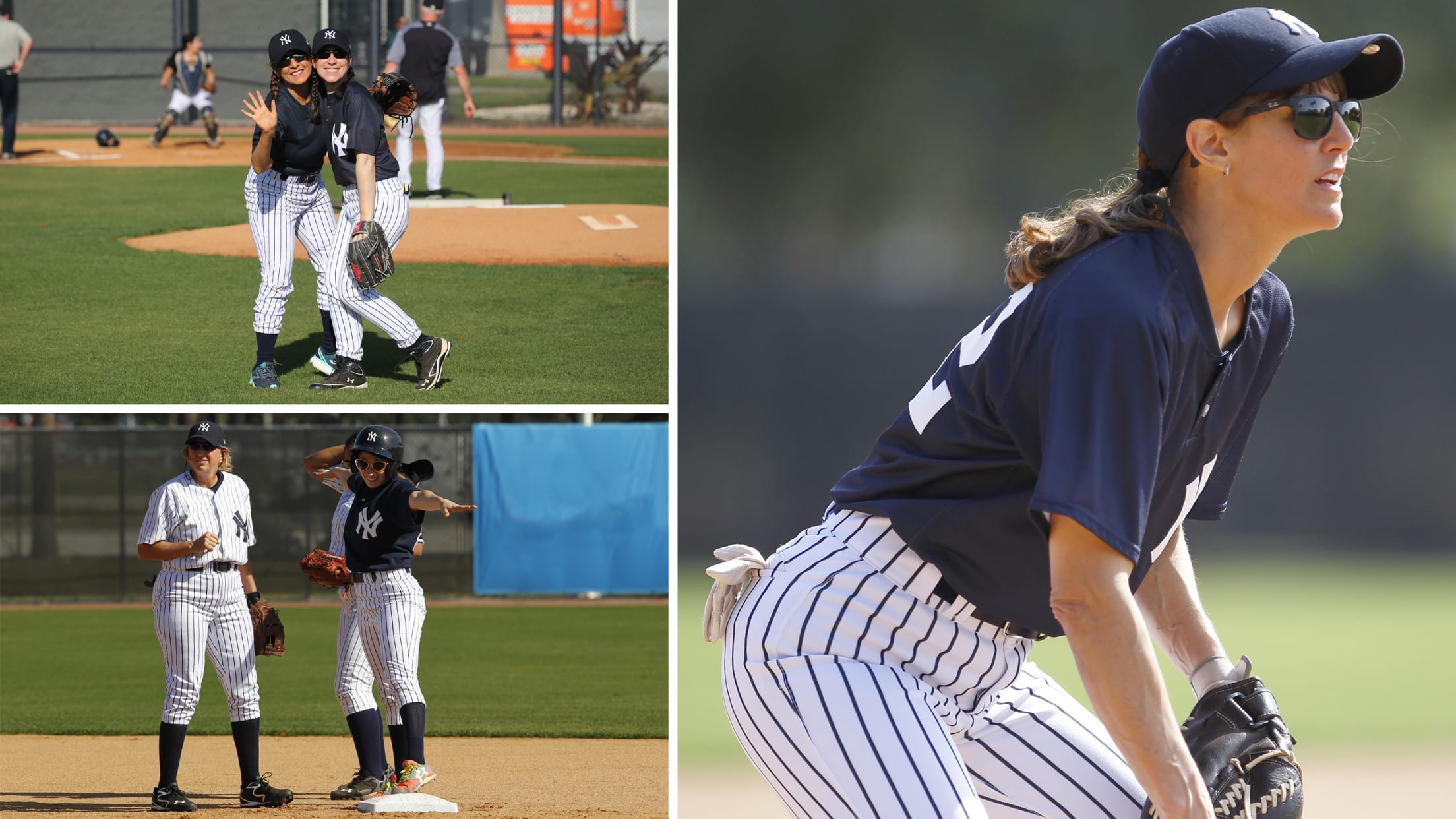 Ladies, opportunity is finally knocking and your chance to experience life as a New York Yankee is here. Spend three days and three nights in Tampa, Florida learning the game, playing the game, and socializing with players who have contributed to the dynasty of the most storied franchise in sports history. You will enjoy the exact same amenities as the big league team: top-notch clubhouse and athletic training staff, locker room and shower facilities, perfectly manicured fields, authentic apparel, and more.
Camp Dates
January 13 - 16, 2022
New Camper - Package price is $2,400 per
Repeat Camper Registration - $2,100 (Must have previously attended camp) Does not include a new uniform.
What's Included
3 days, 3 nights at the Fantasy Camp host hotel - *double occupancy
Ground transportation to and from the airport and from the hotel and fields daily
Welcome banquet and closing dinner
Daily breakfasts and lunches
Your own clubhouse locker
Official New York Yankees uniform to keep
Camp t-shirt(s) and goodies to keep
In-Game instruction and coaching from former Yankees Major Leaguers
Personal clubhouse staff and professional trainers
"Chalk Talk" sessions
Downloadable team photo
*Private room available at additional cost of $300. Transportation to and from Tampa not included.
Pros That Attended the Women's Mini-Fantasy Camp
Tino Martinez
Mickey Rivers
Mike Torrez
Homer Bush
Bucky Dent
Darryl Strawberry
Gil Patterson
Oscar Gamble
Al Downing
Shane Spencer
Chris Chambliss
Roy White
Gene Michael
Jorge Posada
Tanyon Sturtze
Orlando Hernandez
Brian Boehringer
Jim Leyritz
Luis Sojo
Scott Bradley
Special guest appearances: Nick Swisher, Andy Pettitte, Mariano Rivera, Meredith Marakovits and Nancy Newman
Email [email protected] or call 1-800-368-CAMP to start planning your experience of a lifetime!
**A portion of your camp fee is tax deductible. You will receive a letter from the Yankees acknowledging your specific donation for the year in which you attended camp.
***Open to women 21 years and older
Mini-Fantasy Camp Testimonials
Dear Camp Staff,
Words cannot explain what a great overall experience this camp was. From the moment we arrived you all went out of your way to make us feel welcome. Everyone behind the scenes was wonderful.... and the greats were incredibly fun and down to earth. Our coaches (Gil, Roy, Dick) were so professional, helpful, and fun. Those men are true gentlemen and really give MLB and the Yankees a good name. And, to top it off, having Tino come spend time with us on and off of the field-- it doesn't get much better than that.
Thanks again and look forward to seeing you all next year!
Misty
Dear Camp Staff,
I never in my wildest dreams thought that the camp experience would be the best 3 days of my life. Well it was. From the minute we arrived, we were treated like gold. From Sam the bus driver to Dave in the locker room to The Greats. Everyone treated us with the utmost respect, which is hard to imagine considering we were over 70 women in a men's locker room, on their field, wearing their uniforms. All of the staff could not have been nicer including the both of you.
On a personal note, I came to camp with my two Sister's Patty and Kathy to see what it was like to be a Yankee and spend time with them. I walked away with 11 additional Sister's whom I am now proud to call my friends and Bomber Buddies. For me this camp was not about winning or the score of the game. It was about being with other women who are Die Hard Yankee Fans who are so passionate about their team, that just stepping into the locker room brought tears to our eyes and shivers down our spines. It was about stepping out on George M. Steinbrenner Field in Yankee Pinstripes and actually slapping myself in the face saying am I really here, standing where Derek Jeter stands?? It was about connecting with actual Yankee players on a personal level and realizing that yes, they are just people too. And most of all it was about all the smiles and laughs we shared. I was aching from head to toe, but I could not stop smiling.
So, let me Thank you both again for dreaming up this wonderful idea and carrying it through and making it a total success. Not one detail was overlooked, not one request unfulfilled. This is why the New York Yankees are the greatest franchise in all of sports and will always be number one with me. I will never forget this experience.
I would appreciate if you could pass along my Thanks to Jennifer Steinbrenner, as I'm sure none of this would have happened without her also.
Thanks Again
Your New Friend,
Alice
Dear Camp Staff,
I would like to thank you for the greatest few days at Fantasy camp. Your staff made us feel like Queens for three days plus all the Greats could not have been nicer. It also was such a treat to get a present on our chairs every time we got back to the locker rooms. Upon arriving home today, I quickly checked the chairs in my house and there was no gifts to be found - oh well, back to reality. Once again - you all made this experience one I will never forget.
Carmela
Dear Camp Staff,
WOW! What an amazing three days. I can't thank you enough for the wonderful job you did to make us feel so welcome and help us to "live the dream". It was so much more than I expected. I am sure the next camp will be filled soon once all the campers get home and rave about their experience to all their family and friends. I intend to sign up for the 2012 women's camp this week so I can be sure and reserve my spot. We're hoping our fourth sister will also be able to join us the next time around.
Thank you again for all your hard work.
Best regards,
Patricia Weindorf