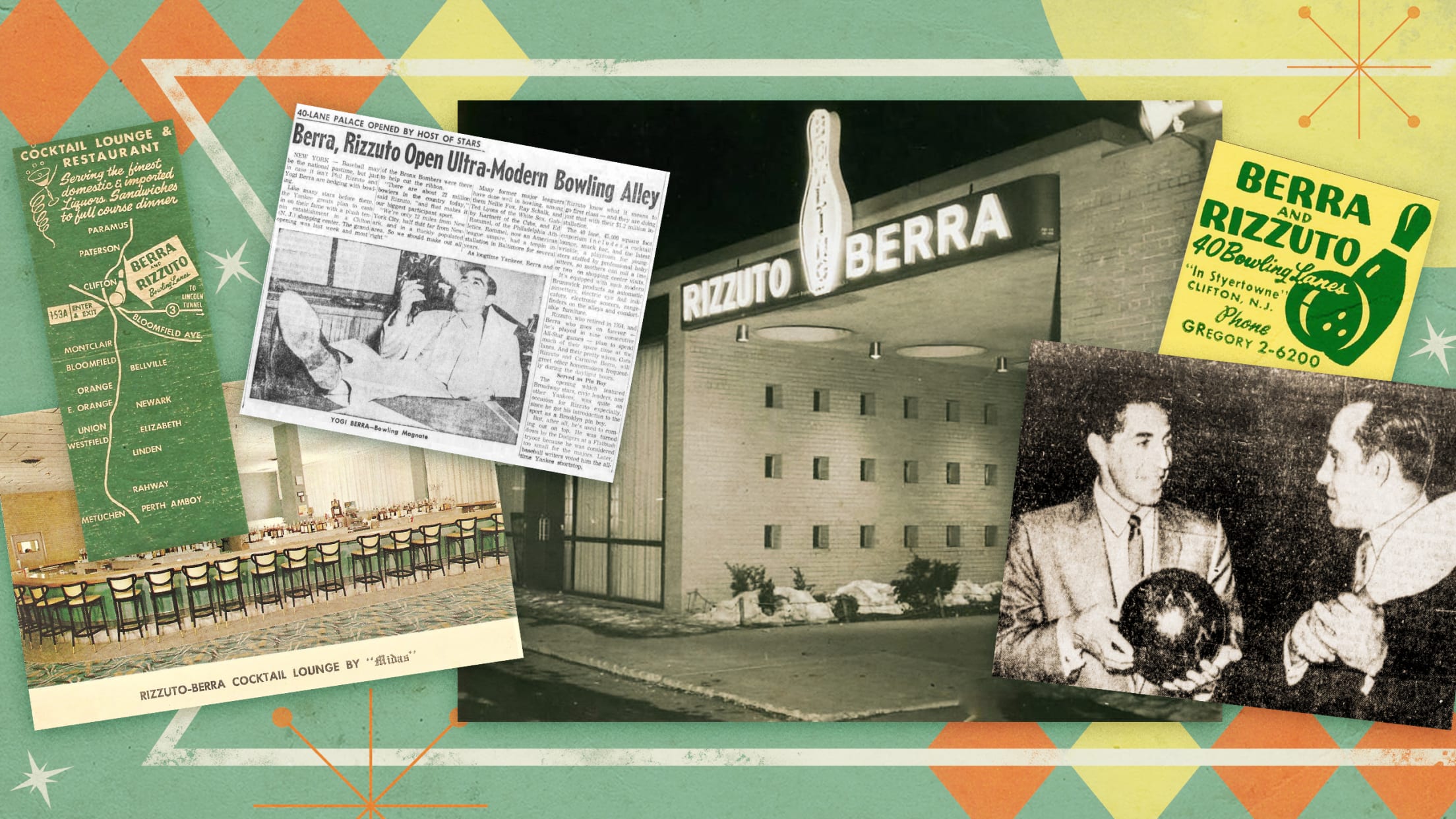 Scroll
These Yankees legends went from pinstripes to pins
CLIFTON, N.J. – On a partition near the custom framing counter at the Michaels arts-and-crafts store in the Styertowne Shopping Center hangs a shadowbox with a T-shirt, some Bowl O Rama scorecards and a pen. At first glance, it might seem like nothing more than a functional display, something to show off one of the store's products or what the custom framing experts can do with your keepsakes.
But look closer at that T-shirt: "BOWL in air-conditioned comfort" it says in black letters on a bright yellow rectangle, a yellow bowling ball and pin below it. In between, in white: "BERRA and RIZZUTO."
Those names, even on their own, would inspire thoughts of pinstripes; together they're a dead giveaway to the Yankees' postwar dynasty. But what do Yogi Berra and Phil Rizzuto have to do with a strip mall in New Jersey?
That Michaels store, flanked by a Lucille Roberts gym and a Sherwin-Williams Paint Store, occupies a building constructed in the late 1950s for the Rizzuto-Berra Bowling Lanes. Opened in April 1958, the 40-lane establishment with automatic pin setters, a restaurant, a cocktail lounge, a snack bar and a playroom across its 45,000 square feet was a joint business venture between the two Yankee icons. And they weren't just two names in neon over the front entrance.
"We were there all the time," Larry Berra, the oldest of Yogi and Carmen Berra's three sons, recalled recently. "It actually ended up being our big family hangout, between the Berras and the Rizzutos."
Rizzuto's brother, Fred, ran the day-to-day operations, and his daughter Patti worked in the office. Yogi's brother John moved from their hometown of St. Louis to run the bar. "It was my first job," Larry Berra said. "I was like 10 years old. I got a quarter an hour to take bowling balls off of the racks. My cousin John worked there, too."
Yogi, still an active player with four more World Series triumphs ahead of him, and Phil, who was about to play his final season, dug shovels into the dirt alongside New Jersey's Route 3 at the groundbreaking in May 1956. Two years later, the bowling alley was a hit from the start. "Although the grand opening will not be held until April 28, the Rizzuto-Berra alleys in Clifton are already doing a bustling business," Jack Fein reported in The Record, a Hackensack-based newspaper.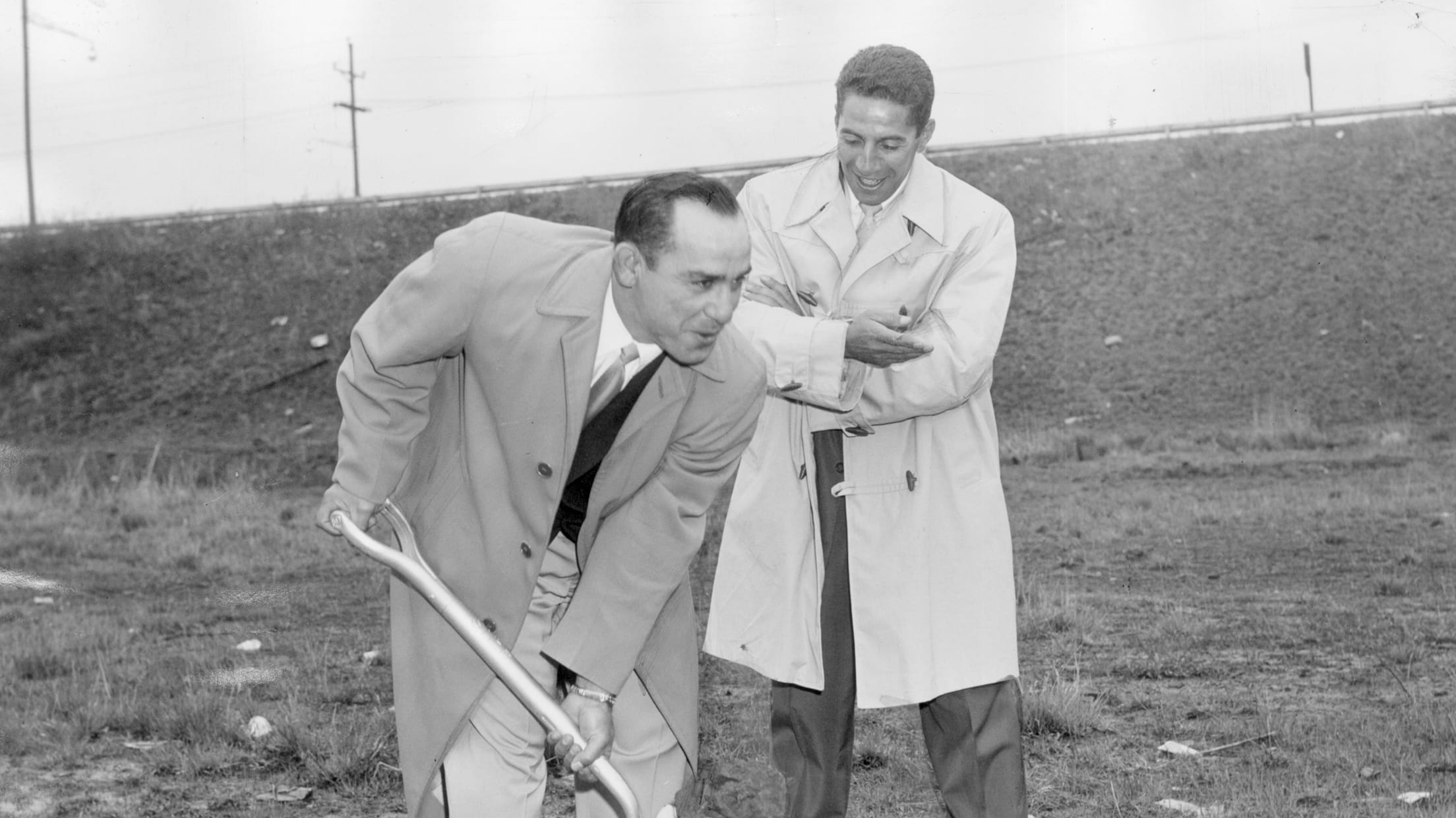 Scheduled for a Yankees off-day, the grand opening drew an estimated crowd of 5,000 and was covered via wire reports in papers as far away as Wisconsin and Texas. Most of the 1958 Yankees were on hand; Mickey Mantle, Don Larsen, Moose Skowron, Hank Bauer, Gil McDougald, Elston Howard and manager Casey Stengel were among the stars cited in the local coverage. "This is greater than I had anticipated," Rizzuto, by then a broadcaster for the team, said, according to the Passaic Herald-News.
It was reported that Berra and Rizzuto each put up more than $50,000 to start the venture, which cost $1.2 million to open – or about $11.9 million today. A few weeks after it opened, Daily News columnist Dick Young paid a visit and asked if that contribution from the two stars was accurate. "More than that," he quoted a grinning Berra as saying.
The bar was built in the shape of Yankee Stadium, earning it the name The Stadium Lounge. A trophy case featured four AL MVP plaques (three of them Berra's, the other Rizzuto's), one of Rizzuto's gloves and a bronzed catcher's mitt Yogi wore when he caught Allie Reynolds' two no-hitters in 1951. The restaurant was known as The Dugout. It became a home away from home for Larry Berra, his brothers and his friends.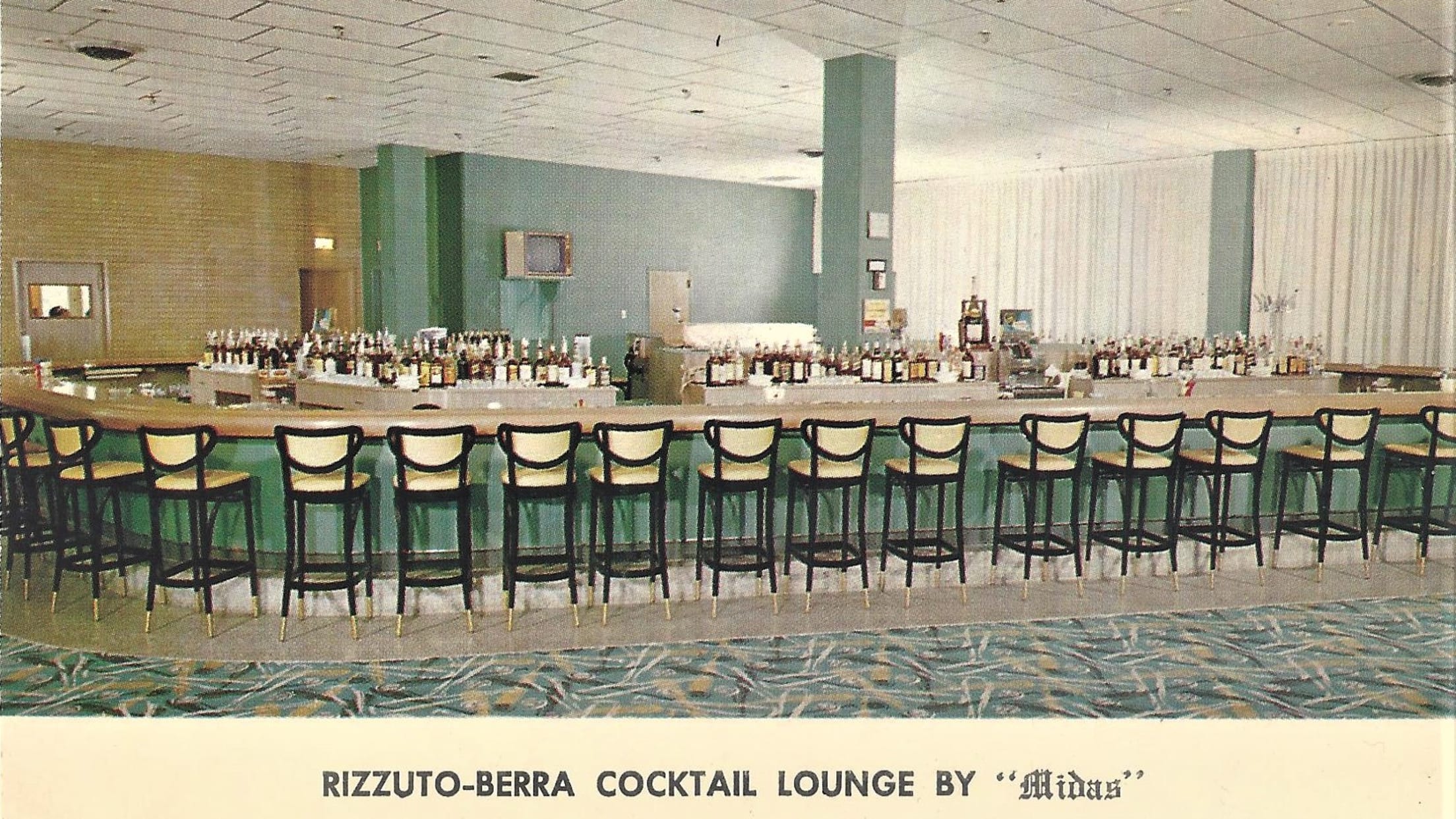 "My father would drop me off before he went to the ballpark, and he would pick me up on his way home – and that was day games or night games," he said. "I would be there at like 12, 13 years old, he would drop me off 4 o'clock in the afternoon during the summer, and he'd pick me up at midnight."
The parking lot of the bowling alley doubled as a commuter lot for Berra and his teammates.
"They would all meet there before games," said Mark S. Auerbach, the city historian for neighboring Passaic. "In those days, you had Gil McDougald, Berra and Rizzuto – they would all meet there and go in one car to the stadium. I don't know who drove, but whatever it is, two of the three cars were there."
The names of two famous Yankees buzzing in bright neon was a beacon to other kids growing up nearby. Jay Horwitz, the Mets historian and longtime public relations director, was one of them.
"I used to go in there all the time," the longtime Clifton resident said. "Wasn't much of a bowler, but I was a sports fan growing up and I was drawn to the name: Rizzuto-Berra. When I met Yogi, the first thing I said to him was, 'I used to bowl at Rizzuto-Berra Bowling Alley.'
"My dad was a big sports fan, he found out about it, he used to take me over there and then I used to go with my friends in high school. Good times, it was good times."
Not only did Berra and Rizzuto have the foresight to open an alley near the beginning of America's bowling boom, they chose wisely with regards to the real estate adage of, "Location, location, location." The Styertowne Shopping Center was a draw on its own.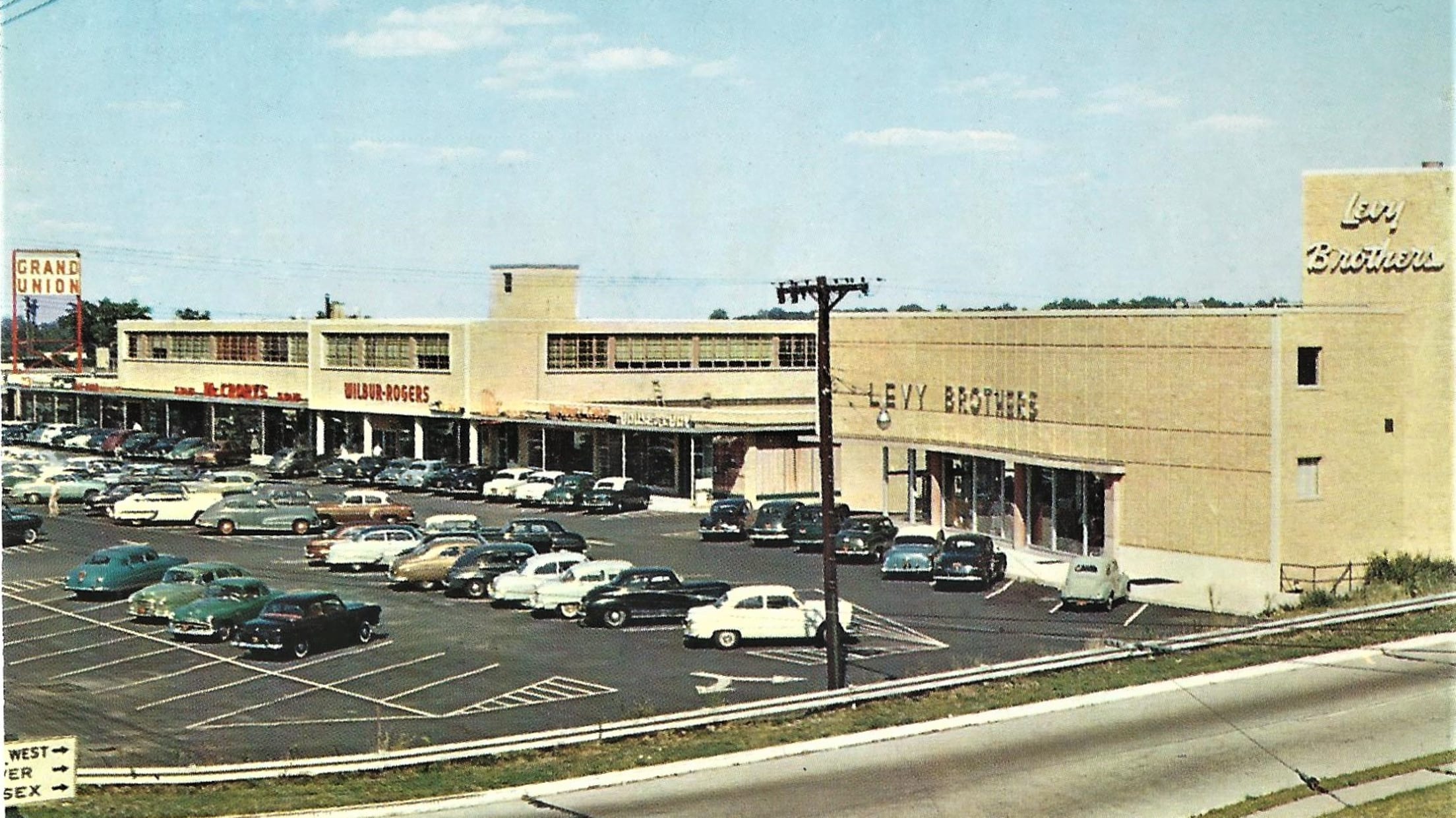 "There were two bowling places, in those days, of consequence that we could get to by bus," Auerbach said. "There was Wallington Lanes or Rizzuto-Berra, and we kind of liked Rizzuto-Berra because there was a lot more stuff in the mall there, in the shopping center. There was Bond's [ice cream parlor] to go to, a bookstore, a Chinese restaurant at one time. There was a lot there and there was plenty for you to do until your parents came to pick you up. … A lot of those other stores owed their success to that great anchor [the bowling alley] in the back."
During its first few months of operation, the alley ran a promotion that awarded a free game to anyone who was in the building when Berra hit a home run. Then in the offseason, Yogi was a regular at his establishment.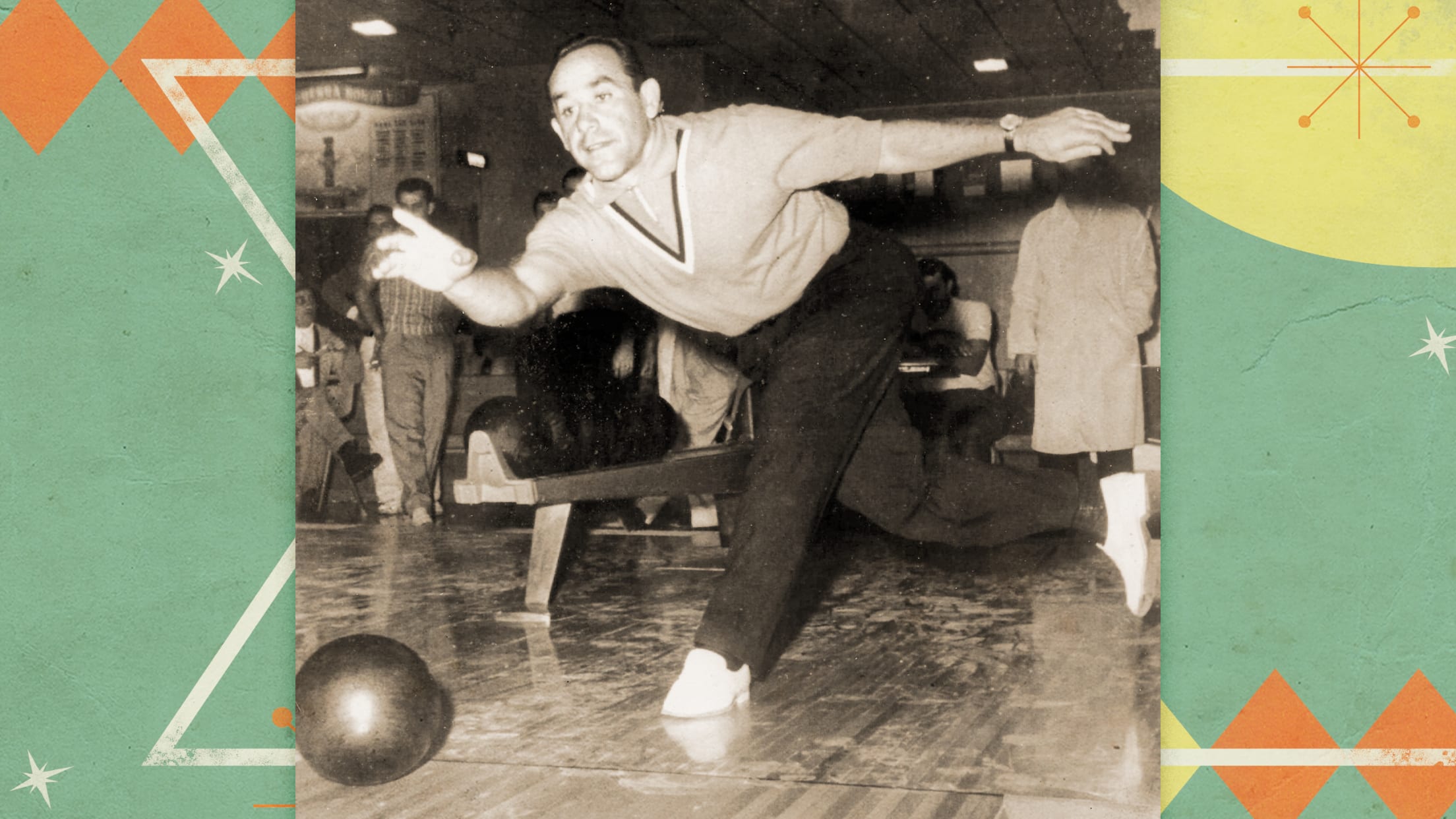 "My father would come in the winter, bowl a lot," Larry Berra said. "Hank Bauer, if he was around. Whatever players were around would come in."
The first offseason after the alley opened, Berra, Rizzuto, Howard, Skowron, McDougald, Johnny Kucks and Ralph Houk formed a team in a regular Monday-night bowling league. When the Yankees "keglers" lost their first six games, Rizzuto noted that it "sure makes it fun for the other bowlers in our league."
But it wasn't just an offseason pastime.
"Especially if they weren't having a game that day, he'd come in quite often and bring his teammates," Auerbach said. "And they would bowl there. The great thing about it – it was an understanding – you didn't bother them if they were bowling. [But] they'd be in the lobby, and you could gather around and get autographs."
Not long after the bowling alley opened, it brought the whole Berra family to the area, where Yogi and Carmen spent the rest of their lives and their legacy endures in the Yogi Berra Museum and Learning Center on the campus of Montclair State University.
"We actually moved to Montclair because we lived in Tenafly when that opened up," Larry Berra said. "When we were in Tenafly, my father would go to the bowling alley after games, and my mother didn't want him driving late at night up the [Garden State] Parkway into Tenafly. So they started looking in the area closer to Clifton. And we ended up in Montclair in September of '59. ... She wanted him to be closer so he didn't have to drive so far."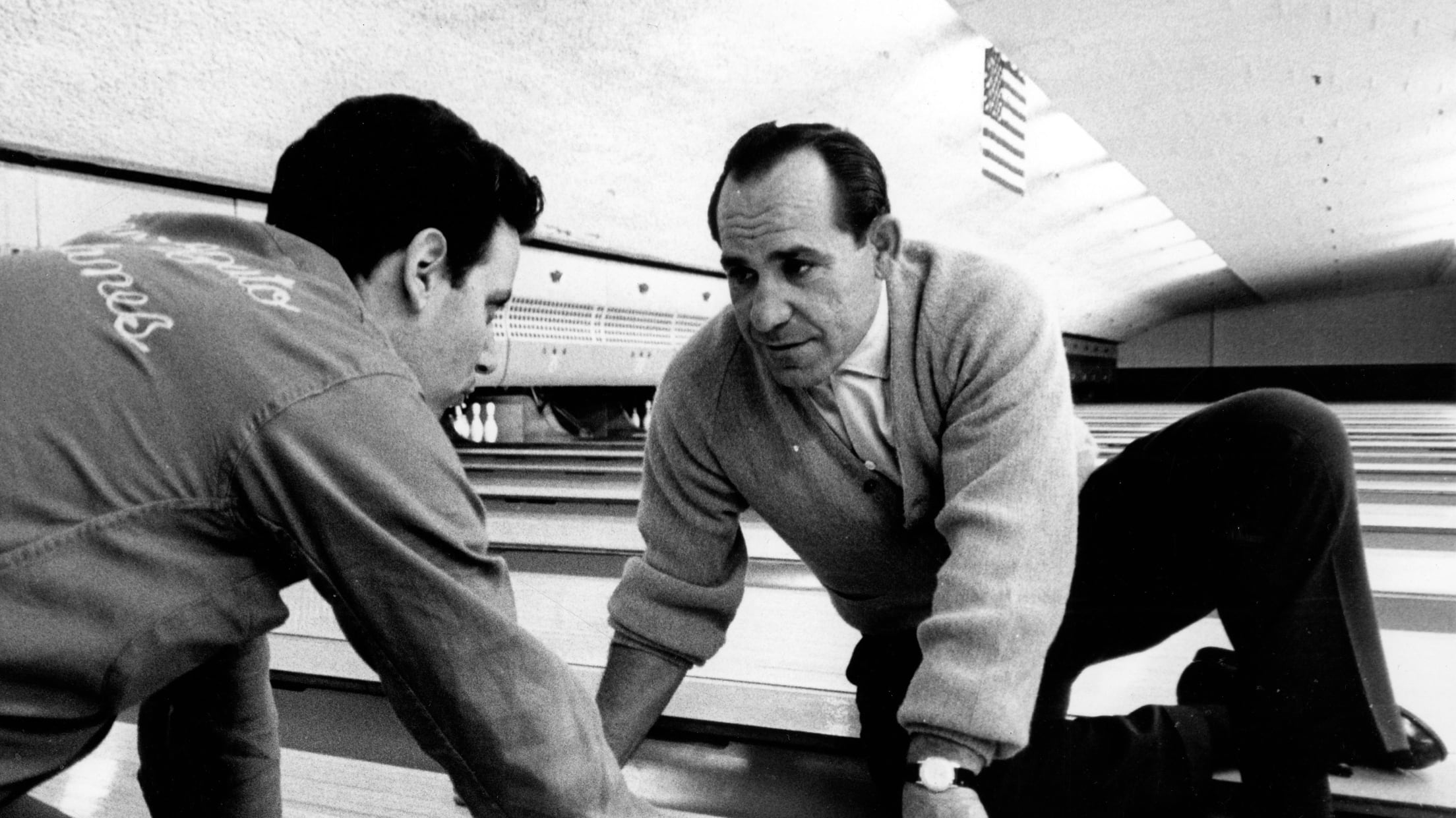 "He chose to live in this area, and he was an asset to the community," Auerbach said. "He had time for everybody. I don't think I ever heard the word 'no' from Yogi."
Rizzuto and Berra got out of the bowling business in the mid-60s, selling the alley to their brothers in 1964 or '65, Larry Berra recalled. Sold again, it was rebranded as Astro Bowl – the name it had, coincidentally, when Yogi served as a coach with Houston from 1986-89 – until it closed in 1999. It was then that it was divided up into retail space.
"It was a great place," Larry Berra said. "It was fabulous. When my brother Tim and I were there all the time, we'd eat lunch, put it on the charge account, and then we'd wait five hours and eat dinner there. And then my father would come and get us and we'd say, 'Oh, we ate already.' It was one great place to be."
credits:
Dan Cichalski is night copy chief for MLB.com.