Sanchez, Voit surging in All-Star balloting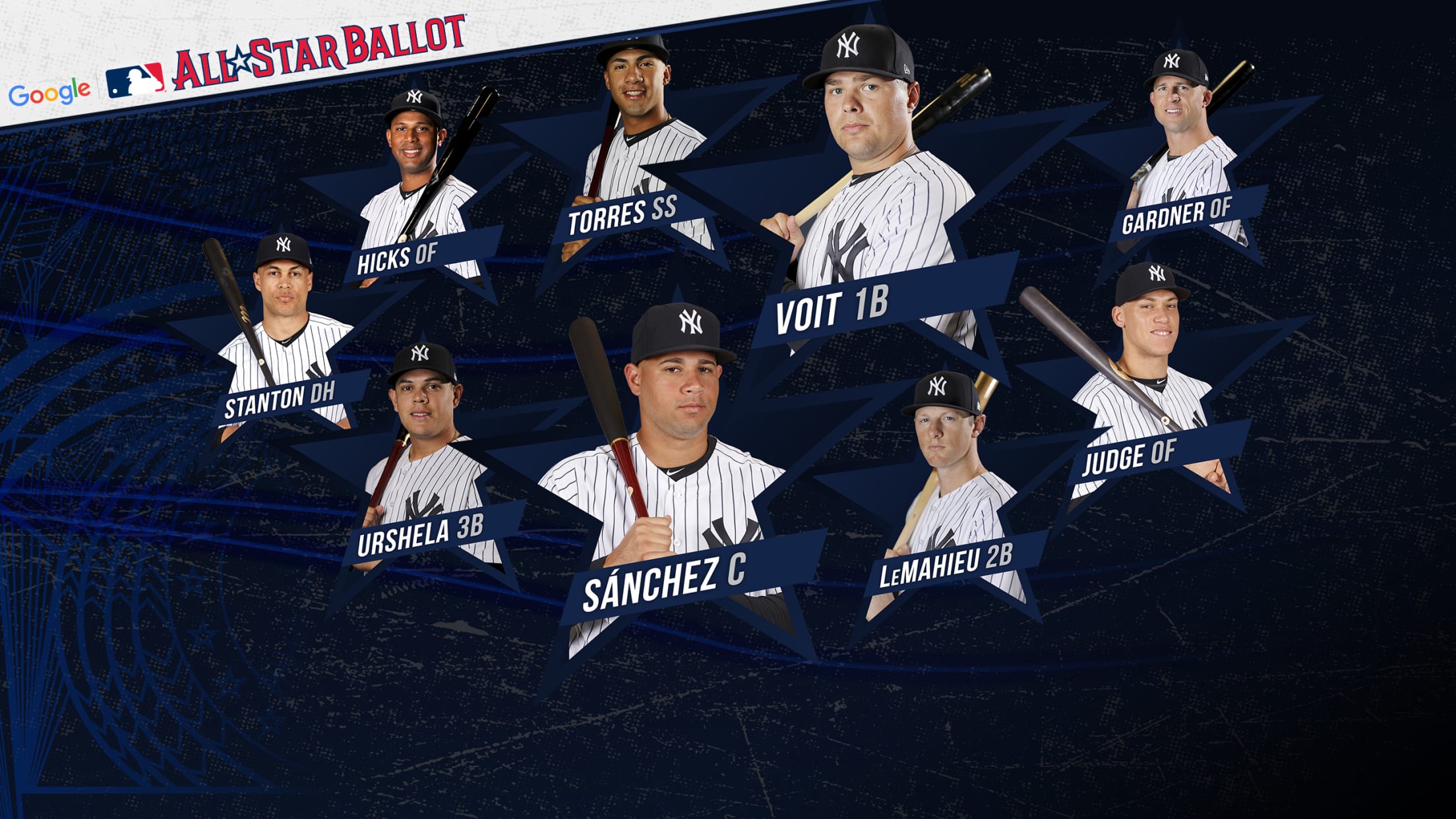 Read our FAQ on this year's revamped balloting format, which includes two phases of fan voting to determine the All-Star starters, and the ability to vote through Google Search.
Read our FAQ on this year's revamped balloting format, which includes two phases of fan voting to determine the All-Star starters, and the ability to vote through Google Search.
NEW YORK -- Gary Sanchez and Luke Voit have electrified Yankee Stadium with their power so far this season, serving as major contributors while the club muscled into first place in the American League East. Their efforts could be rewarded with a return trip to Cleveland for next month's All-Star Game.
• VOTE NOW: Google MLB All-Star Ballot
In the midst of an incredible bounce-back campaign, Sanchez (737,107) holds the largest lead at any position in the first round of AL balloting, pacing second-place catcher James McCann of the White Sox (289,475) by 447,632 votes. Voit (393,356) holds a 90,770-vote edge over the Twins' C.J. Cron (302,586) at first base.
"In Gary's case, aside from spending 10 to 12 days early in the season on the IL, he has been great for us," Yankees manager Aaron Boone said. "He's catching well. He worked really hard in the winter to put himself in position to go out and have a great season. Obviously he's in the midst of that. The power, the at-bats, just his presence has been huge for us."
Sanchez's 19 homers prior to the All-Star break are the most by a Yankees catcher, surpassing Yogi Berra's 18 in 1956. He has already eclipsed his home run total from all of last season, when he cracked 18 homers.
As for Voit, the slugger entered play on Monday with 15 homers and 41 RBIs, a scenario that he hardly could have envisioned a year ago. Voit has been a force since his acquisition last July from the Cardinals, where his progress was blocked at first base.
"It's pretty cool," Voit said. "To get those accolades and that nationwide vote, it helps being in New York, but it shows I'm turning into a fan favorite. That's pretty awesome. These fans love me; I get those 'Luuuke' chants all the time. I appreciate it. It's a dream to be on the All-Star team."
Voit said that if he manages to punch a ticket to Cleveland, he would be thrilled to participate in the Home Run Derby. Voit already has a batting practice pitcher picked out; Aaron Basler, a former college player who throws to him frequently each offseason near Voit's Missouri home.
"I told him if I ever got into the Home Run Derby that he'd be my guy," Voit said. "I played in it twice [in the Minors]. It's just a lot of fun. You're on the field by yourself, it's almost like playing in a playoff game, but you're by yourself. I just think it'd be fun to do. Plus you could win a million bucks, too."
Voit hit 30 homers to win the 2016 Texas League Home Run Derby, one year after he finished second in the Florida State League contest.
Second baseman DJ LeMahieu has received 379,820 votes, trailing Tommy La Stella of the Angels (487,598) and Jose Altuve of the Astros (448,131). Third baseman Gio Urshela has 269,716 votes, good for second place behind Alex Bregman of the Astros (630,159).
Shortstop Gleyber Torres has 322,958 votes, trailing Jorge Polanco of the Twins (395,210) and Carlos Correa of the Astros (329,421). In the outfield, Aaron Judge's 308,134 votes are good for seventh, Brett Gardner's 138,426 votes rank 13th and Aaron Hicks' 110,139 votes are 16th. Giancarlo Stanton's 157,411 votes rank fifth among designated hitters.
Fans may vote in "The Primary" at MLB.com and all 30 club sites, the MLB At Bat and MLB Ballpark apps up to five times in any 24-hour period. Fans in the US and Canada can also vote on Google Search for every position, or up to 17 unique players per day, by searching "MLB Vote" or the names of their favorite players. Primary voting ends at 4 p.m. ET on Friday, June 21.
The top three vote-getters at each position (including nine outfielders) per league will move on to "The Starters Election," which begins at noon ET on Wednesday, June 26. The votes will reset for a 28-hour voting window that ends at 4 p.m. ET on Thursday, June 27. Starters for the 2019 Midsummer Classic will be unveiled on ESPN that night at 7 ET. The pitchers and reserves will be announced on Sunday, June 30, at 5:30 p.m. ET.
Then on Tuesday, July 9, during the 2019 All-Star Game presented by Mastercard, fans may visit MLB.com and the 30 club sites to submit their choices for the Ted Williams Most Valuable Player Award presented by Chevrolet.
The 90th Midsummer Classic, at Progressive Field in Cleveland, will be televised nationally by FOX Sports; in Canada by Rogers Sportsnet and RDS; and worldwide by partners in more than 180 countries. FOX Deportes will provide Spanish-language coverage in the United States, while ESPN Radio and ESPN Radio Deportes will provide exclusive national radio coverage. MLB Network, MLB.com and SiriusXM also will provide comprehensive All-Star Week coverage. For more information about MLB All-Star Week and to purchase tickets, please visit AllStarGame.com and follow @MLB and @AllStarGame on social media.