Hyde meets with O's after 'hard to watch' loss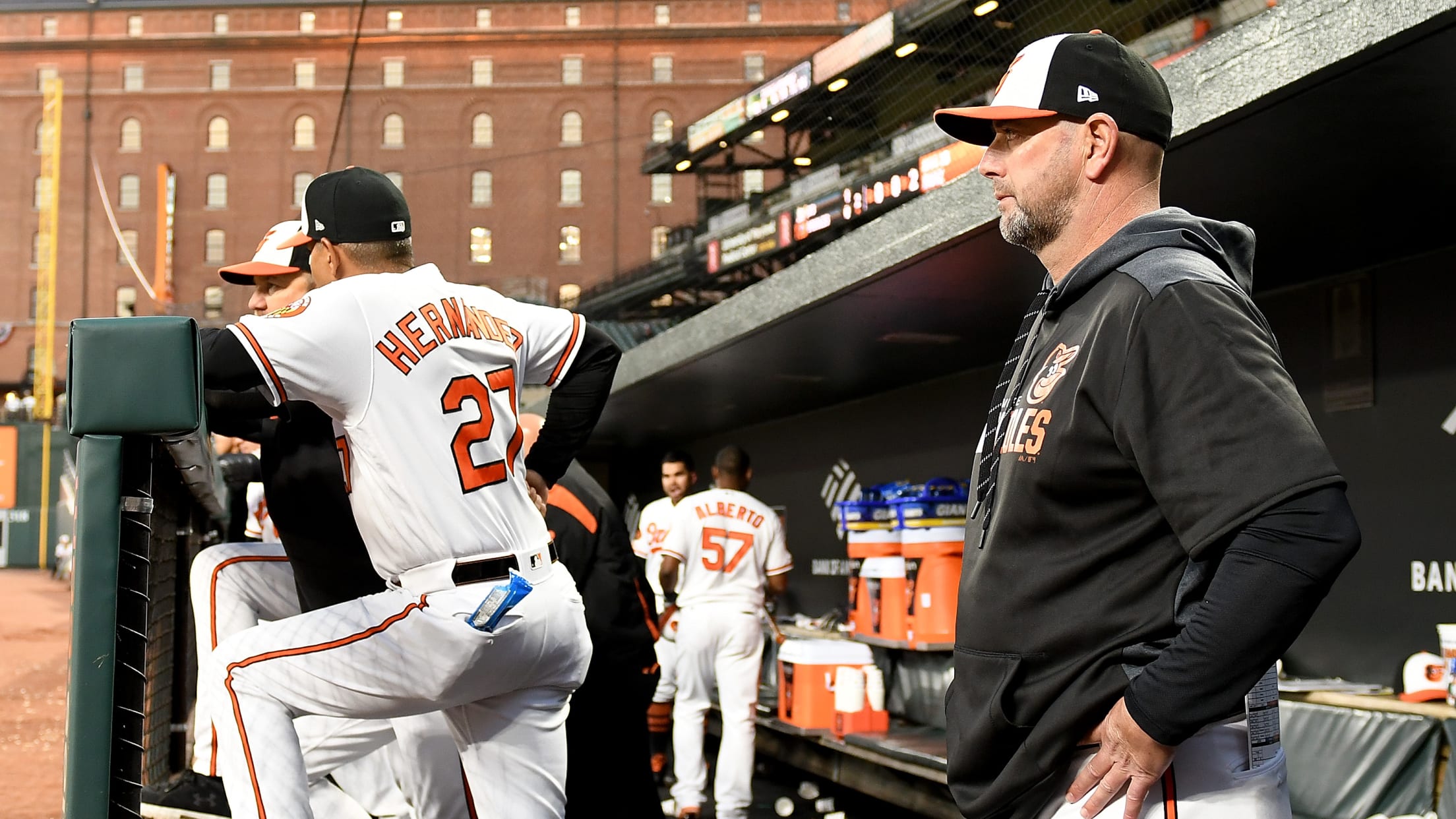 BALTIMORE -- Given a night to digest the Orioles' 10-7 loss to the Yankees, manager Brandon Hyde arrived at Camden Yards on Tuesday intent to gab. Long before he spoke for upwards of 10 minutes at the press conference podium, Hyde spent much of the afternoon in meetings, both group
BALTIMORE -- Given a night to digest the Orioles' 10-7 loss to the Yankees, manager Brandon Hyde arrived at Camden Yards on Tuesday intent to gab. Long before he spoke for upwards of 10 minutes at the press conference podium, Hyde spent much of the afternoon in meetings, both group and individual, designed with an eye toward addressing "how to do things better."
"I talked a lot today," Hyde said. "You don't want to dwell on the negative and you try to stay positive."
It's a balancing act Hyde must strike now more than ever. The Orioles have lost six of their last seven and 10 of 12, a stretch where the nature of the losses has gone from garden variety to particularly trying. Against the backdrop of the past weekend in particular -- a five-run lead vanished Friday, one-hit loss Saturday and a 10-0 shutout Sunday, all in Cleveland -- Monday's late-inning fundamentals breakdown felt like a culmination. Andrew Cashner called it "the toughest" defeat of the year.
Hence the multiple teaching moments. Hence the many chats.
"That was hard to watch," Hyde said. "This is the big leagues, and those plays should and need to be made. I'm not going to hide from that. You can be positive all you want, but you also need to hold people accountable and say this is where we need to improve."
Hyde's frustration doesn't stem from lack of desire or effort, with the skipper saying his team's "mistakes aren't made because someone is lackadaisical or not engaged in the game." But intent aside, Hyde knows the types of miscues the Orioles committed Monday -- multiple throws to the wrong base, a badly misjudged routine popup, a playoff contender allotted extra outs in the late innings -- fall under what he categorized as "not winning baseball."
"Those types of plays we need to be better at," Hyde said. "We're not blessed with a ton of veteran guys to help, to lean on. We have each other to lean on, and they have each other to lean on. I think we're going to roll the rollercoaster a little bit at times.
"What's important to understand is, we're not young, exactly. But we're extremely inexperienced. And a lot of our players who are on the field, have not been everyday players in the big leagues. A lot of our guys are playing every day for the first two months of the season, and that's an adjustment. A lot of guys haven't been in spots like [last night], where the game speeds up and they have to make a play. Even though you have a Minor League career, it's just not the same. Now you're playing every day in the big leagues, I think there is an adjustment. I just want to see our guys improve at this level, which isn't easy. There are going to be hiccups like last night, but it's our job to address them and to make these guys better."
Prospect rising
After beginning the year on what was essentially a rehab assignment at Class A Advanced Fredrick, right-hander Dean Kremer has been promoted to Double-A Bowie, the Baysox announced Tuesday. The club's No. 9 prospect per MLB Pipeline and part of last summer's Manny Machado deal, Kremer is coming off a dominant two-start stretch with the Keys, striking out 14 in 9 2/3 scoreless innings.
Kremer finished 2018 at Double-A and likely would've been ticketed there sooner this year had a left oblique strain not wiped out much of his spring. The 23-year-old led all Minor League hurlers in strikeouts last summer.
The Professor
The Orioles announced Tuesday that award-winning broadcaster Gary Thorne has begun serving as a visiting professor at the Walter Cronkite School of Journalism and Mass Communication at Arizona State University. Thorne, who is in his 13th year calling Orioles games on MASN, is instructing a "one of a kind" remote course on play-by-play announcing that runs through July 8.
The course will not impede on any regular broadcasting duties for Thorne, who has taught previously at the University of Maine and University of Maine Law School.