Notes: Phillips joins player pool; Stewart 'full go'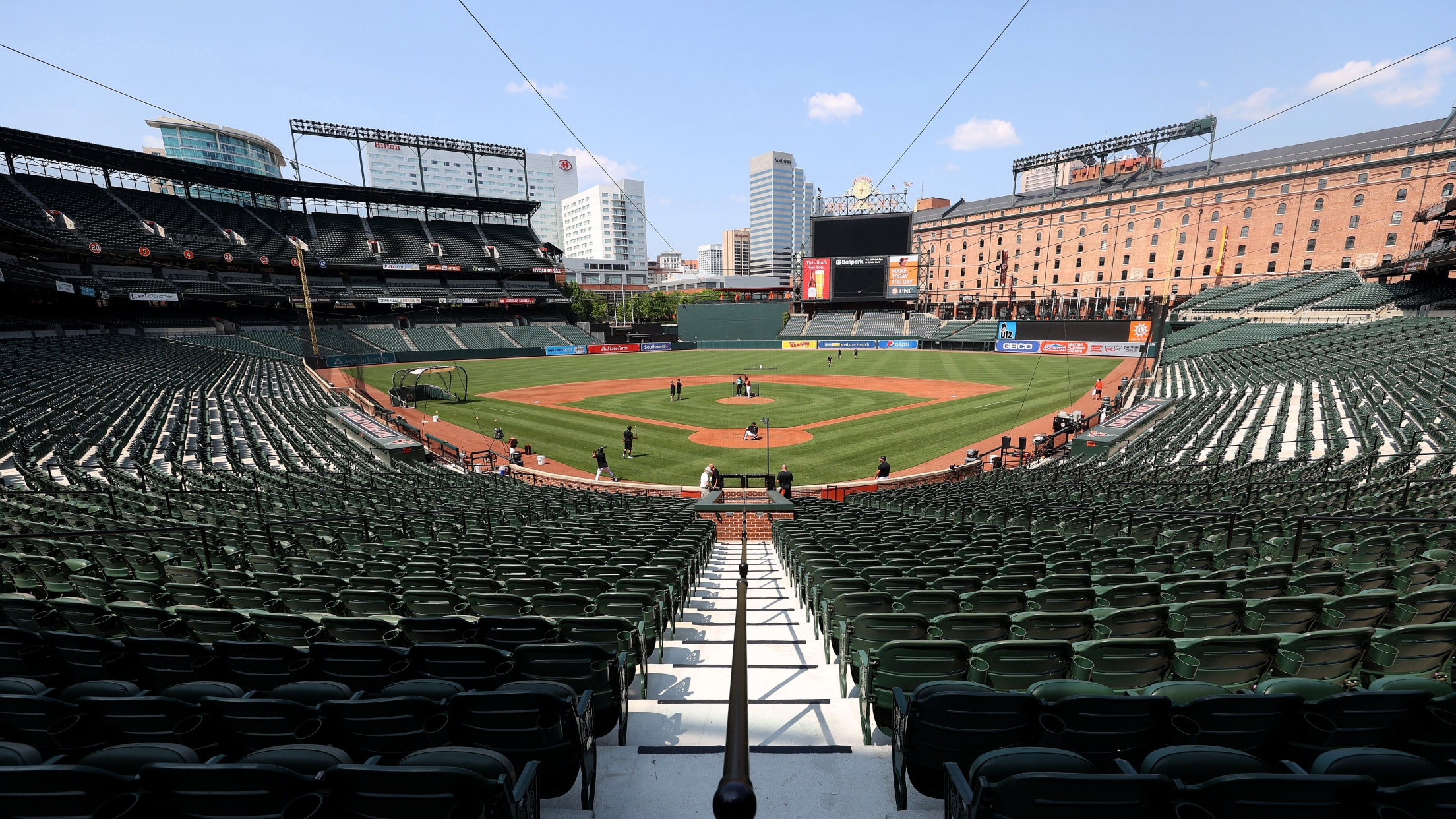 The Orioles added another layer of depth to their pitching corps in the form of a familiar face on Friday, adding right-handed reliever Evan Phillips to their 60-man player pool. Their roster pool stood at 45 players as of Friday, when they held their first official Summer Camp workout at
The Orioles added another layer of depth to their pitching corps in the form of a familiar face on Friday, adding right-handed reliever Evan Phillips to their 60-man player pool. Their roster pool stood at 45 players as of Friday, when they held their first official Summer Camp workout at Camden Yards.
Left out of the club's initial pool, Phillips spent the layoff recovering from a bout of right elbow soreness that sidelined him in early March. The Orioles shut down Phillips exactly a week before Spring Training was canceled to the coronavirus pandemic, after he received a second opinion from Dr. Neal ElAttrache that revealed no structural damage. Phillips, 25, pitched to a 6.43 ERA in 25 appearances last season, largely bouncing between the big leagues and Triple-A Norfolk.
"He might be a little bit of a tick behind, but he's progressed nicely," O's manager Brandon Hyde said. "He's right on track from where we thought he was going to be."
• Orioles' top 4 storylines for 2020 season
Phillips remains in a throwing progression for now, working toward a live bullpen session Hyde said would occur in a few days. Consider it the first real test in months for Phillips, who must prove healthy to be considered as a candidate to contribute in 2020. Passing it without a hiccup would seemingly put Phillips back in the running for what should be several open bullpen spots.
Attempting to secure a spot in the Orioles' Opening Day bullpen, Phillips surrendered three runs in 1 2/3 innings this spring before the soreness arrived, prompting an MRI. He was, at the time, part of a mix of candidates for one or two open bullpen jobs, along with Travis Lakins, Cody Carroll, David Hess, Tanner Scott, Cole Sulser, Dillon Tate and Hector Velázquez. All are back in Summer Camp and with better job prospects, given that Opening Day rosters will feature 30 players rather than 26.
From the trainer's room
Now completely recovered from right ankle surgery, DJ Stewart is "full go" as camp begins, per Hyde.
"The timing worked out well for DJ," the skipper said. "He got a full rehab, full recovery, he's 100 percent."
The club's first-round Draft selection in 2015, Stewart debuted in 2018 but saw several chances for regular playing time fizzle last summer due to injury. He injured the ankle in an on-field collision in early June, spending several weeks on the injured list with a sprain and microfracture. He returned to the Majors and suffered a concussion in his first game back, missing another 10 days.
Ultimately, Stewart hit .238 with four homers and .698 OPS in 44 games before undergoing microfracture surgery in October. He was ramping up to game action when Spring Training was shut down in mid-March, nearing a debut but unlikely to be ready by Opening Day.
Now, Stewart is the primary candidates to absorb right-field reps in the absence of Trey Mancini, who will miss the season undergoing treatment for colon cancer. The Orioles are only carrying four full-time outfielders in their initial player pool, making Dwight Smith Jr. the main competition for Stewart in right field early on.
All in
Though it was initially unclear how many Oriole players (if any) didn't participate Friday for health reasons, Hyde specifically said no players or coaches have decided to opt out or elect not to participate in Summer Camp. The Orioles' entire coaching staff is expected to work on-site from Oriole Park.
"It hasn't come up with our group," Hyde said. "I really think it's up to every individual. It's a real thing. It's personal for a lot of people. A lot of people have underlying conditions or age or whatever it might be, and I totally understand if somebody did not feel comfortable putting themselves in this situation. I know a lot of people who've gotten the virus, and I've seen the wide spectrum of what it can do. I think its up to the individual, and I would be in total understanding of whatever decision they made."
Hyde said that besides a few players traveling from the Dominican Republic who were still awaiting test results, everybody expected to participate in Friday's workout was able to participate. Hyde declined to comment on whether any players tested positive for COVID-19, citing MLB policy. MLB announced Friday that 38 of the first 3,185 tests (1.2 percent) conducted across the Majors came back positive. Nineteen clubs had one or more individuals test positive.