Outdoor Pops: Hits and Home Runs
May 12 & May 13, 2017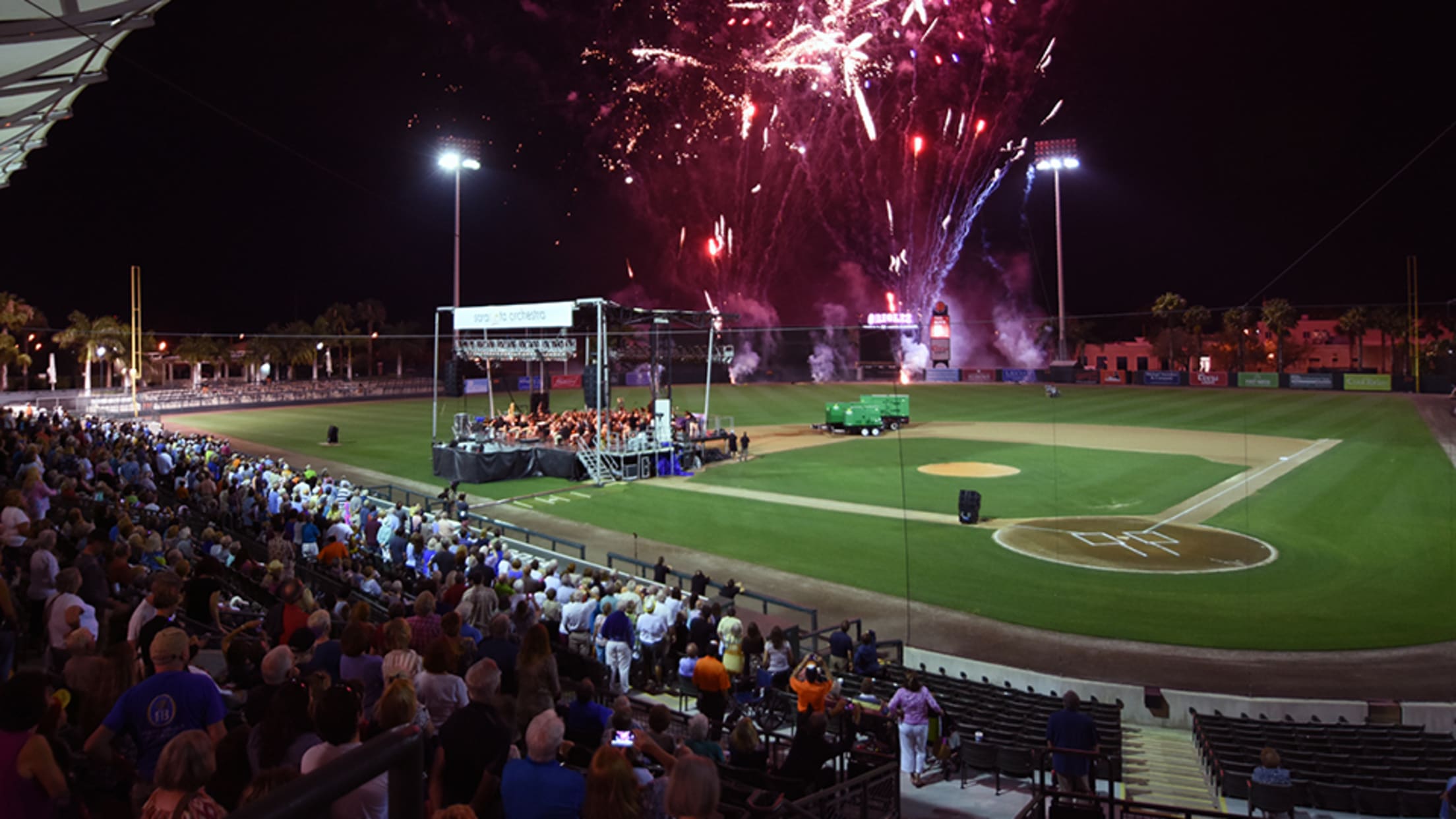 Sarasota Orchestra Wows Crowds at Ed Smith Stadium
The fourth-annual Sarasota Orchestra Outdoor Pops concert at Ed Smith Stadium attracted a record-setting crowd of over 5,000 raving fans in two performances, May 12-13. A perennial sell-out, the family-friendly Pops concert is part of the Orioles' "Arts in the Ballpark" series.
This year, the Sarasota Orchestra's "Hits and Home Runs" Pops program covered the bases with energetic music to please everyone's palate, including vocals by American Idol alum Clark Beckham and full orchestra arrangements of music by the Beatles, Stevie Wonder, James Brown, Mama Mia, Leonard Cohen, Star Wars and more.
The Orchestra also gave a nod to John Ringling and Ringling Bros. and Barnum & Bailey® with "Entrance of the Gladiators," the original entrance theme for the circus. The Orlando-based octet, All Star Singers, captured the capacity crowd with Broadway numbers such as "Mama Mia Medley" and "Six Months Out of Every Year" from Damn Yankees, followed by "Take Me Out to the Ballgame" in a singalong led by the Oriole Bird, the ballclub's mascot.
The second half of the concert was in full swing as Beckham captured the audience with sultry ballads, upbeat favorites, and an original song with the Sarasota Orchestra.
"I think it, I speak it, I live in and around it, I make it, and I do it," Beckham says, "I feel like music is as much a part of me as my own heart."
The musical program concluded with the Orchestra performing Tchaikovsky's "1812 Overture," followed by a crowd-pleasing fireworks display. As colorful rockets burst in the sky above the outfield, Pops conductor Andrew Lane led the Orchestra in "Stars and Stripes Forever" to close the show.
"The Orchestra is committed to engaging new audiences. The growing popularity of our Outdoor Pops programing illustrates that this concert has the vitality to do just that," Orchestra President and CEO Joseph McKenna said. "Our partnership with the Orioles is a wonderful way to engage the community."
Plans are already underway for the Sarasota Orchestra's 2018 outdoor Pops concert next May at Ed Smith Stadium.