With young O's rising, Davis seeks playing time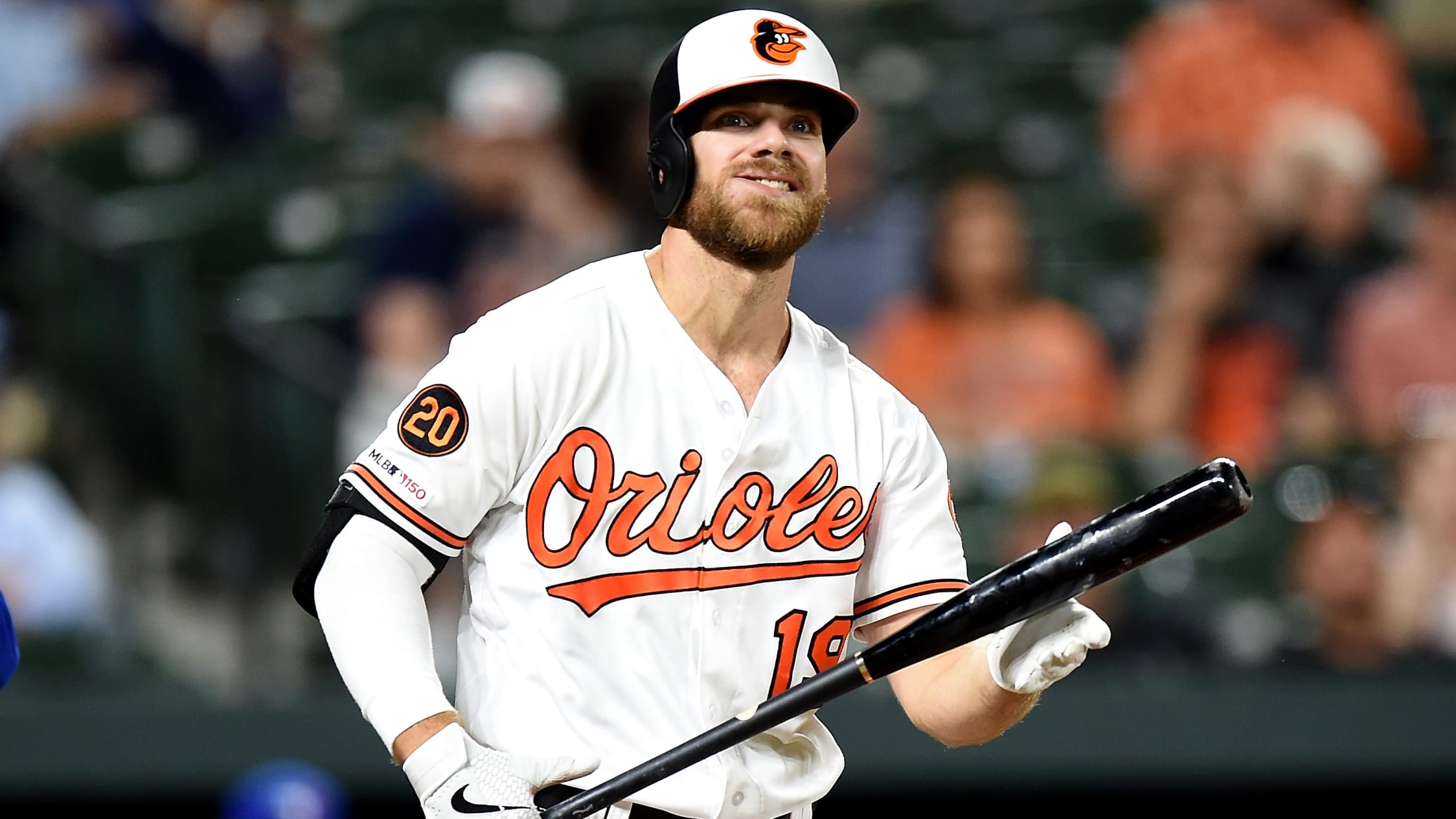 BALTIMORE -- The Orioles waited about an hour longer than usual to release their lineup Wednesday afternoon, in reaction to a late adjustment the Blue Jays made to their pitching plans. Toronto had originally scheduled to start Edwin Jackson before pivoting to opener Derek Law, prompting Baltimore manager Brandon Hyde
BALTIMORE -- The Orioles waited about an hour longer than usual to release their lineup Wednesday afternoon, in reaction to a late adjustment the Blue Jays made to their pitching plans. Toronto had originally scheduled to start Edwin Jackson before pivoting to opener Derek Law, prompting Baltimore manager Brandon Hyde to take a second look at the lineup he'd set the night before.
Chris Davis wasn't in the original. He wasn't in the revised version, either.
That's becoming a trend for Davis, who's seen his playing time reduced since returning from the injured list on June 4. Davis has started four of the Orioles' eight games over that span, sitting all three times Baltimore faced a left-handed starter. Hyde said his decision Wednesday was also based on matchups, citing Davis' 0-for-17 history against the right-handed Jackson, who was expected to follow Law.
"I try to put him in a position to have success," Hyde said. "He hasn't had a lot of success against E-Jacks, and I'm assuming he's coming in after Law, but we'll see. And I want to see [Chance] Sisco play, to be honest with you. [Davis is] going to be ready to hit off the bench, and we're going with what we have."
Hyde said Davis would be back in the lineup Thursday against Marcus Stroman, despite Davis' less-than stellar career numbers against the Blue Jays' righty. But even so, opportunities appear to be dwindling for Davis with more young players entering the fold, especially as their production continues to warrant playing time. Sisco, Anthony Santander and Renato Nunez all fit that mold. All started Monday, Nunez at first base for just the eighth time this season.
Mark Trumbo's impending return from the injured list figures to complicate the situation more, particularly if the Orioles choose to continue operating with a three-man bench. Trumbo (right knee surgery) is currently on a rehab assignment at Triple-A Norfolk that can extend to Sunday at maximum per MLB rules. Trumbo appeared to be scratched from the Tides lineup Wednesday, but he was cleared medically by the Orioles' staff earlier in the week.
"I haven't heard anything different," Hyde said.
As for Davis, he continues to struggle when the opportunities do arrive. He's 7-for-58 with one home run and 32 strikeouts dating back to May 11 and hitting .164/.247/.301 over 162 plate appearances overall. He is under contact for roughly $93 million through 2022.
Sally League champs
Hyde began his pregame media availability on Wednesday by congratulating Class A Delmarva on winning the South Atlantic League's first-half championship, which the Shorebirds clinched when the Greensboro Grasshoppers dropped a 2-1 decision to Hickory on Tuesday night. Led by No. 4 prospect Grayson Rodriguez, the Shorebirds own the best record in Minor League Baseball this season at 46-18.
"I was in that league for four years, so I know the South Atlantic League pretty well," said Hyde, who managed the Grasshoppers in the mid-2000s. "Pretty cool accomplishment for those guys."
Pride Night
In celebration of LGBTQ Pride Month, the Orioles hosted the second annual LGBTQ Pride Night at Oriole Park at Camden Yards on Wednesday. Vice president and special assistant to the commissioner Billy Bean threw out the ceremonial first pitch as part of pregame ceremonies that included a Baltimore Men's Chorus rendition of the national anthem.
Bean also met with members of the Orioles' front office and manager Brandon Hyde, as part of MLB and the Orioles' continued effort to promote inclusion. Bean, the former Padres, Dodgers and Tigers outfielder who came out as gay in 1999, provides guidance and training related to efforts to support the lesbian, gay, bisexual and transgender community as part of his role with MLB.
"The big picture is about expanding the conversation about a respectful and inclusive workplace," Bean said. "We're trying to get better. We're trying to educate our players, because they're going to be the ones who amplify these messages the fastest."