Hess stung by Yanks for career high in runs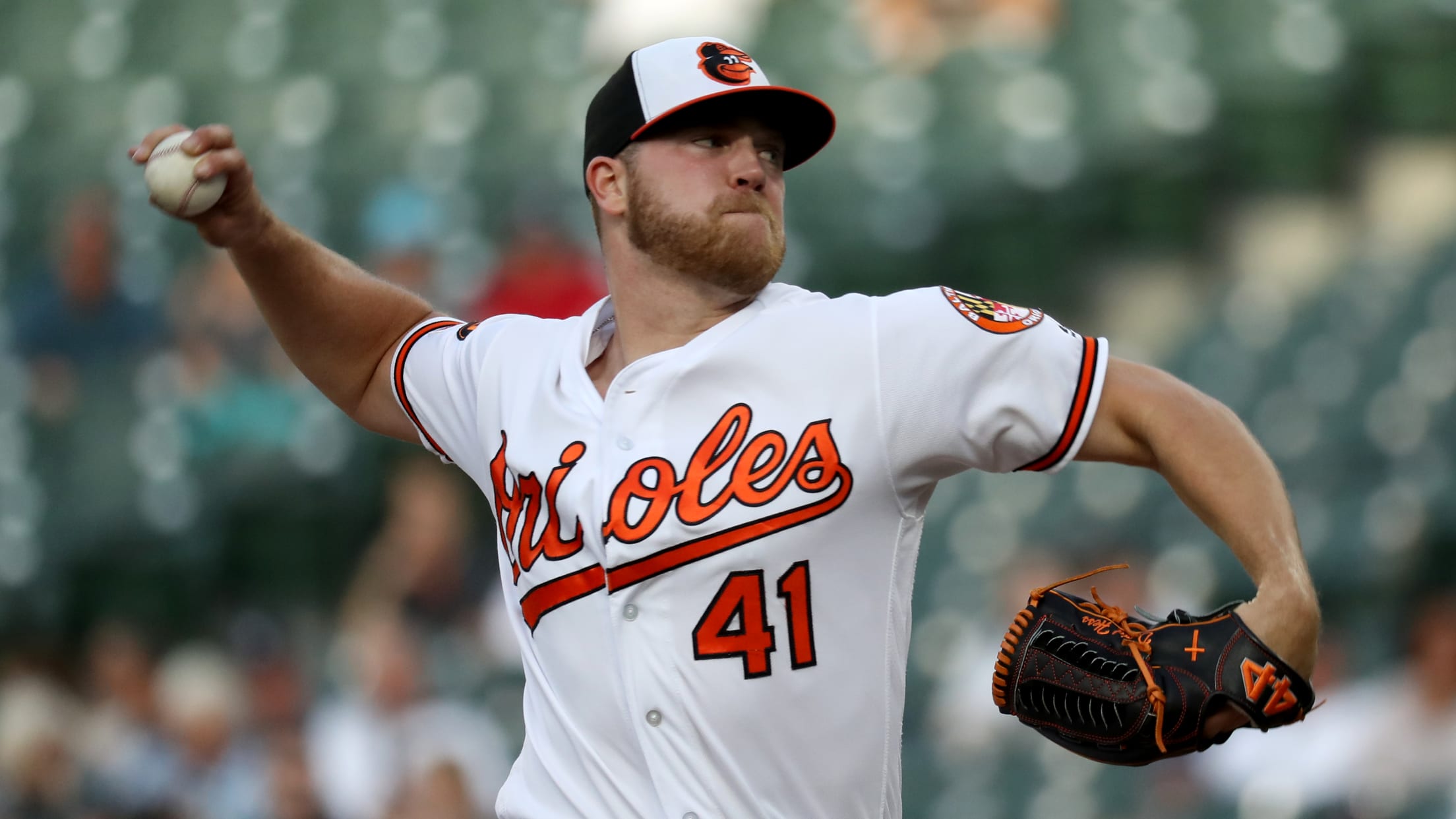 BALTIMORE -- Before the Orioles dropped their 11th game in 13 tries, falling 11-4 to the Yankees, manager Brandon Hyde was asked about the status of injured starter Alex Cobb. Hyde relayed that Cobb remains at the club's training complex in Sarasota, Fla., sidelined with a lower back strain that's
BALTIMORE -- Before the Orioles dropped their 11th game in 13 tries, falling 11-4 to the Yankees, manager Brandon Hyde was asked about the status of injured starter Alex Cobb. Hyde relayed that Cobb remains at the club's training complex in Sarasota, Fla., sidelined with a lower back strain that's held the righty out of action for a month but has been bothering him for longer. There is no timetable for his return.
Cobb's injury was what forced David Hess back into Baltimore's rotation in late April, and the uncertainty surrounding it means the young righty likely stays there despite another rough outing Tuesday, when his career-high nine earned runs helped the Orioles carve out another unfortunate place in baseball history. The three home runs Hess allowed swelled the Orioles' team total to 100 through 48 games, nine quicker than the previous record held by the 2000 Royals.
It also sank Hess to 1-6 with a 6.75 ERA on the season. He's winless in his last eight starts and has allowed a Major League-high 17 home runs over that stretch.
"Really, that's -- simply put -- not good enough. I think that kind of goes without saying," Hess said. "The results speak for themselves."
And yet given the Orioles' lack of options, they have little choice but to keep plugging in Hess and hoping he improves. Hyde indicated as much Tuesday night, saying "we don't have the numbers" and specifically referencing the dearth of starting depth, both in Baltimore and the upper Minors.
Who can the Orioles turn to? With Dan Straily seemingly in a similar boat, Cobb injured and Gabriel Ynoa as their only swingman-type in the bullpen, Hyde is pretty handcuffed at the big league level. Josh Rogers and Luis Ortiz, two starting-pitching prospects on the 40-man roster, both have plus-6.00 ERAs at Triple-A Norfolk. Another, Yefry Ramírez, lasted just 3 1/3 innings in a spot start Sunday. Left-hander Keegan Akin is following up his organizational Pitcher of the Year honors with a strong start at Norfolk, but he's pitched just eight games above Double-A and would require a 40-man roster spot.
"This is what we got," Hyde said. "It's not from lack of effort or lack of competitiveness. I don't like watching guys get beat up. They're all getting the opportunities to bounce back from tough starts. It's just a lack of depth."
Hess is hardly the only Orioles hurler to struggle with the long ball this season, but he's been particularly susceptible in the context of this matchup with New York. He's surrendered 10 home runs in 18 innings against the Yankees, including a three-run shot to Gary Sánchez and two to Clint Frazier on Tuesday.
Sanchez gave the Yankees a comfortable cushion three batters into play, and Frazier's third-inning two-run shot extended that lead. His three-run blast in the fifth put the game largely out of reach by the time Stevie Wilkerson got the O's on the board with a three-run homer off nine-game winner Domingo German a half-inning later.
Since blanking the Blue Jays over 6 1/3 no-hit innings in his first start of the year, Hess owns an 8.27 ERA across his last eight. Three have come against the Yankees, against whom he's allowed 17 earned runs.
"The only thing that I can look at is just continuing to work and continuing to do everything I can to get better," Hess said. "It is very draining just because there's a clubhouse of guys in here that I care about a ton, and so to have that feeling of not going out and getting the job done for them, just as much as anything else, that really does wear you down."