Alberto inspired by sports broadcaster father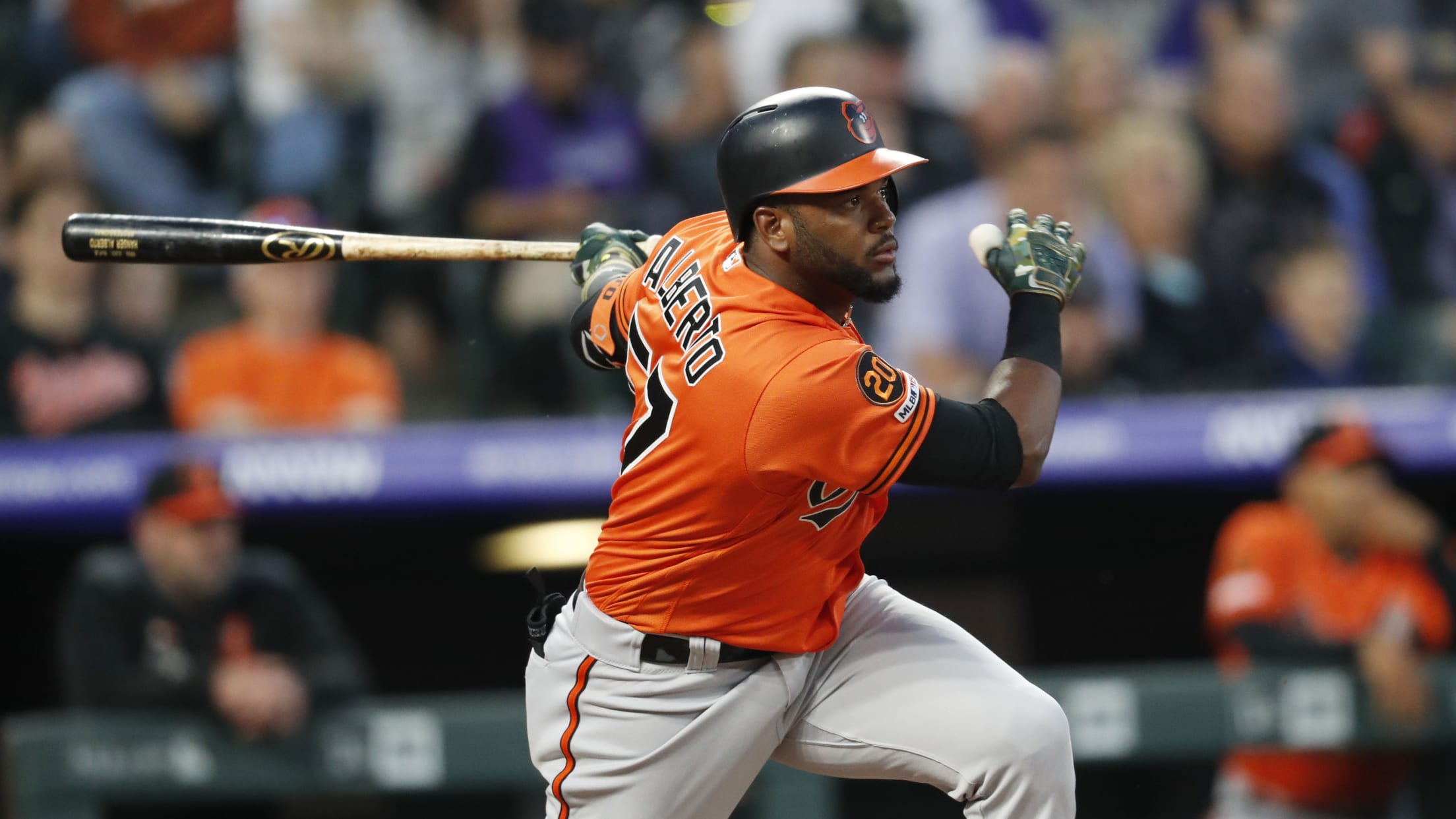 BALTIMORE -- If anyone knows the potential to overcome adversity baseball can provide, it's Orioles utility man Hanser Alberto. His father, Tony, has been an example his entire life. Before Hanser was born, Tony Alberto lost half of his right arm while working as an industrial mechanic at a shoe
BALTIMORE -- If anyone knows the potential to overcome adversity baseball can provide, it's Orioles utility man Hanser Alberto. His father, Tony, has been an example his entire life.
Before Hanser was born, Tony Alberto lost half of his right arm while working as an industrial mechanic at a shoe factory in the Dominican Republic. But remarkably, the injury did not derail the elder Alberto's playing days or career in sports.
"Life is crazy," Hanser said. "That day he wasn't supposed to be in that area of the factory. But the guy who was supposed to be there didn't show up for work."
He retrained himself to do everything left-handed, and played for many years in a softball league for disadvantaged adults, traveling to the U.S., Puerto Rico and Nicaragua for tournaments.
Tony also shifted his career to sports journalism, and it took off. In the half-century since, he's become one of the Domincan's more accomplished broadcasters, hosting a nationwide Major League Baseball radio show and his own local television talk show.
A few years ago, Tony became the play-by-play announcer for Gigantes del Cibao, the winter ball team Hanser has played for each offseason since 2012. The night before Tony's debut for Gigantes, his son approached him with a premonition.
"I told him to be ready, I told him I'd hit a home run for him," Hanser remembers. "First pitch I saw that day, I hit a home run. I was pointing at him the whole time. It was crazy. I was so emotional."
During Father's Day games, for the fourth consecutive year, players wore specially-designed New Era caps to raise awareness and funds for the fight against prostate cancer. Players also had the option to wear Stance multi-pattern blue-dyed socks. MLB will again donate 100% of its royalties from the sales of specialty caps and apparel emblazoned with the symbolic blue ribbon – a minimum $300,000 collective donation – to the Prostate Cancer Foundation and Stand Up To Cancer.
This effort also includes the annual Prostate Cancer Foundation "Home Run Challenge," which has given fans the chance to make a one-time monetary donation or pledge for every home run hit by their favorite MLB clubs during the time period of Saturday, June 1st through Father's Day, Sunday, June 16th, all the while tracking where their team stacks up in a "Team vs. Team" competition. Every dollar donated through the Home Run Challenge goes to PCF to fund critical research to defeat prostate cancer. As of June 13th, more than $1.26 million has been pledged via the Home Run Challenge in 2019. Since inception, the Home Run Challenge has raised more than $51 million for PCF, the world's leading philanthropic organization funding and accelerating prostate cancer research.
Founded in 1993, Prostate Cancer Foundation has funded nearly $800 million of cutting-edge research by 2,200 scientists at 220 leading cancer centers in 22 countries around the world. Because of PCF's commitment to ending death and suffering from prostate cancer, the death rate is down more than 52% and 1.5 million men are alive today as a result. PCF research now impacts 67 forms of human cancer by focusing on immunotherapy, the microbiome, and food as medicine. Learn more at pcf.org.
Pitching plans
A day after announcing Josh Rogers as their starter for Wednesday, manager Brandon Hyde walked back those plans, saying the decision won't be made until later in the week. Though Rogers remains a candidate to start that game, the Orioles are also toying with the idea of using an opener with Rogers to follow in the middle innings.
"It's still a little unsure," Hyde said. "It's all depends what happens with the bullpen the next couple days."
The issue is Oakland's right-handed heavy lineup, which drives an offense that ranks fifth in the American League in homers. It would be the first start this season for Rogers, a left-handed rookie, who owned an 8.51 ERA at Triple-A.
The Orioles have not deployed a true opener this season, but have twice used relievers to begin what can be more accurately described as bullpen days. Nate Karns, currently on the 60-day IL, earned both those previous assignments. Candidates to get this one include Miguel Castro, Jimmy Yacabonis and Shawn Armstrong.
Around the horn
• The Orioles originally hoped Dwight Smith Jr. could return from the seven-day concussion list this weekend, but his timeline has been delayed. Hyde said Smith will require a rehab assignment, with an eye toward rejoining the team on next week's road trip.
Baltimore's everyday left fielder before crashing into an outfield wall last week in Texas, Smith is hitting .249 with a .759 OPS and 11 home runs in 59 games this season.
• Hyde confirmed right-hander Alex Cobb underwent successful hip surgery this week, ending his season. Originally tabbed as the club's Opening Day starter, Cobb ended up making just three starts in 2019 due to hip, back and groin issues, going 0-2 with a 10.95. Dr. J.W. Thomas Byrd performed the operation in Nashville, Tenn., to correct a femoroacetabular impingement.